Looking for a Pelican Case alternative? Opened the article by chance and don't know what a Pelican Case is?
Don't worry, there's an answer for those questions, and many more, in this same article, including a list of the best pelican case alternatives currently on the market.
What's a Pelican Case?
A Pelican Case is a special plastic injection-molded case designed by Pelican Products, Inc., also known as Peli Products, S.L.U. in Europe.
There are more than 60 models, including travel, camera, and gun cases, as well as your everyday carry cases.
What distinguishes them from the rest is their high-impact resistance, dust protection, chemical resistance, and IP67 water resistance.
Besides all the protection it offers, Pelican Cases are also known for their high build quality and reliability, two important things when it comes to protection cases.
Therefore, they're the right type of cases you want by your side if you want to store on transport something really valuable to you.
How useful are Pelican Cases?
Thanks to the level of protection they offer, the rigorous testing they go through and their premium build quality, Pelican Cases are often trusted to protect valuable gear, even in the most demanding environments.
Some examples of demanding environments include military and rescue operations, where Pelican Cases can store communication and IT equipment, guns or ammo, drones, and your basic first aid kits or tools.
Other than that, they're also useful in less demanding environments, like for someone that travels constantly or uses expensive tools often.
Photographers, film and tv crews, business travelers, mechanics or engineers, and of course, musicians are some of the professionals where using protection cases is a necessity.
What they all have in common is the fact that they all use sensitive, expensive, and sometimes, heavy gear.
With a Pelican Case, not only does it protect all your gear from getting damaged, but also facilitates transportation (some even have wheels).
How are Pelican Cases made?
If you want to find out how, here's a quick video showing the whole process:
Pelican Cases Inserts
What makes them so versatile and why they are used in completely different environments is the number of different sized models available, and the wide range of options available for interior protection.
Some of the options are:
standard foam that you can easily cut to fit your gear;
custom foam where it comes pre-cut according to your equipment (you provide the measurements beforehand);
padded dividers that work similarly to your kitchen drawer dividers;
lid organizers, to not lose small tools;
trekpak dividers that you can customize the layout according to your necessities;
panel frame inserts where you can easily attach some of your electronic gear.
Why do I need an alternative if Pelican Cases are that good?
You might be wondering, with so many good things in its favor, why would anyone need a Pelican Case alternative?
Well, the truth is, all of that comes with a price, and in this case, it's a big one. The brand has enough prestige to ask for more money, which doesn't always mean a better product.
The price is Pelican Cases' biggest downside, and even though it's fair, not everyone has the budget for it.
Thankfully, in this day and age, there are a few alternatives on the market that offer similar protection without costing an arm and a leg.
With that in mind, let's talk about the pelican case alternatives that protect your gear as much as your budget:

My first suggestion comes from Nanuk, a company with over 30 years of experience in protective cases manufacturing.
Their 935 model is possibly their most popular one, so let's take an in-depth look to understand exactly why.
Nanuk produces it with lightweight NK-7 resin, which guarantees an impenetrable and at the same time, indestructible shell.
Additionally, the shell is available in 8 different colors and you can choose between an empty case, with cubed foam, a padded divider, or with a cubed foam and a lid organizer. The price varies depending on what you decide to fill it with.
The interior has a size of 20.5 × 11.3 × 7.5", which in the metric system is something like 521 x 287 x 191 mm, and a total volume of 1737 cu. in / 28.5L.
But there's more…
When empty, it weighs something like 11.6lb or 5.2Kg, but with its 3 soft-grip handles, including a retractable one, and two polyurethane wheels (similar to skateboard wheels), carrying it around couldn't be easier.
Since traveling often requires a plane, the Nanuk 935 features an automatic pressure release valve to prevent vacuum lock from altitude changes.
On top of that, to guarantee your valuable gear is safe the whole way, the 935 is waterproof (IPX7), dustproof (IP6X), impact-resistant, and shock-absorbent while easily withstanding a temperature between -20°F (-29°C) and 140°F (60°C).
The Nanuk 935 is approved for airline check-in, as well as (most) airline cabin carry-on, which is always a plus.
Just to show you how confident Nanuk is in their product, the company offers a lifetime warranty, and a 30-day satisfaction warranty if you want to try it out.
All things considered, I firmly believe the Nanuk 935 is one of the best pelican cases alternatives and the closest one in terms of build quality, protection, and versatility.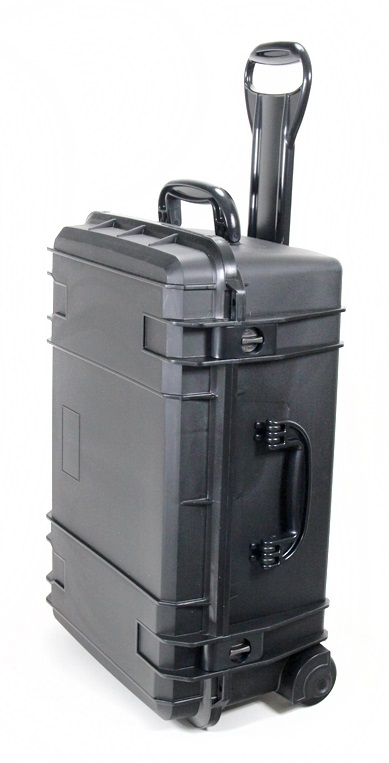 Fuerte Cases, a commercial division of the Waterproof Case Company LLC, produces Seahorse cases.
Despite only being on the market since 2001, Seahorse cases conquered a decent market share thanks to their incredible build quality and customization.
The 920 is manufactured with polypropylene, one of the most commonly produced plastics in the world, known for its chemical resistance, insulation, fatigue resistance, transmissivity, elasticity, and most importantly, toughness.
It's available in four different colors (black, yellow, blue, and grey) and with an interior of 22.1 x 13.5 x 8.5" (or 56 x 34 x 21cm), it's slightly bigger than the Nanuk 935.
Additionally, it also weighs a little more when empty (12.5lbs / 5.67kg), but with its three handles, including a retractable one, and its pair of wide track wheels, carrying it won't be a problem at all.
Similar to the Nanuk 935, you can fill the interior with solid foam layers, adjustable padded dividers, convoluted egg crate foam layers, or my favorite, customizable pre-scored pluckable foam set.
That last option is similar to the Pick N Pluck one from Pelican Cases, which makes it easy to remove the foam and create custom cutouts specifically for your equipment.
On top of that…
The Seahorse 920 is impact resistant, dustproof, and waterproof (up to 1 meter for 30 minutes).
It also has a Continuous Pressure Equalization System to deal with altitude and pressure variations and prevent them from locking up. Plus, it meets airline AT-300 specifications which means flying with it should provide you some peace of mind.
Seahorse also provides a lifetime guarantee against defects in material and craftsmanship. Modified cases and the interior foam won't be covered, since it's considered consumable.
In the end, despite not being my favorite alternative to Pelican Cases, with the Seahorse 920, you get much more than what you are paying for.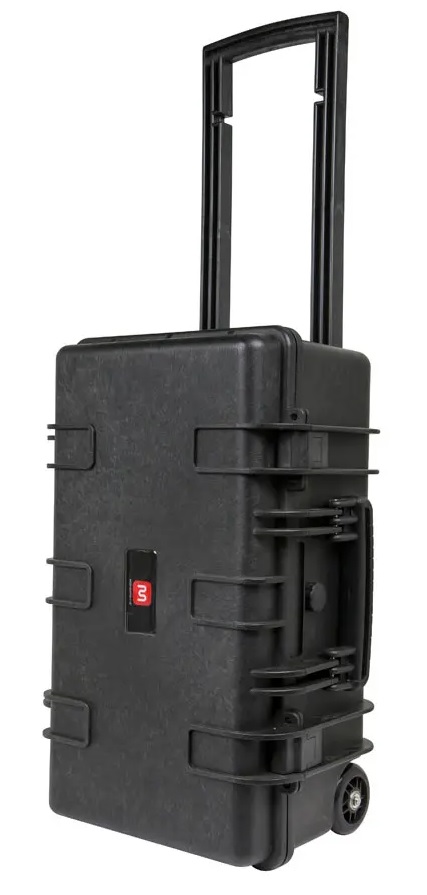 Monoprice is not as well known as some of the alternatives, mostly because they have only been around for 2 decades.
They make everything from electronic drum kits to 3d printers, monitors, and of course, protection cases.
This hard case in particular is manufactured with polypropylene, which is the same type of plastic used in the Seahorse 920.
It's UV-resistant, shockproof, dustproof, as well as waterproof (IP67) when submerged to 1 meter, which is close to the level of protection the previous two options offer.
On top of that, it claims to withstand a temperature of ‑40 to +194°F (‑40 to +90°C), which is impressive if it's capable of backing it up.
Design-wise, it's similar to the Nanuk 935, since its internal dimensions are 20.5″ x 11.0″ x 7.5″ or 521 x 279.4 x 191 mm, and the volume is 1745 cu‑in or 28.6L.
Additionally…
When empty, it weighs something like 16.8 lbs. or 7.6 kg, so it's by far, the heaviest protection case from all my suggestions.
Thankfully, to help with that, there's a rubber-covered handle on the side, another one on the top that you can extend up to 15", and two rubber-coated wheels at the bottom.
The Wheeled Hard Case features pluckable interior foam padding, so you can easily adapt it to fit the gear you want to protect. Sadly, there's no other option, so it's lacking in that department.
Considering flying or certain outdoor activities occur at higher altitudes, the Monoprice case includes a pressure-relief valve to equalize internal and external air pressure so it won't lock up.
Unfortunately, Monoprice doesn't offer a lifetime warranty which is a disappointment, especially for something that is supposed to last a lifetime.
To conclude, Monoprice isn't customizable enough and doesn't even sell replacement parts. If you're fine with that, the Monoprice Weatherproof Wheeled Hard Case is a good alternative to the more expensive protection cases.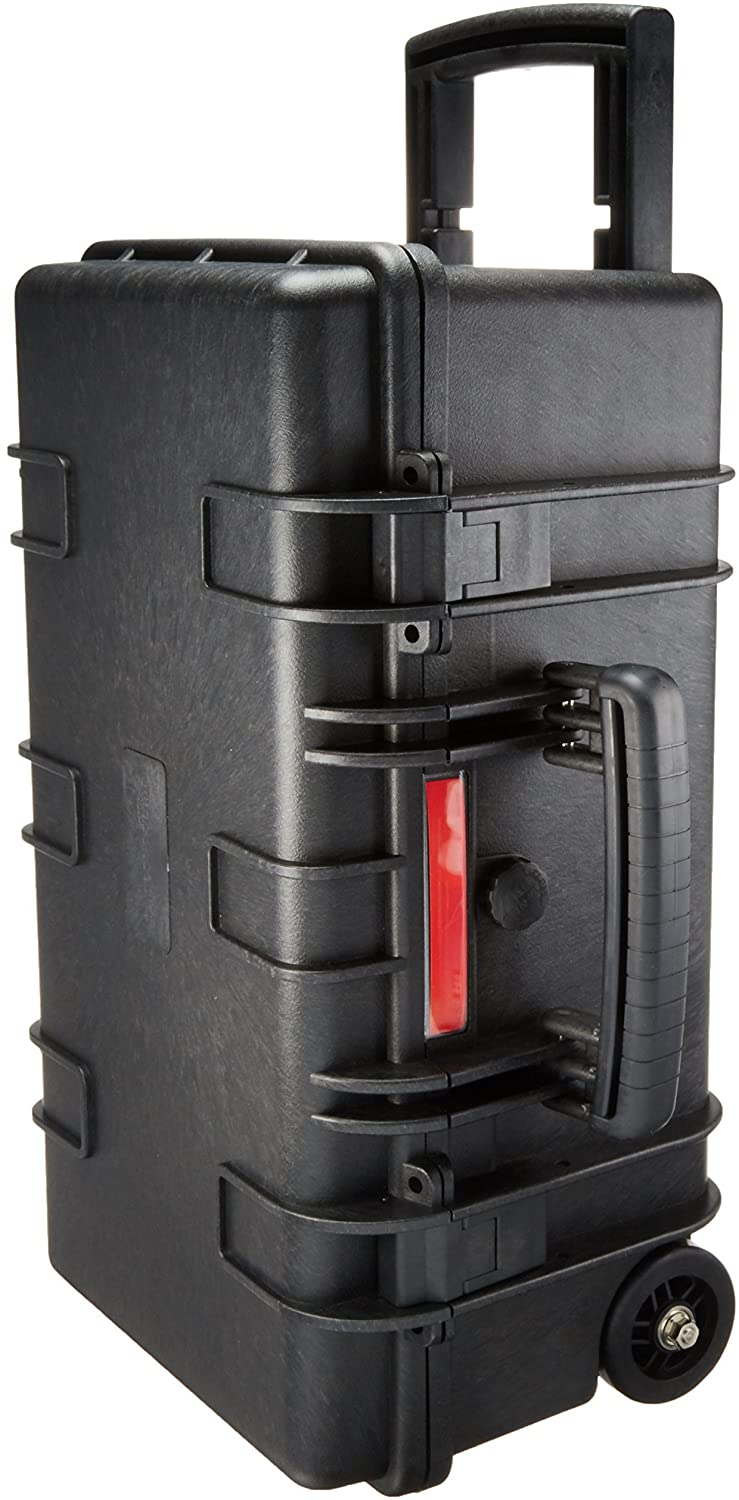 I know exactly what you're thinking… Amazon Basics? But hear me out… it's a good hard case.
Since the manufacturer doesn't need an introduction, let's talk about the Large Hard Rolling Camera Case instead.
First things first, I have no idea why they call it a camera case, because its interior measures 20.5″ x 10.8″ x 7.5″, or 520.7 x 274.3 x 190.5 mm for my fellow Europeans.
Not only is that able to store more than camera equipment, but it also meets most airline carry-on regulations, but confirm with your airline before traveling.
Speaking of traveling, it comes with a pressure equalization valve to deal with different altitudes, which is always a must.
It weighs around 15.45lbs, or 7kg, which is a bit on the heavier side. Fortunately, it has a plastic handle on the side for you to carry it like a suitcase.
Additionally…
There's also an extendable handle on the top and two plastic wheels at the bottom so it quickly converts to a rolling case which facilitates transportation.
As far as customization goes, this Amazon Basics Hard Cases comes with pre-cut foam squares so you can customize its interior to easily fit your gear. It doesn't work like the Pick N Pluck from Pelican, so once you cut them, there's no going back.
On top of that, it's only available in black, and there's no info about the material used, but it's most likely polypropylene (just don't quote me on that).
Most importantly, but as expected from a protection case, it's shockproof, dustproof, and waterproof (IP67) at 1 meter, for up to 30 minutes.
Unfortunately, Amazon doesn't offer a lifetime warranty either, so if you can't live with a 1-year limited warranty, this isn't the case for you.
To conclude, if you don't mind the fact that you can't choose a different color and the only interior available is a pack of pre-cut foam, the Amazon Basics Large Hard Rolling Camera Case is a pretty capable alternative, especially for the price.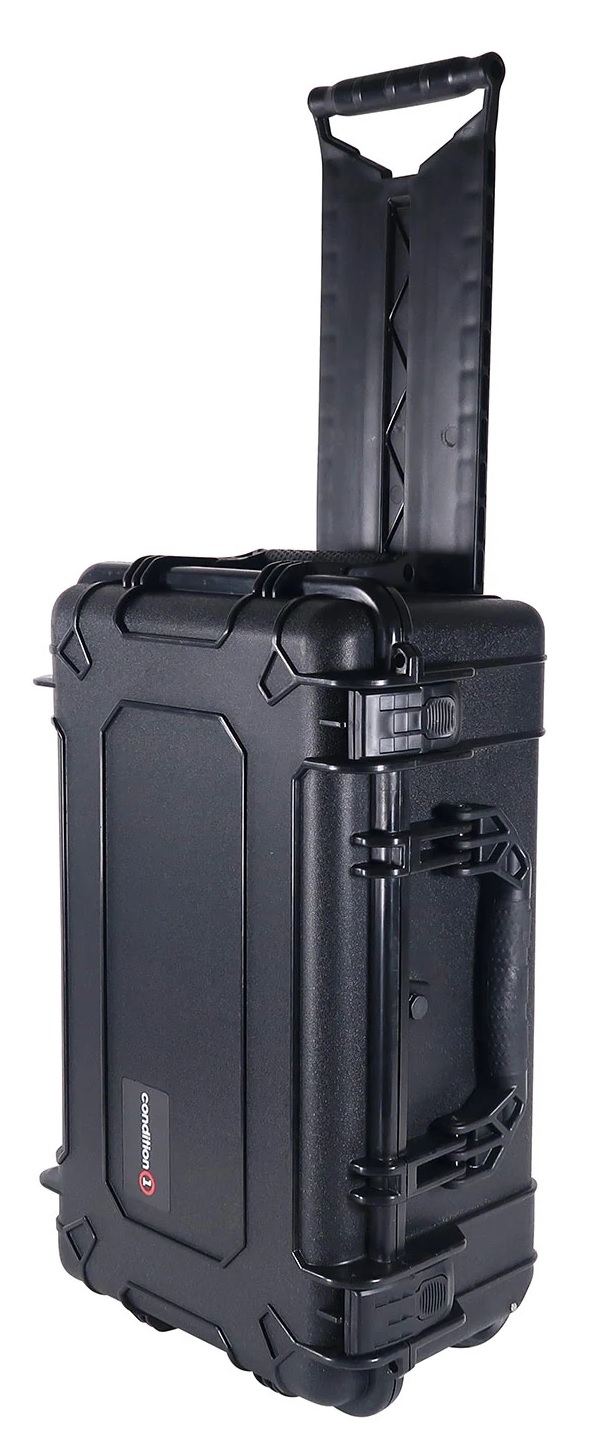 My final suggestion comes from Condition 1, a company from Texa, that specializes in hard cases and soft bags.
Of all the amazing products they sell, my favorite one is the Condition 1 22" Large Storage Case.
The interior measures 19.66″ x 11.18″ x 7.5″, or 499.4 x 284 x 190.5 mm, so it's slightly smaller than the average case but still on par with the alternatives.
Additionally, this case, in particular, is made with injection-molded CN-1 resin, which is known for being lightweight, and at the same, indestructible.
It's available in 4 different colors – black, orange, yellow and tan. Inside you find pluckable foam so you can easily match the shape of your tools and make sure it fits perfectly.
Considering carrying gear can get a little heavy, the Condition 1 Hard Case comes with a rubberized handle on the side.
To make things even easier, there's also a retractable top handle, that paired with its off-road wheels makes difficult terrains like sand or grass a mere nuisance.
On top of that…
As expected, it's shockproof, dustproof, and waterproof in 3ft for up to 30 minutes, just like all the alternatives.
There's also an automatic air valve to guarantee this is an air travel-friendly hard case, and the lock ports allow you to use a standard padlock to increase security.
Its patented latches are probably the easiest to use on the market, considering you can close the case with a single finger.
Even though it's optional, you can buy replacement foam, padded dividers, as well as pre-cut foam separately, similar to my first 2 suggestions.
Thankfully, Condition 1 is another company that offers a lifetime warranty, which is a sign that they trust their product, and so should you.
In the end, I firmly believe the Condition 1 22" Large Storage Case is on the same level as the Nanuk 935 or the Seahorse 920, so it's a great pelican case alternative.
Conclusion
At the end of every article, I usually pick my favorite products, but this time I'm having the hardest time doing so, considering they're all incredible options.
If I had to pick the best of the best, my top 3, in no particular order would be Nanuk 935, Seahorse 920, and Condition 1 Hard Case.
They're all incredible in terms of protection, have a good amount of options for you to choose from, and are fairly priced considering what they offer.
On the other hand, if you're on a tight budget, the Amazon Basics Large Hard Rolling Camera Case does a good job at protecting your gear, for half the price of a Pelican Case.
Plus, they're on sale often, so you might grab one for even cheaper. Sure, they're not as versatile, but for someone with a low budget, you can't expect all the bells as whistles.
In the end, I hope this article achieved its main purpose of educating you on how useful Pelican Cases are, and which is the best Pelican Case Alternative currently on the market.