If you're anything like me, you probably had your eyes on the best tongue drum for beginners for a while.
Even though I'm more of a drummer than anything else, I find them completely fascinating and could listen to them for hours.
On the other hand, if you've never heard of this beautiful and hypnotic percussion instrument, here's what you should know:
The tongue drum, also known as steel tongue drum, tank drum, or hank drum is a percussion instrument that produces sound via its vibration.
It's common to hear them in a yoga practice, meditation playlists, or sound therapy. It resembles a UFO, but the only thing from another planet is its unique sound.
Inspired by the Whale Drum and the Tambiro, the steel tongue drum was invented in 2007 by Dennis Havlena. He built it by designing a circular cross pattern layout in an empty 20-pound propane tank.
In turn, the Teponaztli, which is the Aztec sacred instrument, and the Slit Drum inspire both of them.
Nowadays, tongue drums are produced by a bunch of different manufacturers, in a few different materials like steel or wood.
The wooden ones are usually shaped like a box, while steel tongue drums are often round with multiple tongues on top.
Scale
On top of that, the tongue drum's scale defines the way it sounds. Deciding on which scale to buy is one of the most important decisions you'll make regarding this percussion instrument.
For example, a minor scale is the best option for meditative atmospheres, while major scales work better with playful ones.
On that note, if you don't already know which scale to pick, go listen to some on YouTube and see which ones you like the most.
Size
Another important thing to reflect on is the size. Tongue drums are available in many different sizes, usually ranging from 6" to 14" or more, with 12" being the standard.
As a beginner, buying the smallest options might not be the best idea thanks to your low accuracy.
On the other hand, they are way more portable and easier to understand thanks to most options being one-sided with a single scale.
With that in mind, the best option is somewhere in middle. Something big enough where your low accuracy won't be much of a problem, but not too big to the point where it affects the portability, difficulty, and of course, price.
Design
Another thing you should take into consideration is the design. I'm not going to suggest anything in that regard since the color and tongue shape won't affect the performance.
As a matter of personal preference, there's no right or wrong. Pick whatever floats your boat and most importantly, has the scale and size you're looking for.
Price
Obviously, the budget available limits the price you're willing to pay for a tongue drum. Unless you want something closer to a toy than to a musical instrument, don't spend less than $100 on a tongue drum.
Since we're talking about the best tongue drum for beginners, spending more than $400 isn't necessary either.
Before you can confirm you like playing one, and you see yourself playing it long term, between $300 and $400 is more than enough for a decent tongue drum.
Sides
Tongue drums can be single or double-sided. If you can afford it, always go for something double-sided. It has more sets of notes and scales, making them more fun in general.
Plus, it's always a good idea to learn how to play on more than one scale, as it makes you a much better musician.
Accessories
Some tongue drums are sold as part of a package that can include things like mallets, cases, guides, and note stickers:
The smaller the tongue drum is, the more important it is to get a pair of mallets. Always look for a package deal if you don't want to spend money on an individual pair of mallets.
Cases are a great way to protect any instrument while traveling or not playing. As a beginner, a case is far from essential and the lack of it shouldn't be a deal-breaker.
Some tongue drum manufacturers include playing guides, but they are far from complete and you should only use them to learn the very basics.
Note stickers are also not essential, but very useful, especially if you're a beginner. The set of stickers is numbered between one and the number of notes of your tongue drum, with 1 being the lowest note.
With the basics out of the way, here's the best tongue drum for beginners: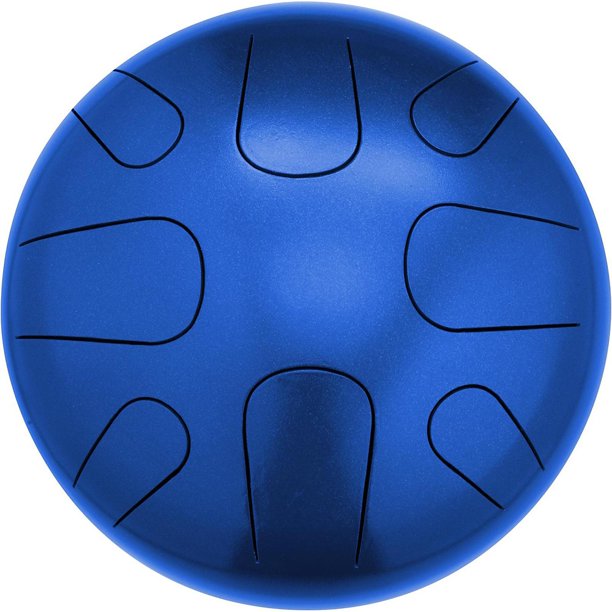 My first suggestion comes from one of the behemoths of the drumming world, Pearl. If you're familiar with them, you know how good their drums and drum gear are.
The Pearl Awakening Series Tongue Drum is another good example of how Pearl knows what they are doing.
Firstly, the tongue drum features eight or nine precise laser-cut tongues, or in other words, eight or nine notes.
Each tongue drum has a 10" hardened steel shell, which means you can easily play them with your fingers, or a pair of mallets.
They come in multiple finishes, including blue, orange, and green burst. Pearl was nice enough to include a pair of mallets with your purchase.
Sadly, even though a matching drum bag is available, it has to be purchased separately. Pearl doesn't include note stickers either.
Every single tongue drum is tuned to a pentatonic scale, including A minor, C and G major, and A and C Ake Bono.
Between the number of tongues, finishes, and tuning scales you've plenty of options to think about before making your first purchase.
At the bottom you find you find three rubber feet to provide stability and isolate the tongue drum to achieve a smoother decay.
In the end, this is a beautiful instrument with a great tone and decent volume that's well worth the money you're paying.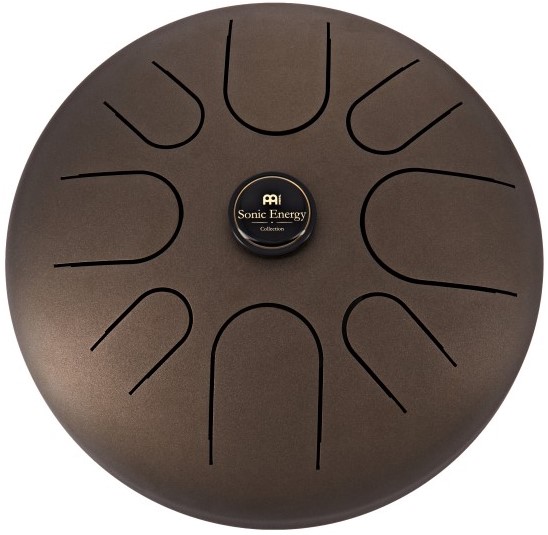 Meinl is another big name in the drumming world, but unlike Pearl, they focus on cymbals and percussion instruments.
One of those percussion instruments is the Meinl Sonic Energy Tongue Drum. It has a 12" diameter and playing it with your hands works just as well as a pair of mallets.
In terms of finishes, the only two colors available are vintage brown and black powder, but who needs vibrant colors and unique designs anyway?
The list of scales available isn't that deep either, since Meinl only offers the Sonic Energy Tongue Drum tuned to the key of A Minor, G Major, and A Akebono.
Despite the lack of different finishes and scales, this is a well-built instrument that delivers beautiful and expressive melodies.
Additionally, Meinl includes a sturdy padded bag to protect the instrument in transport or when you're not using it.
A pair of rubbers mallets is also included with every purchase, making it a great deal considering the price they're usually sold for.
On other hand, if you want something smaller and cheaper, Meinl sells a scaled-down version of the standard models.
The mini version is smaller than your smallest splash, with 5.5" diameter. It's available in three different colors – navy blue, gold, and black.
Plus, it's tuned to the key of A Major, B Major, and C Major. Not to mention, a travel bag and a pair of mallets are also included with the mini version.
All in all, if you're familiar with Meinl's build quality and are looking to add a tongue drum to your arsenal, you can't go wrong with Meinl Sonic Energy.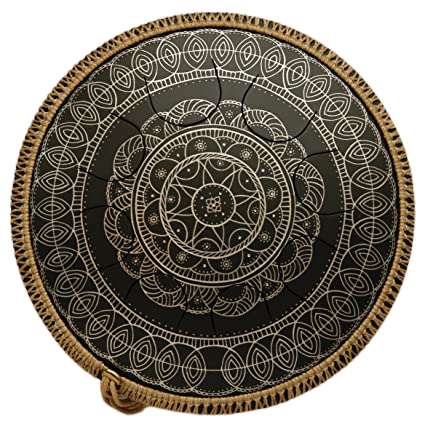 GUDA DRUM is a series of high-quality, unique, handmade tongue drums produced by Zen Percussion.
They are a USA-based company that sells their products online via Amazon, eBay, or their very own online store.
The Freezbee model is larger than the previous two, with a diameter of 14.7", while only weighing around 4 pounds.
On top of that, it's based on the arcane scale but the folks at Zen Percussion are kind enough to let you request a custom scale.
What stands out the most in the GUDA DRUM Freezbee is its unique design, often based on complex shapes and flowers.
It's made from stainless steel and engraved by hand, and just like with the scale, Zen Percussion will gladly accept any custom design's request.
Additionally, the edge is decorated with rope, which adds another nice detail to what was already a fantastic piece of art on top of a musical instrument.
A travel bag is also available, but not included with the Freezbee drum unless you pay an extra $40.
It's also a little bit more expensive than the previous two tongue drums, but also the closest thing to a handpan that doesn't cost thousands of dollars.
To sum up, if you're looking for a highly customizable steel tongue drum that looks as beautiful as it sounds, the GUDA DRUM Freezbee should be your top priority.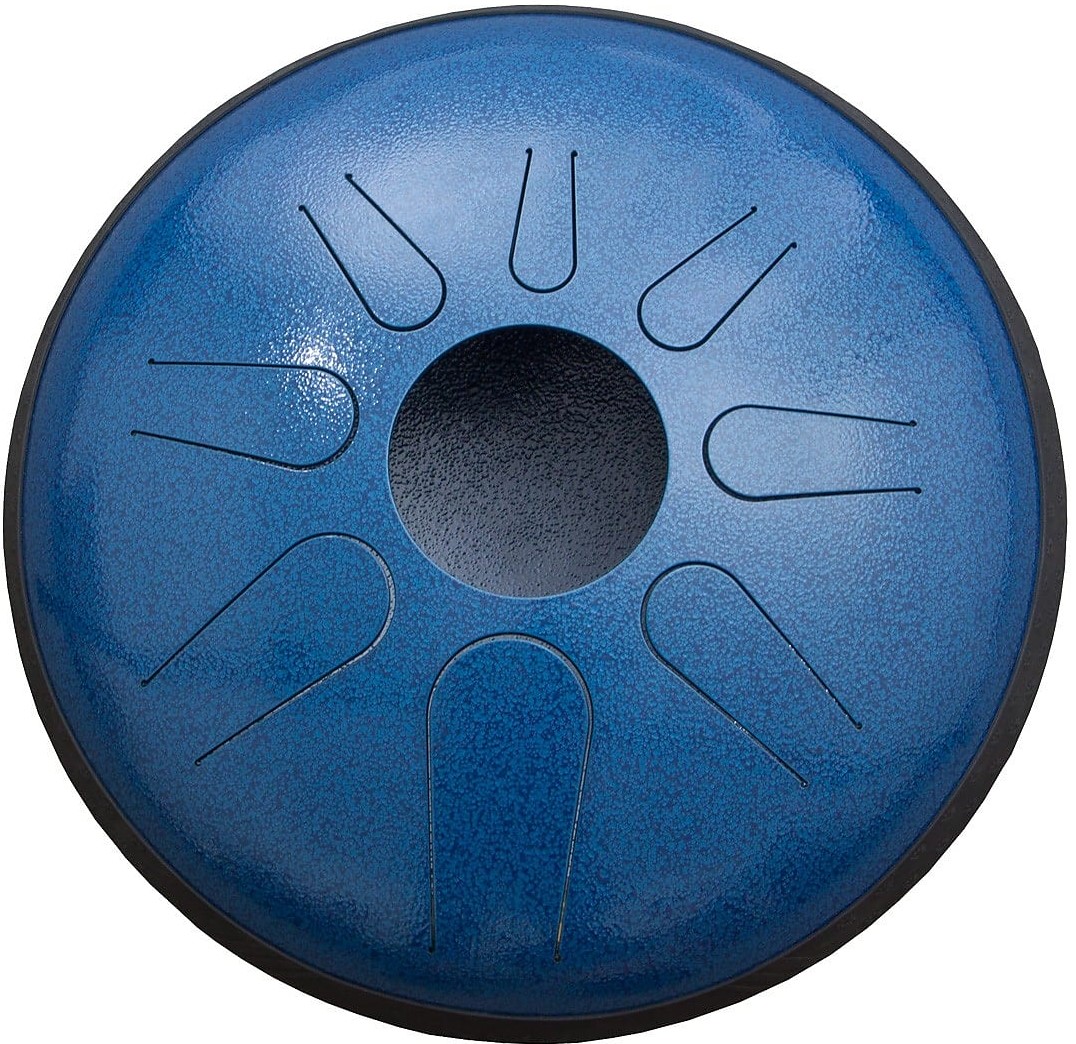 The Idiopan Domina Steel Tongue Drum is another musical instrument handcrafted in the USA, with high-quality American steel, by EnSoul Music Designs.
Firstly, the Domina has 12" of diameter and includes eight tongues, or in other words, eight notes.
There's also a different version named "Domina Pro" that comes with the same 12" diameter, but with an additional four tongues.
On top of that, you can choose between the nine different colors from the basic Ruby Red to the complex Onyx Rainbow.
The Domina Steel Tongue Drum comes tuned to the C Major pentatonic scale, which provides warm and clean tones all around.
My favorite part about this model, in particular, is the ability to tune it in 432Hz or 440Hz and three different octaves.
In other words, you do that with the pack of magnets it comes with, that you can use to change the pitch of each tongue (that also makes it inappropriate for little kids).
That might not sound like something a beginner would enjoy, but if you're serious about learning how to play tongue drums, learning how to tune them and play with different scales are important skills to master.
Each Idiopan Domina Steel Tongue Drum comes with a pair of medium-density mallets, a microfiber cleaning cloth, and a silicone display ring.
EnSoul Music Designs also offers the option to buy a Clip-On Chromatic Tuner, a pack of ten additional magnets, a padded traveling bag, and an overpriced Gibraltar Medium Extended Height Snare Stand.
Plus, also optional is the ability to include a pickup with your Idiopan Domina so you can easily amplify and record it.
In the end, the Idiopan Domina Steel Tongue Drum should be your priority if you value any of its unique features.
My final suggestion is the RAV Vast Tongue Drum. It costs at least twice as much as any tongue drum in this article and most consider it a premium tongue drum.
It was invented in 2013 by a Russian engineer named Andrey Remyannikov, which got inspiration from traditional handpans.
Firstly, it has a diameter of 20", which is 5" bigger than the second biggest tongue drum I previously suggested.
It also weighs around thirteen pounds, making it harder to carry around than the previous alternatives. Thankfully, some stores include a carry bag with shoulder straps to facilitate transportation.
Thanks to being a hybrid between a tongue drum and a handpan, you can easily play it with your hands if you wish so.
When it comes to sound, you can choose between more than twenty different scales, including popular ones likes B RUS, G Pygmy, and B Celtic Minor.
While not technically being a handpan, it has, in my opinion, the richest and most colorful sound of all the tongue drums in this same article.
Plus, even though it doesn't have the flashiest design, that same design makes it incredibly easy even for beginners to create good-sounding melodies.
To summarize, if money isn't a problem and you value sound over flashy designs the RAV Vast Tongue Drum is the best you can get your hands on.
Final Words
Thankfully for us, ever since PANArt announced they had discontinued the Hang, we've seen a rise in similar percussion instruments, like the tongue drum.
Nowadays, when buying a tongue drum we can choose between the many different finishes, the number of tongues, scales, and sizes.
That means we can easily satisfy everyone's needs, from a beginner looking to start with a low budget, to a professional aiming for a premium musical instrument.
In my opinion, if you're looking to buy a gift for a kid, the Meinl Sonic Energy Mini Tongue Drum is everything you need. It's well built, small, cheap, and sounds as good as you would expect.
On the other hand, if you're a professional that's only satisfied with the best of the best, your best bet is, by far, the RAV Vast Tongue Drum.
For someone that's neither a kid nor a professional, I feel like the Idiopan Domina Steel Tongue Drum satisfies most people's needs.
They are available with many different scales and designs and are by far the best option if you want to expand your skills and work on your creativity.
Additionally, the GUDA DRUM Freezbee Tongue Drum is a good option for someone that gets inspired by its unique designs or wants something that sounds as good as it looks in someone's living room.
Anyway, before you buying anything, listen to it in person or online, because the best tongue drum for you is the one you see yourself falling in love with the way it sounds.
In the end, I hope this article achieved its main purpose of educating you on what a tongue drum is, what to look for when shopping around and which is the best tongue drum for beginners.