Due to the nature of our musical instrument, sometimes practicing is only an option thanks to having the best drum practice pad on arms reach.
In other words, a drum set takes too much space and it's louder than most drummers would like to admit.
That reduces the amount of time available to practice some chops and that's also where a practice pad comes in handy.
However, that doesn't mean the practice pad is the only option. We can always opt for an electronic drum kit, drum mutes, or a combination of mesh drumheads with low-volume cymbals.
Unfortunately for us, good electronic drum kits are still expensive and don't solve the space problem. Most drum mutes don't have a proper answer for the bass drum yet.
Plus, the combination of mesh drumheads with low-volume cymbals is too permanent and requires a lot of time to set up.
Additionally, practice pads also protect our hearing by reducing the amount of time we play under the loud and harmful noises of a drum set and preventing ear fatigue.
On top of that, some models include a low volume surface for an even lower volume practice session.
One thing you should pay attention to is the practice pad surface. A good surface allows you to develop your muscle memory and rhythm, and seamlessly translate what you practiced to the acoustic kit.
That's especially true considering they make your work a little harder than an acoustic drum kit. Besides muscle memory and rhythm, practices pads are also a great option to develop your precision and speed.
To distinguish the best drum practice pads from the rest, I analyzed every pad's feel, responsiveness, portability, number, and type of playing surfaces, as well as build quality.
After taking everything into consideration, this is the best drum practice pad for your needs: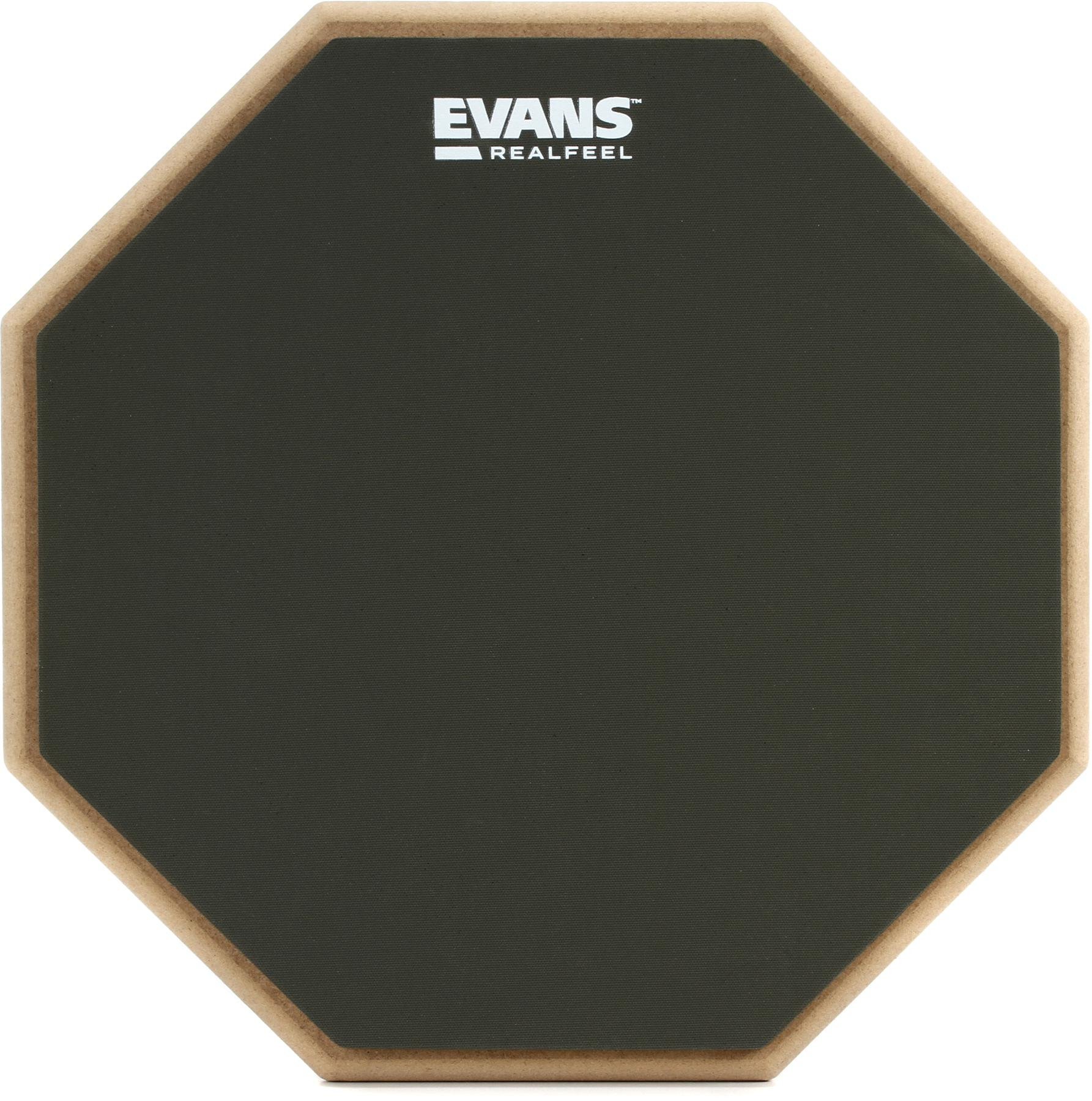 My first suggestion is one of the most popular practice pads in the world at the moment. I'm talking about the Evans Real Feel 2-Sided Practice Pad.
But why is it so popular, you may ask? First, it's available in two different sizes. The small option is 6" and the regular one is 12".
The 6" version doesn't take much space making it perfect to use on the go, to warm up backstage while waiting for a show, or to bring with you on holidays.
On top of that, as you could probably tell by the name, this pad includes two different playing surfaces: one side is made of gum rubber while the other side is recycled neoprene rubber.
The 12", on the other hand, fits perfectly into any snare drum stand, or on top of your snare drum if you're in a hurry.
As far as the two different surfaces go, the grey side mimics a marching snare drum well thanks to the increased rebound.
However, the black side is the exact opposite, making it perfect to work on your endurance and overall strength.
Additionally, the Evans Real Feel series includes three one-sided practice pads available with 6", 7", and 12" of diameter.
I own the 12" version and have been using it on the regular for a few years now. In terms of build quality, I honestly don't have anything to complain about.
Some users claim their practice pad wasn't properly glued together, so keep an eye out when shopping around.
Other than that, the surface's color might fade over time, and the pad might have an intense glue smell while brand new.
Either way, for such a low price, you can't go wrong with Evans Real Feel 2-Sided Practice Pad.
The Drumeo P4 practice pad designed by Pat Petrillo stands out from the rest when it comes to emulating an acoustic drum kit.
They did so by building a practice pad with four different surfaces within three different levels.
To summarize, at the very bottom you find a blue gum-rubber surface, just like you find in most traditional practice pads. This one mimics a snare drum.
Additionally, at the middle level, you find two completely different surfaces: one black, and one white.
The black surface is made from harder neoprene rubber, similar to the one found on the Real Feel practice pad. Its job is to mimic the feel and responsiveness of your tom-toms.
On the other hand, the white surface is your "floor-tom". It's way less responsive than the previous two, and therefore perfect to develop your strength, or for situations where low-volume is important.
Finally, at the top, there's a red surface, which is the hardest of the four. It emulates the feel of a ride cymbal (or a marching snare drum).
The Drumeo P4 is the most fun you'll have while working on a practice pad.
Besides what any basic practice pads help you with, the P4 also allows you to practice your movement around the kit. That makes it easier to translate everything you learn to the drum set.
All in all, if regular practice pads bore you to death, give the Drumeo P4 a chance.
However, be warned, they cost twice as much as the Evans Real Feel 2-Sided Practice Pad, so they're far from cheap.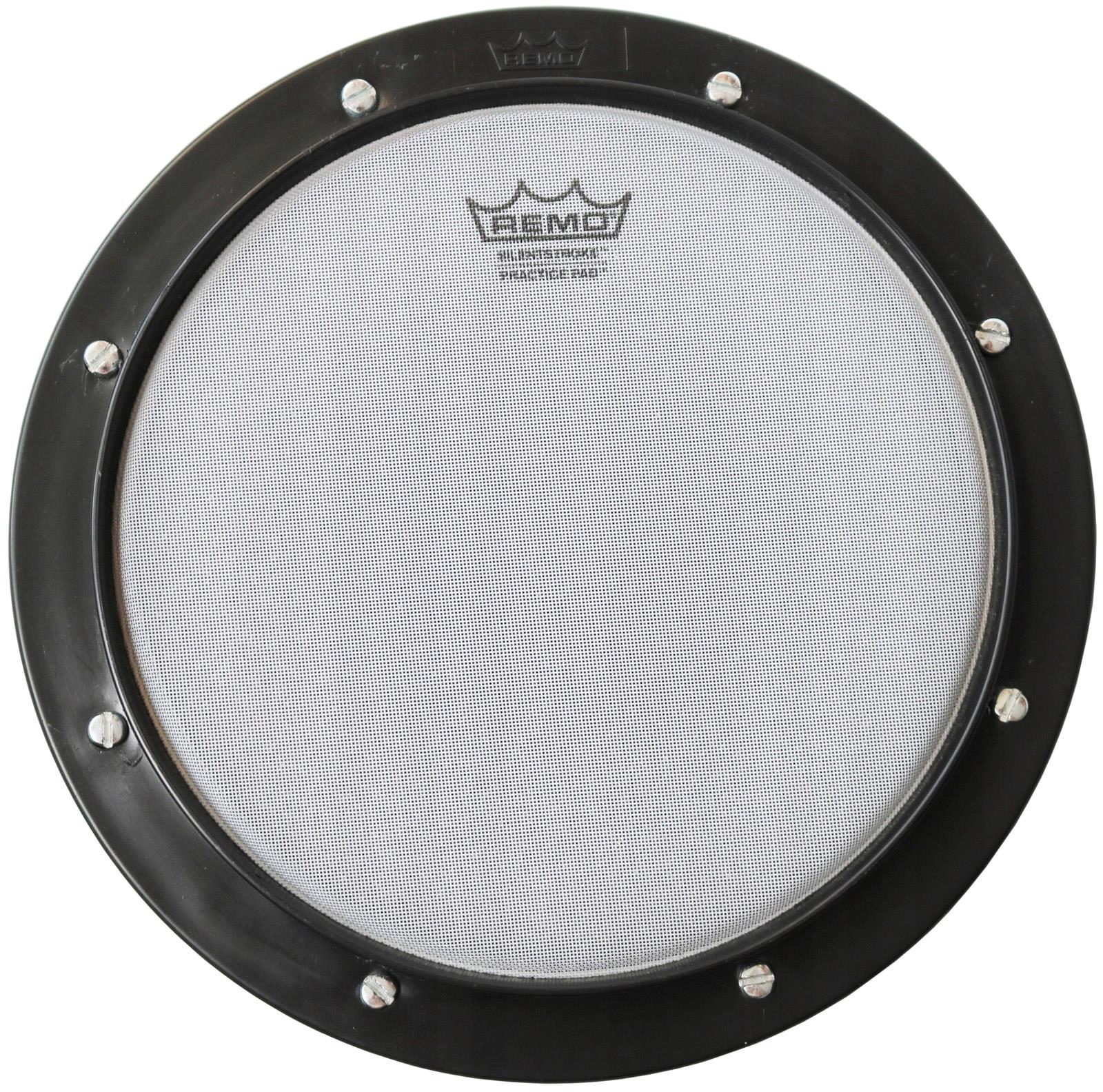 At first, my next suggestion looks like any traditional practice pad, but that couldn't be further from the truth.
The Silentstroke practice pad is just like any drum pad from one of Roland V-Drums electronic drum sets, without the electronic part.
In other words, it features the same Silentstroke drumhead that you can buy for your acoustic or electronic drum kit.
On that note, Remo claims it reduces up to 80% of volume while still mimicking pretty well the feel and responsiveness of a normal drumhead.
The important bit is the "up to". Don't let that fool you, it's way more silent than a regular practice pad, but the noise reduction is nowhere near 80%.
The Remo Silentstroke Practice Pad is capable of being mounted on a stand, but the rubber at the bottom allows you to safely place it anywhere you like.
It's available in 8" and the hoop is finished in a beautiful matte black. Also on the hoop are 8 tension rods that you can use to tune the pad until it matches your taste.
By using a mesh drum head, it's way lighter than a regular pad with similar sizes. You can also replace the drumhead when it's worn out to further expand its longevity.
Have a spare drum you're currently not using? In that case, you can simply buy a Silentstroke drum head and make your Silentstroke practice pad. Beware that, if the drum is 12" or bigger, then the drumhead might cost the same or more than the practice pad.
All in all, for the price, this is the best you can get if noise reduction while practicing is what you're aiming for. If not, Remo also sells the same pad under the name "Tunable Practice Pad" with a traditional drumhead instead.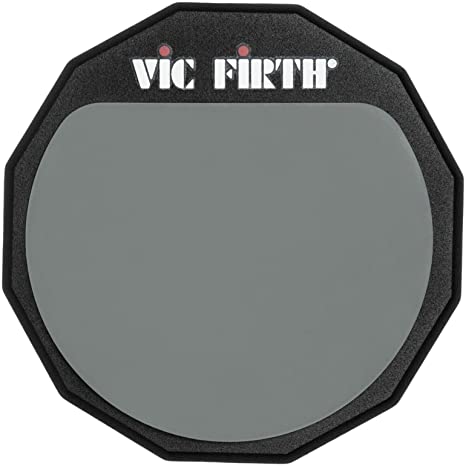 Vic Firth knows what they are doing when it comes to drumsticks, and the same can be said about their practice pads.
Just like the one from Evans, the Vic Firth Double-Sided Practice Pad features two different playing surfaces, as you could probably tell by the name.
The gray side of the practice pad has a soft rubber that emulates the feel of a drumhead. This side is ideal if you're looking for a proper workout while making the least amount of volume possible.
On the other hand, the black side includes a harder black rubber surface that results in more volume and a faster rebound. This is what you should look for if you're aiming for a marching feel or practicing your rudiments.
Additionally, the sizes available are 6" and 12". The 12" one fits in most snare stands, while the 6" practice pad is perfect for someone that wants to practice on the go. Plus, it's a great option to develop your precision.
To conclude, the only thing I dislike about Vic Firth Double-Sided Practice Pad is its price. It costs, on average, 20% more than the Evans RealFeel 2-Sided Practice Pad.
It's, without a doubt, a great practice pad, but for 20% less, Evans' alternative is just as good, if not better.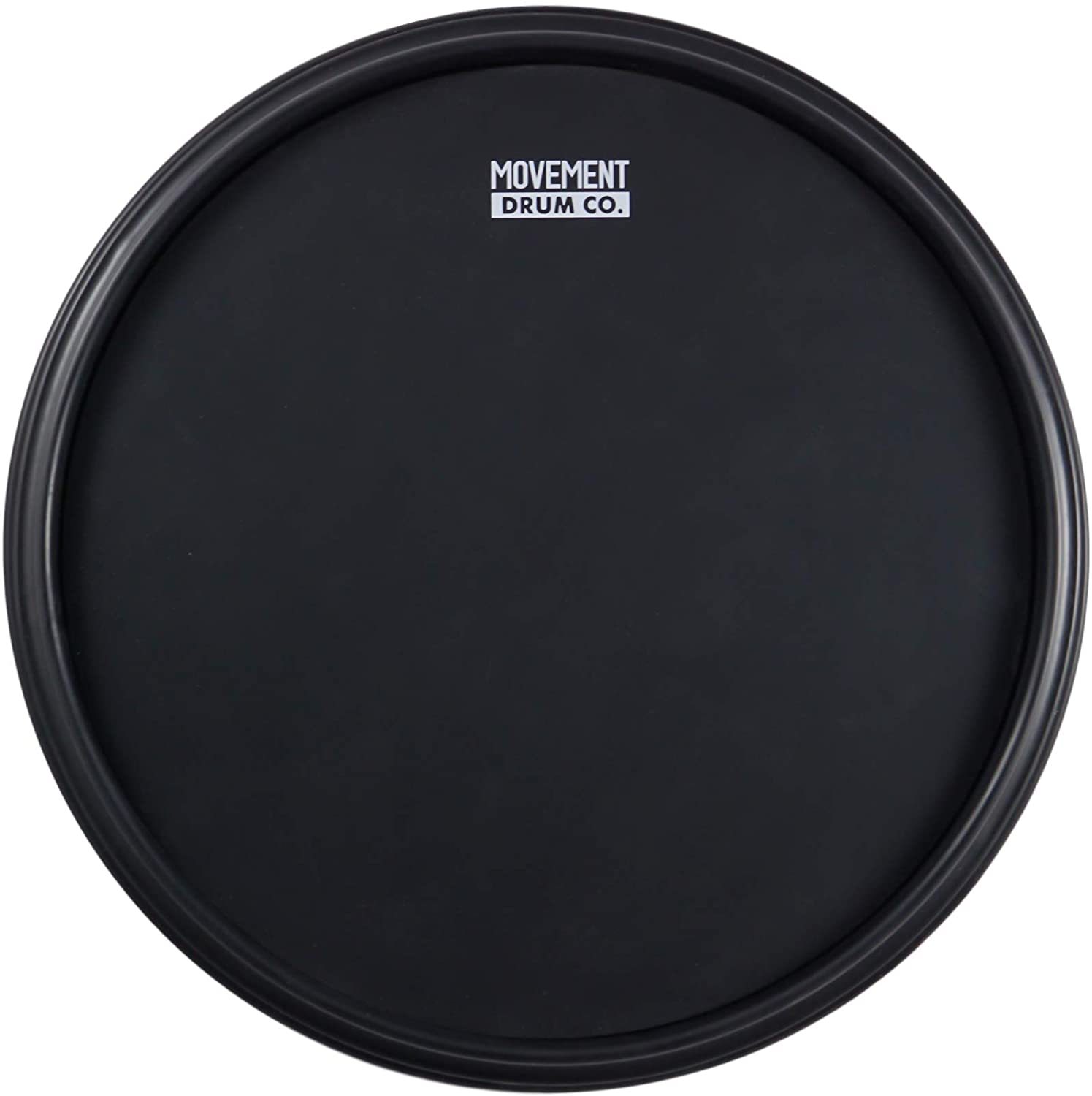 My next suggestion comes from Movement Drum Co., a family business that aims to provide "the most versatile and complete practice pads in the market".
The Double-Sided Premium Practice Drum Pad, despite the name, features four different playing surfaces.
Firstly, the top one is made of a silicone rubber that mimics the feel and rebound of a snare drum. The silicone guarantees higher quality, increased durability, and makes everything easier to clean.
Next, flip the pad upside down and you find a harder neoprene surface, similar to the one found on Evans and Drumeo's practice pads. It provides more articulation and less rebound while simultaneously increasing the volume levels.
You can insert the third surface, name conditioning, to decrease the rebound and volume levels. With that in mind, it's ideal for a serious workout where silence is also important.
Lastly, you can pick the fourth optional surface between the two available options: brush and laminated inserts.
The brush insert works like a traditional coated snare surface that you can use to work on your brush play.
On the other hand, the laminated insert is extra articulate, so you can easily distinguish between each stroke and work on your accents and accuracy.
This 4-in-1 practice pad is available in 12" and features a plastic rim that's far from common, but adds another layer of realism.
I can't find anything negative about the practice pad, but the inserts, especially the laminated one, need further testing, as far as durability goes.
As far as the price goes, it's at the same level as the Vic Firth Double-Sided Practice Pad while being much more versatile.
Considering everything you get for such a reasonable price, the Movement Drum Co. Double-Sided Premium Practice Drum Pad offers the most value for the money by a wide margin.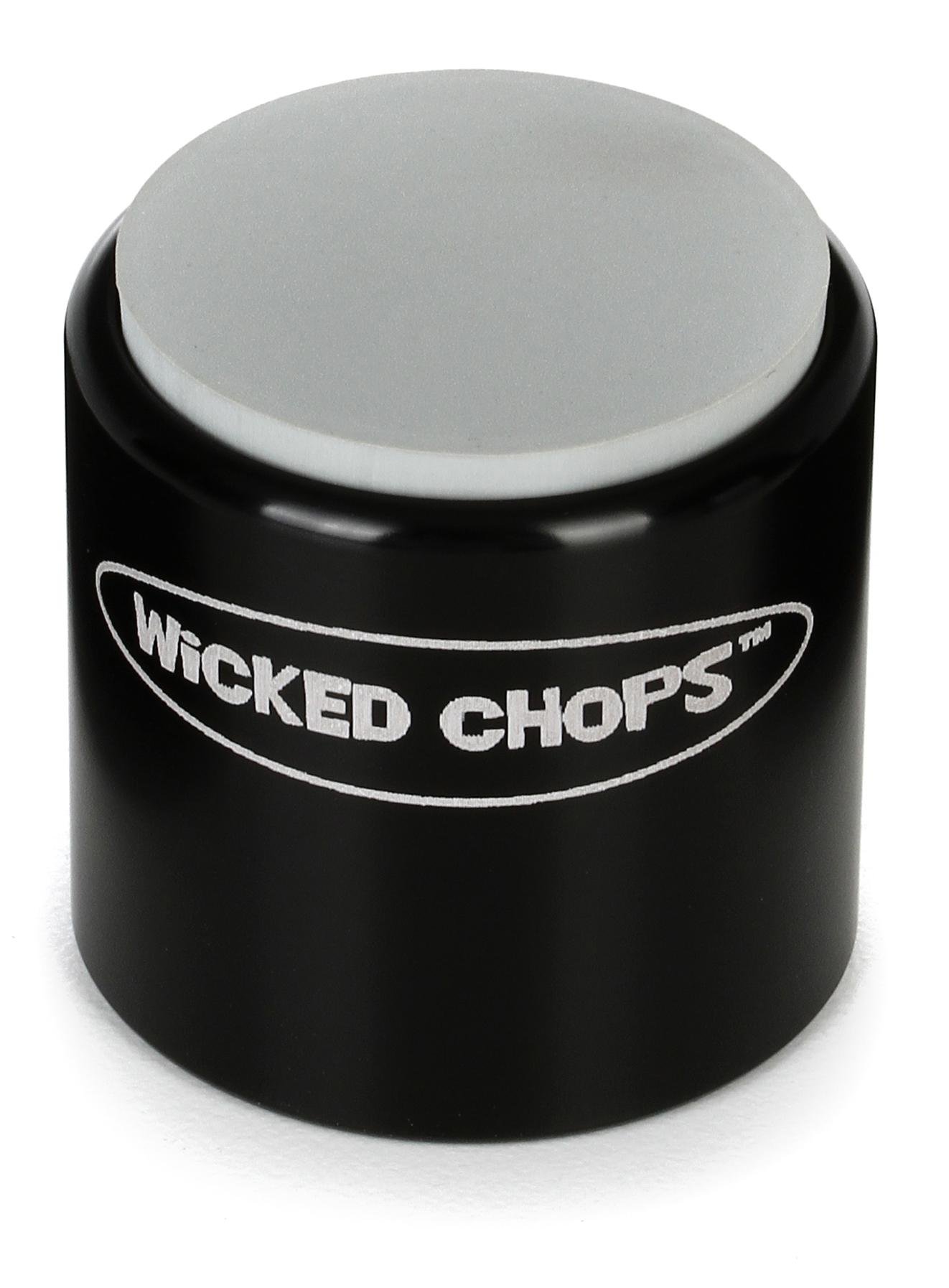 Ahead's story started with a pair of drumsticks, but they now make some of the best drum gear on the market, like the Ahead Spinal-G Drum Throne or the Ahead Wicked Chops Practice Pad.
The Wicked Chops pad is nothing like we've seen before, considering its diameter is no more than 1.75". No, that's not a typo.
With such a small playing surface, developing your accuracy will be a piece of cake. Plus, it's also helpful in developing dynamics, speed, and endurance, just like any practice pad with seven times its size.
My favorite pack is the fact that it's small, light and you can easily fit in your jean's pocket unless you're a lady.
On top of that, the playing surface features a gray gum rubber that provides a natural rebound, while the body is made of high-quality black anodized aircraft aluminum.
At the bottom, you find a threaded hole so you can easily mount it to any 8mm cymbal stand.
Even though that's all a matter of personal preference, I like its clean design. What I don't like, is the price.
Considering its size and the single playing surface, I was honestly expecting it to cost half of what it usually costs.
Either way, price aside, this is honestly a great practice pad if mastering your accuracy and portability is what you're looking for.
On the other hand, if you're a beginner or someone that's constantly losing his keys, this might not be the best drum practice pad for you.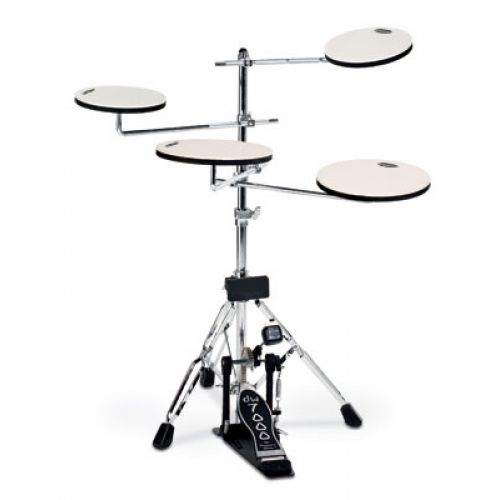 My final suggestion is not a practice pad, but more of a practice set that resembles a traditional drum kit.
It features a heavy-duty stand with all the hardware necessary to easily assemble the five pads it comes with.
Speaking of pads, the kit comes with two 8" pads that you can use as your tom-tom and (ride) cymbal, and two 10" pads that act as your snare drum and floor tom.
On top of that, you also get a bass drum pad and a spot to clamp your bass drum pedal to the stand. Keep in mind that it doesn't include any bass drum pedal.
As far as the actual practice pads go, both the feel and rebound are as natural as you would expect from a high-quality practice pad.
Compared to a regular practice pad, translating what you practice to a traditional drum kit is way easier. Plus, it allows you to practice different dynamics considering it adds the bass drum to your practice routine.
On the other hand, it's not as portable as a basic practice pad and it's at least four times more expensive than the premium practice pads.
In the end, this is by far the best option for someone that finds traditional practice pads too boring, as is willing to spend more for a different experience.
Final Words
To conclude, it's important to remember that a practice pad is only useful if you put in the time.
It doesn't matter if you buy the fanciest of the practice pads if you don't make an effort to practice and further develop your drumming skills.
With that out of the way, if you simply want a basic practice pad, the best one is Evans Real Feel 2-Sided Practice Pad. You should go with Remo Silentstroke Practice Pad if silence is an absolute necessity.
On the other hand, if you want a traditional but versatile practice pad, the Movement Drum Co. Double-Sided Premium Practice Drum Pad is your best bet.
You should only invest in the DW "Go Anywhere" Practice Set if you can't stand practicing with a traditional pad or need to level up your bass drum pedal skills.
Finally, the Ahead Wicked Chops Practice Pad is the best option for someone that values portability and the ability to develop striking accuracy above anything else.
Your decision should be based on your current needs, but whatever you end up buying, just make sure you put in the necessary work.
All in all, I hope this article achieved its main purpose of educating you on the different types of practice pads, and which is the best drum practice pad for your needs.