Let's face it… buying the best drum bags and cases should be on every drummer's mind. At least the ones that tour or move regularly.
Drum sets are one of the most expensive musical instruments because it's a group of multiple instruments like snares, bass drums, and cymbals.
Drummers tend to pick each piece carefully, so everything meshes well together and creates some harmony.
That harmony only comes after years and years of trial and error, and thousands of dollars spent.
After making such a huge investment, it's a real shame if you don't protect your beloved gear.
It's much cheaper to invest in drum cases or bags now than to replace whatever you may damage in the future.
We also have the hardest job when it comes to carrying around our instrument, as it's made of multiple heavy parts.
Drum cases or bags, besides protecting, are also really helpful when it comes to transportation of the drum kit.
They have handles, so it's easier to carry around, and some of the cases, especially hardware and bass drum ones, even have wheels.
To buy your first set of drum cases or bags, you need to answer a few questions first.
Drum bags vs Drum cases vs Road cases

I use a set of drum bags when I'm gigging nearby and I am the one driving my drum set around. I also use them as storage at home, since I only have space for two drum sets at once.
They are fabricated with some kind of synthetic fabric or nylon with padding inside for reinforced security.
They are the cheapest and the lightest option, but they also provide the least amount of protection.
If I play far away, like an international gig, for example, I use drum cases, or road cases if they are available (I don't own any myself).
Hard cases are the most popular for gigging drummers. They provide a good amount of protection, are neither cheap nor expensive, but they are kind of heavy.
Plus, most hard cases don't have wheels, unless we are talking about hardware or bass drum cases.
They are made of some type of molded plastic combined with protective foam, making them way more secure than drum bags.
A road case, ATA case, or flight case provides the best protection, but they are also the most expensive and take the most space. They are also heavy, but unlike the hard cases and drum bags, they usually have wheels.
Most road cases are fabricated with an outer layer of ABS or fiberglass laminate and an inner layer of some sort of wood, like birch, maple, or poplar.
Which one should you buy?
Before deciding what's the best option for you, think about it: is it worth buying hard cases (or even road cases) for a $500 drum set?
Probably not, unless it has some sort of sentimental value to you. In that case, drum bags are the best option.
But if you invested $3000 in your dream drum set, investing in drum bags instead of drum/road cases shouldn't even be taken into consideration.
Unless you're filthy rich, of course. In that case, damaging that $3000 drum set might not mean anything to you.
After deciding on what type of protection to buy, you need to know the sizes of your drum set. If you already know, great, if not, measure them.
You need to find out the diameter and the depth of each drum before making any purchase.
If you're shopping coverings for the first time, it's way cheaper to buy a five-piece set that works with most standard kits, and add additional cases or bags as needed.
With that in mind, we compiled a list of the best sets of drum cases and bags you can currently buy.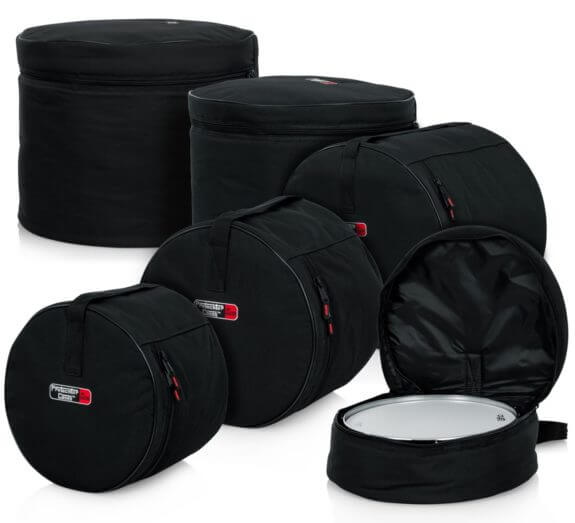 Gator Cases produces a wide variety of protective solutions for most musical instruments at a modest price.
Their cases and bags are known for being robust and a great value for the money, and this is no exception.
The GP-STANDARD-100 is a 5-piece set of bags with the following sizes:
22" x 18" – Bass Drum
14" x 5.5" – Snare Drum
12" x 10" – Tom 1
13" x 11" – Tom 2
16" x 16" – Floor Tom
600-Denier Nylon is the durable fabric used to make these bags and every single one comes with comfortable straps so you can easily carry them.
They are light while providing more than enough protection with their 0.4" padded and lined interior.
The set has a collapsible design which makes it perfect for anyone to store it with limited space.
Besides the standard set, Gator Cases also sells two 5-piece fusion sets:
1- 22″ x 18″, 10″ x 9″, 12″ x 10″, 14″ x 12″, 14″ x 5.5″
2- 22″ x 18″, 10″ x 9″, 12″ x 10″, 16″ x 16″, 14″ x 5.5″
If that's still not enough, there's a wide range of individual drum bags to accommodate anything like an 18" x 16" floor tom, 24" x 18" bass drum, and much more.
The Gator 5-Piece Standard Set doesn't offer as much protection as hard cases, and it's not waterproof, but as far as cheap drum bags go, this is the best of the best.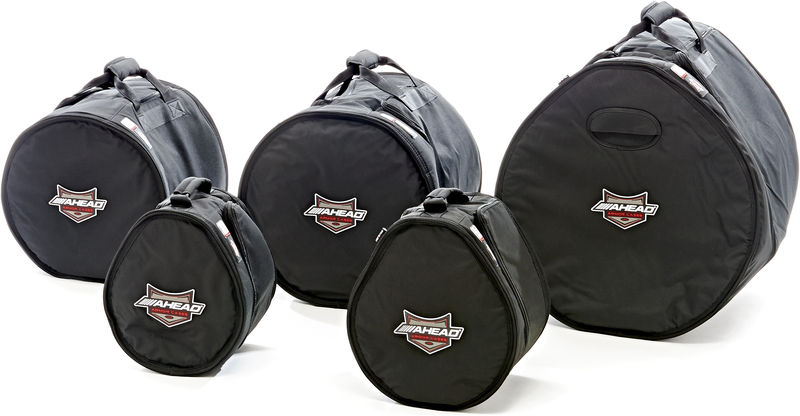 Previously known for manufacturing aluminum arrows, hockey sticks, and baseball bats, Ahead quickly became a heavyweight of the drumming world by producing innovative products like drum sticks, thrones, and… bags.
This set in particular includes:
22" x 18" – Bass Drum
12" x 10" – Tom 1
13" x 11" – Tom 2
14" x 14" – Floor Tom 1
16" x 16" – Floor Tom 2
The Ahead Armor Drum Case Set 5 features the long-lasting 600 Denier-Polyester on the outside and two layers of high impact foam padding and the premium-grade Sherpa Fleece lining on the inside.
The best part about this set of drum bags is their unique shape. Instead of being round like most are, these drum bags come with a teardrop shape.
Sounds weird? Maybe, but it makes sense. Regular drum bags are round and ignore the fact that a lot of drums come with mounting hardware.
The teardrop shape corresponds to the true shape of the drum and its mounting hardware, making it easier to properly fit any drum, with or without it.
These cases also come with their patented zipping system. The unique design allows the zipper to run down the diameter of the bag and even down both sides of the cutout, so any drum can get in and out fast and without much hassle.
Just like the Gator set, there are a few different versions with fewer bags and/or different drum sizes.
Plus, there are more than sixty different bags with every diameter and depth you can imagine, if you wish to buy them individually.
The only thing preventing this set of drum bags from being my number one is the high price and the fact that it doesn't include a snare bag (you can always work with the 14" x 14" one).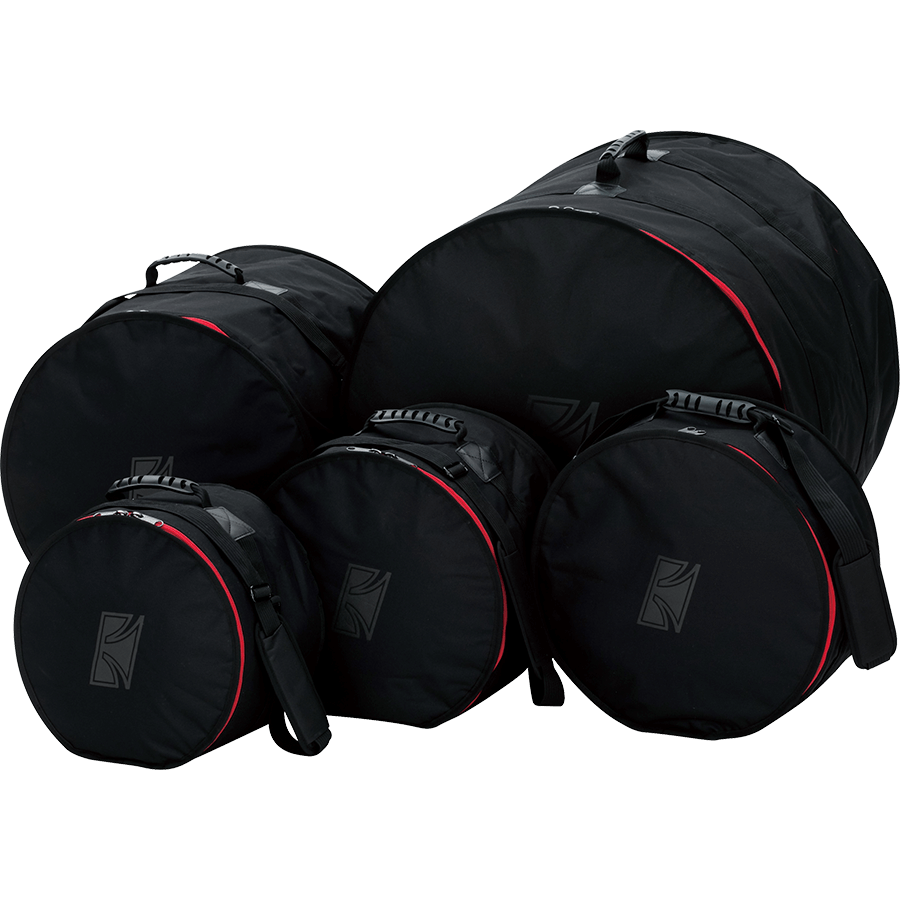 Tama makes some of the best drum sets on the market, and their drum bags are nothing to shrug off either.
This is considered the standard set since it includes a bag for a:
22" x 18" – Bass Drum
14" x 6.5" – Snare Drum
12" x 09" – Tom 1
13" x 10" – Tom 2
16" x 16" – Floor Tom 
Besides this standard set, there are a few versions available. Configurations with one tom-tom and two floor toms, with smaller tom-toms or with an 18" or a 20" bass drum, for example, are all available.
Not to mention the dozens of individual drum bags you can buy to complete or create your custom drum bag set.
The outside of the bags is made of 600 denier nylon fabric, which is extremely durable and waterproof.
Inside the nylon fabric, there's a 0.4" thick padding to absorb any shock and ensure no drum suffers any damage while traveling.
Every bag comes with rubber handles, and all, except the bass drum bag, include shoulder straps with padding to facilitate transport.
The tom bags in particular are a bit oversized to easily accommodate toms with mounting hardware.
This isn't, in my opinion at least, the best set of drum bags, but it deserves a spot on the podium thanks to the great price-quality ratio.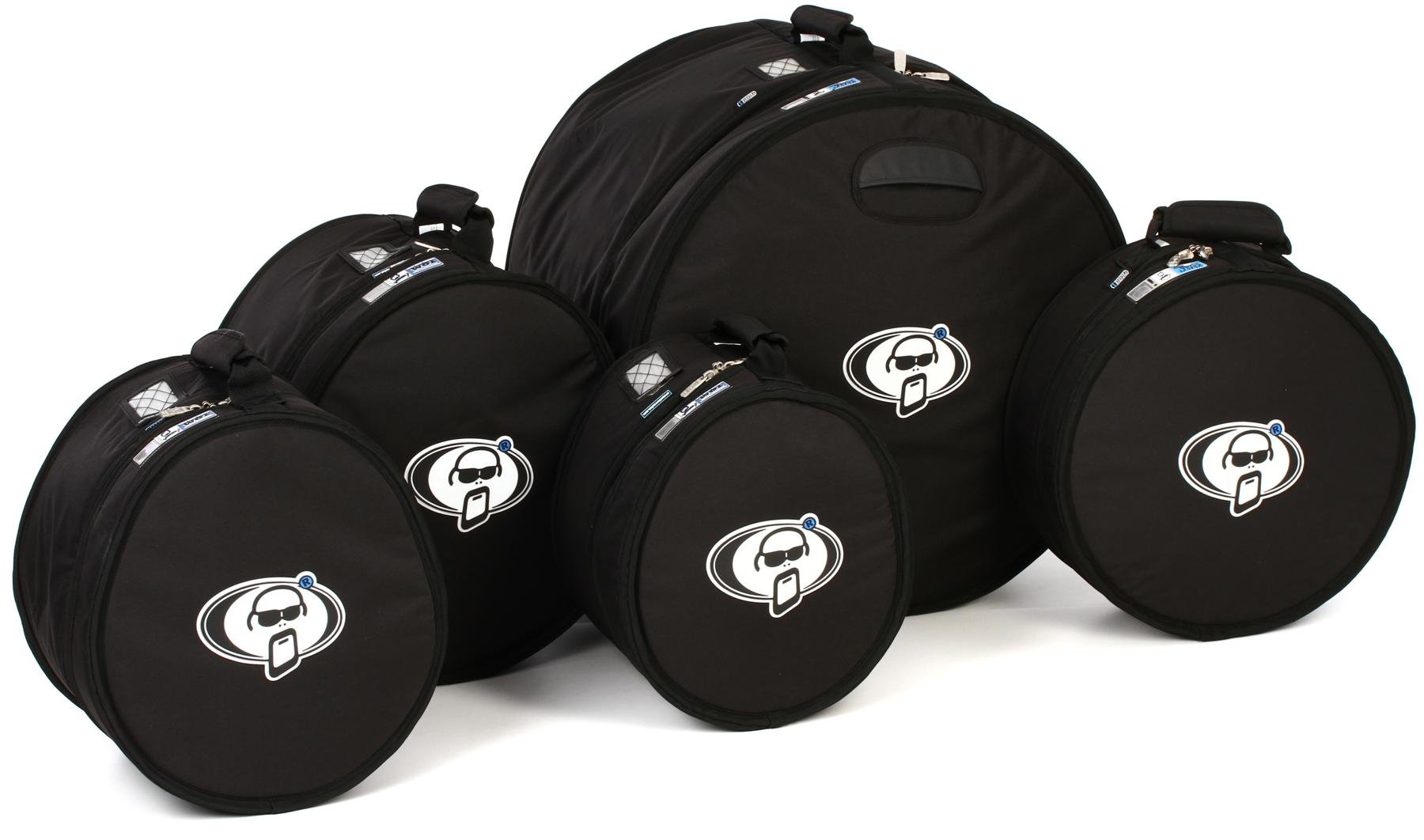 Protection Racket is not as well known as the previous brands, since they made their name manufacturing surfboard and windsurf board bags.
From there, they started making drum bags, like the ones on this set:
22" x 18" – Bass Drum
14" x 6.5" – Snare Drum
12" x 10" – Tom 1
13" x 11" – Tom 2
16" x 16" – Floor Tom 
Just like the previous brands, Protection Racket also offers different versions of drum bag sets, as well as individual bags.
The outer material used is 600-denier polyester, which is strong, durable, and waterproof.
Inside you'll find dual-density foam to protect your drums from painful dents and scratches.
There's also nonabrasive synthetic fleece on the interior, to increase the protection and polish/clean your kit during transport.
Every bag comes with a padded polypropylene handle, and the lightweight makes it easy to carry around.
The worst part about this drum bag set is the price, as it can be double or triple the price of the other alternatives.
Ignoring the price, they are on par or a level above the previous drum bag sets. It's up to you to make the decision based on whether the quality fully justifies the price difference.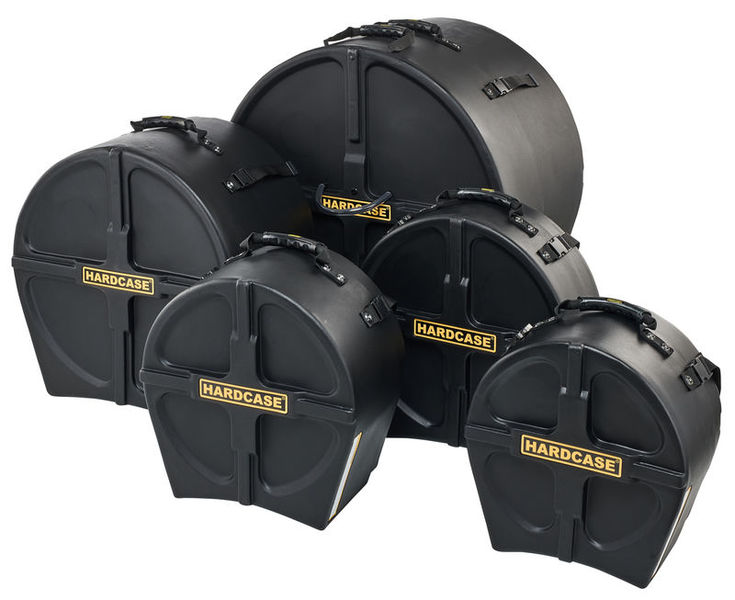 Hardcase is a family-run British company, known for its high-quality rigid plastic protective cases for drums and percussion instruments in general.
They offer a limited lifetime warranty in all their products, against any fault resulting from design or manufacturing process failure.
The cases in the standard set are as follows:
22" x 20" – Bass Drum
14" x 07" – Snare Drum
12" x 12" – Tom 1
13" x 13" – Tom 2
16" x 16" – Floor Tom
Besides the standard set, Hardcase sells a few fusion, rock, jazz, and jungle sets of cases.
Individual drum cases are also available in case you need to customize your drum case set to fit your drum kit.
Polyethylene is the material used to fabricate these drum cases, which is resistant, lightweight, and weatherproof.
Inside you can choose between "foam pads" or "fully lined" to increase protection, with the last one being a bit heavier.
Produced as a one-piece to eliminate any possible joint failures, you probably won't need to activate the warranty anytime soon.
All the cases come with three wide black straps for easy transport and belt ends to prevent clip loss.
The bass drum case also includes two wheels to avoid hurting your back every time you got a gig lined up.
If you're not a fan of black, there are plenty of colors available like, red, blue, green, orange, yellow, pink, and white.
The best feature about these drum cases is the fact that they're stackable. In other words, when empty, you can store them inside each other and you only need to find space for the bass drum case.
They cost as much as a beginner drum set, but these are some of the best drum cases available for a price way lower than the competition.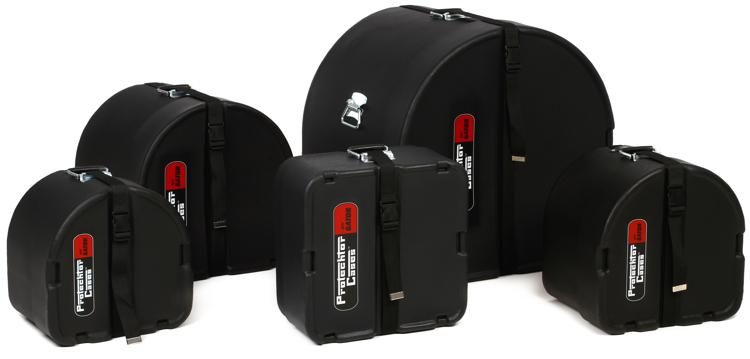 Gator, as we've seen before, offers a vast catalog of bags and cases for musical instruments.
The standard set from the Protechtor Classic Series comes with:
22" x 18" – Bass Drum
14" x 6.5" – Snare Drum
12" x 10" – Tom 1
13" x 11" – Tom 2
16" x 16" – Floor Tom
These cases are known as the industry standard rotationally molded drum cases, which is a process that increases strength and durability to every case's corners and provides unmatched water resistance.
To sum it up, they insert polyethylene into a mold that rotates until the material sticks to the edges of said mold in an even pattern.
If all else fails, it comes with a limited, lifetime warranty against cracking so you can sleep better at night.
Every case includes rugged metal handles with padding and wide latch straps for comfortable transport and making sure the cases stay closed.
Custom depths and colors are available, as well as an optional 0.25" thick interior foam lining for an additional charge.
They are not as good as the Hardcase's set, but they offer good enough protection for a lower price.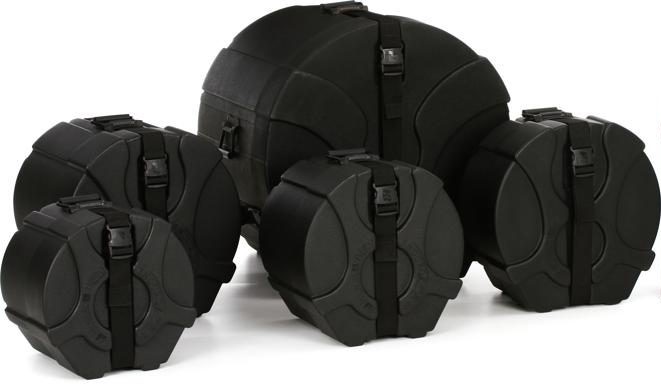 Humes & Berg makes some of the best drum cases, but their catalog, when it comes to drum case sets, is mediocre. Their site doesn't mention any set at all, only individual cases.
Thankfully some music stores like Sweetwater tend to have the following set available:
22" x 18" – Bass Drum
14" x 6.5" – Snare Drum
12" x 09" – Tom 1
10" x 08" – Tom 2
14" x 14" – Floor Tom
The shells are made with water and impact-resistant tough polymer. Inside you find thick foam, necessary to protect drum finishes and hardware.
They are strong enough for you to sit on them or throw them in the back of a bus without damaging anything (besides the bus, obviously).
Every case comes with a 2" wide strap to ensure it stays closed and collapsible hinged steel handles for easy transport.
A patented self-stacking design allows you to stack all the cases on top of each other to save space when not in use.
They are probably the best in terms of quality, but the fact that they don't offer full sets makes it even more expensive to protect your drum kit.
By costing almost 50% more than the Hardcase's alternative, I don't see a reason to pick Humes & Berg as my number one, sadly.
Packing up…
As years fly by and musical instruments get more and more expensive, we get more options to protect our beloved music gear. We have soft and hard cases, with different shapes and multiple colors to match our drum kit.
With that said, I still believe two options – one set of bags and one set of cases – stand out when it comes to price, build quality, and versions available.
For drum bags, the Ahead Armor Drum Case Set 5 is everything you need. It protects as well as a drum bag can protect for a more than fair price. If your kit isn't standard, there are multiple versions available as well as individual bags.
For drum cases, the clear winner is Hardcase Drum Case Set HStandard. It covers a basic 5-piece kit, they are fairly priced and offer multiple colors, different sets, and individual cases.
The other options are good too, otherwise, I wouldn't include them, but those two are the best drum cases and bags you can buy right now.