If you're anything like me, you just got a new electronic drum kit and wish to enhance its capabilities with the best drum VST plugins.
As I've stated before, recording an acoustic drum kit is undoubtedly one of the most difficult tasks any producer has.
That's especially true for any amateur producer that records straight from home since it's unlikely they have enough space to properly record an acoustic drum set.
Not to mention how hard it is to record a track at home without annoying all the lovely neighbors.
Thankfully for us, in this day and age, anyone can produce anything from EDM to Jazz with just a basic computer from the comfort of their home.
One way to do it is by using a drum VST plugin, but do you even know what a VST plugin is?
Before diving into the best drum VST plugins, let's take a look at what a VST plugin is, why should you should use them, and how they compare to an acoustic drum kit.
What is a VST plugin?
VST stands for Virtual Studio Technology, and a plugin is a software add-on that adds a different feature to the basic software.
In this case, a VST plugin is designed to work with a DAW, also known as a Digital Audio Workstation.
When it comes to VST instrument plugins, they help you include a variety of instruments in your track without having access to the physical version of those instruments.
Other than that, effect plugins are also common and useful if you want to change the original sound in multiple creative ways.
Why should you use a drum VST?
VST plugins can be used in multiple different ways. For us drummers, a drum VST plugin is a good replacement for an acoustic drum kit.
Since some of us don't have access to an acoustic kit at all times, we can go far with an electronic drum kit, connected to a drum VST plugin inside a DAW.
Right now, you might be thinking: "Then why wouldn't I use the electronic drum kit's onboard sounds?".
Well, if you have a budget electronic drum kit, the onboard sounds of your kit are, most likely, far from realistic.
In that case, your best bet is to connect your cheap electronic drum kit to a drum VST plugin and take advantage of a big library of studio-quality drum samples.
VST Plugin vs Acoustic Drum Kit
Both options have their pros and cons, so let's take a look at the pros and cons of drum VST plugins:
Pros of using a drum VST plugin:
Requires much less space than the one necessary to record an acoustic drum kit, since you can work with as little as a computer, an audio interface, and a DAW;
Considering the number of microphones, cables, stands and the interface one needs to record a drum set, using a drum VST plugin is most likely cheaper, and sometimes completely free;
Working with a drum VST plugin is usually much simpler since it consists of a lot of drag and dropping; Plus, you don't need to tune anything, or become a professional audio engineer, since you're working with samples.
With a drum VST plugin, it's much easier to have access to different sounds that match a specific musical style without being an expert in tuning, mixing, or collecting hundreds of cymbals and snares.
Cons of using a drum VST plugin:
As a drummer, recording an acoustic kit might be more straightforward than using a drum VST plugin. Either way, in both situations you need at least some basic knowledge of music production;
Even though anyone can have access to a huge library of samples, you're still limited by the samples you can get your hands on and the plugin's settings.
What to look for in a drum VST plugin?
Well, just like with an acoustic drum kit, a three-piece jazz kit isn't the first choice to play death metal with.
With that in mind, the first thing you should think about is what type of music you plan to produce. Most drum VST plugins come with a big sample library that suits the most common music genres, but your decision should always be based on what type of sound you want to achieve.
Another important thing is how much you want to invest in a drum VST plugin. Thankfully for us, even though some drum VST plugins can cost up to $1.000, there are some completely free alternatives worth your time.
Last but not the least, my last point is completely subjective, but another thing you should pay attention to is the plugin's interface.  Make sure it's intuitive, easy to use, and smooth, otherwise you'll give up before even starting.
With that out of the way, let's take a look at the best drum VST plugins: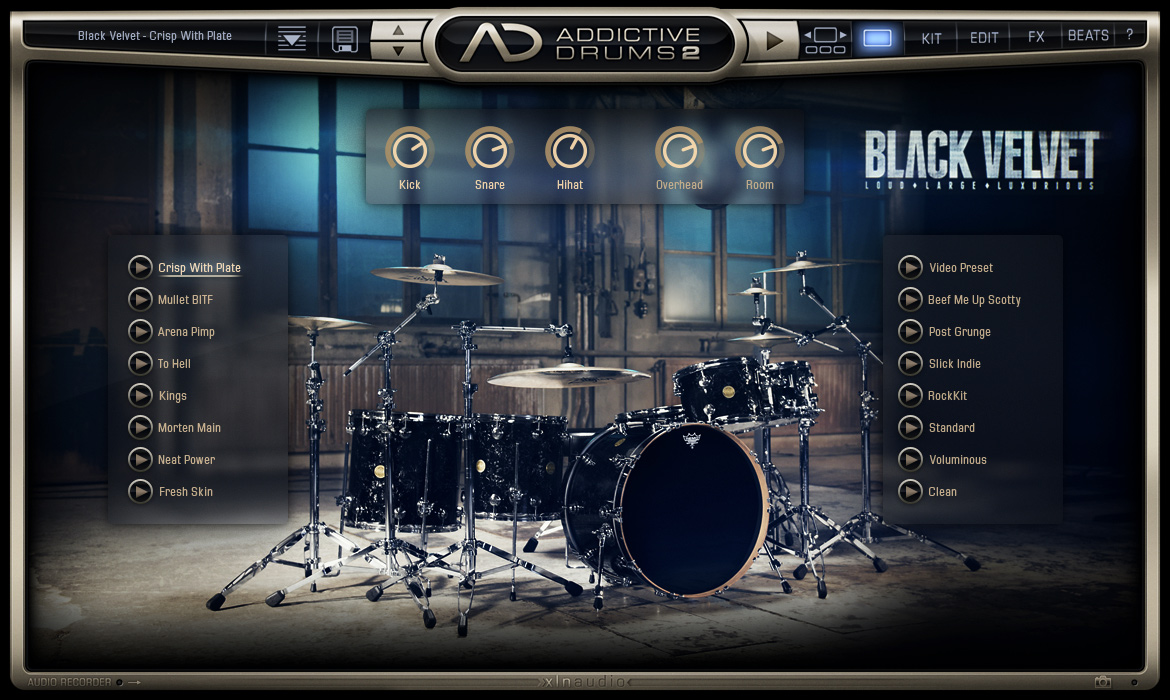 My first suggestion is one of, if not the most popular drum VST plugins in the world, considering it's often seen as the industry standard.
As you could expect from the title, Addictive Drums 2 is a Virtual Studio Technology plugin that features acoustic drum kits recorded in world-class studios by some of the best drummers around.
On top of that, it also comes with single kit pieces like snares, bass drums, and percussion instruments that you can use to add different flavors to your library.
Sounds interesting? Well, I have yet to talk about the best part. Addictive Drums 2 includes MIDI drum beats that you can use in your music production without knowing anything about drums.
Everything is available in what XLN Audio calls a collection, which is nothing more than a bundle of drum kits, MIDI drum beats, and individual drums.
As far as collections go, there are custom and curated collections. Custom ones are ideal for someone that wants to make their bundle, by choosing which kits, beats, and individual drums to include.
On the other hand, curated collections have a specific type of music style in mind and are way less versatile than a custom alternative.
Custom collections are available in four different packs: Custom Collection, Custom XL Collection, Custom XXL Collection and Complete Collection.
Here's a side-by-side comparison:

When it comes to the Curated Collections, on top of being way less versatile, they only feature two drum kits and two drum beats packs each.
The price difference between a Curated Collection and the basic Custom Collection makes the first not worth it, so there's not much of a decision to make.
Without going too much into detail, both drum kits and drum beats packs have completely different styles to choose from, including Pop, Rock, Jazz, Funk, and of course, Metal.
The kit pieces include percussion instruments like Bongos, Cajons, Djembe, and iconic drum gear like the world-class Ludwig Supraphonic 402 Snare Drum.
Even if you're not satisfied with all the versatility Addictive Drums 2 has to offer, you can take advantage of the built-in effects, like EQ, reverb, and compression to guarantee everything sounds exactly like you expect.
To conclude, it works well with the most popular DAWs like Reaper, Cubase, Cakewalk, Pro Tools, Ableton Live, and Logic Pro. Your computer should be running anything from Windows 7 to 11, or macOS 10.10 and beyond.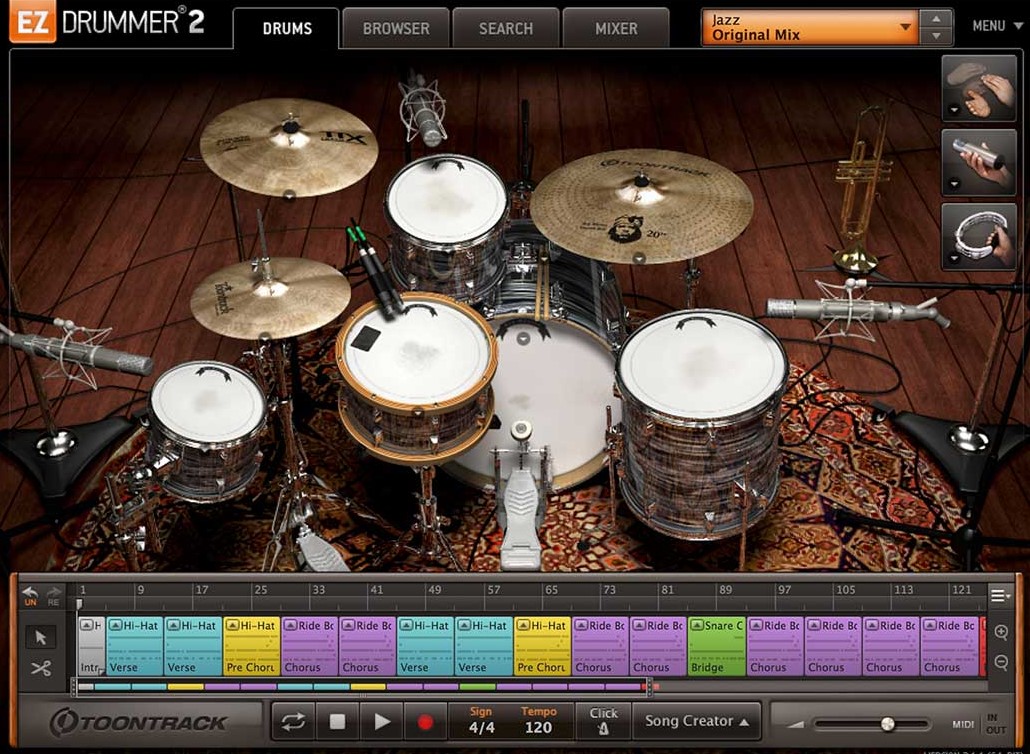 To start, ask anyone what their favorite drum VST plugin is, and if the answer isn't Addictive Drums 2, then it's most likely EZdrummer 2.
Unlike the previous alternative, EZdrummer 2 comes with two separate sound libraries, modern and vintage, with 5 complete drum kits and multiple percussion instruments to choose from.
As an example, you can find tambourines, shakers, maracas, or even claps to spicy to your groove even further.
On top of that, it also offers numerous effects like EQ, reverb, delay, and compression for both sound libraries.
Everything you hear was recorded in one of the best studios in the world, in a room crafted with drum production in mind and captured by a multi-award-winning audio engineer that combined vintage and modern recording gear to achieve the ultimate drum sound.
Despite all the similarities we've seen so far, EZdrummer 2 has a couple of unique features that make it stand out from the rest.
My favorite one is the ability to tap in a certain groove directly to the interface, or by using a connected MIDI controller like an electronic drum kit. EZdrummer 2 will then display all the similar grooves within its groove library.
On the other hand, you can also find grooves manually, by selecting a couple of filter options like time signature and musical genre.
Additionally, and even though the base product is already good on its own, EZdrummer 2 also has an epic library of expansions that match specific musical styles.
For example, there are a few variations of rock, pop, jazz, hip-hop, and metal expansions available to guarantee there's always an option for everyone's needs. Plus, Toontrack likes to spice things up by offering bundles that mix things like Hip-Hop and Jazz while saving a few dollars on the way.
To the surprise of absolutely no one, EZdrummer 2 works with the most popular DAWs, like Ableton, Cubase, Cakewalk, GarageBand, Logic Pro, Reaper, Pro Tools, and a few more that might work but were not tested by the professional at Toontrack.
As far as the system requirements go, to work properly, it needs Windows 7 or newer, or macOS 10.10 for the folks that prefer the Apple ecosystem, as well as 4GB RAM and free hard disk space.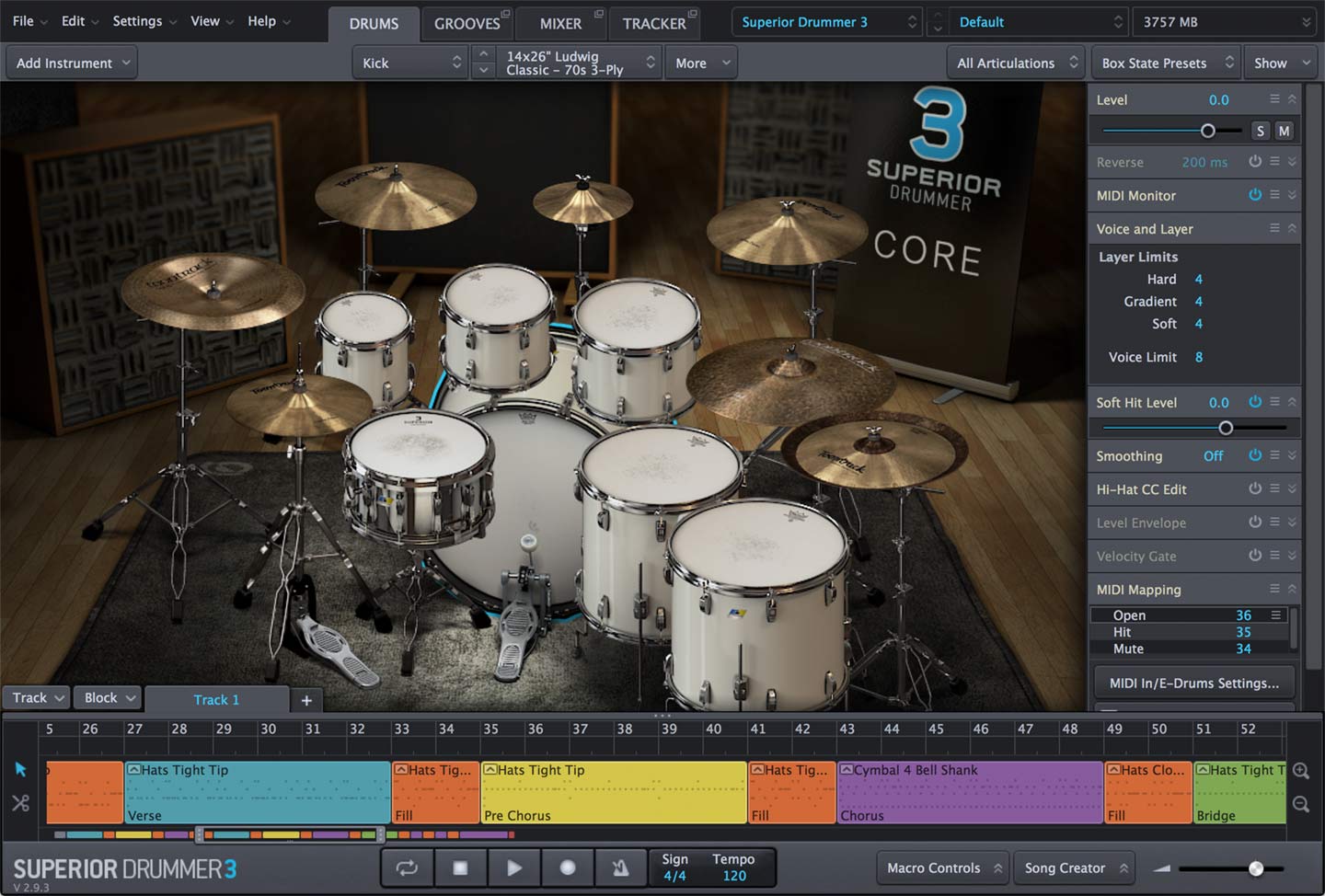 My next suggestion is another option straight from Toontrack, and the one I'm currently rocking with. I'm talking about Superior Drummer 3.
Right away, I'm pretty sure your first question is something along the lines of, "why does Toontrack have two different drum VST plugins?", followed by "which one is the best?".
Let's start by talking about what Superior Drummer 3 brings to the table. When you purchase SD3, you get access to over 230Gb of unprocessed sounds recorded by one of the most iconic recording engineers.
To achieve next-level immersion, everything was recorded with 11 room microphones that you can then play back in stereo or up to 11.1 surround sound.
As far as instruments go, SD3 includes 7 different drum kits, from vintage Ludwig to fan favorites like Premier Genista or Pearl Masterworks.
There's also a collection of dozens of the most recorded snare drums in the world, as well as an additional 350 drum machine sounds.
Additionally, you can select the type of sticks and drumheads you want to play with, or drag and drop third-party samples.
Superior Drummer 3 also comes with 35 different effects, including EQ, reverb, delay, distortion, and much more, which adds another layer of customization.
Similar to EZdrummer 2, you can find drum grooves within SD3 by using the filters in the "Grooves" tab, the search function, or by tapping the groove you're thinking about in Tap2find.
With the number of possibilities, your creativity sets the limits of what you can achieve while working with Superior Drummer 3.
My favorite part about SD3 is the fact it works especially well with e-drums, giving it the extra realism necessary to make them sound and feel as acoustic as possible.
That's only possible thanks to the ability to edit Hi-Hat pedal response, snare zone control, and the mapping presets available for most e-drum brands.
The system requirements are the same as the ones from EZdrummer 2, but keep in mind you need almost 300Gb of free space to accommodate SD3 and its sound library.
Side by side, Superior Drummer 3 offers much more control over your sounds, considering the number of options you can tweak, from drumheads, to
On top of that, it features a much bigger library with 230Gb (vs EZ2's 3Gb) that not only offers more sounds, but also additional articulations and velocities.
Therefore, when deciding between the two, you should go for EZdrummer 2 if you want something simple that sounds good right out of the box.
Superior Drummer 3 should be your final choice if you want complete control of your sound and don't mind the inflated price tag.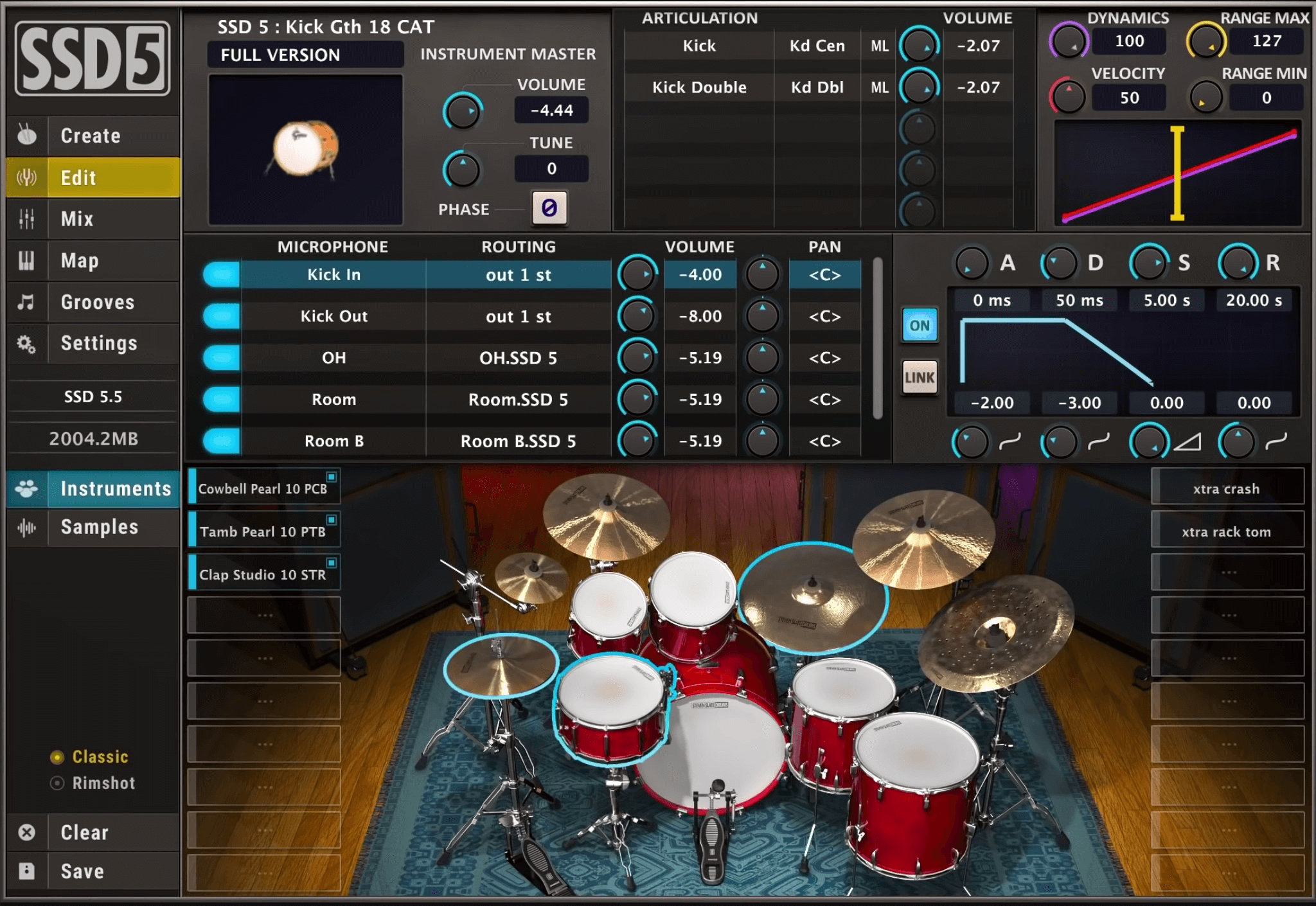 When I bought my first electronic drum kit, Steven Slate Drums 5 (previous version) was the first drum VST plugin I've ever tried.
That decision was made based on its simplicity and the fact that it was much cheaper than similar quality alternatives.
The current version, SSD5.5, isn't as cheap since it costs as much as some of the previous plugins mentioned in this article, but how does it compare quality-wise?
For starters, within the create tab you find two sub-tabs named instruments and kits. The first one allows you to build your kit using the 135 snares, 112 kicks, 58 toms, and dozens of cymbals it comes with.
On the other hand, the kit tab gives you access to close to 150 drum kit presets that load the whole kit at once if you don't have the desire or the need to build your kit.
Additionally, using the edit tab lets you tweak all the different settings of each instrument like volume, tuning, or even the microphone routing and pan. This is also where you edit each instrument's articulations like rimshot and center strike.
On top of that, for additional controls, you can check the next tab called Mix, where you find even more controls like solo, mute, phase, and pan. This tab also allows you to control the entire kit at once, instead of each instrument.
"Every Drum Sound Under The Sun"
Just like we've seen in Addictive Drums 2, as well as in both Toontrack plugins, SSD5.5 features over 2400 MIDI grooves that you access using the "Grooves" tab on the left panel. Pretty straightforward, right?
Later you can click on a library and choose exactly what type of beat you're looking for in one of the many categories available, between intro, verse, chorus, bridge and fills. Not satisfied with the default grooves? Import your own 3rd party grooves.
Unlike some of its competitors, SSD5.5 doesn't include any built-in effects, which for some might be a deal-breaker when shopping for the best drum VST plugin.
This drum VST plugin requires Windows 7 or later, or macOS 10.10 or newer if you're on a MAC. It works with the most popular DAWs, except for GarageBand Big Sur.
All in all, if you value simplicity but want enough room to customize your drum sound, Steven Slate Drums 5.5 offers great value for the money.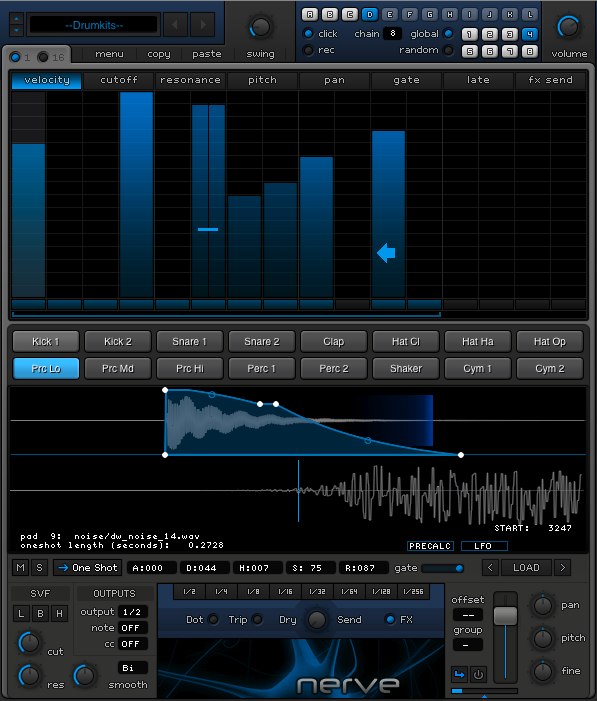 My final suggestion is nothing like the previous four, but in what sense is it different? Well, let's find out.
Firstly, the main difference is the design, since there's no kit in the middle with drums and cymbals that glow every time you strike them.
That makes sense, considering it was created by EDM producers that didn't have the typical drummer in mind when they developed Nerve.
Plus, it looks straight from the late '90s, which isn't necessarily a bad thing. By contrast, everything loads extremely fast and the whole interface is pretty intuitive, considering you can adjust anything by clicking or dragging your mouse.
With Nerve, you can create your beats from scratch using some of the many patterns, presets, drum kits, one-shots, and loops included in its 2Gb library. If necessary, importing your samples is also a possibility and you can do it by simply dragging and dropping the files.
On top of that, the plugin is divided into three main sections: the pattern editor, the pads and waveform sections, and the mixing section.
Starting with the pattern editor, it has two different views called "1" and "16". In the "1" you're able to program one parament at a time, while the "16" view works like a classic piano-roll style programmer.
Additionally, within the Pads and Waveform view is where you can tweak any sample or loop you're currently working with. Pitchshifting, ring modulation, and subharmonic synthesis are some of the things you can tweak within this view.
Last but not least, the mixer section is where you find all the standard channel-style controls like setting output routings, mute and solo.
As far as compatibility goes, Xfer Nerve works with any computer running macOS 10.11, Windows 7, or any of their newer versions.
In the end, if you're planning to use a drum VST plugin to improve your e-drum set, Nerve isn't the way to go. On the other hand, if you're a producer you should take Xfer Nerve into serious consideration.
Conclusion
Whether you're a music producer or a drummer struggling to get a good-sounding electronic drum kit, a drum VST plugin is always a valuable tool.
In my honest opinion, any of my five suggestions are good enough for what most people need, but some are ideal for specific situations.
For example, if you're a music producer and don't care at all about triggering MIDI sounds with something like an electronic drum kit, then Xfer Nerve is the way to go.
On the other hand, if you're a drummer looking to improve the way your electronic drum kit sounds and feels, any of the other 4 plugins is more than enough and your choice should be based on personal preference.
If you like the ability to control every single detail, Toontrack Superior Drummer 3 is your best bet. I've been using it for a while now and I'm more than satisfied.
Not everyone is like me though, and in that case, Addictive Drums 2, EZdrummer 2, or Steven Slate Drums 5.5 will serve you just as well.
In the end, I hope this article achieved its main purpose of educating you on what a drum VST plugin is, why are they useful, and which is the best drum VST plugin for your needs.