Buying someone a gift is hard, especially if you are looking for something niche-specific, like the best gifts for drummers.
As an adult, the biggest obstacle when it comes to finding a gift for someone else is time. We all have busy lives and fitting gift shopping into our crazy schedule is quite a challenge.
Other obstacles are finding out how much you want to spend, subconsciously pressuring yourself too much to find the perfect gift and overthinking it, having no idea what the recipient would like to get, or the fact that most musicians are really specific when it comes to the gear they use.
The easiest way to approach gift shopping for someone is by starting with their hobbies and interests. My experience tells me that most people love a gift that supports their hobby.
But even though that's the easiest way, it's not as easy as it seems, especially if you're buying it for a drummer that looks like he already has everything he needs.
Before buying anything, you need to ask yourself a few questions, like: what does he need? What's his drumming level? Novelty gift or a useful one?
If you don't know where to start, I compiled a list that covers every budget, divided into four categories: below $20, between $20 and $50, between $50 and $100, and above $100.
It also includes everything from novelty gifts, like mugs and shirts, to useful ones, like drum books and practice pads.
Whether you're looking for a Christmas or a birthday gift, or something for your boyfriend, husband or son, or simply the drummer in your life that has everything, this list includes a gift for almost every drummer.
Without further ado, let's take a look at the best gifts any drummer will want to use:
Best Gifts for Drummers Under $20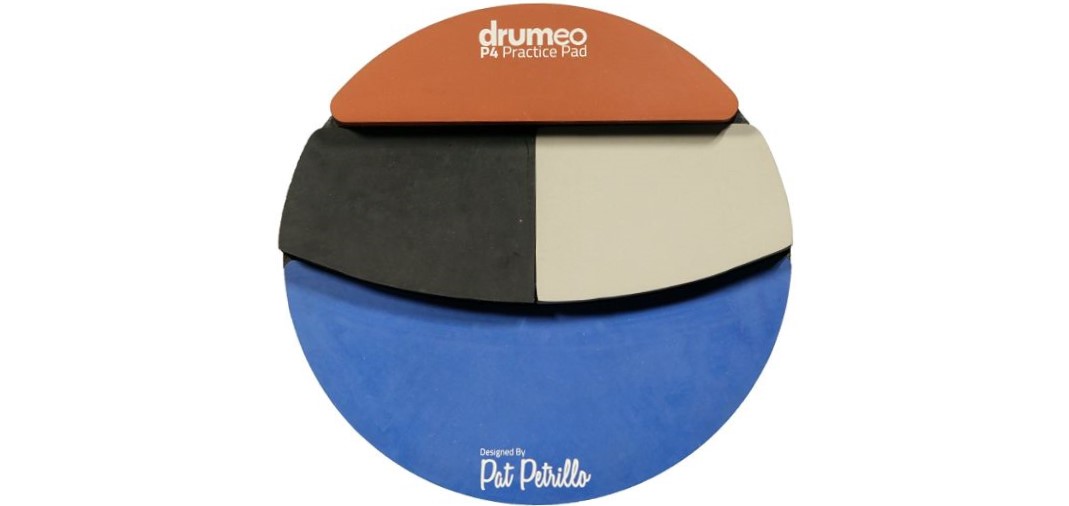 The single best thing you can give a beginner drummer is a practice pad. They are a simple, but effective way of practicing at any time, without disturbing anyone.
That makes them especially important for someone that doesn't own an electronic drum kit or doesn't have permission to practice at all times.
By being compact, a basic practice pad and a pair of drumsticks allow you to bring your skills to the next level, anywhere, at any time.
My favorite ones are the Evans Real Feel. It's available in three sizes, 6", 7" and 12", and some of them have two usable sides: one with a slightly textured rubber for a realistic stick rebound, and the other, with firmer rubber with less rebound for a real workout. Besides the realistic rebound, it's also quieter than most practice pads, which makes it suitable anywhere where silence is important.
Another good one is the Drumeo P4. It has four different playing surfaces that provide unique feels and responses that try to mimic the feel of a real drum set. When it comes to practice pads, this is as fun as it gets.
Even if the drummer in your life isn't a beginner, a practice pad is something drummers of all levels will appreciate.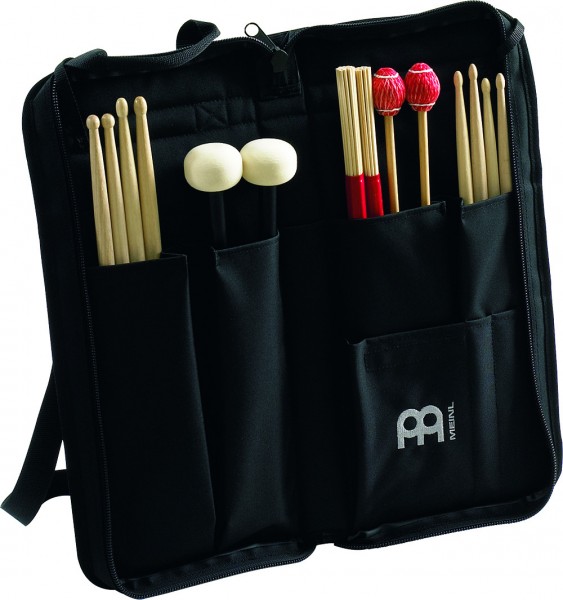 Drummers play with many different types of drum sticks, and they need a place to store and carry them all. If you want to learn more about the different types of drumsticks, HERE's my article on the subject.
A good drumstick bag has enough space for a few pairs of drumsticks, plus some brushes, mallets, and hot rods. It also has smaller pockets for spare parts like wingnuts, tension rods, felt rings, or your favorite drum key.
It's also robust enough for you to carry around from gig to gig and can be attached to the floor tom for quick access during the show.
With that in mind, my favorite budget drumstick bag is the Meinl MSB-1 Professional Stick Bag.
It has everything you need: five internal pockets to accommodate, at least, 10 pairs of drumsticks; adjustable shoulder strap and reinforced carrying handles for the touring drummers; floor tom hooks for easy access during the show and a large outside pocket to store more gear and extra parts.
The Humes & Berg Galaxy Grip Stick & Mallet Bag is another good one. The main difference to the Meinl one is the fact that it costs three times as much, and it's self-standing instead of hanging on the side of the floor tom.
If you want something that it's neither cheap nor expensive, the Promark Transport Deluxe Drumstick Bag is the best you can get for around $35.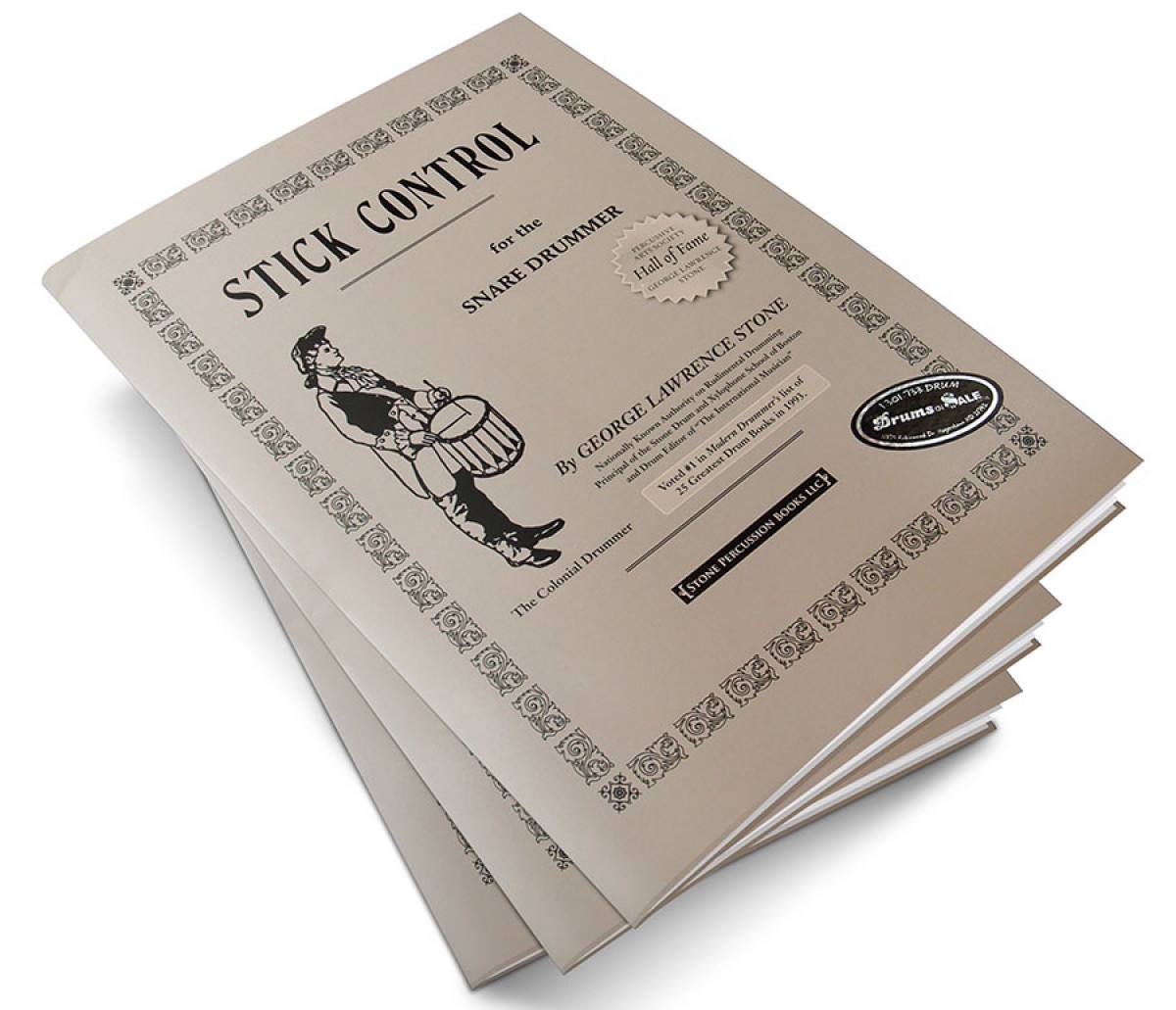 Nowadays, in the age of the internet, it's pretty easy to find new learning materials for any musical instrument.
The problem is, a big portion of it is low quality and borderline clickbaity, which means we need to spend some time filtering all the material we find online.
If it's not low quality, it's most likely being sold and surely not as cheap as most books are.
On that note, drum books are excellent sources of learning materials for a fair price. They teach everything you need from the technique to different musical styles, independence, and even advanced concepts.
The best part is the fact that most of them cost between $10 to $20 and provide months or even years of lessons.
You can even pair them with a practice pad to make a thoughtful and unique gift that the drummer in your life will be thankful for.
If you need some help to decide which drum book to buy, HERE's my article on the best drum books.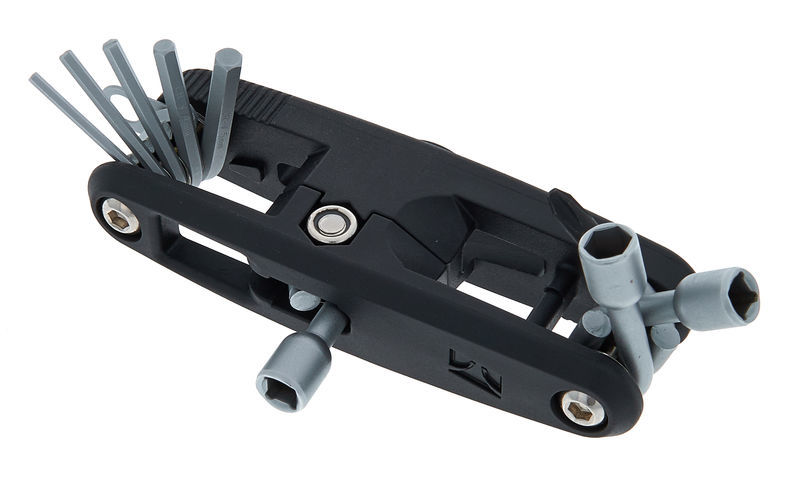 The drum set is a complex instrument. It's a group of instruments that require basic maintenance more often than not.
Tension rods get loose, lugs break, and drum heads fall out of tune. To fix that on the fly, you either have to travel with a bag of drum keys, Phillips screwdrivers, and hex wrenches, or buy a multi-tool.
There are a few multi-tools designed specifically for drummers since they include tools like drum keys and wing nut looseners.
My favorite one is the Tama Multi-Tool TMT9 that includes:
Hex Wrench 5.0mm/4.0mm/3.0mm/2.5mm/2.0mm;
Keychain Link;
Hex Nut Driver;
Phillips Screwdriver;
Drum Keys (2x);
Wing Nut Loosener.
To make the most out of the Multi Tool's space, Tama included a wing nut loosener on the empty side of the tool to unloose tight wing nuts with ease. As someone that tends to tighten wing nuts too much, this is a god-sent.
Another good one is the Pearl PTT13 TechTool that includes similar Hex Keys and Screwdrivers as the ones on the Tama TMT9, but instead of a wing nut loosener, you get a bottle opener for that cold beer after (or during) the gig. It's up to you to find out what you value the most.
If I had to pick a third option, I would probably go with Meinl Drum Tech Multi-Tool that also has a bottle opener, a flat screwdriver, a socket wrench, and a carabineer clip, as well as the screwdriver and hex drivers.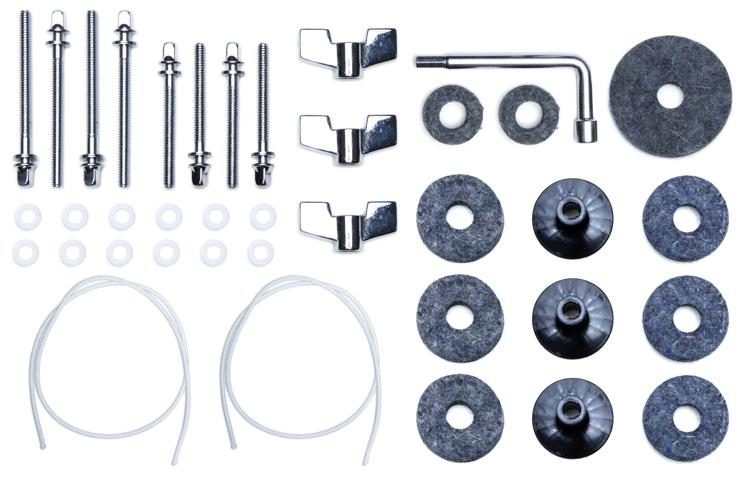 Drum sets are similar to cars in the sense that they're incredibly expensive and need constant maintenance.
Even though most drummers do basic maintenance, like replacing the drum heads, tuning the drum kit, and polishing the cymbals, that's usually not enough.
It's pretty common to get to a gig and find out we're missing a cymbal stand wing nut or a cymbal sleeve and worse, one of the snare wire cords broke.
And by common, it doesn't mean it happens all the time, but it happens enough times that prevention becomes worth it.
Thankfully, brands like Zildjian created the Drummer's Survival Kit that acts as an all-in-one emergency kit with the following drum parts and accessories:
6 cymbal felts;
3 cymbal sleeves;
2 HiHat clutch felts;
1 HiHat cup felt;
3 8mm wing nuts;
8 tension rods (4 Floor Tom and 4 Snare Drum);
12 nylon washers;
drum key;
2 snare wire cords.
An alternative is the DW Drummer's Survival Hardware Kit, but it's a bit more expensive and the price difference isn't justified at all.
This isn't the most exciting gift, but it can be. Pair it with one of the multi-tools suggested above, and the drummer in your life will be a drum tech as much as he is a drummer.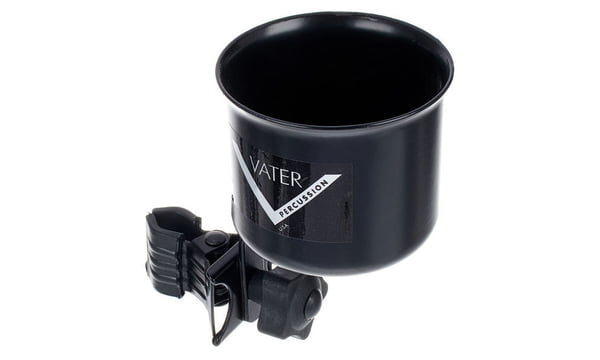 Playing drums is such a workout that I've considered quitting my gym in the past (just kidding, don't quit folks!).
The truth is, it's easy to sweat a lot in a small packed club with multiple lighting rigs on stage, or while practicing at our poorly ventilated basement.
That's why staying hydrated is extremely important, since dehydration can lead to headaches, cramps, or in the worst-case scenario, fainting.
Having a drink holder is useful since you can have a bottle of water within your arm's reach at all times, removing the annoyance of bending down to grab it.
Plus, you can even use the drink holder as a safe spot for your earplugs, drum key, wallet, or phone, even though it was designed to hold drinks.
The best drink holder is Vater Drink Holder since it's sturdy and tightens securely to most stands. It's made of metal, with rubber in the bottom to prevent your drink from sliding and making unnecessary noise.
If it feels like a boring gift, pair it with a drum sticks holder or a drum sticks bag for a much more interesting gift.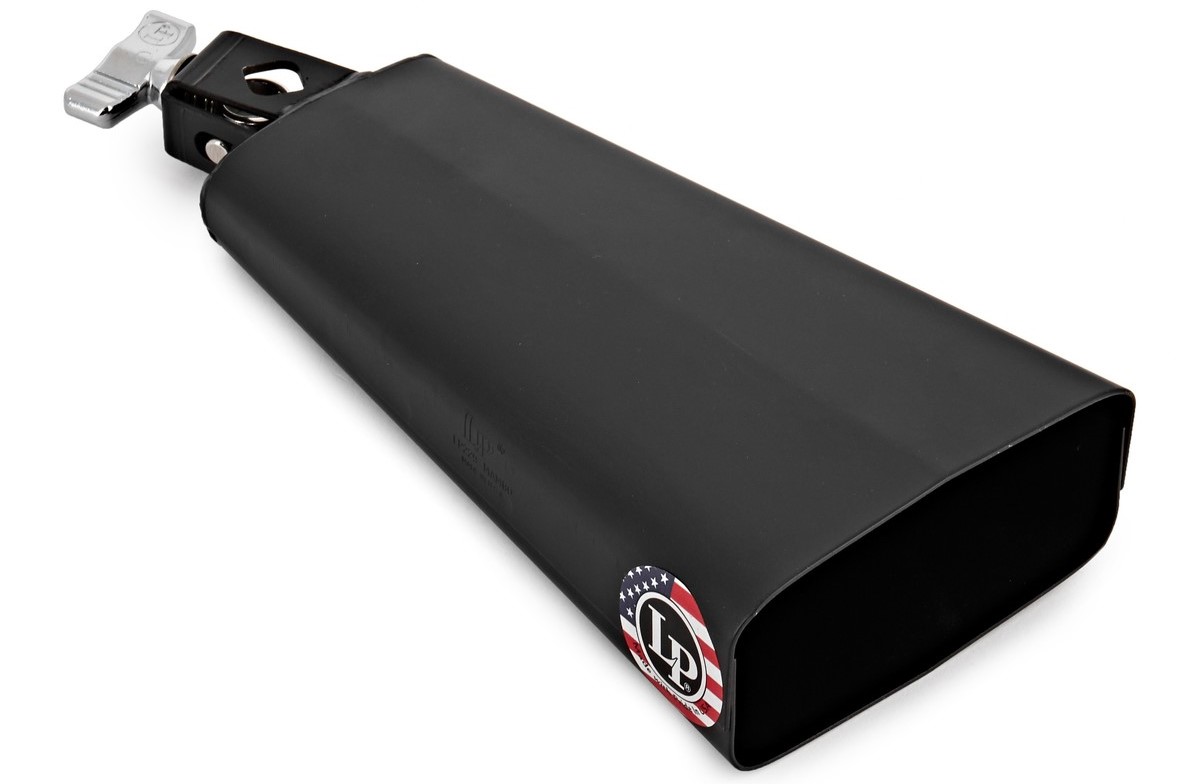 Buying a different percussion instrument adds more flavor to a drum set than any new cymbal or drum part.
One of the best percussion instruments any drummer can add to their arsenal is the Cajon, which is also suggested in this article.
Although it deserves its spot on the list, the Cajon is more of an alternative to the drum set than something you include in it.
On that note, a few examples of percussion instruments drummers can add to the drum kit and spice things up are:
Latin Percussion Jam Block;
Latin Percussion Black Beauty Cowbell;
Rhythm Tech Drum Set Tambourine;
Meinl Percussion Ching Ring;
Pearl Kenari Nut Shaker.
To summarize, the Jam Block, the Cowbell, and the Tambourine are all great to groove with or use as an accent during a chop.
On the other hand, the Ching Ring and the Nut Shaker add a different touch to your playing without actively hitting them. Most people use them on top of a hi-hat, snare drum, or cymbal stack.
Before buying any percussion instrument, make sure your favorite drummer owns any extra stands, otherwise, you need to buy them yourself.
Best Gifts for Drummers Between $20 and $50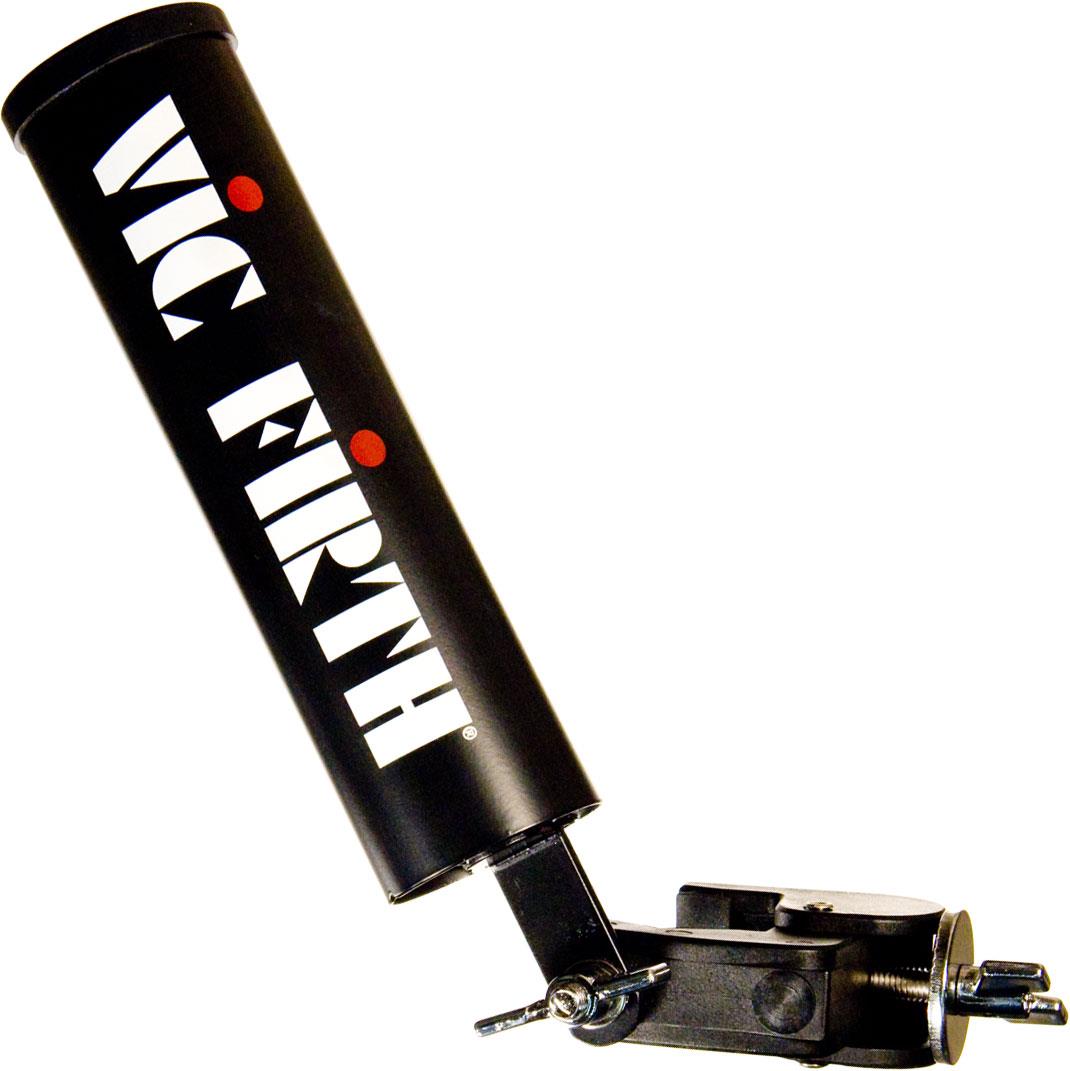 Drumsticks break all the time, and if they don't, we manage to drop them during an important drum fill.
That's a nightmare for any working drummer, and that's why I can't live without a drum stick holder in my Hi-Hat stand for that important peace of mind.
It's honestly surprising how many drummers don't own a drumstick holder. They either have extra drum sticks in their back pocket or somewhere on top of the bass drum.
Some use their drumstick bag that clamps to the floor tom as a drumstick holder, and that honestly works just as well as the drumstick holder.
If the drummer in your life is one of those, a drumstick holder isn't the best gift you can get him as they already own something similar.
On the other hand, if he's one of the drummers that use their back pocket or the top of the bass drum as a place to store extra drumsticks, having a drumstick holder might come in handy.
My favorite drumstick holder is the Vic Firth Caddy Stick Holder that easily clamps to most stands and holds up to 6 pairs of drumsticks.
A few good alternatives are the Vater VSHM Stick Holder, that's similar to the Vic Firth one, but cheaper and with a slightly different clamping system.
If you want something different, the ProMark SD200 Stick Depot holds two pairs of drumsticks on each side and easily attaches to most cymbal stands. It has the simplest design, making it easy and quick to adjust the angle and the positioning.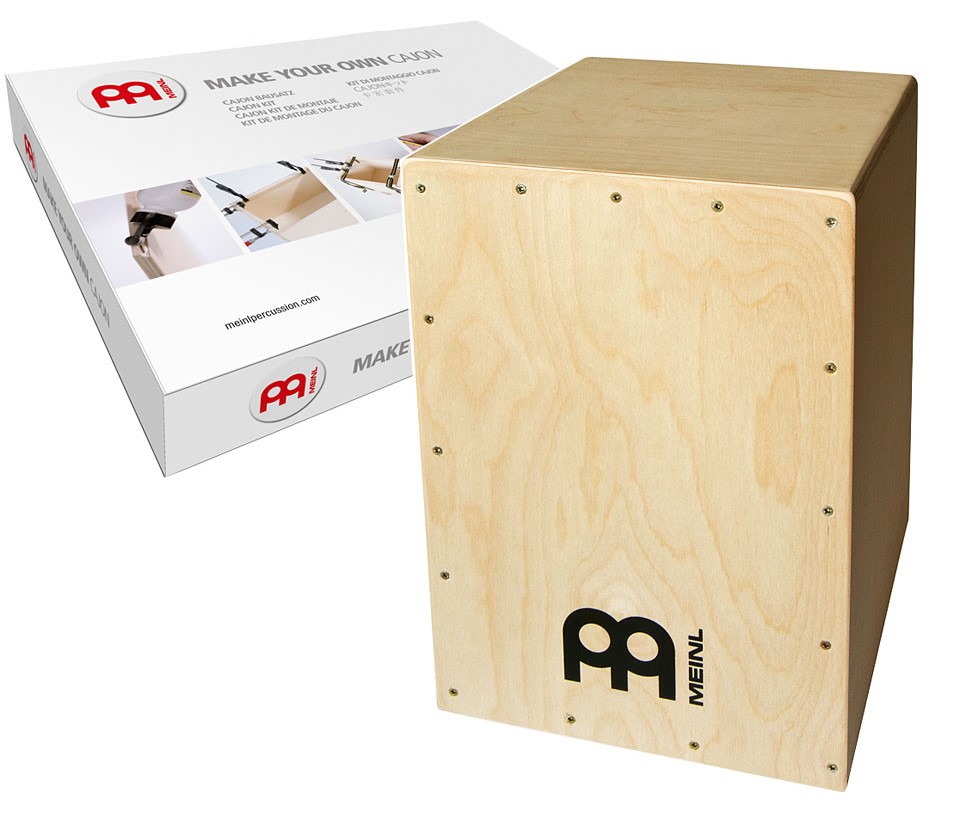 Not every gig calls for a full drum set, since they're a hassle to transport, assemble and play on a small stage.
Even if there's enough space, the type of music might not require a full drum set, or it does, but it's an acoustic gig in the end.
In that case, a Cajon is an effective and convenient substitute for the drum set.
If you don't know what a Cajon is, it's a wooden box, with a hole in one side, that the drummer sits on and uses their hands, palms, and fingers to create different sounds.
It's easy to carry around, and most drummers with no previous experience shouldn't have any trouble learning how to play the Cajon.
Since you're looking for a gift, I think the best Cajon is the Meinl Percussion Make Your Own Cajon Kit.
It's a "do it yourself" kit that allows you to build your own Cajon. It comes with all the parts and a list of the materials and tools needed.
Things like clamps and glue are not included, so make sure the drummer has everything he needs to successfully build the Cajon.
It comes with instructions, and in the end, you'll be able to customize the finish of the Cajon by adding oil, wax, lacquer, or paint.
I honestly believe it's a great gift for kids or DIY lovers, since it adds another percussion instrument to the collection, while also developing one's creativity by adding a personal touch.

Well, this seems like a boring, predictable gift, doesn't it? But the truth is, it doesn't have to be.
Gifting some of the most popular sticks in the world is always a great idea. They are popular for a reason and you can't go wrong with a drummer's most important tool.
On that note, if you're looking for recommendations, my suggestions are Vic Firth American Classic 5A or the ProMark American Hickory Classic 5A. Both options are industry standards as far as the material, size, and weight.
On the other hand, if those are too boring for you, gifting special drumsticks like the ProMark Classic 5A Firegrain should be taken into consideration.
They not only look amazing but also have insane durability thanks to the revolutionary heat-tempering process they go through.
Either way, if the Firegrain's are still not special enough, consider gifting him some different types of drum sticks, like brushes, rods, or mallets.
If you don't know enough about all the different types of drumsticks, HERE's my article on the subject.
To summarize, Zildjian Professional Retractable Wire Brushes, Vic Firth American Custom Timpani Mallets, or ProMark Hot Rods are all safe bets.
Best Gifts for Drummers Between $50 and $100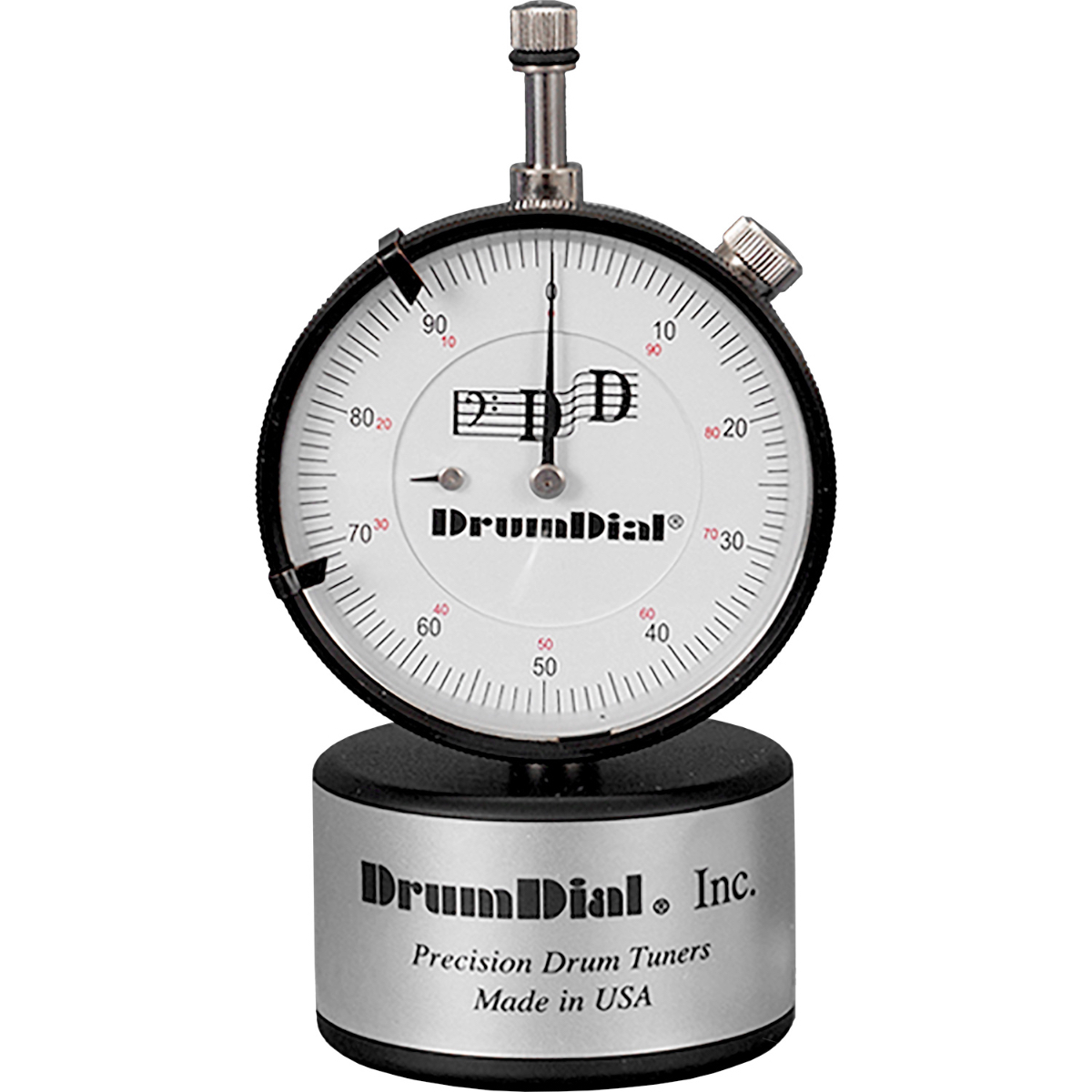 Tuning your drums can be a slow and tedious process for some. It's especially hard for the ones that just started and have no idea how to tune a drum set or the ones that never got the hang of it.
Nowadays, there are a couple of analog drum tuners that measure the tension of the drumhead and make it sound like a million dollars. There are also a few digital tuners that do even more, like measuring both notes and frequency, filtering overtones, and fine-tuning.
If you think the drummer in your life could sound even better, you can buy him a DrumDial, the original drum tuner. It has an analog display that tells you the tension around the drum head, so you can match the tension of every lug. That saves time and protects your patience.
Tune-Bot is also a great option if you're looking for something more sophisticated. You clip it to the hoop of each drum and without moving, it tells you the frequency of each lug and the fundamental frequency of your drum.
Another great feature it has, that DrumDial doesn't, is the ability to save your settings. You can always tune it the same way in the future.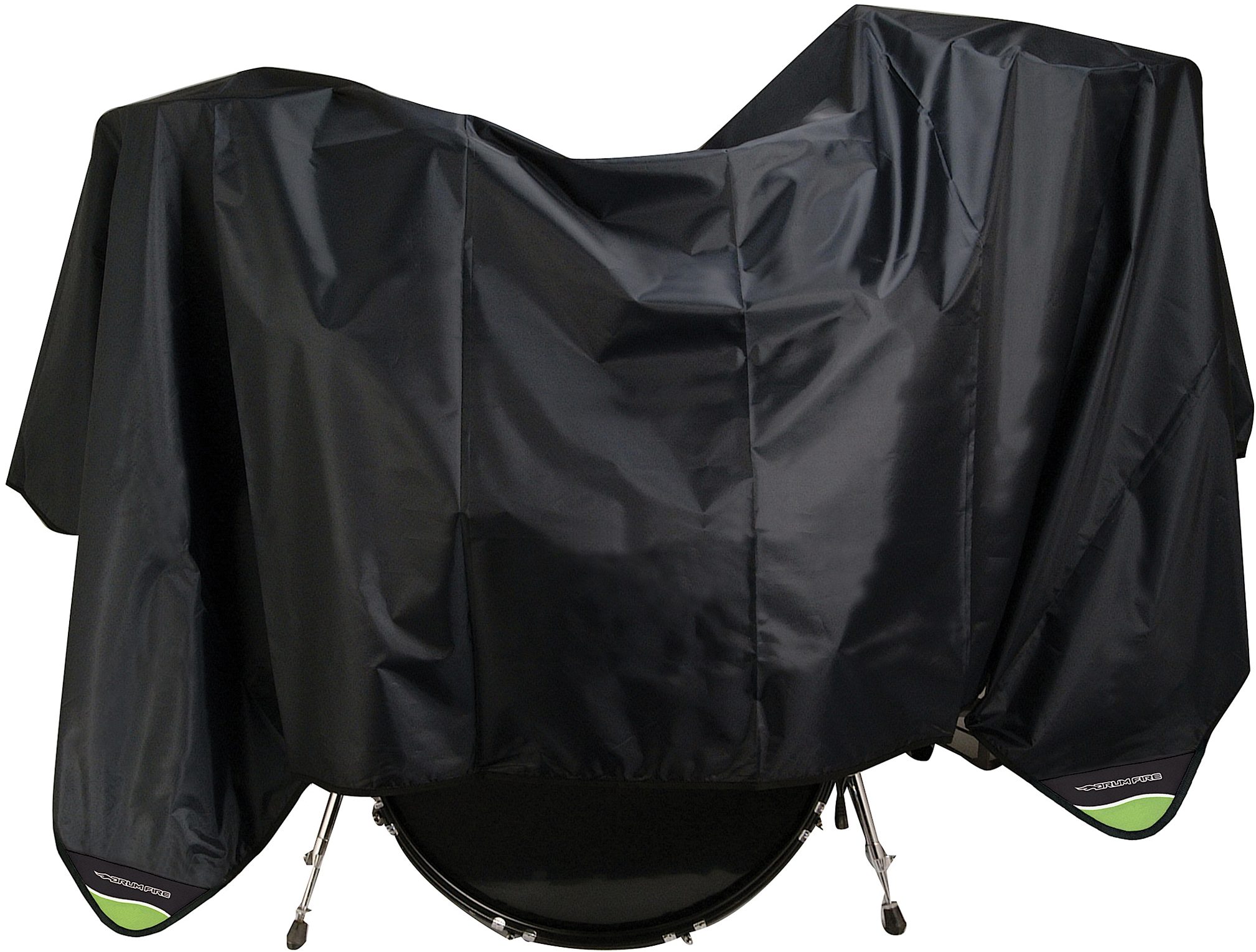 I don't know about you, but I like to keep my drum gear as clean as possible. That doesn't mean I polish my cymbals every other week, but instead, I like to keep my drums away from dust and as weatherproof as possible.
Weatherproof might sound useless until you leave your drum set in a stage hit by sideways rain.
It's true that most stages have front, back and side covers, but not every gig is the same, is it? Better safe than sorry.
At home, most drummers either use nothing at all, or an old bed sheet. Bed sheets work fine, but they are often not big enough for anything above a 5-piece drum set, and they are not weatherproof.
My favorite drum set dust cover that ticks all the boxes is the On-Stage DrumFire DTA1088 Drum Set Dust Cover.
The cover is 80" x 108", which is enough for most drum sets, and includes four sewn-in weighted corners to keep the cover in place.
The water-resistant nylon keeps your drum set safe from the rain and even the harmful UV rays that cause discoloration. Plus, it prevents dust and debris from accumulating on top of your drum set, which saves you time in the long run.
The material is robust enough and easy to clean, making this dust cover a great long-term investment.
Isolation Headphones / Earplugs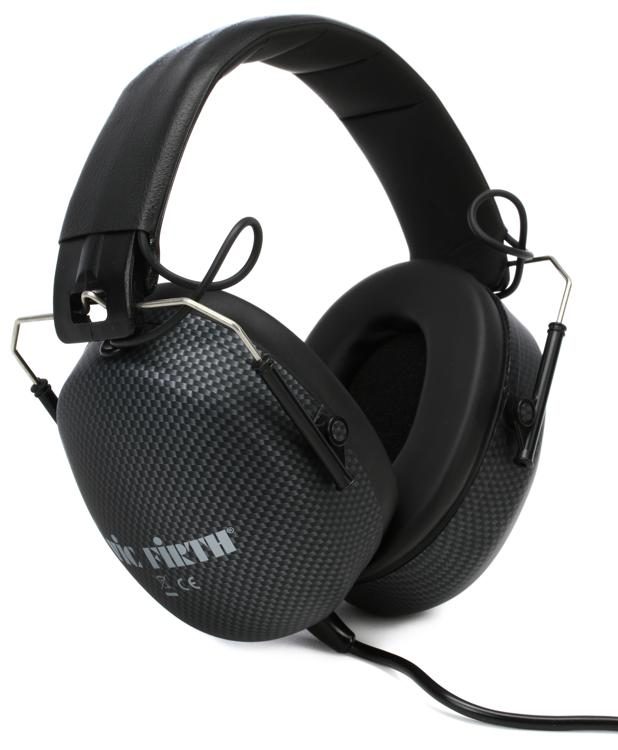 Drums are as fun as they are loud, and that's why using isolation headphones is super important.
Without isolating the sound, drums are way louder than what's considered safe listening levels, which in the long term results in hearing loss and other annoying health problems like tinnitus.
Trust me, no one wants to have either of those, as they considerably lower your quality of life and after the damage is done, there's no way to reverse it.
That makes prevention, by lowering the harmful noise to safe listening levels, the right thing to do.
When we want both sound and isolation, the two options we have are over-the-ear headphones and in-ear earphones.
If you're looking for over-the-ear headphones, the Vic Firth SIH2 Isolation Headphones are the ones drummers use the most.
They reduce around 25dB, provide decent sound quality, and are more comfortable than the first-generation ones. If you want to read more about isolation headphones, HERE's my article on the subject.
When it comes to in-ear earphones, you can't go wrong with the Shure SE215-CL Sound Isolating In-Ear Stereo Earphones.
They isolate up to 37dB, providing a decent enough sound quality, and come with detachable cables which makes them easier to replace and extend their lifespan.
Don't want to spend that much? Earplugs don't provide any sound, but they are great at cutting out excess noise.
Something like the Vic Firth High Fidelity Hearing Protection would be a good gift for a drummer and they don't break the budget. You can read more about the best earplugs for drummers HERE.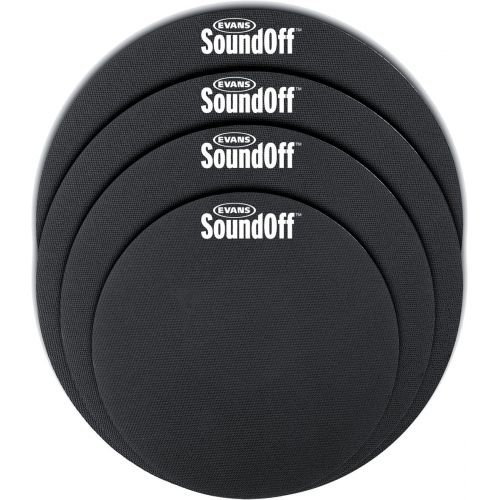 When it comes to reducing the sound of your drum set, isolation headphones, earphones and earplugs are not the only options available.
Instead of reducing the sound that penetrates your ears, you can reduce the sound of your drum set instead.
To do that, there are two options, with one being more "permanent" than the other.
The more "permanent option" consists of replacing your cymbals with low volume ones, like the Zildjian L80, and replacing your regular drum heads in mesh ones, like Remo Silentstrokes.
The other option is to apply drum mutes on top of every drum and cymbal to reduce the volume of your drum set. It's way easier and faster to swap than replacing every cymbal and drum head.
My favorite ones are the Evans Soundoff. They reduce up to 95% of the volume and they're available in complete packs as well as drums only.
The complete pack includes a drum mute for a regular 5-piece drum set, with a Hi-Hat, a Crash, and a Ride.
That allows you to practice anywhere without disturbing your neighbors and family members, and most importantly, to protect your hearing.
Once you're ready to increase the volume again, just take a few seconds to remove all the drum mutes and you're ready to go.
Both Vic Firth and Meinl manufacture similar drum mutes, but Evans Soundoff are the original ones and they're still the best on the market.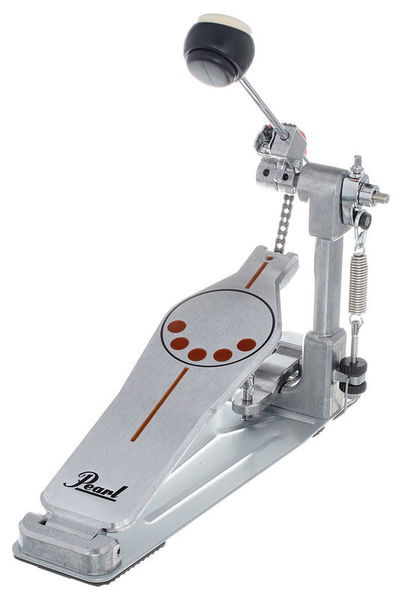 The bass drum pedal is one of the most important components of a drum set. Along with the snare drum, the bass drum gets more use than anything else.
The most basic drum set consists of a bass drum, snare drum, and a Hi-Hat, everything else is a bonus.
Pedals evolved so much over the years that they're currently unique pieces of engineering that allow us to reach new heights.
On that note, the price evolved the same way their quality did, with some of the best bass drum pedals costing as much as $1000.
But relax, that doesn't mean you need to spend $1k to make the day of your favorite drummer.
Some professional drummers use medium-range drum pedals, because they're just that good, and investing in a flagship drum pedal becomes unnecessary.
My favorite budget bass drum pedal is the Pearl P-930. It's the best you can buy for less than $100, thanks to the great build quality, extreme versatility, and awesome design.
If you want to learn more about the best budget bass drum pedals, HERE's my article on the subject. You can learn more about the Pearl P-930 and the other bass drum pedals that offer much more than their price might suggest.
Best Gifts for Drummers Above $100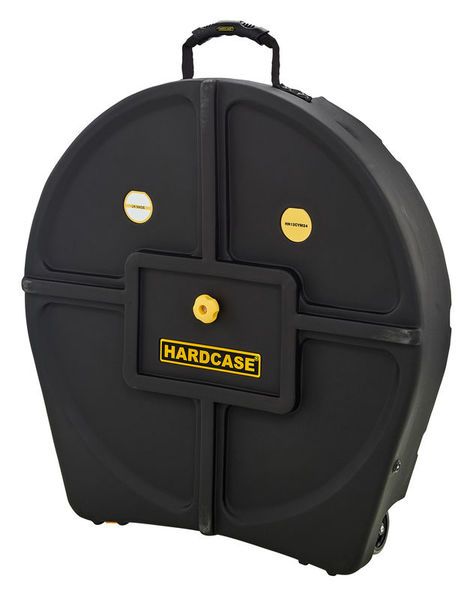 Cymbals are expensive, especially professional cymbals that cost between $200 and $600 each.
If we consider the fact that most drummers play with at least three cymbals, it's pretty safe to assume that most cymbal sets are valued at between $600 and a few thousand dollars.
Breaking a cymbal while playing is painful, but at least we were enjoying them and it's not always easy to avoid.
While traveling, it's an even worse feeling, but easily avoidable if you buy a decent cymbal case to carry and store your cymbals.
My favorite cymbal case is the Hardcase HN12CYM24 Cymbal Case, which stores up to twelve cymbals, as big as 24", and includes eleven foam dividers.
It features a carry handle as well as an extendable handle for you to take advantage of the wheels the case has.
Another great option is the SKB 1SKB-CV24W Rolling Cymbal Vault. It can store up to 8 cymbals, as big as 24", and has four padded dividers inside to increase protection.
The Cymbal Vault has an industrial-strength pull-out handle and in-line wheels to facilitate transport.
Both options will keep your cymbals as safe as possible, but they are not that cheap.
If you're looking for something budget-friendly, the Meinl MCB24 Cymbal Bag is a good alternative, but it doesn't offer the same amount of protection as a cymbal case.
A cymbal case is heavier, more expensive but offers the most protection, while a cymbal bag is lighter, cheaper but provides less room for mistakes.
Your decision should be based on how much the drummer travels and in what type of conditions he does so.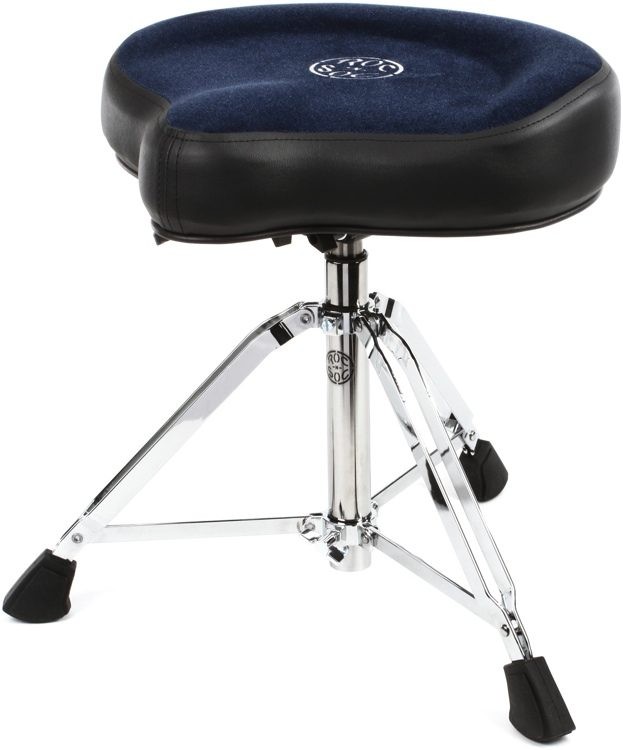 Usually where drummers invest the least, a drum throne is one of the most important parts of a drum set.
A good drum throne allows you to maintain a correct posture while being comfortable enough to sit for longer periods.
Some of them include special features like a gap in the middle of the seat that allows your tailbone to hang naturally instead of being compressed against the seat, or a backrest that offers lumbar support.
That's something you don't find on cheap drum thrones, plastic, and office chairs some drummers use when they start learning drums.
Between round seats or saddle seats, three or four-legged bases, with or without backrest, there are so many options that it's hard to suggest you the best drum throne since what is the best for me, might not be the best for someone else.
On that note, I wrote an article with an in-depth analysis of the best drum thrones on the market, ranging from $50 to $100, that you can read HERE.
I'm pretty sure you'll be able to find something that your special drummer will appreciate, since you know him better than I do, and you can compare it to the one he currently uses.
If you still want a suggestion, the Roc-N-Soc Nitro is a great option thanks to the different seat styles, colors, height adjustment systems, and optional backrest.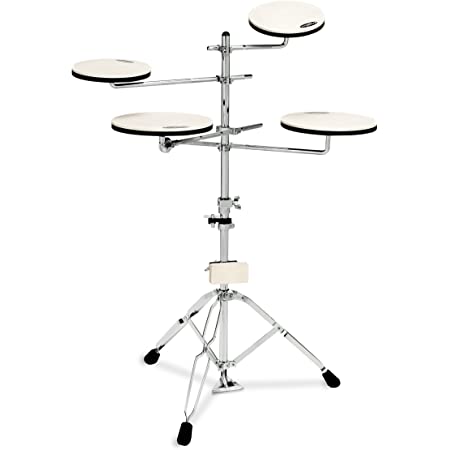 Practicing as a drummer is not the same as practicing as any other musician. You can't simply lower the volume or wear headphones unless you invest in an electronic drum kit.
The other alternative is to invest in low-volume cymbals and drum heads, but that's not always possible.
An electronic drum kit is usually too expensive, and low volume gear feels too permanent, which is impossible for anyone that doesn't have multiple drum sets and enough space.
One thing that solves all those problems is the DW DWCPPADTS5 – Go Anywhere™ 5-Piece Practice Set.
It's such a clever idea, but it's just a drum kit made of practice pads, including one for the bass drum, that brings your practice to a whole different level.
Plus, It's light and small, which makes it easy to carry around and store away. It's also "silent", so you won't annoy half of your city while you practice your rudiments.
Since it's built like any piece of drum hardware, you can mount additional gear, like percussion instruments or a cymbal.
Unfortunately, it's not that cheap, but when an electronic drum kit or low-volume gear isn't an option, the DW Go Anywhere Pad Set is a great alternative.
If you don't want to spend that much, try some drum mutes, also a gift suggestion in this article, that costs half as much as the DW practice set.
Drum and Hardware Bags/Cases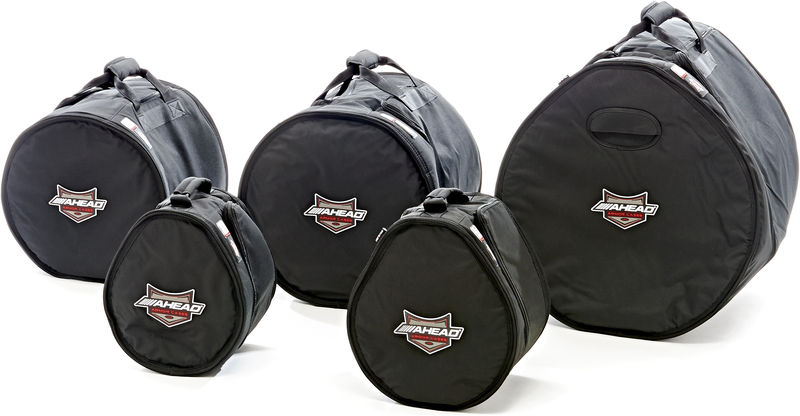 Does your favorite drummer travel often for gigs? As a musician, carrying expensive gear around is always a nightmare.
That's especially true if you don't own a good set of drum and hardware cases, or at the very least, bags.
A good set of cases not only protects the gear but also facilitates transportation, which is usually the worst part of the job for a drummer.
If you're thinking about buying him a set of drum bags or cases, make sure their sizes match the ones from the drum set. It's usually something like 12", 13", 14", 16", and 22" or similar.
The only thing to worry about in a hardware bag or case is making sure it's big enough to store most of the hardware the drummer often uses.
They are also a good option to simply store the drum set at home if the drummer doesn't travel much. At home, they protect the kit from dust, the sun, or the family's cat.
Choosing between bags and cases should be based on whether the drummer travels a lot or not, in what type of conditions, and what's the budget.
I'm not going into detail, but my favorite set of drum cases is the Hardcase Drum Case Set HStandard. For drum bags, Ahead Armor Drum Case Set 5 is the superior option. If you want to read more about them in detail, HERE's my article on the subject.
For the hardware, my favorite bag is the Gator GP-DRUMCART – Hardware Cart, and my favorite case is the SKB 1SKB-DH4216W Rolling Drum Hardware Case.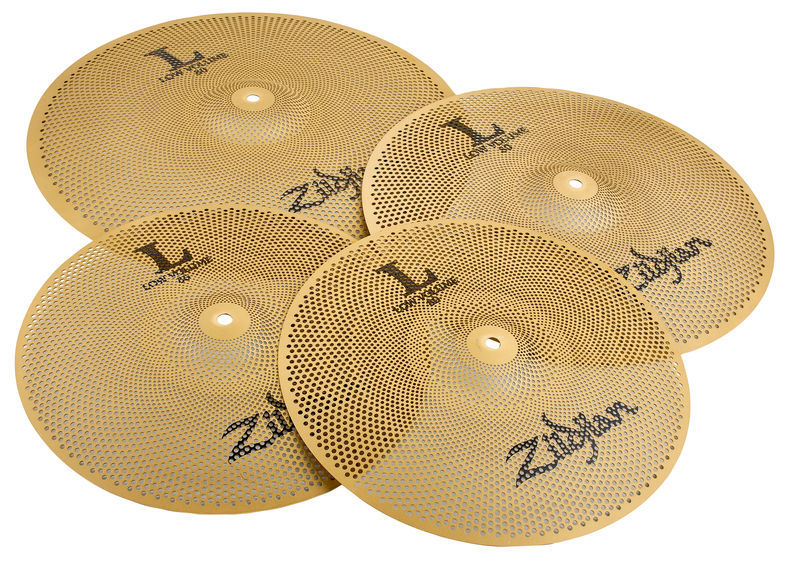 Playing drums as loud as I can is always a guaranteed fun time, but not everyone shares the same opinion.
Neighbors, family members, and even my hears suffer a lot with an acoustic drum kit.
A good way to avoid all that "suffering" is lowering the noise source with mesh heads, and of course, low volume cymbals.
If you've never heard of low-volume cymbals, they're cymbals with hundreds of holes, (usually) manufactured with a material other than bronze, that produces up to 80% less volume.
Paired with mesh drum heads, they're a great way to maintain the acoustic feeling with much less noise.
Once again, I'm not going into detail because I have a whole article you can read about the subject HERE.
Either way, to summarize, my favorite low-volume cymbals are the Zildjian L80, since they offer the best quality at a decent price.
On the other hand, if you don't want to spend that much, Millenium Still Series Cymbal Set is a great alternative that does the job well without breaking the bank.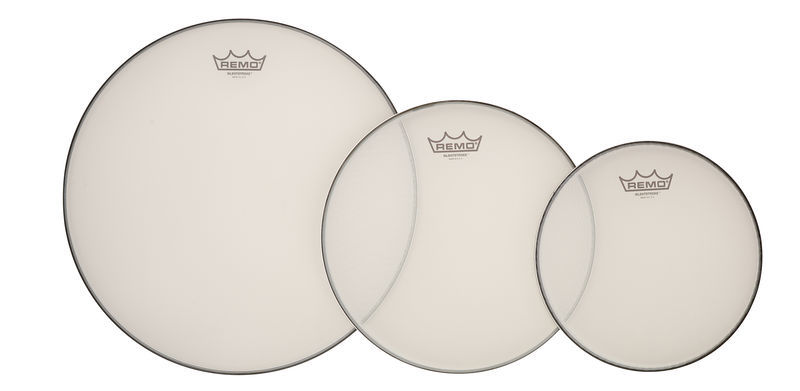 Low-volume cymbals are insanely useful, but they are not worth much without a way to lower the drums' sound as well.
On that note, the two options available are drum mutes and mesh drum heads. Both options allow the drummer to practice longer without disturbing anyone or damaging his hearing while maintaining a realistic feel.
Drum mutes are another great gift, are easier and faster to apply or remove but have way fewer options on the market.
Mesh Drum Heads are "permanent", feel much better than drum mutes, and usually have more options to choose from (colors, sizes, and brands).
To avoid unpleasant surprises, when buying a new set of mesh drum heads, make sure the sizes match the ones from the drum kit.
Once again, I'm not going into much detail but you can read more about the best mesh drum heads HERE.
To summarize, my favorite mesh drum heads are the Remo Silent Strokes, while Millenium QuiHeads are my favorite budget mesh drum heads.
If you're the type of person that values thoughtful personalized gifts more than anything, a drumming-themed care package is something you should take into consideration.
You can mix drum accessories with consumables to make the ultimate care package any drummer would enjoy getting.
On that note, my suggestions that any care package should include are:
Does the drummer already own everything listed in this article and you're starting to panic? Don't worry, I compiled a list of the best novelty gifts any drummer would love to receive:
Conclusion
Trying to find a gift for someone can be daunting, especially when they have a specific hobby and know exactly what they want.
Plus, it's even harder when you don't share that hobby, which is probably the case most of the time.
With that in mind, gift-giving is all about the thought, so I'm pretty sure the special drummer in your life is happy with whatever you decide to gift him.
You can't go wrong with anything from this article, but if you're still unsure on what to gift him, just get him a gift card from your local music store. I know I would love to get one, so I'm pretty sure he would too.
Your first step should be defining a budget so you can then dive into the different categories that range from less than $20 to over $100.
If you're looking for a more thoughtful gift, you can't go wrong with a care package made of essential drum accessories that are always handy.
On the other hand, if the special drummer has all the gear he needs, novelty gifts are always a great option to gift something different but still drum-themed.
In the end, whatever your budget might be, I hope you found something worth gifting and I was able to simplify the difficult task of finding the best gifts for drummers.