During the past two decades, the best mesh drum heads changed the way we practice forever.
Up until recently, mesh drum heads were only available in flagship electronic drum kits like the Roland V-Drums.
Nowadays, they are no longer exclusive to electronic drum kits and allow drummers to practice silently by replacing their acoustic kits' drum heads with mesh alternatives.
That's why I think mesh drum heads and low-volume cymbals are the best innovations of the past decade when it comes to drumming.
As a drummer, practicing is always harder than it should be. By being way too loud, drums prevent you from practicing wherever and whenever.
In the past, using a bunch of t-shirts, blankets, duck tape, and hoping no one would complain was your best bet. Investing in some quality time with the practice pad was also an option.
Then, with the introduction of mesh drum heads to electronic drum kits, many drummers switched from acoustic drum kits to e-drums.
There were still a few problems with e-drums, like the lack of proper cymbals, most drums sharing the same diameter, and how expensive e-drums with mesh drum heads were.
Fortunately for us, manufacturers noticed how popular mesh drum heads became and expanded their catalog.
We can now choose the color, the number of plies, as well as the size of mesh drum heads. That means we can lower the volume of pretty much any acoustic drum kit.
Not to mention how much mesh drum heads, paired with low-volume cymbals protect your hearing by lowering the overall volume output.
With that in mind, let's take a look at the best mesh drum heads currently on the market: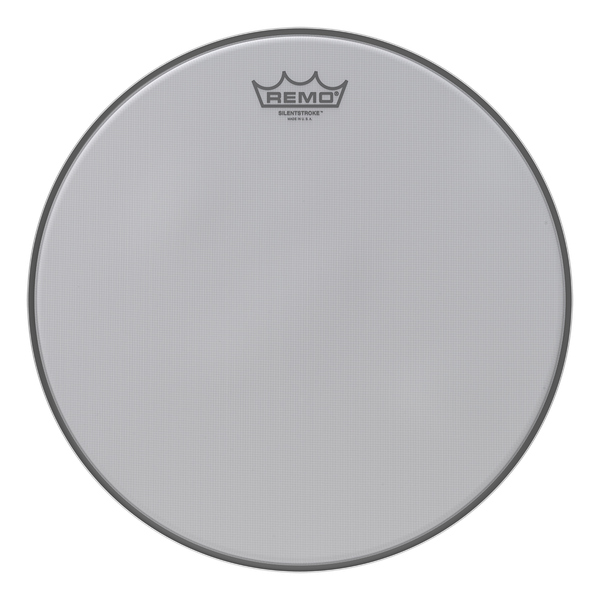 It's safe to assume that the Silentstrokes are probably the most popular mesh drum heads in the world right now.
They were designed to significantly reduce your playing volume by about 70% to 80% while maintaining the acoustic tone of your drum kit for a more natural feel.
Additionally, every mesh drum head can have between one and three plies. The number of plies and their thickness affect the volume, durability, and overall feel of a mesh drum head.
This one, in particular, is designed with a single-ply, making it less durable, quieter, and with more rebound than similar two and three-ply heads.
Your choice is only a matter of personal preference since there's no right or wrong when it comes to the number of plies.
Even though most people use them while practicing with an acoustic drum kit, they work fine with drum triggers for a smooth A2E conversion.
At the moment, the sizes available range from 6" to 24", which covers pretty much any standard drum set.
As far as the price goes, they are far from the cheapest mesh drumheads you can buy, but around $85 to reskin a 5-piece drum kit seems like a great deal.
To conclude, the Silentstrokes are a great option to start before deciding to jump to the more expensive options.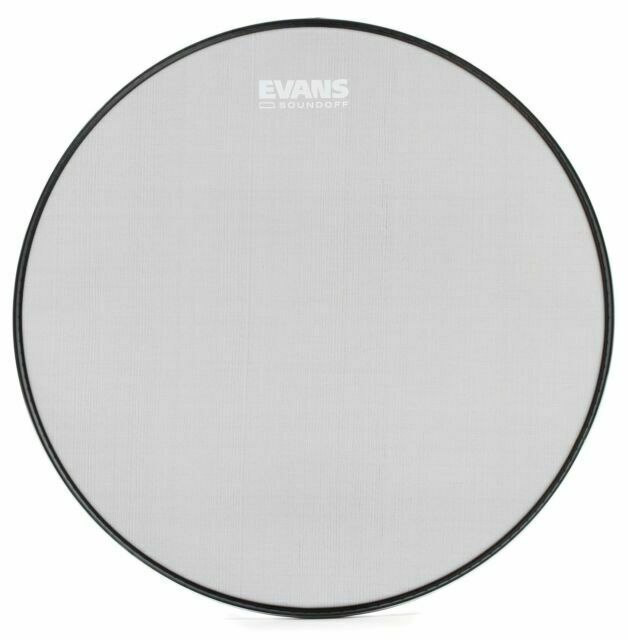 Evans SoundOff Mutes were the first Evans' option to significantly reduce the volume of an acoustic drum kit while practicing.
A couple of years ago, Evans added mesh drum heads to their SoundOff line. They're perfect for silent practice, A2E conversion, or replacing your e-drum kit's heads.
While SoundOff mesh heads and Silentstroke mesh heads are similar, the first one is available in black, while the last one is only available in white.
That's not important at all, but it's something to take into consideration if you like to match the drumheads with your drum kit.
Additionally, since they fit between the shell and the hoop like any regular drumhead, you can adjust the tension until it feels natural.
Plus, they are also single-ply, making them less durable, extra bouncy, and therefore, resulting in a less accurate feel.
On top of that, they are available in sizes ranging from 8" to 24", which is enough for most standard drum kits.
For me, the biggest disappointment is the lack of bundles. That means you need to buy each drumhead individually, which increases the cost of replacing all of your drumheads.
Between these and the Remo Silentstrokes, pick the cheapest ones you can get your hands on since they're similar.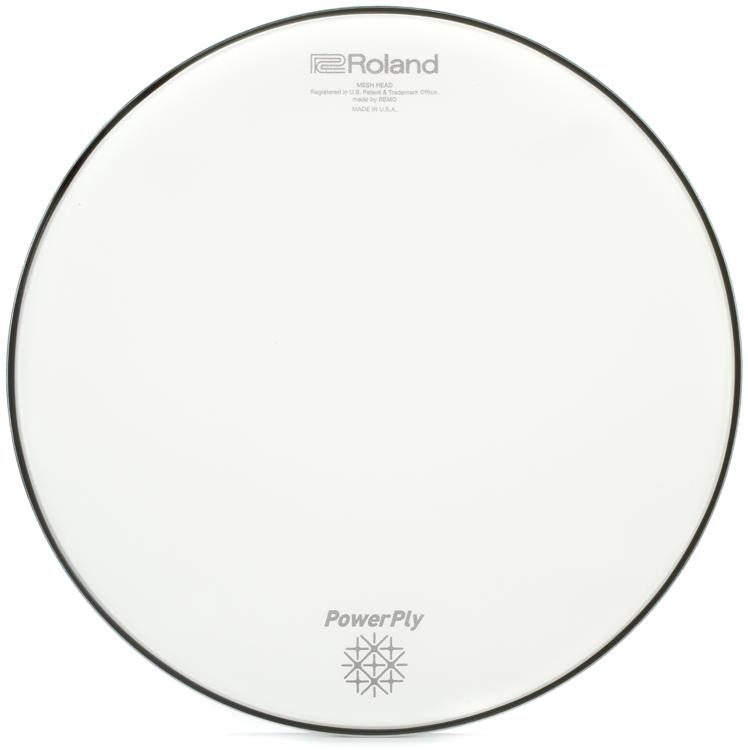 When it comes to electronic drum kits, Roland has been a pioneer in many things, including mesh drum heads.
That happened back in 1998 when Roland introduced the first V-Drums kit with snare, tom, and kick mesh drum heads.
What may not seem like a big deal completely revolutionized the world of electronic drum kits thanks to their durability, adjustable tension, and realistic feel.
Recently, in cooperation with REMO Inc, Roland developed nine different PowerPly mesh drum heads.
That includes three different bass drum heads, ranging from 18" to 22", and six different snare/tom heads, ranging from 8" to 16".
Unlike the previous two options, they are double-ply, which improves the durability and retains the original tension longer than single-ply alternatives.
Another important difference is the price. They cost, on average, four times as much as the previous two alternatives, which means they're not budget-friendly.
In my honest opinion, they are one of the best options if you want to convert your acoustic to an electronic drum kit. They are just as good as a replacement for your old electronic drum kit's heads.
Overall, the two-ply construction provides a trigger accuracy that can't be achieved with single-ply heads.
On the other hand, for silent practice, Evans SoundOff or the Remo Silentstrokes are a much better option volume-wise.
In the end, your choice should be based on ether you value durability and consistency or low volume the most.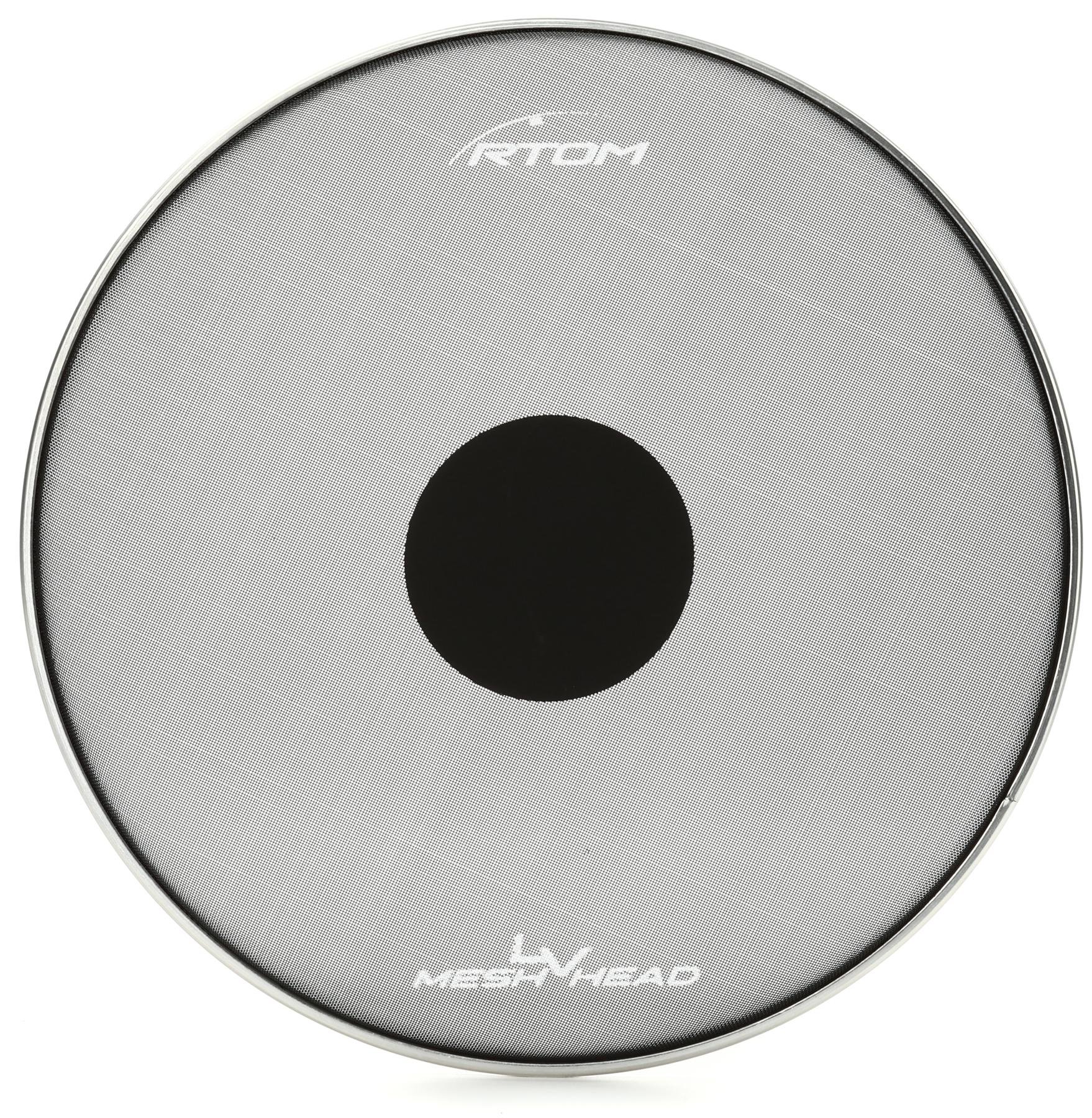 RTOM corporation is far from a powerhouse as far as drum gear goes, but they have gained momentum for the past three decades.
They are mostly known as the inventors of moongel, a dampening device that took the market by storm.
With the crescent interest in lowering the volume of acoustic drum kits, RTOM came up with their very own low-volume mesh heads at the start of the year.
They are available in sizes ranging from 10" to 22", as well as a bundle (10", 12", 14", 16" and 22").
What stands out the most is the patch at the center of the head, which provides a more realistic response and a louder attack.
It's safe to assume they're one of the best options if you value a realistic and natural feel, but not so much if you want the lowest volume possible.
Thankfully, if you don't like how the patch feels, you can easily peel it off like you would with any regular bass drum patch.
The heavy-duty mesh material every drumhead is built with, paired with the patch provides an exceptionally durable mesh drum head.
To conclude, if you plan to use them with the sound patch on, and you don't mind the increased volume, they are a great option for someone that values realism and durability.
On the other hand, if you're planning to peel the patch anyway, just stick with the Silentstrokes or the SoundOff mesh heads instead.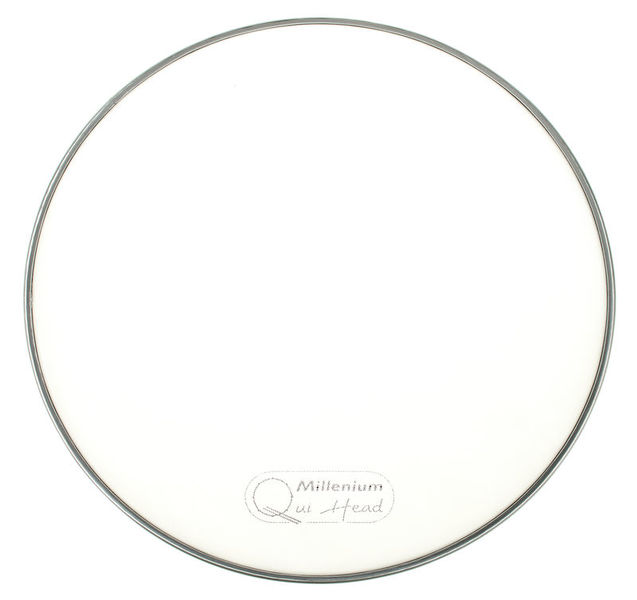 As usual, and even though it's not always possible, I like to recommend something for the drummers on a tight budget.
If you've ever heard of Thomann, you probably know by now that they sell a bunch of music gear under the Millenium brand.
Everything is considerably cheaper than the alternatives, but at what cost? Well, some things like low-volume cymbals and mesh drumheads are usually good enough. On the other hand, gear like an acoustic drum kit is awful, at best.
As far as the QuiHeads go, they are double-ply and the sizes available range from 8" to 22". That's enough for most standard drum kits unless you have a bass drum bigger than 22".
They work well in an acoustic drum kit for silent practice, or as replacement drumheads for electronic drum kits.
Plus, they're available in back or white, which means you can easily pick the color that matches your drum kit the best.
As someone who uses a set of Millenium QuiHeads on my practice drum set, my only complaint is the low durability of the bass drum heads.
Basically, even if you use the plastic side of the bass drum pedal beater (since the felt side is known to damage any mesh drumhead), they don't last more than a few days.
Thankfully, if you apply a bass drum patch to the mesh drumhead, its durability drastically increases (2+ years and going strong, in my case).
To conclude, considering you can replace all the drumheads of a standard 5-piece drum kit for less than $60, the Millenium QuiHead Mesh Heads are the best option for someone on a budget.
Wrapping up
Mesh drumheads changed everything we knew about practicing drums in the late 90s.
They provide a way to practice in silence without disturbing our neighbors and family members, expanded the schedule in which we are allowed to play and, on the way, saved us from hearing problems like hearing loss or tinnitus.
For me, if you just want a set of mesh drumheads to lower the volume of your acoustic drum kit, the Remo Silentstrokes, and the Evans SoundOff mesh drumheads are the best options on the market.
On the other hand, if you want to trigger your acoustic drum kit, the Roland PowerPly mesh heads provide a greater trigger accuracy and are the obvious winners if you don't mind "overpaying".
Finally, if you're someone on a budget and don't have $100 or $200 to spend on a new set of mesh drumheads, the Millenium QuiHead mesh heads are the way to go. Just use a bass drum patch to make sure the bass drumhead lasts as much as the rest.
Plus, make sure you're always using drumsticks that are in good condition, even better if they have nylon tips. Wood tips get splinters that can eventually tear up the mesh heads.
All things considered, if you want to pair them with some of the best low volume cymbals, HERE's my article on the subject.
All in all, I hope this article achieved its main purpose of educating you on the different types of mesh heads, how to use them and which are the best mesh drum heads on the market.