Any drummer should include the best china cymbal their budget allows in their cymbal set. That's especially important for rock or metal drummers, but you can also use a china cymbal in lighter music genres.
To begin with, if you don't know what a china cymbal is or what it looks like, they are effects cymbals that look upside down and offer a bright, trashy sound.
The name comes from the Chinese Bo, which is a Chinese percussion instrument made of two plates that are clashed together.
Even though they are more popular within the rock, and metal scene, they are versatile enough to be used in any music genre.
What to look for in a china cymbal?
Price
Before investing in any cymbal, you have to define the amount you're willing to spend on a good china cymbal.
Usually, the more you spend, the better it sounds and the more durable it is, but that's not always the case with china cymbals.
For example, some of the best china cymbals cost as little as $50, which for a decent cymbal is a complete bargain.
Either way, this article lists the best china cymbals, from the cheapest to the most expensive, so you can easily pick the one that fits your budget.
Durability
Since china cymbals are often used in heavier music genres, like rock or metal, durability is something to take into serious consideration.
In that case, unless you want to buy a china cymbal every other month, it's important to pick something that offers enough durability
In general, China Cymbals with holes are easier to crack. The same can be said about cheaper chinas that sound good but go through a more relaxed quality control process.
Sound
Another important factor to look for in a china cymbal is how it sounds. What you choose depends on the type of music you play and what your current cymbal setup looks like.
Do you value volume the most? Are you into bright or dark-sounding china cymbals? Are holes important or can you live without the extra trashiness?
In the end, whatever you choose, just make sure it matches your current cymbal setup as well as the music genre you usually play.
With that in mind, here's the best china cymbal for your budget: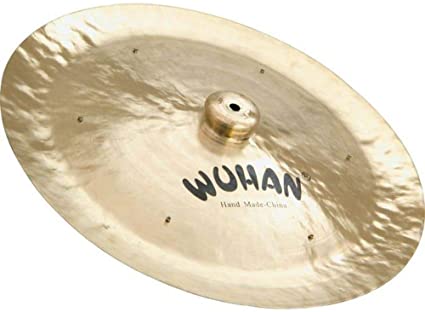 Wuhan Cymbals is far from being a popular cymbal manufacturer, but they've been gaining recognition over the last couple of decades.
Even though they make crashes, splashes, rides, and hi-hats, they are mostly known for their chinas and gongs.
Firstly, what distinguishes them from the rest are the good-quality cymbals at an affordable price. And make no mistake, they are not good for the money, they are good, period.
Additionally, they are many professional drummers' first choice, over high-end china cymbals from popular brands.
As far as sound goes, most people agree they are explosive, dark, and as trashy as you would expect.
On top of that, every china is made from B20 bronze, which is the norm for high-end cymbals, and the sizes available go from 11" to 27".
Since you can get an 18" Wuhan China for around $70, this is probably the best value for the money when it comes to china cymbals.
On the other hand, don't let anyone fool you, there's a couple of negative aspects about Wuhan China Cymbals.
First, they're easier to crack than the average china cymbal. That doesn't mean they won't last a month, since my last one survived 8 plus years. It just means they're not ideal for extreme heavy hitters or someone with poor technique.
On top of that, they go through a more relaxed quality control process, which means two identical cymbals might sound completely different. That results in things like a crooked bell that won't sit properly on a cymbal stand (speaking from experience).
Thankfully, both points could be easily avoided, and that's why I believe this is the best china cymbal for any budget, but especially tight ones.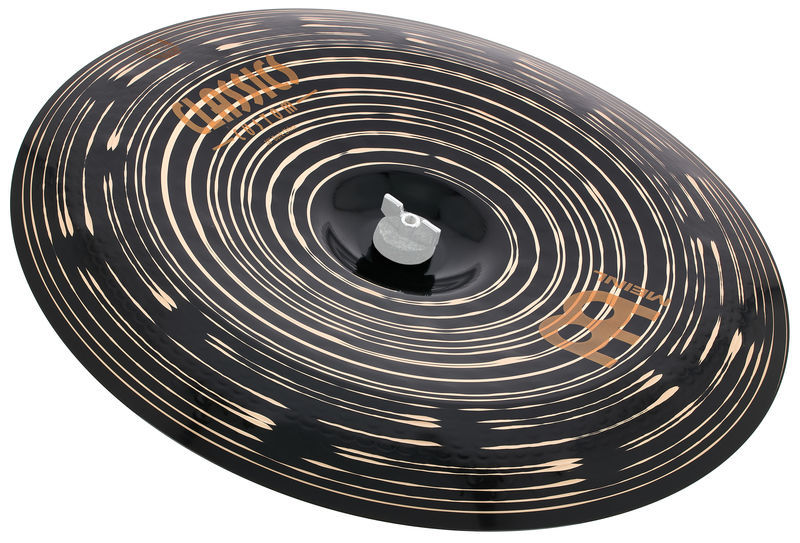 When it comes to mid-level cymbals, no one does it better than Meinl. The classics, and in this case, the classics custom line offer an impressive value for the money.
Meinl builds the Classics Custom Dark China with a special B10 Bronze, so it's neither the B8 nor B20 bronze we are used to.
What the B10 provides is a bright and clear sound, as well as the trashy tone you would expect from a china cymbal.
The whole Classics Custom line is perfect for anyone that needs some serious volume to cut through loud amplifiers.
With that in mind, they're more suited for heavier genres, like rock or metal, or at the very least, pop music. For lighter music genres, there are better options on the market.
Looks are subjective, but I feel like most people appreciate the unique dark finish that guarantees the Classics Custom Dark China looks as good as it sounds.
Unfortunately, this cymbal is only available in 18". Your only alternative is the 18" Heavy China, which is a heavier version of this one.
The Dark Trash Chinas, available in 16" and 18", are also an option. Think of them like a Classics Custom Dark China with holes to increase its trashiness and speed the decay.
To conclude, the Meinl Classics Custom Dark China is the best option for someone that's not ready to make the jump to professional cymbals but still wants the best sound possible.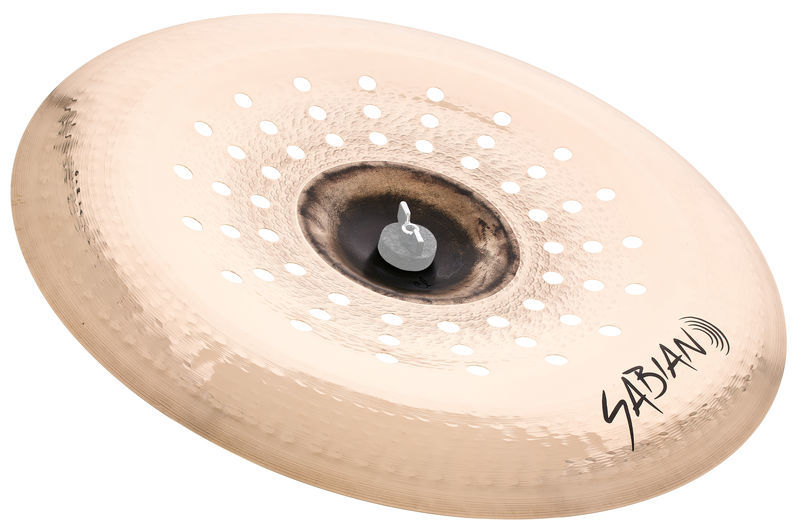 My next suggestion comes from Sabian, one of the most popular cymbal manufacturers in the world.
They partnered with Red Hot Chili Peppers' drummer, Chad Smith, to design what became one of the most popular china cymbals in the world.
Its design includes dozens of holes, a higher profile, and a larger raw bell that separates it from all the other china cymbals on the market.
The holes increase the volume and sustain so they can easily cut through any mix, while the higher profile guarantees a higher pitch.
Plus, the wide and unfinished bell cuts just as easy as the rest of the cymbal and increases its durability.
As expected, Sabian builds the Holy China with B20 Bronze which delivers a bright, explosive, and trashy tone.
In terms of weight, they are thin cymbals and you can choose between the natural and brilliant finish.
When they were first introduced a decade ago, the only sizes available at the time were 19" and 21". Thankfully, the Holy China line has since expanded, and it's now available in 17", 19", and 21".
On top of that, there's also a new line of Mini Holy Chinas available in 8", 10", and 12", that can add flavor to any cymbal set.
The dozens of holes might make them more susceptible to cracks, and the increased volume makes it less ideal for lighter music genres.
Besides that, I, and a bunch of professional drummers, firmly believe this is the best line of china cymbals anyone can buy.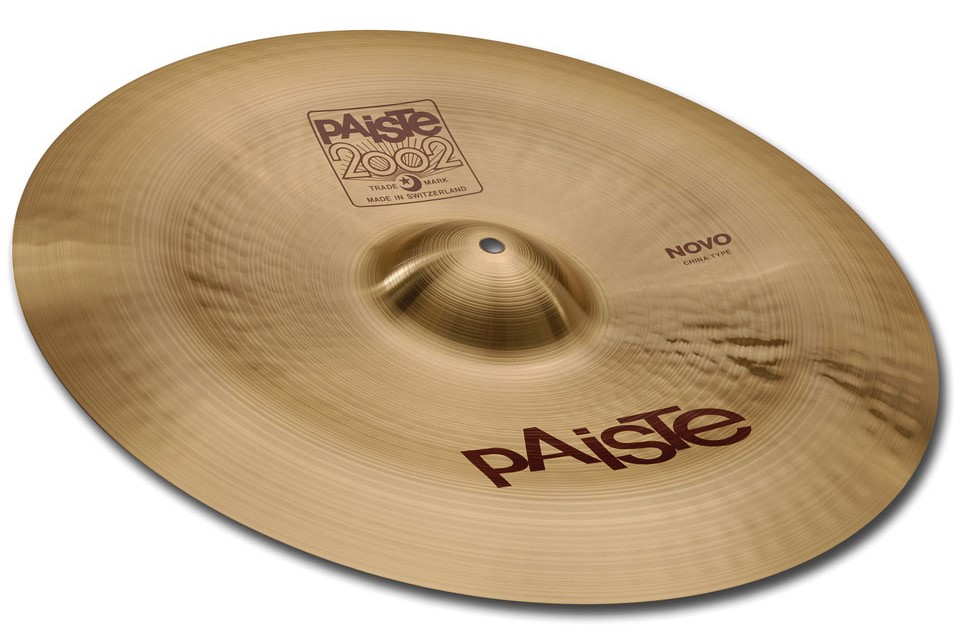 Paiste is just as popular as Zildjian, Sabian, or Meinl, but I honestly feel like they often offer unique musical experiences.
One thing they are good at is offering good-sounding cymbal lines made with B8 bronze, also known as CuSn8 Bronze.
As you probably know by now, manufacturers use B8 Bronze in entry-level cymbals, but no one would argue that the 2002 line doesn't look or sound great.
Made with CuSn8 Bronze, also known as the 2002 bronze, the Novo China offers a bright, slightly trashy, and explosive sound.
Additionally, its medium weight makes it a medium to loud china cymbal, while the clear and defined bell cuts through any mix with ease.
The Novo China and the whole 2002 line is often the first choice for rock, blues, punk, and metal drummers, but that doesn't say it all.
Despite being unique, its wide range and complex frequency mix make it a versatile china cymbal that can be used in most musical applications.
Sadly, the 2002 Novo China is only available in 18" and 20", which is far from enough in this day and age.
If you don't mind the fact those are the only two sizes available, the 2002 Novo China is one of the best china cymbals anyone can add to their arsenal.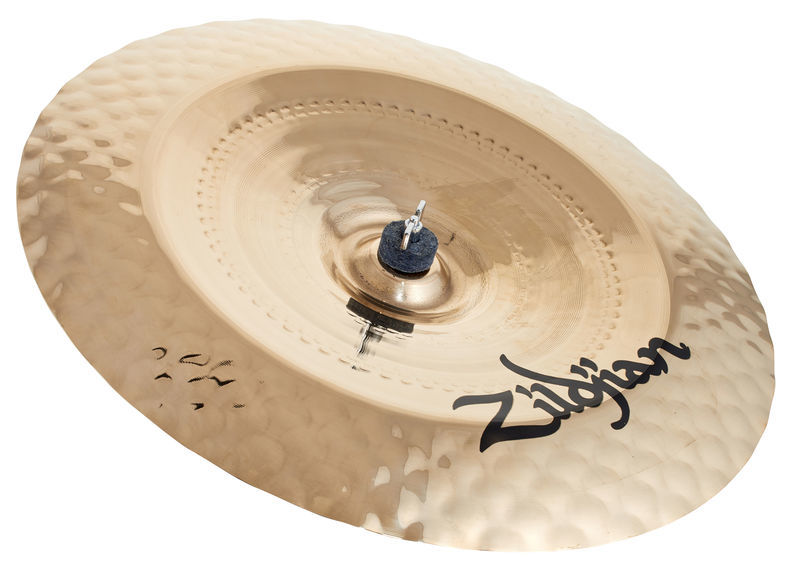 When it comes to Zildjian, A and K are, by far, their most popular cymbal series. The Zildjian A Ultra Hammered China is one of the best additions to the A line of the past decade.
Zildjian makes the china with B20 bronze and includes extra hammering from the middle of the bow to the edge. The large hammer marks contribute to the slightly darker and way trashier sound it produces.
Plus, it's also incredibly explosive and extremely sensitive to dynamic playing. Despite the extra sensitivity, it's far from ideal for lighter music genres like jazz.
As someone that plays with mostly Sabian AA, AAX, and Zildjian A and A Custom, the A Ultra Hammered meshes well with any of those series.
On top of that, it includes a small inverted bell and so far, it's only available as 19" and 21", which is honestly a disappointment.
The heavier construction makes it more durable than the average cymbal and increases the volume levels to ensure it cuts through any loud music.
Not being as versatile as we could hope for and the lack of small sizes prevents this china cymbal from being even better than it already is.
Either way, if you're into heavier music genres and a 19" or a 21 is all you need, this china cymbal is a game-changer and you don't want to miss it.
Conclusion
To conclude, China cymbals are far from essential, but every drummer should own at least one, to take advantage of its unique sound. That's especially important if you play mostly rock, or metal music.
Summing up, best china cymbal varies between budgets and players since there's not a single one that does it all.
If you're on a tight budget and don't mind buying from less-known cymbal brands, the Wuhan China Cymbal is your best bet. It sounds great and is extremely cheap, but lacks consistency between models and durability.
On the other hand, if you don't have the budget for a professional cymbal but don't want to risk it with a Wuhan China Cymbal, the Meinl Classics Custom Dark China Cymbal is what you should aim for instead.
As far as professional cymbals go, my favorite one is the Sabian AA Holy China Cymbal. Sure, it might be easier to crack and it's not ideal for lighter music genres, but it has the sound I think of when I think of a china cymbal, and I can even buy an 8" china if I want to.
The Zildjian A Ultra Hammered China Cymbal is probably the best china if you're a metalhead, while the Paiste 2002 Novo China Cymbal is the most versatile one on the list.
In the end, I hope this article achieved its main purpose of educating you on the purpose of china cymbals, their main differences, and which is the best china cymbal within your budget.