Millenium is, after Roland and Alesis, one of the biggest brands of electronic drums. The Millenium MPS-750X is their second-best-selling kit.
If you're here, it's pretty safe to assume you've heard of Millenium before. If not, let me introduce you to the world of high-quality, inexpensive drum gear.
Thomann, located in Germany, is currently the biggest European music store and for a good reason.
Some of their most popular products are sold under their store-brand Millenium. That includes acoustic and electronic drums, percussion instruments, as well as accessories.
Thomann themselves don't manufacture anything. Instead, they buy everything from well-known companies that also manufacture products for other popular brands.
Considering there's no middle man, Thomann can provide high-quality products at an affordable price.
The word on the street is, Millenium electronic drums are manufactured by Medeli. That is the same company that also produces most parts of Alesis electronic kits. This is just a rumor and I can't provide any proof, so take it with a grain of salt.
If you wanna check this electronic drum kit with a different drum module and a different kick tower, search for "2box Speedlight Kit". I must warn you, it costs two and a half times as much as the MPS-750X.
Anyway, my point is, even though Thomann is known for selling some poor-quality products under their Millenium sub-brand, especially most of their acoustic drum kits and entry-level stands, their electronic drum kits provide some of the best bangs for the buck.
That's especially true for the electronic drum kits around the $500 mark. The MPS-750X or the MPS-850 are, in my opinion, the two best options on the market within that budget.
On that note, six months ago I bought myself a Millenium MPS-750X electronic drum kit, so here's my honest review: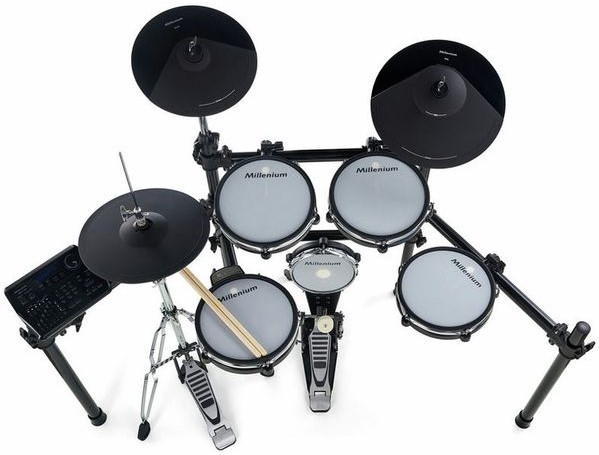 When it comes to the drum set configuration, the MPS-750X is nothing more than your basic 5-piece drum kit.
In other words, it comes with one snare drum pad, three tom drum pads, and a kick drum tower pad.
As far as cymbals go, this Millenium electronic drum set features three different cymbal pads that work as your Hi-Hat, Crash, and Ride.
Besides the drum and cymbal pads, the Millenium MPS-750X package includes the MPS-750 drum module and all the necessary cables, a drum rack, a bass drum pedal, and a real Hi-Hat stand.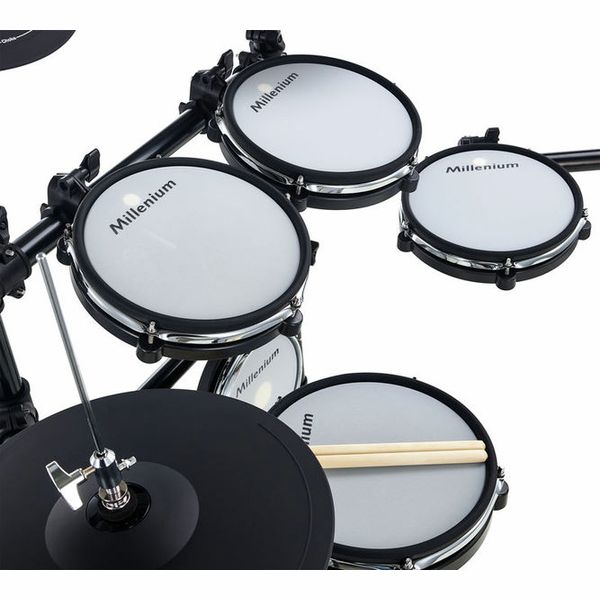 Every single drum pad is 10" and dual-zone, except the kick drum pad which is single-zone and 2″ smaller.
Despite its 8", the kick drum pad is big enough to accommodate a double bass drum pedal and the trigger accuracy is good enough for any beginner or intermediate drummer.
On top of that, every single drum pad has a mesh drum head with adjustable tension. That allows you to adjust the tension to match your personal preferences while being quieter than common rubber pads and easier on your joints.
Mesh drum heads are still far from feeling like your average drum head, considering those are manufactured with one or two layers of Mylar, not mesh.
On that note, I still think we can all agree on how much more realistic a mesh drum head feels when compared to rubber pads. That contributes to an easier transition from an electronic drum kit to an acoustic one.
Even though the Millenium MPS-750X has many of the features most drummers look for in an electronic drum kit, not all of them work as well as you expect.
One thing that sadly needs improvement is the snare pad rim trigger. I use the snare rim often, in songs that require a cross-stick type of beat and it's honestly disappointing, to say the least.
According to the drum module edit mode, the snare drum can trigger the head, the rim, and cross-stick sound. Since there are only two zones, when you attempt to cross-stick, it either triggers the rim or the cross-stick sound.
From my experience, it only works properly half the time and so far, I've tried changing my technique and messing with the drum module settings. Unfortunately, it still doesn't trigger the correct sound as often as it's supposed to.
One thing you can do to temporarily fix the problem is to program the same sound to the "rim" and the "cross-stick" so you guarantee it always triggers the sound you want to.
I also use the floor tom rim often, simply because I programmed it to trigger a china sound, but since there are only two zones and two different sounds, very rarely do I ever get a false trigger.
To conclude, if we ignore the snare pad triggering problems, the drum pads feel great, are sensitive enough to capture everything from the softest of the ghost notes to the heaviest of the strikes, and offer a realistic experience with their 10" diameter.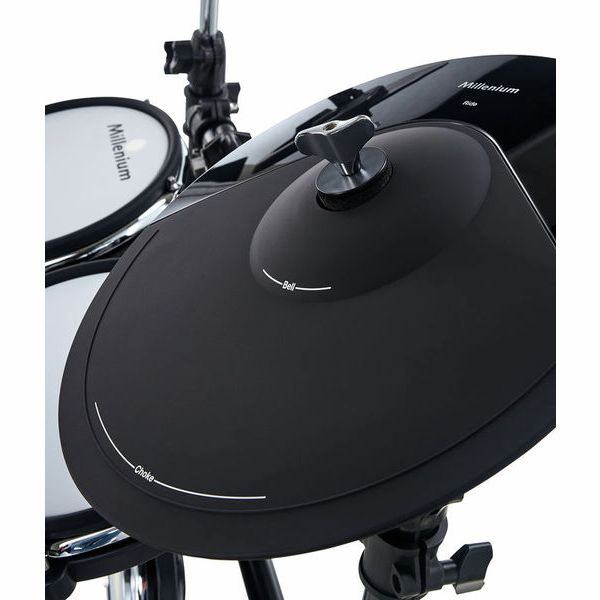 The cymbal pads, just like the drum pads, have many positive things going on, as well as their fair share of problems.
Starting with the ride, it was by far the biggest surprise of the whole kit, considering I started with low expectations.
With that being said, the MPS-750X comes with a generous 14" triple-zone ride, which means that hitting the bell, bow, and edge triggers different sounds.
What surprised me the most was how well the different zones work, unlike the snare pad. Plus, when you pair them with its size and the ability to choke the cymbal, it results in an authentic feel that brings this kit to the next level.
To make the most out of this basic 5-piece drum kit, I programmed the edge of the ride pad to trigger a 20" crash, to give me more options while playing.
Additionally, as we've seen before, the Millenium MPS-750X comes with a single crash but thankfully for us, it's a 12" dual-zone crash.
How you take advantage of the dual-zone is up to you, but I usually trigger a splash on the bow and a crash on the edge, so it gives me even more options.
Just like the Ride, it works well and it's easy to transition between the two different zones. Plus, it also has a choke function on top of everything else.
To conclude the cymbal set, this electronic drum kit features a 13" Hi-Hat pad that mounts on a standard stand, unlike most electronic kits at this price level.
More on the stand later, so let's talk about the Hi-Hat pad for now. Being 13" in diameter and working with a controller makes it a more realistic option.
That's especially true when compared to the typical stationary hi-hat pad controlled by a trigger pedal that you usually find in cheaper electronic drum kits.
The Hi-Hat pad is single-zone and the controller recognizes three different positions: closed, half-open, and open hi-hat.
In my honest opinion, I feel like it triggers the half-open hi-hat sound way too late for me to consider it a smooth transition between the three different positions.
Either way, I've seen at least a couple of people online claiming you can improve it under the advanced settings of the 750X drum module.
I haven't had the time to check it out, but if you plan on buying the MPS-750X, that's something you should take a closer look at, as it would improve the way the whole kit feels.
In the end, when you compare it to similar price level kits that usually come with single-zone cymbals, and if you're lucky, a dual-zone ride, the Millenium MPS-750X seems like a much better alternative cymbal pads wise.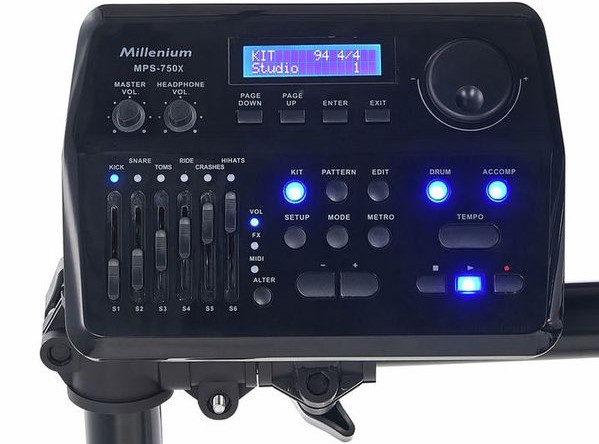 On a budget electronic drum kit, the drum module is usually the weakest part of the whole kit, so don't expect much from this one.
The MPS-750X module comes loaded with 20 preset drum kits and 20 user kits, using some of its 697 sounds.
On top of that, it features 55  songs to play along to, a metronome, individual faders to control the volume, effects, and equalizer as well as a couple of buttons to control the master and headphone volume.
From my experience, the module is easy to navigate through, even for someone with little to no experience with electronic drum kits.
Additionally, as far as connectivity options go, the MPS-750X module comes with all the basics like Line Out (L/R), headphone output, Line In, USB, and two additional trigger inputs.
If you want to take advantage of the additional trigger inputs, Thomann also sells a Millenium MPS-750X expansion pack. It includes another 12" dual-zone crash pad, a 10" dual-zone mesh head pad, and all the necessary holders and cables.
With the USB port, you can simply connect the drum module to your laptop and use one of the many sound libraries (not included) that can transform this budget electronic drum kit into a professional studio setup.
My favorite part of the module is the Bluetooth. Yes, you read it right, the MPS-750X drum module includes a Bluetooth connection.
That means you can play along your favorite tracks by easily connecting your smartphone or laptop to your drum module and hearing the music at the same time you hear the drum kit in your headphones or amplifier.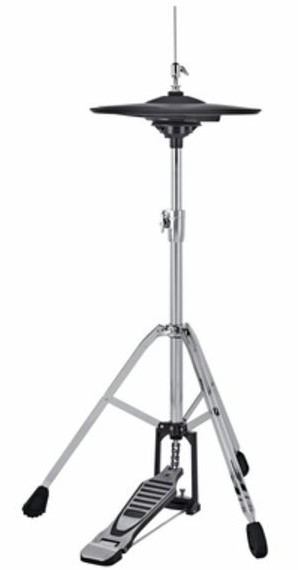 The Millenium MPS-750X comes with all the necessary hardware including a drum rack, a hi-hat stand, and a bass drum pedal.
Both the Hi-hat stand and the bass drum pedal feel like your regular entry-level hardware, and if you don't have anything better, they should be enough for any beginner or intermediate drummer.
Thanks to the two tubes at the front and the four legs, the drum rack is solid enough and you won't need to adjust anything after a couple of hours of playing like it usually happens in entry-level electronic kits.
On top of that, it's a compact electronic drum kit, since a regular setup will usually require something like 55" x 32", or 140 x 80 cm of  free space. That makes it a good option for small apartments or small drum rooms in general.
To complete the pack, Millenium includes a tower for your bass drum pad, a power adapter, cabling, and a pair of brandless drum sticks.
Wrapping up
I've had my fair share of electronic drum kits and I know well enough that all of them have their pros and cons.
The Millenium MPS-750X is no exception, but in my opinion, it's still the best electronic drum set under $500 by a wide margin.
Why? It checks all the boxes: mesh drum heads, multiple dual-zone pads and a single triple-zone pad, kick drum tower, Bluetooth connection, decent sounds, and solid construction.
If we compare it to electronic drum kits on a similar price level, they either have less or no dual-zone pads, feature rubber pads, or no kick drum tower and they're usually not as generous when it comes to drum and cymbal pads' sizes.
With that in mind, I think ignoring the couple of small problems it comes with makes total sense unless you're willing to spend much more on a superior kit.
In the end, I hope this article achieved its main purpose of educating you on all the pros and cons of the Millenium MPS-750X before you make a decision.