Interested in the best budget snare drums? Most professional drum parts are expensive, and the snare drum, a central part of every drum set isn't an exception.
For me at least, the snare drum, the throne, and the bass drum pedal are where you should invest the most when starting, and a good set of cymbals right after.
As an illustration, you can easily make any bass drum sound good with a pillow or a blanket and decent tuning.
The same happens with toms and floor toms. Use a couple of damper pads or O-Rings and you're good to go.
On the contrary, you can't make low-quality B8 cymbals sound good nor a $30 bass drum pedal smoother and sturdier.
The snare drum is also harder to tune than the rest of the kit since it's quite common to end up with the excessive buzz, or worse, a dead-sounding snare drum.
That's why I think you should invest in those drum parts as soon as possible. But, how much should a good snare drum cost?
Well, the best snare drums on the market cost, on average, between $500 to $1000. That's enough to buy one or two beginner drum kits.
Why are premium snare drums so expensive?
The premium snare drums manufacturing process includes more complex building processes, goes through stricter quality checks, has way more lugs than the average snare to improve tuning accuracy and better materials in general.
In addition, you often get access to unique designs and special sizes that are simply not available when it comes to standard snare drums.
Luckily, the market offers some very good snares at an affordable price. You just need to separate the wheat from the chaff, and that's what we're here for.
Before starting, I want you to know that I consider a budget snare drum anything that costs less than $250.
With that in mind, here are the best budget snare drums currently on the market: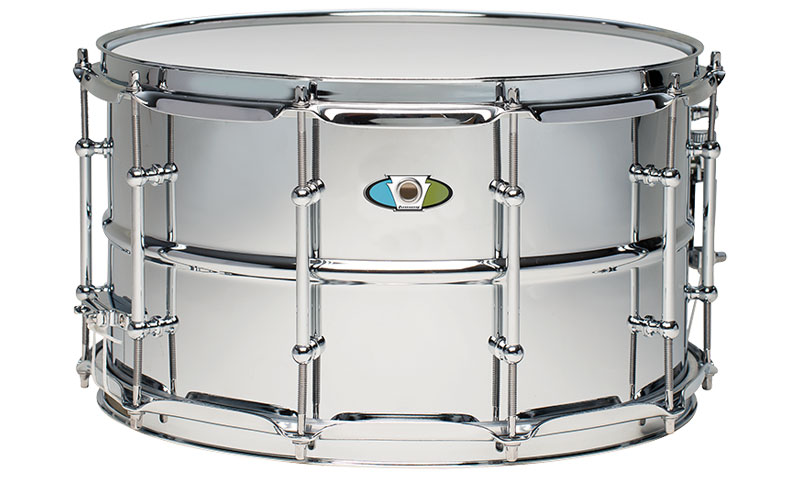 The Supralite is everything you want in a budget snare drum: it looks good, sounds even better, and all of that for a fair price.
First, let's start with the technical details. The shell is made out of polished steel, with chrome-plated brass lugs.
Additionally, brass is also the main component of the snare wires and the 2.3mm triple-flanged drum hoops securely clamp any drumhead for the best tone possible.
The 1mm steel shell provides a bright, cutting attack, a great stick response, and a handful of mid-range overtones.
Steel shell and triple-flanged drum hoops create an especially strong and long-lasting snare drum that looks and sounds as well as they're built.
On the other hand, the stock drum heads are decent, but miles below the most common drum heads.
Those and the brass snare wires should be your top priority when it comes to upgrades since they could improve the sounds the most if you pick good quality alternatives.
Ludwig sells the Supralite in four different sizes: 14"x5.5", 14"x6.5", 14"x8" and 15"x5", with 14"x6.5" being my favorite size that's neither too deep nor shallow.
Don't get me wrong, it's not on the level of an Acrolite, but considering it only costs around $200, this is probably the most your money can stretch.
All things considered, it's a great addition to any beginner or intermediate drummer's kit, especially if they're still using the standard set that came with the drum set.
The Supralite isn't the best option if you're an advanced/professional drummer, but it can hold its own as a side snare.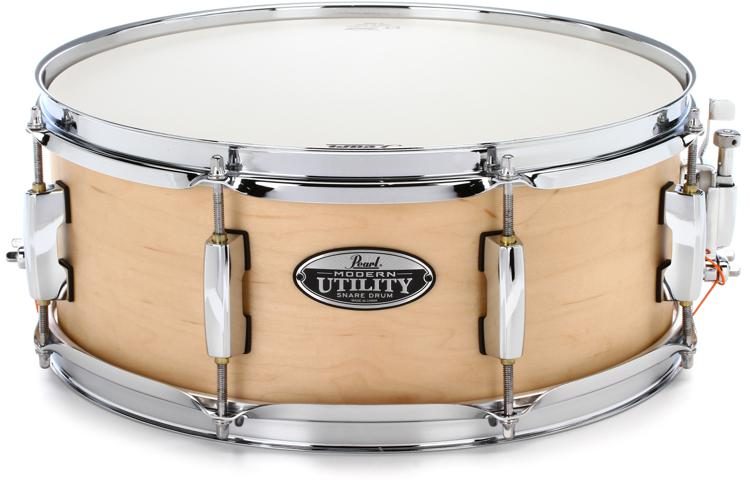 My next suggestion is the Pearl Modern Utility Snare Drum, considered by many the workhorse of the snare world.
To begin with, the Modern Utility line is available in multiple sizes, depths, materials, and finishes. The sizes available for the Maple snares are 12"x7", 13"x5", 14"x5.5", 14"x6.5", 14"x8" and a 14"x10" that could easily be mistaken for a floor tom.
Additionally, to make sure there's a snare for almost everyone, you're free to choose between the six available finishes: Matte Natural, Black Ice, Baccara Rose, Blue Mirage, Bay Stallion, and Satin Brown.
The shell itself is made out of 6-ply maple wood that provides fast and sensitive mid-frequency tones.
It's then completed with an SR-700 throw-off that works as simply as it does efficiently, and 8 CL-55 bridge lugs that were designed to minimize the impact drum lugs have on the shell vibration.
On the other hand, if you prefer metal snares, the Pearl catalog managed to include two Modern Utility metal snares, available in 14"x5.5" and 14"x6.5".
Pearl produces them with 1mm beaded steel shells with a textured steel finish, eight CL-65 Bridge Lugs used in high-end Pearl drums, and the same throw-off found in the Maple versions.
Both versions come with 16mm triple-flanged hoops and SNW-1420 snare wires and neither will make a dent in your budget.
To conclude, both maple and steel Modern Utility Snare Drums sound good, and at the same time, are flexible and reliable enough to follow you from gig to gig.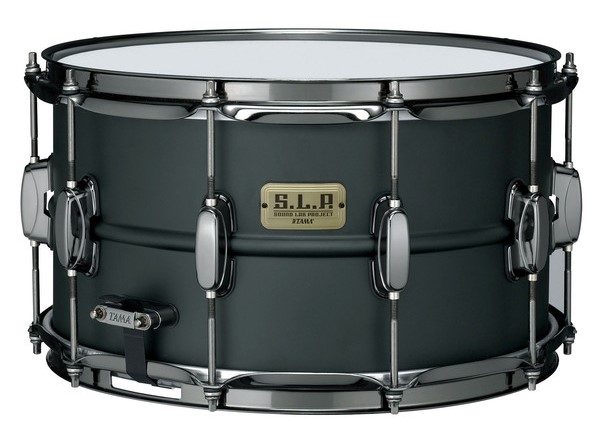 Despite being on the upper limit of what I consider a budget snare drum, I had to include this one because it's such a good snare and criminally under priced.
This beast is available in 14"x8", which is pretty much the same as a small floor tom, with a 1mm steel shell in matte black finish.
I don't know about you, but I would decorate my whole house in matte black if I could, so the Tama S.L.P. Big Black Steel Snare Drum doesn't disappoint in the looks department.
When it comes to the hoops, Tama included triple-flanged 2.3mm steel hoops for what they describe as a "wetter" sound. The 10 lugs allow you to achieve a more precise snare sound that matches your taste.
The lugs are Hi-Tension, which is a fancy name for long tube-style lugs that were popularized by vintage Premier and Yamaha drums.
Finally, the snare wires are the same ones used in Tama Starclassic, Tama's premium drum set. They are designed to press closer to the snare, and the thinner straps help obtaining an optimum response.
As far as sound goes, the Tama S.L.P is ideal for heavier styles of music such as metal, punk, or hard rock.
This snare is loud and aggressive thanks to the 8" depth, but sensitive enough to capture every nuance of your playing.
It delivers immense power and volume that cuts through everything, no matter where you're playing.
To conclude, if you don't mind budgeting for longer, buy the Tama S.L.P Big Black Steel Snare Drum, because it's like buying a $500 snare for half the price.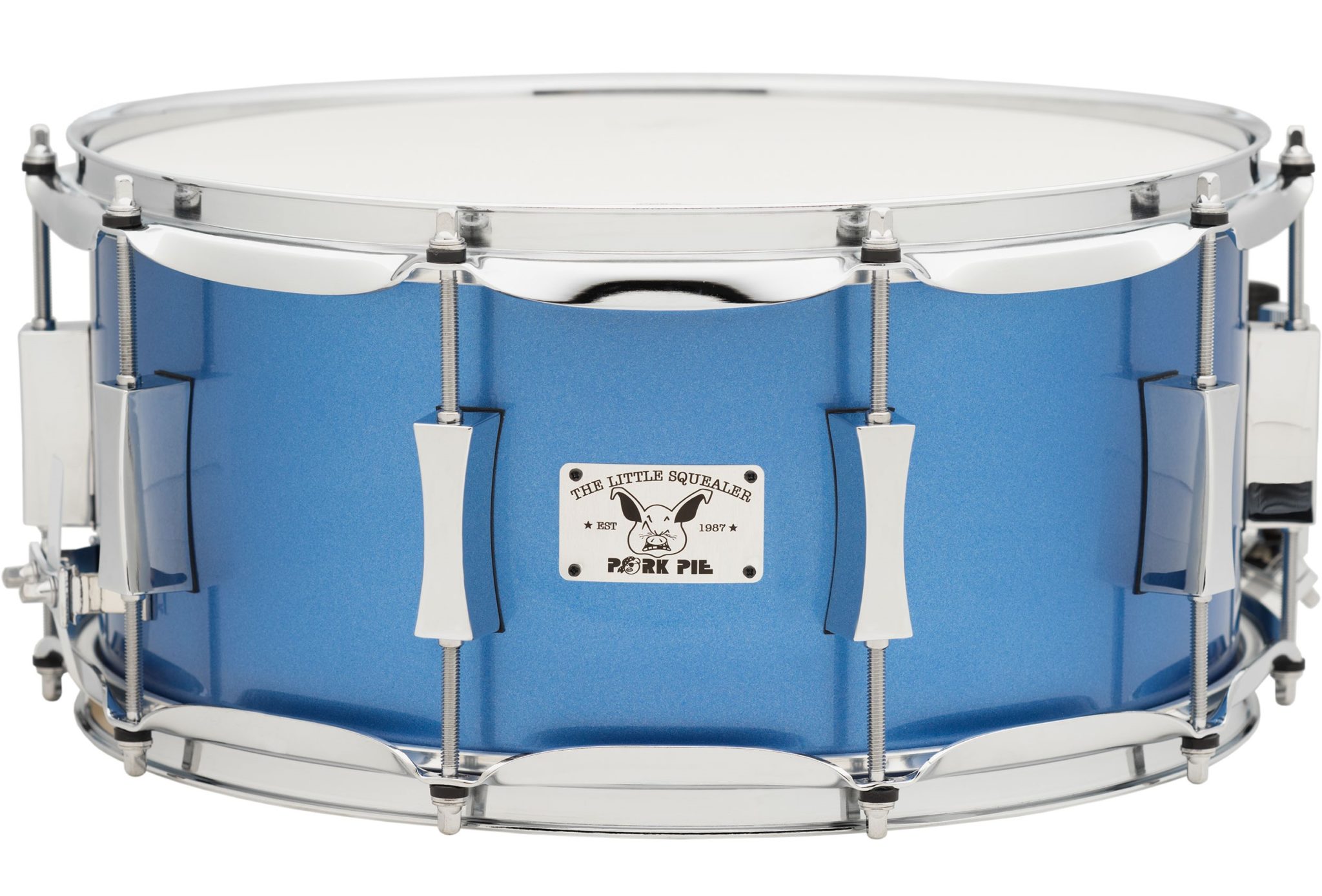 Before I talk about the snare, if you haven't heard of Pork Pie, they are a US company that started making drums as a hobby, back in 1987.
Especially known for making innovative, high-quality handmade products and only using the finest materials available.
Despite being a company based in the US, the Little Squealer is made in Taiwan, but don't worry, it's still a quality product.
To start, the Little Squealer Snare Drum has a wide tuning range, offering the extra versatility a main snare needs.
It provides a loud and powerful sound with a nice attack that cuts through any musical environment. Most people won't believe it comes from such an affordable line of snare drums.
This snare in particular features an 8-ply birch and mahogany hybrid shell that delivers a punchy attack mixed with some warm tones.
Additionally, the 45º edges with a round over counter cut guarantee a precise connection with the drum heads to achieve an optimal tone and resonance.
When it comes to hardware, the Pork Pie Little Squealer Snare Drum includes 2.3mm triple-flanged drum hoops, exclusive hourglass-shaped lugs, throw off and butt plate.
Every piece of hardware is chrome plated, heavy-duty, and built to last, making it a good long-term investment.
As shown above, the Little Squealer line of snare drums is a good and affordable option considering the good sound you can get out of it, and the wide range of sizes, materials, and finishes available for such a ridiculously low price.
Most popular sizes and finishes:
If you're looking for a metal snare, the little squealer line includes a couple of chrome-plated steel snares available in 13"x6" and 14"x6".
The Birch/Mahogany version comes in Porcaro Blue and Black Satin Stain, with two different sizes: 14"x6.5" and 14"x5".
On top of that, you can find a few different wood combinations like Maple/Birch, and 100% Maple with or without vent-holes. The diameters range from 12" to 14" and the depths from 5" to 7".
If you're like me, or most musicians, and you don't mind buying used gear, then that's probably the best option for such a low budget.
The great thing about buying used music gear is the fact that most musicians take good care of their instruments, meaning you usually find amazing deals at an affordable price.
Before you buy anything, make sure you check the current price of the snare you're looking for on your favorite music store, or at least on Amazon, before deciding on a price point to dive in.
When you're ready to shop, check websites like Craigslist, Facebook Marketplace, Reverb, or eBay. Local pawn shops and music stores often have used drum gear as well, if you don't like shopping online.
When buying a used snare drum, you need to check a few things before buying it:
Are the shell and drum hoops round? If not, ignore it. You won't be able to tune it properly and there's no way to fix it or it'll cost you way more than it should (like replacing the drum hoops).
Can you find any problem with the edges? The edge is where the drumhead makes contact with the shell, and if it isn't even, it's difficult or completely impossible to tune them. On that note, check for any chips or cracks around the edge.
If it's a wood snare drum, check the inside for ply separation. It isn't the biggest deal-breaker, but you want to avoid snare drums with bad ply separation.
Make sure everything is fine with hardware like lugs, tension rods, and throw-offs. The lugs and tension rods are cheap and easy to replace and shouldn't be a deal-breaker. The throw-off is harder and more expensive to replace, test it before buying.
Look for cosmetic problems like shell dents, discoloration wraps peeling off. Depending on the severity of the problem, it might or might not be a deal-breaker, it's up to you to judge how much of a problem it is since it doesn't affect the sound or the utility of the snare drum.
If the only problems you find are related to the drumheads or the snare wires, don't let it stop you from buying the snare drum since both are cheap and easily replaceable.
Now that you have a good idea of what to look for when shopping for used snare drums, here are a few good ones that you can buy for less than $200:
Ludwig Acrolite;
Mapex Black Panther;
Pearl Sensitone;
Yamaha Musashi Oak.
There are probably a couple more awesome snare drums that you can buy used for less than $200, but those are the first that come to my mind and probably the easiest to find.
Conclusion
Summing up, it's harder to find good and reliable gear the lower your budget is, but you can still find good, used, or new snare drums for less than $250.
With that in mind, if buying used gear isn't a problem at all, just do it. You're able to buy premium snare drums for a fraction of what they cost brand new.
Just make sure you check everything I told you a couple of paragraphs ago to avoid buying damaged beyond repair snare drums.
On the contrary, if you would rather buy new gear, the Tama S.L.P. Big Black Steel Snare Drum is my favorite, by far. Tama does such a great job at making quality products for a fraction of the price they could easily go for, that ignoring it is a terrible idea.
My second suggestion is the Ludwig Supralite, considered by many the Acrolite Lite. If you're into heavier styles of music, the 14"x8" is a must-have.
All things considered, I hope the article allows you to buy the best budget snare drum that will take your drum set to the next level.