As a drummer, the best snare stand isn't usually that exciting when compared to all the gear we use daily.
The truth is, the snare drum is the most played piece of any kit, and the older and more experienced we get, the more we value a good quality snare drum stand.
When shopping for a new snare drum stand it's important to analyze things like durability, stability, weight, height, and price.
You want something durable enough to survive the road life since snare stands often take a lot of abuse.
The tilter is something you should pay attention to, as it allows you to adjust the angle of the basket.
If something falls apart in a snare stand, it's usually the tilter, so make sure they are durable enough and can be adjusted to any angle you might need. 
On top of that, you want it to be stable so it won't let you down in the middle of an important gig. The most important feature is the basket, which consists of three arms that hold the snare drum in place, hopefully.
But there's more…
You also want it to be tall enough for your needs. As someone that's not too tall, pretty much any snare stand works for me, but for everyone else, sit down in a comfortable position and measure how tall your stand needs to be, before making any purchase.
Something heavy-duty and light sounds conflicting, and it is. You should aim for a happy medium, so something heavy-duty but not too heavy, to avoid any back pain before your 30s.
About the price, you just need to make sure it fits your budget, because there's no right or wrong when buying drum gear, it's all based on your current needs.
With that out of the day, let's discuss the best snare stands on the market: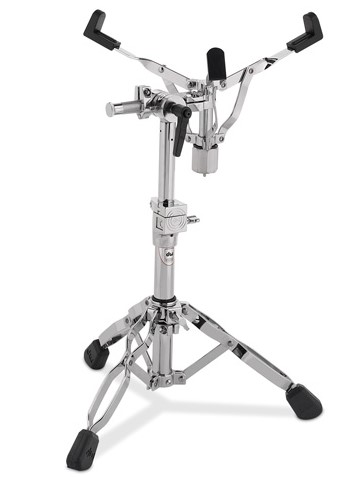 My first suggestion comes from DW, who we can all agree, makes some of the best and most beautiful drum kits in the world.
It doesn't end there though, since their hardware is just as good as their shells, which is why I believe the DW 9000 snare stand is one of the best in the market.
The stand has double-braced legs, which means it isn't as easy as it could be to carry around, but it's also sturdier.
Design-wise, my favorite part is its pneumatic shock which provides a fast and effortless way to adjust your snare drum. Plus, the offset basket was designed with double-pedal players in mind.
On top of that, the 9000 Airlift Snare Stand has a range of 17" to 22", so the average individual shouldn't have a problem with it when it comes to height.
If you're someone that likes to rock vintage setups, the 9000 series snare stand's basket closes enough for smaller drums, like rack toms.
Overall, considering how stable, easy to adjust and sturdy the DW 9000 Series Air Lift Snare Stand is, I have no doubt in my mind that this is one of, if not the best snare drum stands on the market.
As anything from DW, it's incredibly expensive, so it's not the ideal snare drum stand for someone on a tight budget.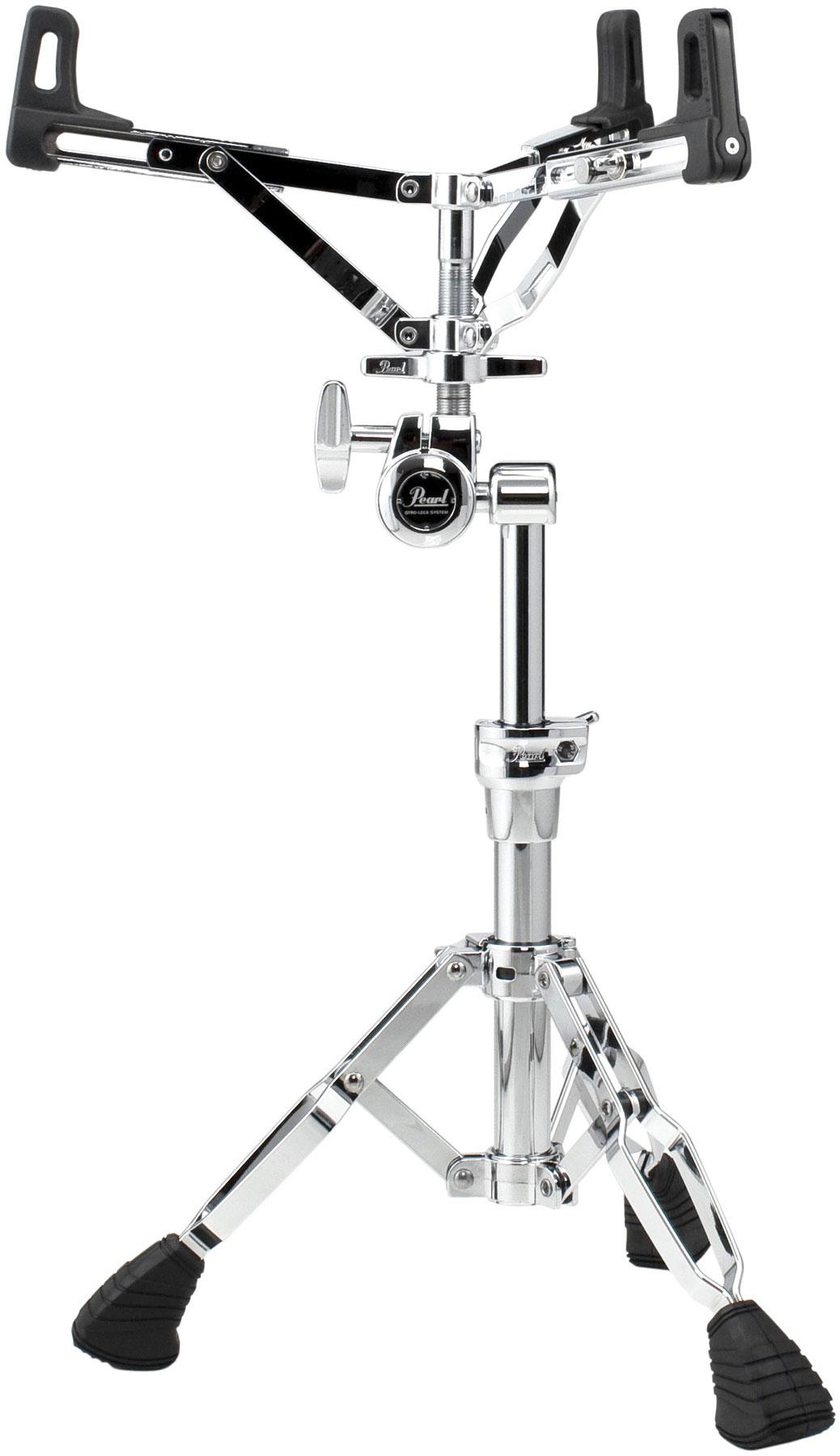 As someone that currently rocks a complete S930 hardware pack with my small gig's drum kit, I can assure you the Pearl S1030 Snare Stand is an improvement of what was already a great snare stand.
First things first, the S-1030 comes with a fully adjustable basket that won't have any problem holding snares and toms between 10" and 16" in diameter.
This thing can hold a floor tom. If that doesn't blow your mind, I honestly don't know what will.
On top of that, it features a GyroLock tilter that grants you infinite angles and allows you to discover your inner Daru Jones.
Fortunately for drummers with an above-average height, the S-1030's height starts at 18.5" and goes all the way up to 26".
It also comes with double-braced legs with oversized grip rubber feet to provide the necessary stability and sturdiness to hold bigger drums.
Additionally, since there's no point in buying good-sounding snare drums to choke them with a cheap snare stand, the S-1030 features Air Suspension Rubber Tips that firmly grip any drum without choking it.
All in all, the Pearl S-1030 Snare Stand has everything you need for both the studio and stage work.
Sure, it doesn't have an offset basket, so it might not be ideal for double-pedal users. Plus, it's far from a budget option, but I honestly consider it fairly priced considering its sturdiness, adjustability, and stability.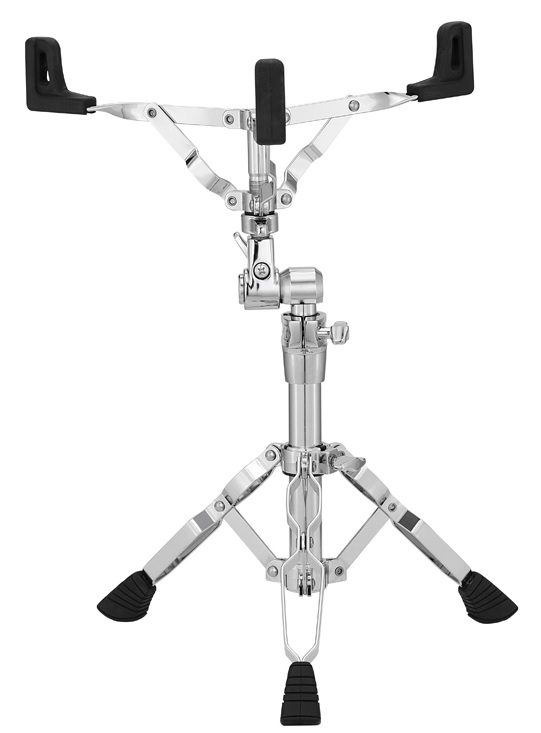 I couldn't mention how good the Pearl S-930 Snare Stand is without including it in the article.
As a long-time user of the S-930 line, I firmly believe its snare stand is the best for someone that doesn't want to spend $300 for all the bells and whistles.
Compared to the S-1030, it also comes with Air Suspension Rubber Tips but it's not capable of holding anything bigger than 14". That might be a problem for someone trying to fit a 14" snare with wood hoop rims.
Something where it's slightly worse than the S-1030, is its height range, considering it can go lower but not higher than the flagship model (from 18.11" to 25.59"). Despite being slightly shorter, it's still another good alternative for tall drummers.
On top of that, its uni-lock basket tilter isn't as versatile as the one on the S-1030, but it still provides enough positions for most drummers and it's just as easy to adjust.
Besides that, the S-930 Snare Stand features double-braced legs for additional support and big "SureGrip Rubber Feet" to prevent it from slipping while playing.
To conclude, the Pearl S-930 Snare Stand is a great alternative for someone that doesn't want to break the budget.
It's sturdy, well-built, and straight to the point, which is everything you need, especially if you're on the road often.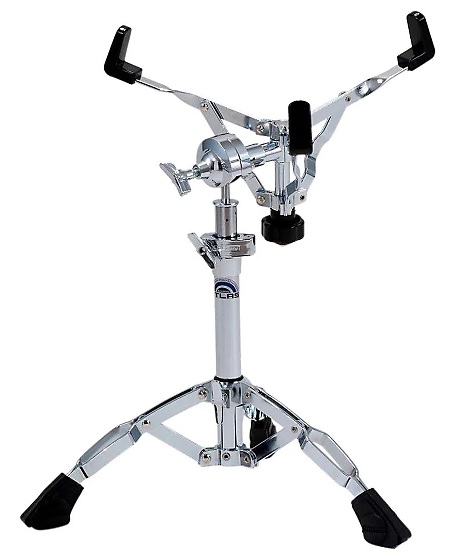 My fourth suggestion comes from Ludwig, a company mostly known for their awesome snare drums, like the Black Beauty, the Supraphonic, and of course, the Acrolite.
Besides snare drums, they also manufacture drum hardware like drum thrones, pedals, and stands.
One of their hardware lines is the Atlas Standard, designed with the gigging professional in mind, it has all the necessary features needed, while it remains reliable, affordable, and easy to carry around.
My favorite part about the Atlas Standard Snare Stand is the fact that you can adjust it down to 15" of height. That doesn't sound like much, but it's a great feature for anyone looking to use deep snare drums or low setups, like a kid.
On the other hand, you can't set it up as high as some of the alternatives, so it might not be ideal for anyone taller than 6ft.
Additionally, it comes with a ball-in-socket tilter mechanism that's smooth and results in nearly infinite angle adjustment.
Despite not being part of Ludwig's heavy-duty line, it features double-braced legs for additional stability, it's well-built and will easily get the job done.
There's not much else to add, considering its basket is as standard as it gets and doesn't bring anything new to the table.
Overall, the Ludwig Atlas Standard Snare Stand is a great option for someone looking for an affordable, light-weight snare stand, capable of holding deep snare drums or being a part of a low setup.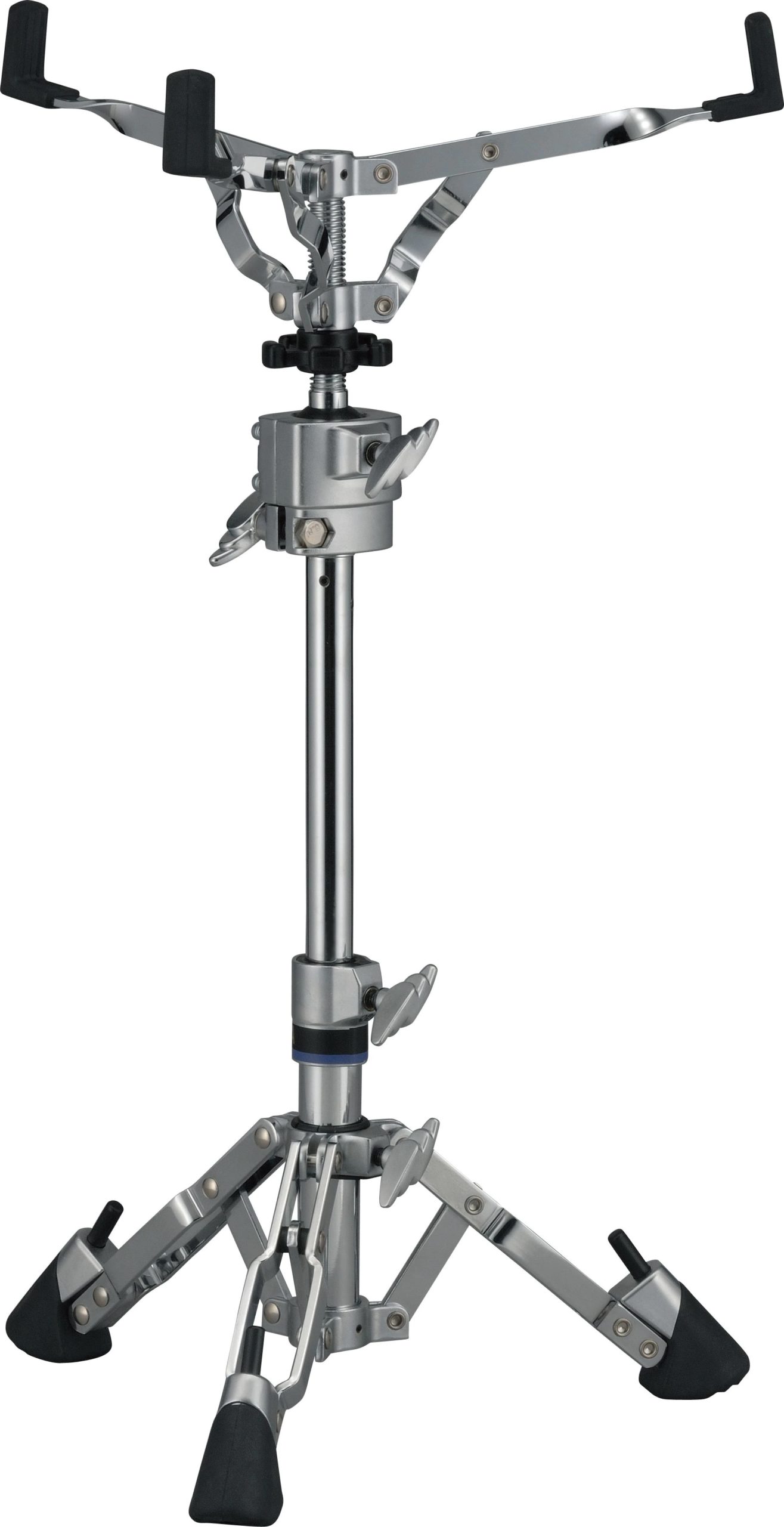 My final suggestion comes from Yamaha, a company that produces anything from musical instruments to motorcycles and semiconductors.
As a drum company, they are criminally underrated, mostly because of poor or non-existing marketing strategy, and not because they don't make high-quality products.
The Yamaha SS-950 Snare Stand is a perfect example of a product that should be way more popular than it currently is.
It features a ball-in-socket tilter similar to the one found on the Ludwig Atlas Standard Snare Stand. As we've seen before, it results in infinite angle adjustment and quick and smooth position change.
As far as the height adjustment range goes, it's average at best, since it goes from 17.72", all the way up to 24".
Additionally, the SS-950 snare stand comes with double-braced legs with big rubber feet and spikes at the bottom, to make sure it goes nowhere while in use.
On top of that, the basket is as standard as it gets, but it easily detaches for quick snare drum changes in the middle of the set or to save storage space.
In the end, if you want a stable, versatile, and straight-to-the-point snare drum stand that doesn't cost an arm and a leg the Yamaha SS-950 Snare Stand is something to take into serious consideration.
Wrapping Up
As you probably know by now, there's not much going on in terms of innovation with snare drum stands, since they're more or less the same.
When shopping for a snare drum stand, you should start by looking for something that goes as high or as low as you need it.
Then, you should focus on finding the most stable stand that allows you to adjust its angle as much as possible.
From my suggestions, if you're someone on a tight budget, my favorite snare drum stand is the Pearl S-930 Snare Stand.
I've been using it, as well as the matching hardware pack, for a few years now, both at the studio and on stage. It has never let me down since it does everything I need and is versatile enough for an average drummer like myself.
On the other hand, if you're a drummer that loves owning the fanciest toys and money isn't a problem, the DW 9000 Series Air Lift Snare Stand is the best anyone can currently get.
That's especially true for double-pedal drummers, thanks to its offset basket.
Either way, I hope this article achieves its main purpose of educating you on the differences between snare stands and which the best snare stand for your needs.