When I landed my first gig, buying the best electronic drum pad I could get at the time was indeed a smart decision.
As a gigging drummer, unless you're playing massive tours, you're probably the one in charge of transporting and setting up your own kit.
Plus, a smaller gig often means that you're most likely playing covers from different bands and sometimes, completely different music genres.
With that in mind, you need to travel with a pallet of sounds as big as needed to cover every single song in your repertoire.
But, as you probably know by now, the life of a drummer on the road isn't easy. Traveling with every single percussion instrument you might need only makes things worse.
A good way to avoid traveling with anything other than the absolute bare minimum is to invest in an electronic drum pad.
If you don't know what an electronic drum pad is, they are a great option to add some variety and complement your acoustic drum kit.
You can play them live, as you would with any electronic drum kit, or use them to launch loops that you can use as your backing track, for example.
On top of that, some of them allow you to build an ultra-portable electronic drum kit by providing the option to expand it using external electronic drum pads and pedals.
In other words, electronic drum pads are useful as a way to expand your acoustic kit or as a complete standalone instrument.
Before investing in anything, you need to first decide which type of electronic drum pad is the best for you.
Different types of electronic drum pads
Currently, there are three different types of electronic drum pads:
Sampling Pads: allow you to trigger on-board sounds or load your own, including sound files recorded by yourself;
Percussion Pads: you're only allowed to use the internal sounds. Not as versatile as sample pads, but it still lets you manipulate the on-board sounds files;
Multipads: as the name suggests, they come with multiple pads.
So, as you can see, a single piece of equipment can replace so many things and bring your gigs to the next level.
If that's exactly what you're looking for, here's a list of the best electronic drum pads on the market: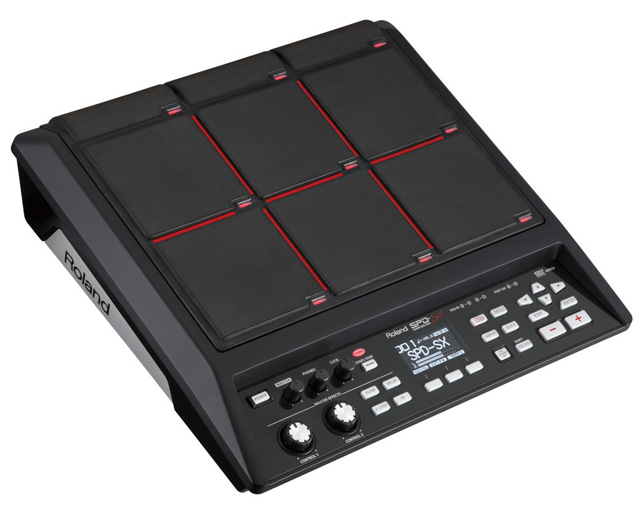 My first suggestion is, without a doubt, the industry-standard when it comes to electronic drum pads.
Roland conquered the market 20 years ago with the SPD-S, which I've been rocking with for the past decade and a half.
Its successor, the Roland SPD-SX is even better than what was already a great piece of gear.
As a sampling pad, you can use any of the 900 on-board percussion sounds, or load your own. You can do so using a USB flash drive, or directly from a computer using the bundled SPD-SX Wave Manager app.
The manager makes importing, organizing, and assigning samples and kits easy and intuitive, even for a beginner.
With up to 4GB of internal memory, you can store a total of 720 minutes of audio, at 16-bit, 441 kHz, mono. Keep in mind that the available space is a little less than 4GB, considering the preloaded sounds.
If you're not satisfied with a particular sound, mess with the three units of multi-effects with two real-time controls knobs and four dedicated effect buttons to mix it accordingly.
Additionally, it comes with 9 built-in velocity-sensitive pads with dynamic LED indicators that tell you when a pad is triggered, with different illumination strengths that change according to the audio level.
Besides that, you can connect up to four external pads using the two external dual-trigger inputs featured in the SPD-SX.
To increase visibility, the SPD-SX comes with red divider lines between the pads. You can also set the LED indicators to say on continuously to improve visibility.
On top of that, it comes with a generous backlit LCD that you won't have any trouble reading in most adverse environments.
But there's more…
The back panel includes multiple connectors like L/R master out, headphones jack, two extra trigger inputs, footswitch jack, and L/R audio inputs, standard MIDI in/out connectors, as well as a USB MIDI and a USB memory port.
Roland also sells (unfortunately, separately) multiple things to improve the SPD-SX usability. There are drum and cymbal pads, stands, clamps, drum triggers, or even a footswitch.
My main complaint is the fact that the SPD-SX is expensive and Roland doesn't even include any accessories. A footswitch or a hardcase would be a nice addition.
Either way, to conclude, the Roland SPD-SX is everything you need if you want to launch one-shot samples, loops, or even complete backing tracks to support your band.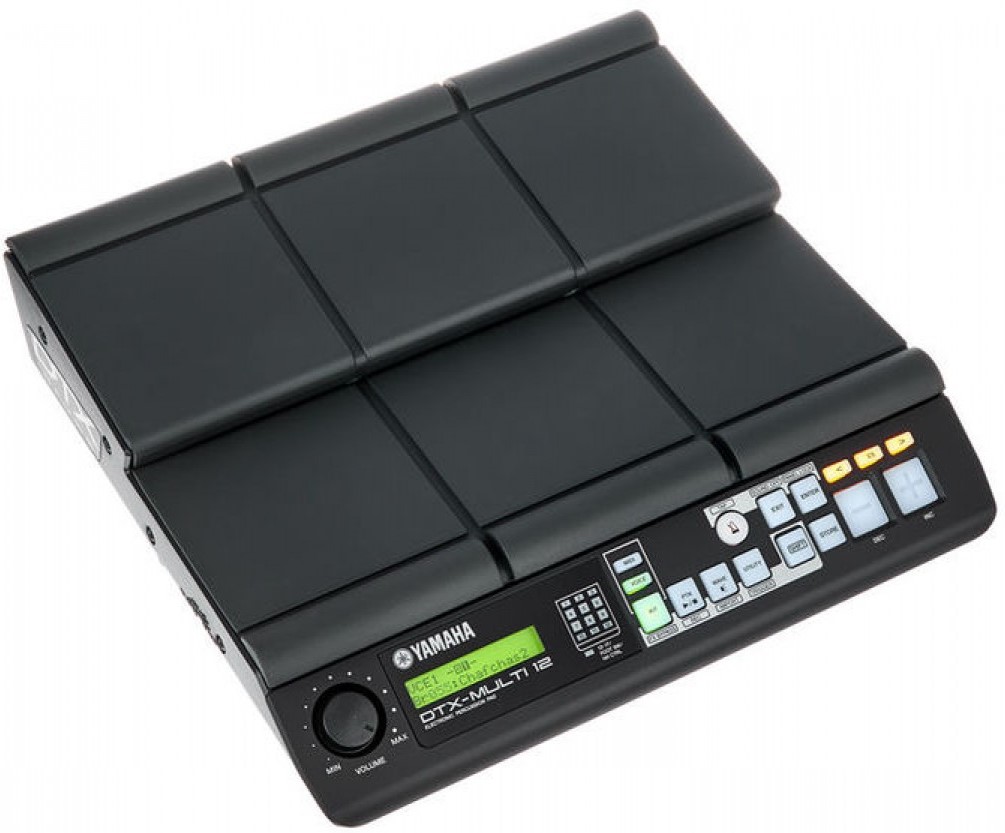 The truth is, if you go to a live show and the drummer isn't rocking a Roland SPD-SX, then he's most likely using a Yamaha DTX-Multi 12.
Just like the SPD-SX, it comes with its own sound library, including 1.277 drums, percussion, and FX sounds.
As another sampling pad, if somehow you can't find what you're looking for between over a thousand sound files, you can easily load your own samples using a USB memory device.
Sadly, it only comes with 64MB of built-in ROM for you to store additional samples. I know it was announced 13 years ago, but in my opinion, Yamaha should just do what Roland did and sell a "special edition" with extra memory.
If the name didn't make it obvious enough, the DTX-Multi 12 comes with 12 different pads, since it has an additional row of "shoulder pads" at the bottom.
On top of that…
You can play any of the 12 pads using sticks, hands, or fingers as it responds well to the dynamics of your play.
Similar to the SPD-SX, you can expand the DTX-Multi 12 using its 5 aux trigger inputs on the back panel, next to the MIDI in/out ports, footswitch jack, Hi-Hat control jack, and headphones jack with an independent volume knob.
Sadly, it doesn't include any accessories, since the package only comes with a power adaptor, a user manual, a data list booklet, and a DVD with Cubase.
On the side panels, there's also a USB to device and a USB to host ports that you can use to connect the DTX-Multi 12 to a PC using a USB cable (not included) or to save your data to a USB memory stick.
Overall, the Yamaha DTX-Multi 12 isn't as polished as the Roland SPD-SX, but it works well enough to be used in any professional setting and definitely won't break your bank.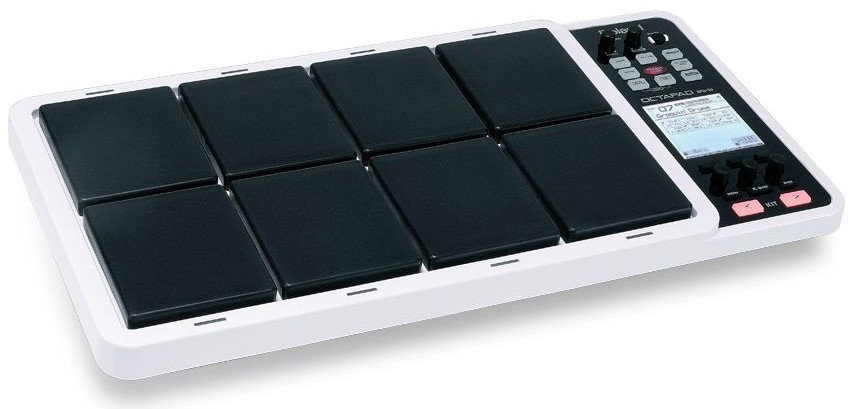 Up next is what I believe is the best percussion pad currently on the market. As we've seen before, as a percussion pad, you can't load your own samples and have to rely on the onboard sounds.
To compensate for that, the SPD-30 is shipped with a total of 670 instruments arranged in 99 different kits.
Some of the sounds included come from different drums, percussion instruments as well as local instruments from China, Africa, Latin America, and the Middle East.
Additionally, you can take advantage of the SPD-30's multi-effects like EQ, limiter, and ambiance, as well as instrument parameters like tuning, muffling, pitch sweep, and more to create your own sounds out of the on-board ones.
On top of that, the SPD-30 Octapad features 8 large velocity-sensitive pads and 4 external trigger inputs for you to connect more pads (not included).
Each pad comes with an LED light that you can program to always stay on so you can play as easily under low-light conditions.
But there's more…
Besides the 4 external trigger inputs, the Octapad comes with a few more connectors like a headphones jack, Hi-Hat controller jack, footswitch jack, I/O MIDI connectors, as well as a USB memory connector and a USB MIDI connector.
You can combine the external trigger inputs and the Hi-Hat controller jack to make a compact electronic drum kit out of the SPD-30.
Besides playing it live, you can use the Octapad to create loops with up to three layers that you can then save internally (up to 50), or on your USB memory stick.
Also generous is its 160 x 160 backlit LCD that makes your life easier when navigating through its fairly intuitive interface.
The biggest con is its price and the fact that you can't load your own samples. But, if all you need is a percussion pad, the Roland SPD-30 Octapad is still king. Otherwise, just stick with the SPD-SX.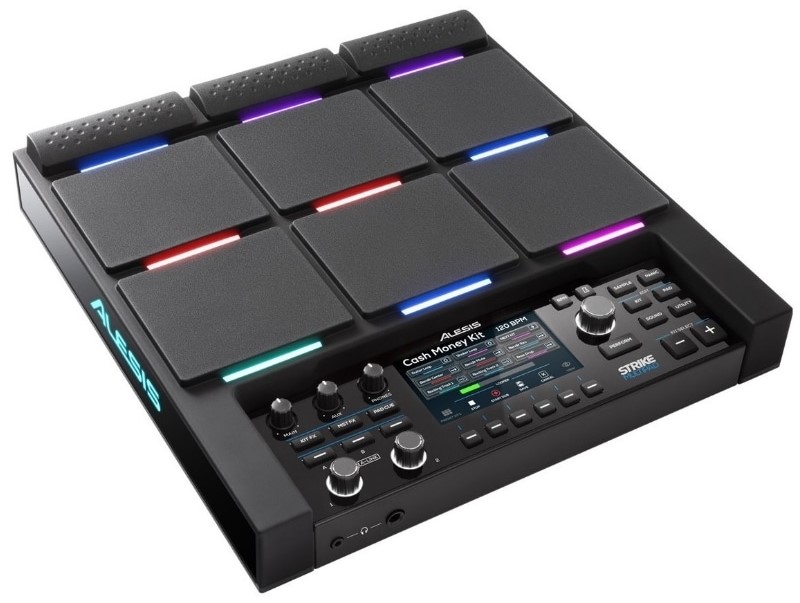 Produced by one of the best electronic drum manufacturers, the Alesis Strike MultiPad is the youngest member of the electronic drum pad's family.
Design-wise, it's similar to the SPD-SX, so it comes with 9 velocity-sensitive pads with customizable RGB lights. That allows you to easily distinguish between each pad, even in low light conditions.
If for some reason you feel that might not be enough, there are also 3 inputs to connect external pads, 1 Hi-Hat controller jack, and 2 footswitch inputs.
Additionally, the biggest selling point of the Strike MultiPad is its onboard memory. It comes with over 8.000 preloaded samples and loops that take up to 6GB, but there's an additional 26GB of free memory for you to load your own samples.
Anyway, if for some weird reason that's still not enough, Alesis were kind enough to allow anyone to connect an up to 32GB mass-storage device to import, export, and backup kits and samples.
Plus, you don't need to move anything to the internal memory, the MultiPad streams directly from the USB drive.
In other words, memory-wise, the Alesis Strike MultiPad puts every alternative to shame, especially the Yamaha DTX-Multi 12 and its 64MB of ROM.
On top of that…
To take advantage of the free space, you can connect an external audio source (like a mic, a computer, or a phone), to capture your own samples and loops.
If that wasn't enough already, the Strike MultiPad features multiple built-in effects, including reverb, delay, flangers, compressor, and EQ. You can apply them to an individual kit, or the overall output of the MultiPad.
Another small but important feature is the fact that you can route pads or the metronome to different outputs. That allows you to, for example, route the metronome to the band members' headphones.
The front panel comes with a 1/4" and a 1/8" headphone jacks. On the back, besides the external trigger inputs, there's also a MIDI I/O, USB memory, and USB MIDI, as well as two 1/4" main outputs and two 1/4" AUX outputs.
In the end, the Alesis Strike MultiPad seems like the best electronic drum pad currently on the market. The fact that it has yet to stand the test of time is the only reason I'm not choosing it over the Roland SPD-SX.
Conclusion
Besides my suggestions, there are a few more electronic drum pads on the market, but I don't believe they're any better than the ones I suggested.
Even though I only suggested 4 different models, there's something for everyone on the list. Let's say you're someone on a tight budget.
In that case, you should aim for the Yamaha DTX-Multi 12 since it's by far the cheapest option without compromising any important features.
Do you need a ready-to-go electronic drum pad and the inability to load custom samples isn't a problem? The Roland SPD-30 Octapad is the best thing you can buy.
On the other hand, you're only satisfied with the best of the best and money isn't a problem? Buy the Roland SPD-SX if you want something that stood the test of time, or the Alesis Strike MultiPad if you enjoy having the latest toy.
In the end, I hope this article showed how useful an electronic drum pad is, their main differences, and which is the best electronic drum pad for your needs.