Looking for the best midi drum pads? Thanks to them, making music has never been easier.
They are essential for anyone who's serious about producing music but doesn't know how to, doesn't want, or can't record traditional instruments.
Instead, they can use a MIDI drum pad connected to a virtual instrument to trigger samples, create beats or melodies and control their DAW.
Let's start by looking at a few important things you need to know before you decide on which one you should buy:
What's a MIDI drum pad?
First of all, if you know what a midi keyboard is, then you can easily conclude that it's the same, but with pads instead of keys.
On the contrary, if you don't know what a MIDI keyboard is either, they're a physical interface that sends a signal to trigger a specific sound.
You can trigger it using drumsticks or your fingers, and the signal goes all the way to your DAW or VST plugins.
Alternatively, some pads feature built-in sounds so you can instantly start making beats without the need for additional software.
Most MIDI drum pads are arranged in 4 x 4, are touch-sensitive, and are powered via USB, which is the norm nowadays.
What should you look for when buying a MIDI drum pad?
Size and Weight
The smaller and lighter, the more portable it is. When it comes to MIDI drum pads, their portability is usually related to the number of pads it comes with.
If you're looking for something extremely portable, look for a MIDI drum pad with 16 (4 x 4) drum pads.
On the other hand, if portability isn't much of a requirement, something bigger, like 8 x 8 is a much better option, considering all the additional pads and functions. Plus, they are not even that heavy to carry around anyway.
In the end, your choice fully depends on your needs and preferences, since there's no right or wrong. It all comes down to how and where do you play to use your new pad.
Pads
When shopping for a MIDI drum pad, you should also take into consideration what type of pads it has. Some tools have velocity-sensitive pads, but is that enough? If the answer is no, a few options have pressure as well as velocity-sensitive pads. They offer even more control when compared to the former.
Backlights on a pad are another interesting feature to look for. They provide visual feedback, especially when they have a multi-colored backlight to provide visual cues of how everything is mapped.
Controls
Considering how most people use a MIDI drum pad, you should consider them an extension of your DAW.
With that in mind, you want to make sure your MIDI drum pad of choice has enough knobs, faders, and other common features found in MIDI interfaces. They increase your productivity while simplifying the process of producing music.
Plus, the more controls it has, the less necessary it is to reach your peripherals to control everything.
Software
One of the most important aspects of a MIDI drum pad is the software it comes with.
Many come with some sort of DAW, sample libraries, or even an editing app to customize things like MIDI mappings
One thing to keep an eye on is the compatibility of the bundled software with your tablet or computer.
Most are compatible with both Windows and macOS, but make sure they're compatible with the version you're currently using.
Something to keep in mind is if you already use a specific DAW and don't plan on learning how to use a new one, make sure the MIDI drum pad you're looking to buy works well with that particular DAW.
Most MIDI drum pads work well with the most popular DAWs, but some are designed to integrate well with a specific DAW.
Connections
The most basic MIDI drum pads rock nothing but a USB connector your use to send MIDI signals to your computer.
On the other hand, if you plan on using the MIDI drum pad live, or at the studio, look for one that includes additional ports like microphone connections, SD card readers, and headphones jacks.
With the number of options available, it's not easy to choose the best MIDI drum pads. After carefully researching and testing most of the options on the market, here's my list of the best MIDI drum pads: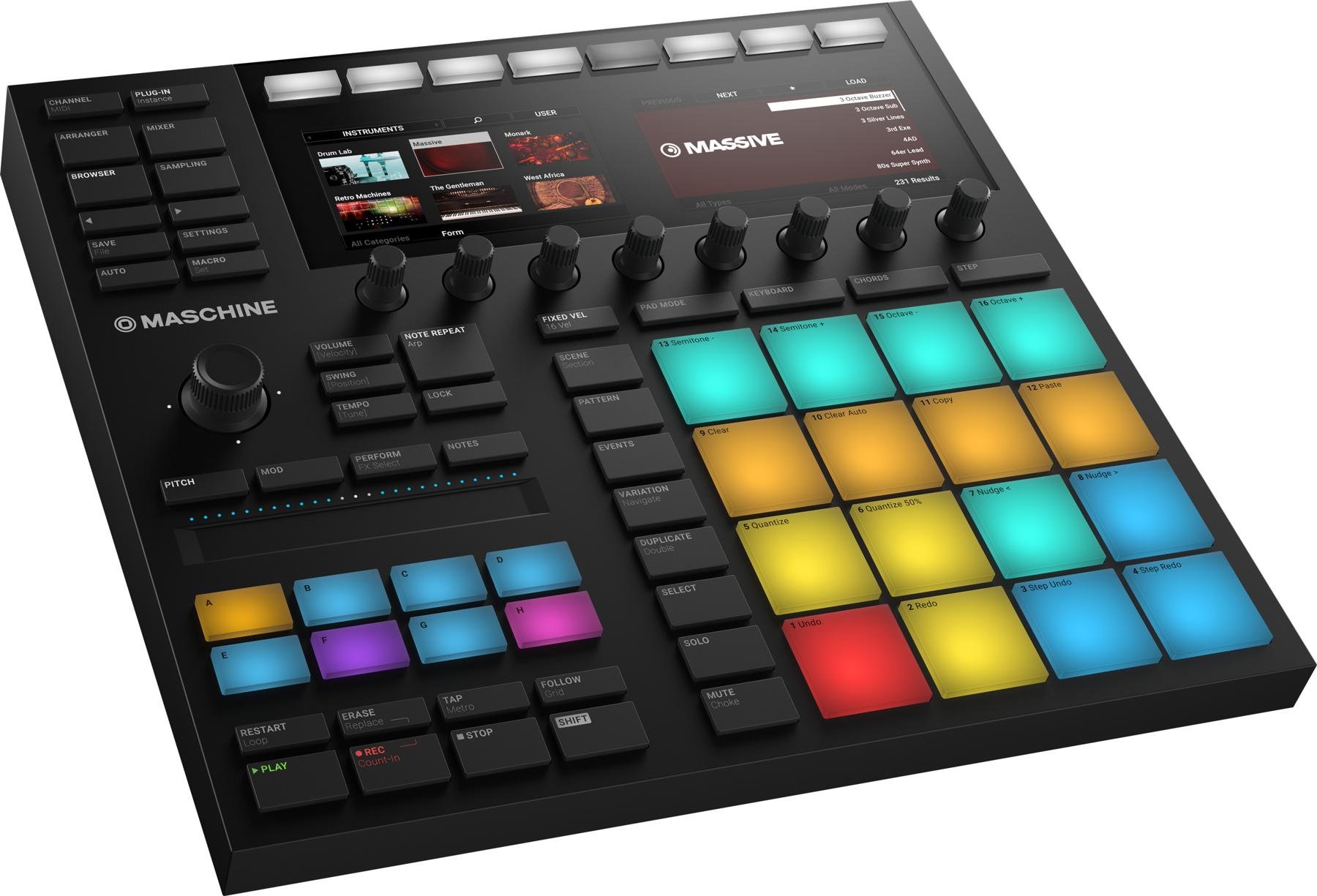 My first suggestion comes from Native Instruments, a brand known for developing software and hardware for computer-based audio production.
This model, in particular, the Maschine MK3, is an impressive piece of technology and I'll tell you exactly why.
Firstly, it comes with 16 ultra-sensitive pads, arranged as 4×4. Each one is bigger than the average pad, allowing you to attempt more complex patterns like flams and rolls.
On top of that, it features 2 high-resolution, full-color displays that you can use to zoom in or browse through everything without the need for a laptop.
Since it's more than a set of pads, the Maschine MK3 comes with a studio-quality, 96kHz / 24-bit audio interface that you can use to record instruments using the many different ports.
Speaking of ports, it features MIDI in and out ports, a headphone output, footswitch jack, and stereo line. There's also a USB port that you can use to power it anywhere or increase the pads' brightness using its power supply.
Additionally, between the pads and the displays, you find a set of eight touch-sensitive knobs. You can use them to activate certain menus or map your most frequently used parameters to macros.
My favorite part of the Maschine MK3 is the smart strip. It bends the pitch and modulates sounds, just like any keyboard wheel.
It's only limited by your creativity since you can use it to add advanced FX or strum instruments as you would do with a guitar.
Software
This MIDI drum pad works well with both PC and MAC, as well as the most popular DAWs like Ableton Live, Logic Pro, and FL Studio. Your purchase includes a copy of the Komplete Select software bundle.
As if that wasn't enough already, it also comes with an 8GB library full of sounds, including everything from drum kits to samples and loops.
In my honest opinion, this is one of the most feature-rich MIDI drum pads anyone can buy today.
With everything it offers, its price is more than fair, which means there's no major con when it comes to the Maschine MK3 unless you're on a tight budget.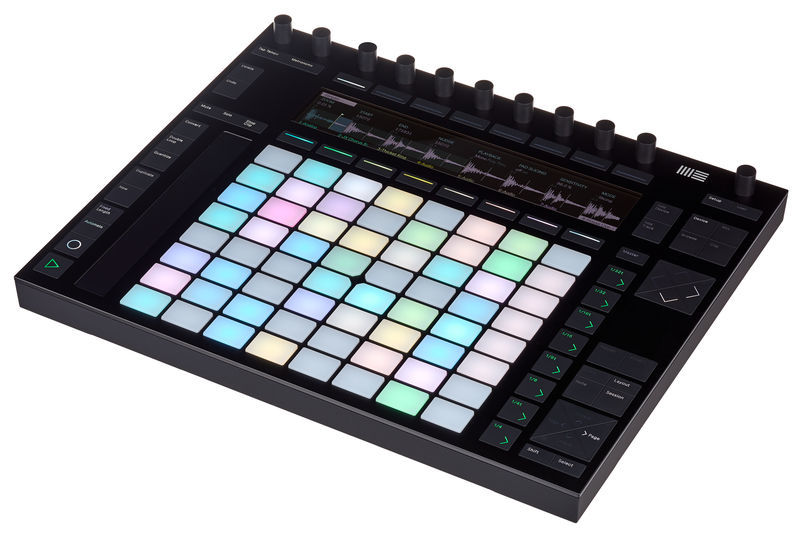 When I think of a good MIDI drum pad, the Ableton Push 2 is always one of the first that comes to mind.
Just like the Maschine MK3, it's more than a MIDI drum pad. The Push 2 combines everything you need to make your music from scratch.
To begin with, it comes with 64 pads, arranged as 8×8, that you can use to make beats, play pitched instruments, or produce your loops.
They are velocity and pressure-sensitive pads, which make the end product feel like a proper musical instrument.
On top of that, the pads do everything a regular keyboard does and more, like swells between notes and note bending with the touch strip.
Plus, it's way easier to keep track of everything thanks to the multicolor lighting you can use to navigate within the 64 pads.
Similar to the Maschine MK3, the Push 2 features a high-resolution color display that replaces your computer monitor.
Thanks to the touch-sensitive encoders, manipulating the samples, browsing your plugins or tweaking parameters has never been easier.
What's also easy, is the ability to switch between live performance, launching loops, and beat-making to not disrupt the flow.
As far as ports go, the Push 2 comes with two footswitch inputs and a USB Type-B port to power it with.
Just like what happens with the Maschine MK3, it also includes a power supply that you can use to power it with, as well as increase the pads' light brightness.
The Ableton Push 2 runs smoothly on PC and Mac, as long as they come with, at least, 4GB of RAM.
Software
This MIDI drum pad ships with a full version of Ableton Live Intro, if you decide to go with the entry-level pack.
Live Standard, and their advanced version, Live Suite is also available, as long as you're interested in paying almost twice as much when compared to the Intro version.
To conclude, the Push 2 is more expensive than we could hope for, especially considering it doesn't come with a built-in interface like my first suggestion.
On the other hand, as a MIDI drum pad though, it's still one of the best currently on the market.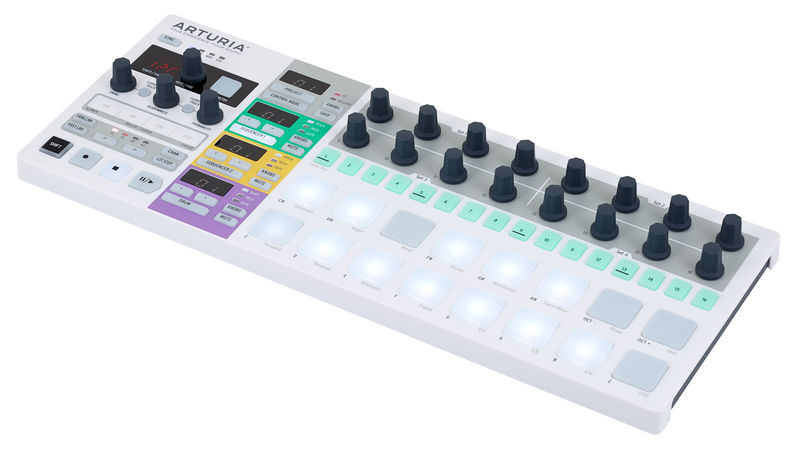 My third suggestion is the Arturia BeatStep Pro, which is the best mid-range MIDI drum pad anyone could ask for.
First things first, the BeatStep Pro comes with 16 velocity and pressure-sensitive black pads, the same ones found on the Maschine MK3.
What's not like the MK3 is the way they are arranged, since Arturia's pads are arranged as 8×2, instead of 4×4.
With the number of different ports it comes with, it works well with anything. From old to new pieces of technology, like computers, virtual instruments, and modular synthesizers, you can connect anything to the BeatStep Pro.
On top of that, it's a perfect tool to connect any device with USB, DIN Sync, Clock in and out, CV/Gate outputs, as well as MIDI in and out.
Additionally, with the BeatStep Pro, the sky's the limit, thanks to the two independent step sequencers, as well as the drum sequencer it comes with.
To avoid getting lost, every sequence has its independent display, and the colors of the backlit buttons match the color of the sequencer you're currently using.
As far as the melodic sequencers go, you can have a total of 16 projects, with each one having up to 32 sequences. In turn, each sequence can have a total of 64 steps, which results in endless possibilities.
On the other hand, with the 16-track drum sequencer, you can make beats using the pads, like you would with any drum machine.
To make sure everything is in sync, there's a metronome on the top left corner that you can use to check or set the tempo by tapping on the small square.
Software
Just like the previous alternatives, the BeatStep Pro works well with both PC and Mac, and the only software it's bundled with is the MIDI Control Center.
Overall, the Arturia BeatStep Pro is as good as it gets under the $300 price range. If you value connectivity a lot, you should take it into serious consideration.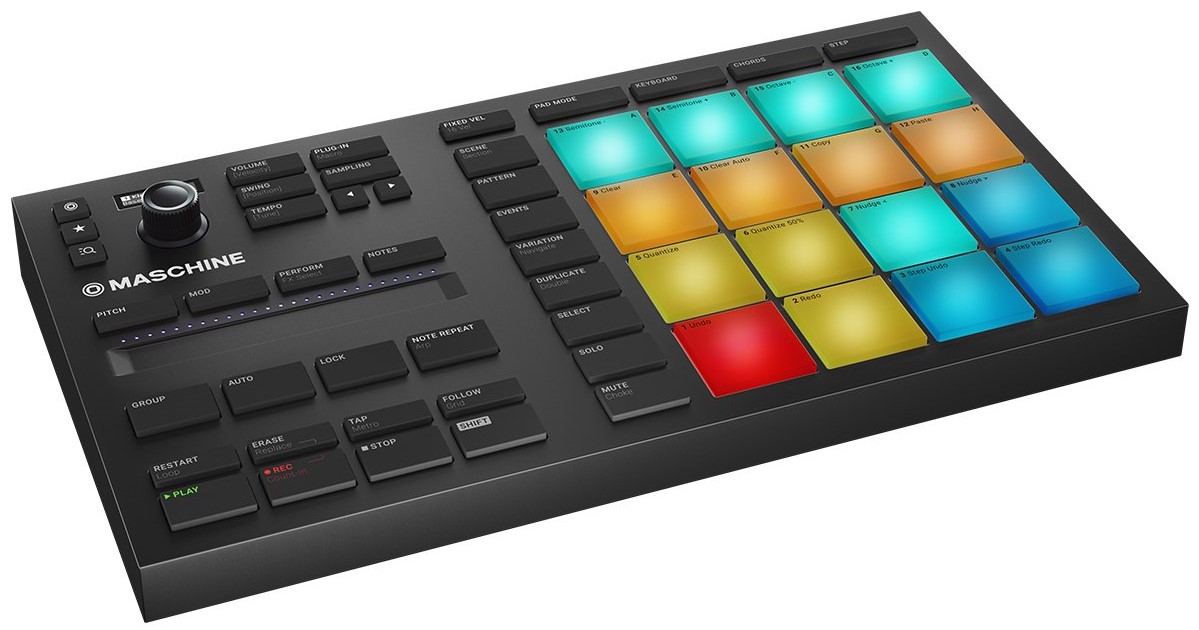 Up next we have the Maschine Mikro MK3, which is currently the most affordable tool from the Maschine line.
Judging by the name, it's fair to look at it as the little brother of the impressive Maschine MK3, but what are their main differences?
Starting with the pads, the Mikro MK3 features 16 large, velocity-sensitive, multi-color pads, also arranged as 4×4.
They are also bigger than the average pad, and you can use them to trigger sounds in four different modes: pad mode, keyboard mode, chord mode step mode.
You can easily switch between the different modes using the 4 buttons on top of the 16 pads.
One of the main differences between the MK3 and the Mikro MK3 is the display since the Mikro MK3 comes with a compact display to browse and control parameters.
An audio interface or a footswitch is something you won't find in the Mikro MK3 either and the ports are non-existent if you ignore the USB port used to power this MIDI drum pad.
On top of that, the Mikro MK3 also works well on both PC and Mac, as well as most major DAWs like Ableton Live, Logic Pro, Pro Tools, and FL Studio.
Software
Plus, it comes with the same software found in the Maschine MK3, including Massive, Reaktor Prism, Maschine Essentials, and Monark.
Although the MK3 comes with a library 4 times bigger than the one on the Mikro MK3, the latter still includes many things like samples, patterns, presets, songs, loops, and drum kits.
The Maschine Mikro MK3 comes with multiple studio FX, from EQ to reverb and compression, as well as perform FX like flanger, scratcher, stutter, and burst echo.
Additionally, the dual-touch smart strip found on the left side Mikro MK3 is what you use to activate perform FX, bend sounds, and strum instruments.
Sadly, even though the Mikro MK3 is super small and portable, it doesn't work without a computer as it was designed to be paired with the Maschine Software at all times.
On the other hand, the Native Instruments Maschine Mikro MK3 is fairly cheap, and if you don't mind its computer dependency, it's the perfect entry point into the Maschine World.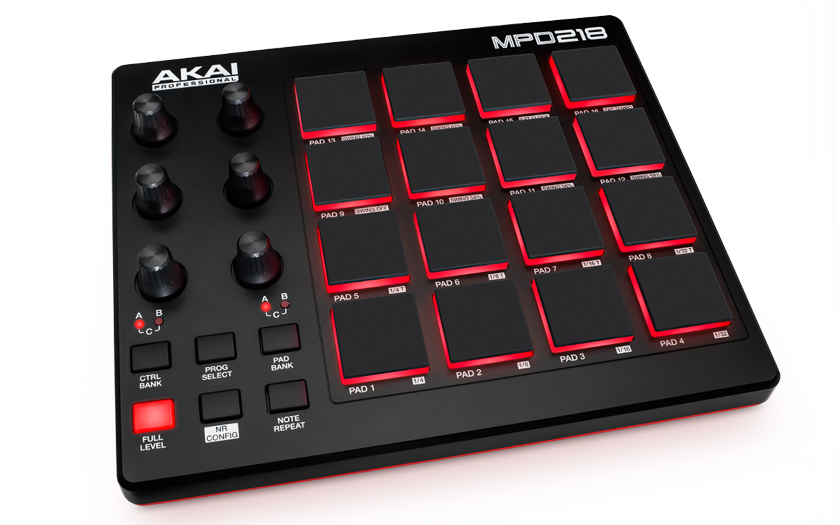 My fifth and final suggestion is the Akai Professional MPD218, the successor of the original MPDs that everyone seemed to love.
Unlike the previous alternatives, the MPD218 is what I like to call a "straight-to-the-point" MIDI drum pad.
This user-friendly pad controller comes with 16 thick, backlit, pressure and velocity-sensitive MPC pads.
Being backlit gives you important visual clues, and the 16 pads can easily turn into 48 pads using the 3 available banks.
The same happens with the 18 assignable potentiometers that you can also access via 3 banks and use them to control parameters such as volume and pan.
Additionally, the MPD218 is USB powered, which means it doesn't require any AC adapter. Plus, it's completely plug-and-play and you won't need to install any drivers before using it for the first time.
With that in mind, and since it's designed to be paired with a computer at all times, the USB port is the only one the MPD218 comes with.
As far as hardware requirements go, it works well with both PC and Mac and is one of the least resource-intensive MIDI drum pads on the market since it works with just 2GB of RAM.
Software
On top of that, the software package includes things like Ableton Live Lite, Big Bang Universal Drums, Sonivox Big Bang Cinematic Percussion, and MPC Beats.
Considering its price, it's hard to point anything negative about the MPD218. If you don't mind the fact that it's entirely computer-dependent and it only comes with the most basic features, it does everything it's expected to do and does it well.
In the end, if you are on the market for the best entry-level MIDI drum pad and your budget is low, the Akai Professional MPD218 is your best bet.
Wrapping up
As you can see, most MIDI drum pads look similar on the outside, but their unique features make them completely different tools.
Before deciding anything, you need to think about:
the number of pads you need;
what type of pads you want (pressure or velocity-sensitive or both);
the possibility of having backlit and color-coded pads;
standalone MIDI drum pads vs the ones that require a computer at all times;
the number and types of ports you need;
the software bundle;
Without knowing your answers to every single one of those questions, it's hard to tell you exactly which is the best MIDI drum pad.
Instead, what I did was present you with a series of options that are some of the best on the market, but completely different, in terms of the number of pads, portability, connectivity, price, and everything else.
With that out of the way, if you're on a budget and don't mind the fact that it offers the bare minimum and requires a computer to work, the Akai Professional MPD218 is everything you need and it won't disappoint.
On the other hand, if money isn't a problem but you still want to make the best out of your investment, the Native Instruments Maschine MK3 is everything you need, and more.
Plus, if you're a musician that plans to plug the MIDI drum pad into different instruments, the number of inputs and outputs the Arturia BeatStep Pro comes with makes it the best in terms of connectivity.
In the end, I hope this article achieved its main purpose of education on the definition of MIDI drum pads, their main differences, and what are currently the best MIDI drum pads on the market.