Why would you buy one of the best drum racks, you might ask? Well, for a couple of reasons.
When you have a wall of stands in front of you and their legs start getting in the way of each other, it's time to consider using a drum rack instead.
Drum sets are not only expensive and heavy but also take too much space when they're fully set up.
To clarify, a drum rack won't make a drum set less expensive, sadly, and it might actually accomplish the opposite.
However, investing in one of the best drum racks available on the market can reduce the weight you have to carry around, and most importantly, save some floor space.
Plus, depending on how big your regular drum set is, using a drum rack can save you some precious time while setting up and disassembling everything thanks to the memory locks most racks include.
It's even better if you never, or rarely disassemble it. If you play at home and don't move at all, or gig regularly but decided to fix the rack to a drum riser, then a drum rack is a much better option than regular stands.
On the other hand, if you gig regularly and you're the one that needs to carry the drum set every single time, a drum rack is your biggest nightmare, and you should probably avoid it for now.
Drum Racks vs Individual Stands
Above all, the best drum racks offer versatility, expandability, stability as well as sturdiness. On top of that, you can save some precious time.
Your decision should fall on how many drums and cymbals you regularly use. If you play with a basic 5-piece drum kit, with a Hi-Hat, Ride, and two crashes, then a drum rack is overkill since it adds more weight than it removes.
If you're a metalhead with two bass drums, 5 toms, and 8 cymbals, then a drum rack is the best investment you'll ever make.
The first thing you'll learn with this article is the fact that there aren't many drum racks manufactures, with brands like Pearl and Gibraltar completely dominating the market.
Thankfully for us, those two brands know how to make high quality hardware and their drum racks are no exception.
Essential Drum Rack Parts and Mounts
The best part about a drum rack is how easy it is to customize and expand with just a few clamps, tom holders, and boom arms. Let's talk a little bit about each:
Tom holder: a rack with tom holders not only allows you to add more toms to your drum set but also to rearrange them in a better way that would be impossible with regular stands. If you want to take a quick look at a few examples, search for L-Rod Tom Holder in your favorite music store;
Multi-Clamp: the more experience you gain, the more toms, sample pads, and percussion instruments you add to your arsenal. While using a drum rack, the best way to mount them all is by using a Multi-Clamp. They are durable and flexible, which means you'll be able to clamp anything, anywhere in any way;
Cymbal Boom Arm: using a drum rack means you won't need to invest in cymbal stands anymore. On that note, you still need to buy cymbal boom arms, which is a cymbal stand without the bottom part that usually takes the most space. To analyze a few options, simply search for "cymbal boom arm";
Drum Set/Electronic Mounting Clamp: who doesn't use a Roland SPD-SX or a Yamaha DTX-12? It's almost a necessity nowadays, considering you can use it to launch samples, trigger backing tracks, or as your main electronic drum kit. An electronic mounting clamp ensures the sampling pad is secure in the drum rack without buying an additional stand.
Now that we've got that out of the way, here are the best drum racks anyone can buy: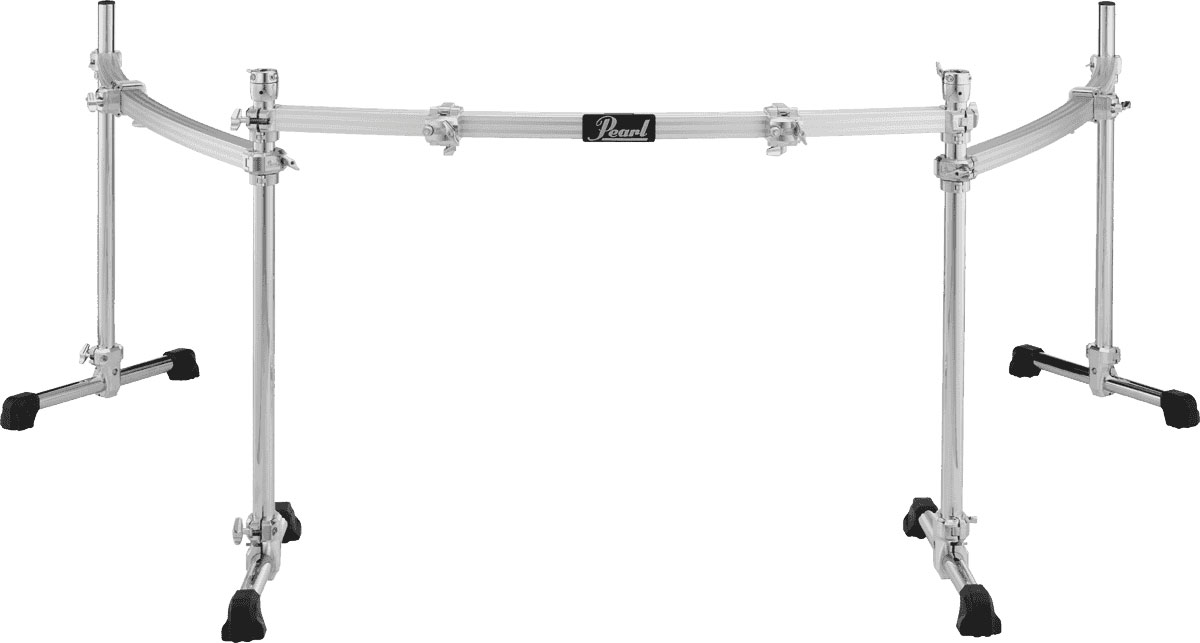 Pearl makes some of the best drum sets, as well as some of the best pieces of hardware I've ever played with. The Pearl DR-513C is a prime example of that.
Let me start by talking about the two versions of the icon three-sided drum rack: the DR-513 and the DR-513C. The first one is straight, while the last one has slightly curved and longer rack rails.
It features three slip-proof rack rails with around 44" of usable area and 1.6" of square anodized aluminum. It also features four round steel legs with around 34" of height and 1.5" of diameter.
That's more than enough space to easily mount up to 7 or 8 drums, plus 7 or 8 cymbals, not to mention percussion instruments and accessories.
What else?
You can fully adjust the leg position to better accommodate your drum set, as well as the rack height to guarantee any bass drum diameter fits under the main rack rail.
All four of the rack legs include non-skid rack feet to avoid any slips and improve your drum set's stability.
It's important to add that, both the rack rails and the legs are sturdy and reliable enough to meet the demands of touring drummers. The Pearl DR-513C guarantees a consistent and quick setup, night after night.
Additionally, both middle legs have a PCL-100 accessory clamp at the top, where you can place any boom cymbal arm.
If that isn't enough, you also get four PCX-100 support clamps that are way more versatile than the PCL-100 ones, since you can add cymbal boom arms, as well as tom holders and percussion instruments.
This is such a good drum rack that I consider it one of the best drum racks in the world with the price being the only obvious con.
If Pearl is known for multiple things, Gibraltar on the other hand specializes in drum hardware, and sometimes drum accessories.
The GCS-450C is a great example of what Gibraltar does well, and why they are so critically acclaimed by the public when it comes to drum hardware.
Just like the DR-513C, this is another three-sided rack system with enough space for Terry Bozzio's kit. Well, that might be a bit too ambitious, but it's big enough for most of us.
It features one front curved horizontal tube with around 46", and two side curved horizontal tubes with around 36" each.
It doesn't stop there…
On top of that, it comes with four rack bar attachments that allow you to set up any cymbal arm, tom holder, and electronic mounting clamp.
For the extra flexibility, you get two stackable right-angle clamps, as well as two regular clamps to guarantee everything is set up exactly where you want it.
Everything stays in place with four memory locks that also contribute to an easier, faster and consistent setup.
Four vertical bars with around 30" each support everything, and the four bars with rubber feet prevent it from going anywhere.
To summarize, the rack comes with eight clamps, which means you can set up something like two toms and six cymbals without investing in any extra clamps.
It's pretty similar to the Pearl DR-513C, with the main difference being the round tubes instead of square.
The only negative aspect of this drum rack is the inability to independently adjust the side tube's height without changing the front tube as well, resulting in less flexibility than we could hope for.
Gibraltar GCS-450C is a prime example of portability, stability, and flexibility. Being almost 30% cheaper than the Pearl DR-513C makes it the best drum rack anyone can buy.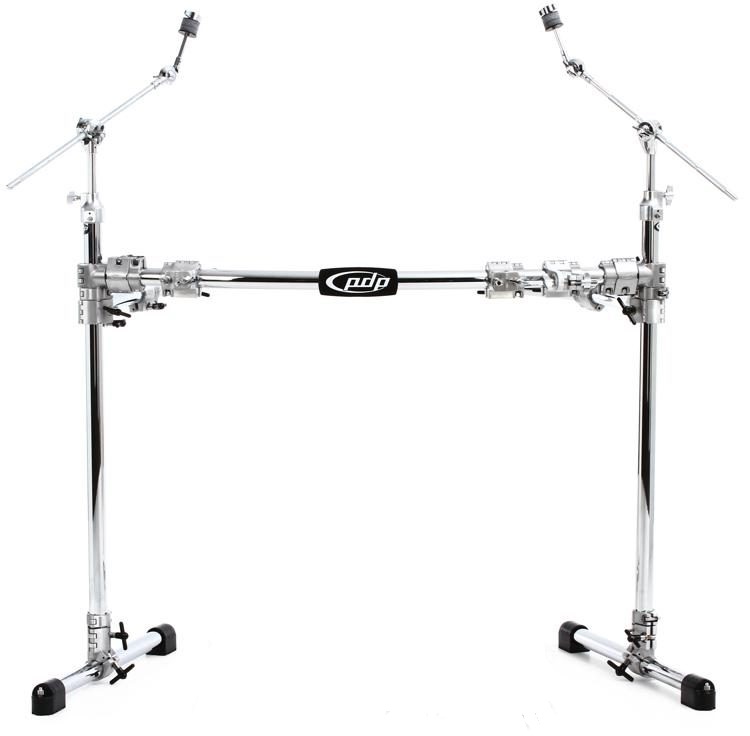 My next suggestion comes from Pacific Drums and Percussion, also known as PDP. If it doesn't ring a bell, Drum Workshop Inc probably does.
PDP is a DW sub-brand established in 1999 to provide DW's quality percussion instruments at an affordable price.
Unlike the previous two, the Main Rack Package includes two legs and two short side wings, instead of being a 3-sided rack with four legs.
That compromises stability a little bit, but overall, this is a heavy-duty, built-to-last drum rack that's sturdy enough to accommodate most common drum sets.
The front rack rail is a 42" curved bar, which is almost the same size as the one on the previous two racks.
As far as side wings go, you get two 24" curved bars that are independent, so you can set them up at different heights.
They offer considerably less usable area than the ones on the previous drum racks but are enough to accommodate a couple of cymbals or percussion instruments on each side.
On top of that, the Main Rack Package features two 36" straight legs, that clamp to two 24" straight bars with four rubber feet and built-in spikes.
To set up all of your gear, the rack comes with four 1.5" V Rack Clamps and one 1.5" V angle-adjustable Clamp for all of your cymbals, percussion instruments, and electronic pads.
Additionally, you also get two 0.75"-1.5" tube top cymbal adapters that come with two 18" boom cymbal arms.
Every clamp works with most manufacturer's hardware, so you don't need to worry about replacing your existing drum gear.
To guarantee a consistent and fast setup every single time, there are eleven memory locks all over the drum rack.
In the end, this is one of the best drum racks on the market, because for the price you pay, it's a great piece of hardware that's sturdy and extremely versatile.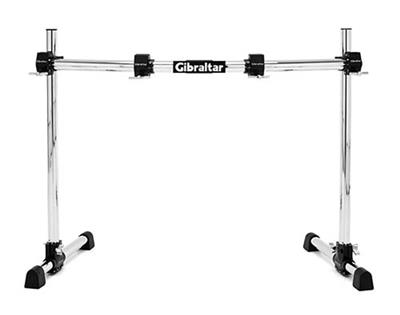 After the previous suggestions, it's now time for a more budget-friendly option that still minimizes setup time and maximizes floor space.
In my opinion, the best budget drum rack is, by far, the Gibraltar Road Series Curved Front Rack System.
Its main difference is the lack of side wings or side racks the previous alternatives have to increase usable area and versatility.
Thankfully for us, you can later pair it with a couple of GRS125C side racks and turn it into something like the Gibraltar GCS-450C.
That makes it a great option for someone that can't or doesn't want to invest in a complete rack set up, but has the option to do so later if needed.
Firstly, Gibraltar GRS300C features the smallest front rack of all options here with about 40″.
The front bar attaches to two 30" vertical bars with two Right Angle Clamps which are tall enough to fit most bass drum sizes.
At the bottom, rubber feet prevent it from slipping and increase the overall stability of the drum rack.
Additionally, it comes with two Multi Clamps where you can set up anything from toms to cymbals, percussion instruments, and pads, as well as four Memory Locks to replicate the setup every single time.
In the end, nothing stops you from using it as a side rack instead if you have way more gear in one side of your drum set.
All in all, this small but versatile drum rack is the best if you want to reduce the number of stands you use without over committing since you can easily expand it in the future.
Conclusion
There's always a time in every drummer's life where they have too much gear and not enough space to set it all up.
A good drum rack is one of the things you can buy to partially solve that problem, but both racks and stands have their pros and cons.
In this article, I focused on drum racks that are extra sturdy, stable, versatile, and easy to replicate your usual set up gig after gig.
The two best racks that are all of that and more are the Pearl Icon Three-Sided Drum Rack – DR-513C and the Gibraltar Chrome 3-Sided Rack System – GCS-450C. Never heard about anyone not being satisfied with either of those.
On the other hand, if you want to invest in a drum rack but are either on a budget or don't want to fully commit to it, the Gibraltar Road Series Curved Front Rack System – GRS300C is the best you can get, considering you can always expand it in the future.
Do you currently play local pubs or small stages? Don't buy a drum rack and stick with as few stands and drums as possible.
All in all, I hope this article achieved the main goal of helping you understand if a drum rack is the way to go, and which are the best drum racks on the market.