If you're searching for the best audio interface for drums, I assume you want to record drums from home.
Thanks to the recent lockdown, many musicians were "forced" to provide online lessons or record videos for social media platforms from home, instead of a studio or practice room.
Anyway, the best way to guarantee a good-sounding track is to use one of the best audio interfaces for drums.
The first thing you need to know is, a drum set is the most difficult instrument to record and mix.
It's also the most expensive, the heaviest, and the loudest instrument. That's why we are so used to nothing being easy when it comes to drumming. Besides having fun, that's way too easy on a drum set!
On that note, an audio interface to record drums isn't cheap either. It needs a decent quality to record even the loudest sessions and enough inputs for all of your drum mics.
Even though a quality audio interface is important, a properly tuned drum set and a good drum mic kit are far more important. If you want to learn more about the best drum mic kits available, HERE's my article on the subject.
Audio Interface vs Mixer
Another thing you need to understand is the difference between an audio interface and a mixer. After that, you can spend your money what's the right one for your needs.
To summarize, an audio interface lets you record from all the available inputs into separate tracks in your DAW. On the other hand, the mixer, as the name suggests, mixes the incoming signals on the board itself and sends them to one or more output channels.
Additionally, audio interfaces send a clear and natural sound, and the only way to mix it is within your DAW. On the contrary, a mixer includes many sliders/faders or knobs that you can use to mix your audio.
Do you need a new audio interface?
With that out of the way, if you or any of your bandmates have an audio interface with less than six inputs, you might not need to invest in one.
There's plenty of drum recording techniques that only use two to five mics. You can learn to take advantage of an audio interface with less inputs you already have access to.
On the other hand, if you're planning to invest in something useful in the long run, you should never waste your money on anything with less than 8 mic inputs.
Assuming a basic 5-piece drum kit, to properly record it you'll need a bass drum and a snare drum mic, three tom mics, and two overheads.
That's a total of seven microphones. You can use the extra input to add another percussion instrument or to simultaneously record a different instrument.
Therefore, since we're looking for an interface to record a drum set, all my suggestions have, at least, eight XLR inputs, as well as a few different inputs.
Plus, for the sake of simplicity, I only considered USB audio interfaces. Those are the two points every interface on this article have in common.
After considering everything, here's a list of the best audio interfaces for drums:

My first suggestion is the one I currently own and the best option for someone on a tight budget.
Even though Behringer is usually associated with entry-level, low-quality products, they outdid themselves with their newest audio interface.
The UMC1820 provides extensive connectivity, with 18 inputs and 10 outputs. It includes 8 high-quality MIDAS mic preamps to record your whole drum kit. Plus, it records other musical instruments and MIDI devices with all the extra inputs.
Also included is the +48 Volt phantom power for condenser mics and the 24-Bit/96 kHz converters every signal goes through. They provide the best possible sound quality directly to your DAW, with enough clarity and accuracy.
Additionally, it also provides I/O (input/output) support for S/PDIF, ADAT (Alesis Digital Audio Tape), and S/MUX (Sample Multiplexing) formats.
In the future, if you need additional I/O, you can always add a mic preamp. Simply connect it to UMC1820's ADAT input, and you're good to go
To achieve the best result possible, this audio interface guarantees direct monitoring with no lag or delay.
On top of that, this cheap Behringer audio interface features two headphone outputs with different level controls. That's perfect for joint monitoring, which is uncommon at this price range.
Even though it delivers professional audio quality, its ease of use is in line with its price. In other words, no amateur will have a problem working with it after a couple of hours.
As far as design goes, this audio interface is well built and sturdy. It has the two mic preamps on the front and the rest on the back. Also, on the front are all of the controls for easy access and every channel features a 20Db pad, which is also uncommon at this price range.
What could be better?
With what we get for such a ridiculously low price tag, it's unfair to point anything negative about the UMC1820.
Either way, if I had to mention anything, it would be the occasional noise which is annoying. Still, not enough to be obtrusive, unless you're tracking for a Grammy nominee.
Plus, it's missing a multicolor LED peak/VU meter and some folks prefer to have all XLR inputs at the front. Those two features aren't expected at this price range and are not a deal-breaker at all.
To conclude, if you want to properly record a drum set with multiple mics without going bankrupt, choose the UMC1820. It has everything you need to start your new project, just connect it via USB and press record.

Fortunately, for the musicians on a tight budget, the Behringer UMC1820 isn't their only option.  Although a bit more expensive than Behringer's alternative, let's compare the TASCAM US-16×08 to the UMC1820.
This solid audio interface offers a total of 16 inputs and 8 outputs. That is nothing special considering Behringer's number of I/O.
As far as connecting mics and different instruments here lays the biggest difference between the two units.
While the TASCAM comes with 8 XLR mic inputs with 48v phantom power (from channel 1-4 and/or 5-8), and separately, 8 line inputs, the Behringer, on the other hand, comes with 8 combo inputs (microphone, instrument, and line).
Additionally, every single one of the 8 XLR mic inputs is at the front of the TASCAM US-16×08. On the contrary, the UMC1820 has two at the front and six at the back.
Both options record at up to 24 bit/96 kHz, which is the norm for low-budget audio interfaces. Don't expect the best sound in the world coming out of either, just good enough for most home studios.
The TASCAM's eight ultra-HDDA mic preamps provide a clean and natural sound. The wide dynamic range guarantees it can easily handle the sound pressures of drum recording.
On top of that, the US-16×08 comes with one stereo headphone output, MIDI I/O, and DSP audio mixer to take care of essential processing and effects.
The DSP mixer includes a compressor and 4-band EQ for each input and delivers low-latency monitoring.
Just like every audio interface in the article, it connects to a PC via USB. It's also compatible with the most common DAW like ProTools, Cubase, Studio One, and Garage Band (not included).
What could be better?
Just like Behringer's, it's missing a multicolor LED peak/VU meter and many owners complain about driver's instability and high latency. TASCAM claims to have fixed it with the driver's version 4.00. I don't currently own one, so I can't confirm it's actually fixed.
In the end, the TASCAM US-16×08 is pretty similar to the Behringer UMC1820. If I was in the market for a budget 8 channel USB interface, my decision would fall on the cheapest of the two.

My next suggestion is the most popular audio interface among musicians, but especially drummers.
Focusrite was established back in 1985 to serve high-end professional studios. Since then, they have expanded their range of products to serve amateur and hobbyist musicians as well.
The Scarlett 18i20 in particular comes with 18 inputs and 20 outputs, which is enough to transform any shed into a professional recording studio. From the eight combo (XLR and ¼") inputs, two are on the front while the rest are located on the back.
No surprise here, but the 24-bit/192kHz converters and Scarlett's mic preamps are a bit better than the ones found on the UMC1820, with their incredibly clear sound quality being one of their biggest selling points.
Additionally, you can use Scarlett 18i20's dual ADAT optical In and Out ports to expand its capabilities and mic the whole band at the same time.
One of my favorite features is the built-in talkback mic you can use to talk to your bandmates next door.
On top of that, the Scarlett 18i20 provides ultra-low latency to avoid any lag or delay while recording your tracks.
Unlike the previous two, a LED display is present on the front panel with the input gain levels for each channel.
As far as outputs go, Focusrite provides two headphone ports with individual knobs to control the volume, a MIDI in/out port, and a USB port to easily connect it to your PC.
Does it include any software?
If you're still not sure if the Scarlett 18i20 is a good option or not, let me add that it also comes with Pro Tools, which is a well-known DAW that you otherwise would need to buy separately.
Plus, access to Ableton Live, the industry-leading music-making software. Not to mention, a whole range of sounds and plug-ins to choose from.
To summarize, the Scarlett 18i20 is a more polished audio interface with no major cons. It provides a clean and natural sound with an easy-to-use interface and a whole range of useful features, but costs twice as much.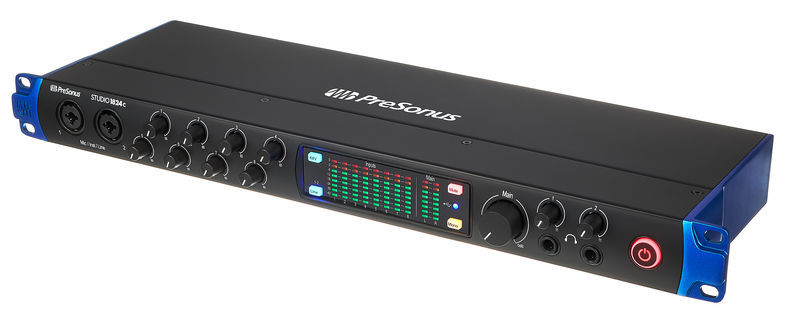 The final suggestion is surprisingly similar to the Scarlett 18i20 in terms of appearance, I/O, and overall features.
Don't let that fool you though, there are a few small differences between the PreSonus Studio 1824c and the Scarlett 18i20, so let's talk about them in detail.
The Studio 1824c achieves an insane sound quality thanks to its eight PreSonus' lauded XMAX analog mic preamps. It also works at up to 24-bit/192 kHz to provide a high-definition recording and mixing.
Combining the eight professional-grade preamps and high-quality converters guarantees a natural sound with deep lows and smooth highs, without any noticeable distortion.
As far as I/O goes, the Studio 1824c features up to 18 inputs and 20 outputs, just like the Focusrite option. Besides the mic preamps, it includes eight channels of ADAT Optical I/O, two ¼" TRS main outputs, and eight ¼" TRS line outputs for monitor mixing.
On top of that, you find two stereo headphone outputs with individual volume knobs, a large master volume knob, and a LED display with the input gain levels for each channel.
To complete the package, there's also a MIDI I/O, Stereo S/PDIF digital I/O, and a BNC word clock output, as well as a USB-C to USB-C and USB-C to USB-A cables.
Does it include any software?
Just like the Scarlett 18i20, Studio 1824c comes with recording software called Studio One Artist. It provides a complete and free solution to record your tracks, but it works with any recording software of your choice.
Studio Magic is also included, featuring software like Ableton Live Lite as well as tutorials, sound libraries, virtual instruments, and effects.
If that wasn't enough software already, PreSonus also gives us the option to wirelessly control the audio interface with a Mac, Windows, iOs or Android device thanks to its UC Surface.
What could be better?
The most negative thing I could find about Studio 1824c is the inability to individually turn the phantom power on, just like it happens with the Scarlett 18i20. Newer microphones should have no problem with that, just be careful if you plan to use old ribbon mics.
As you can see, both options were designed with home studio producers in mind and offer an insane quality and I/O capabilities in this price range.
The Scarlett 18i20 comes with PAD and a talkback mic. Software-wise, some people consider Studio One Artist and the package of plugins it comes with a much better option when compared to the one from Focusrite.
In the end, it all comes down to personal preference and what you value the most since both options are great and won't let you down.
Conclusion
To conclude, I could have added a few more audio interfaces to the article, including ones with a different number of mic preamps and non-USB connectivity.
On the other hand, for a drummer looking to build a small home studio, I honestly believe an 8-channel USB audio interface is the fastest, cheapest, and easiest way to do it.
As we've seen before, you can buy good interfaces for less and $1.000, or even less than $600, and connecting them to a PC is as easy as plugging a USB cable.
Honorable mentions
With that in mind, I would also like to add a couple of honorable mentions, with the first one being the Roland Studio-Capture UA-1610.
To name a few of its awesome features, it offers 12 premium XLR combo mic preamps, an auto-sens function to set optimal input levels for all preamps, and records at up to 24-bit/192kHz.
It's the best option on the market if you use more than 8 mics to record your drum set, but beware, it costs almost $900, so it's far from cheap.
Another honorable mention is the Focusrite Clarett 8Pre USB, which is the premium version of the Scarlett 18i20, with better recording capabilities and a $900 price tag.
What would I pick?
With that out of the way, if I had to pick one 8-channel audio interface, I would always go with the Focusrite Scarlett 18i20, since it's by far the best bang for the buck.
If $500-$600 is more than you expected to spend on an audio interface, and if you're not from the US, go with the Behring UMC1820, since what it offers for such a low price tag is unbeatable and the TASCAM US-16×08 is usually twice the price.
On the contrary, if you're from the US, the TASCAM is usually a couple of dozen dollars more expensive than the Behringer, and therefore, another audio interface you should take into consideration if the budget is tight.
Now that you have chosen the right audio interface for your drum studio, take your time to learn more about drum recording, drum mixing, mic placement, and all the different DAW on the market.
For now, I hope this article achieved its main purpose of teaching you what an audio interface is, and which is the best audio interface for drums.