Every beginner should consider the best budget cymbal pack they can afford since high-end cymbals cost as much as an old Toyota Corolla.
As a drummer, there are a couple of things where you don't want to cheap out, and cymbals are one of them.
There's no worse feeling than playing with terrible-sounding cymbals, and the worst part is the inability to improve that.
While there are various ways to make an acoustic drum set sound better, the same can't be said about cymbals.
In other words, you can replace the drum heads, re-shape the bearing edges, try a different tuning technique, or add some muffling.
Once you buy a cymbal, there's nothing you can do to improve the way it sounds, besides selling it and buying something better.
Cheap cymbals are stamped from sheets of metal usually fabricated by someone that's not the cymbal manufacturer.
Most common budget cymbals are manufactured with B8 Bronze (8% tin, 92% copper), but that doesn't mean every B8 cymbal is considered a budget option.
On the other hand, professional cymbals begin as some sort of coper alloy, like B20 bronze (20% tin, 80% copper) that's inserted into a mold as molten metal and then rolled, pressed, (hand) hammered, and finally, lathed.
Unlike the previous method, this one is labor-intensive and requires a combination of time and a high degree of skill, which increases the final price of the cymbal.
As far as cymbals go, it's important to realize that it's far better to have a few good-sounding ones than many mediocre ones.
Some professional drummers play with as few as three cymbals, which means you don't necessarily need twenty cymbals either.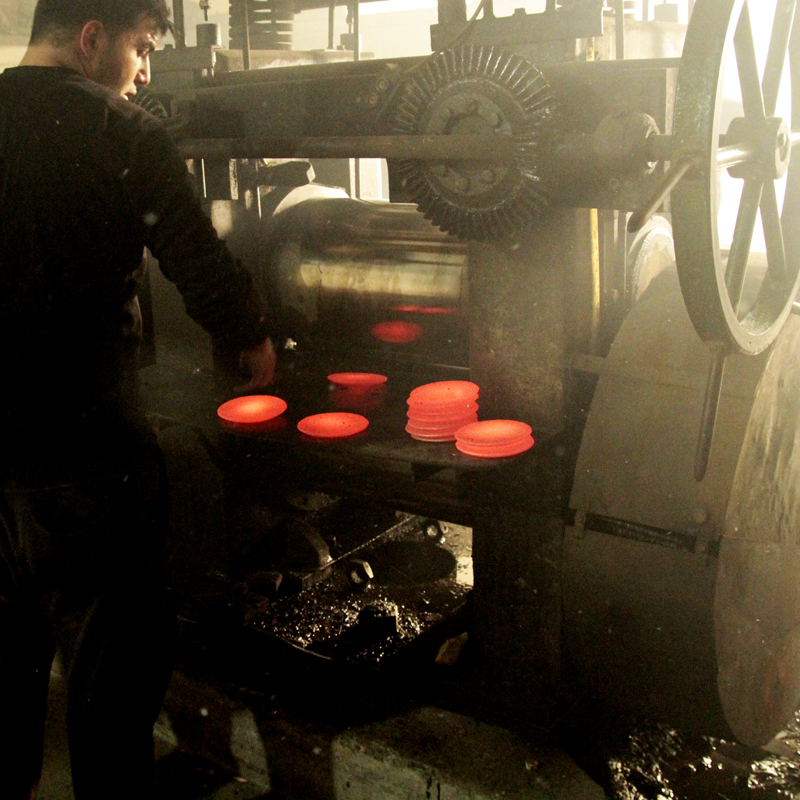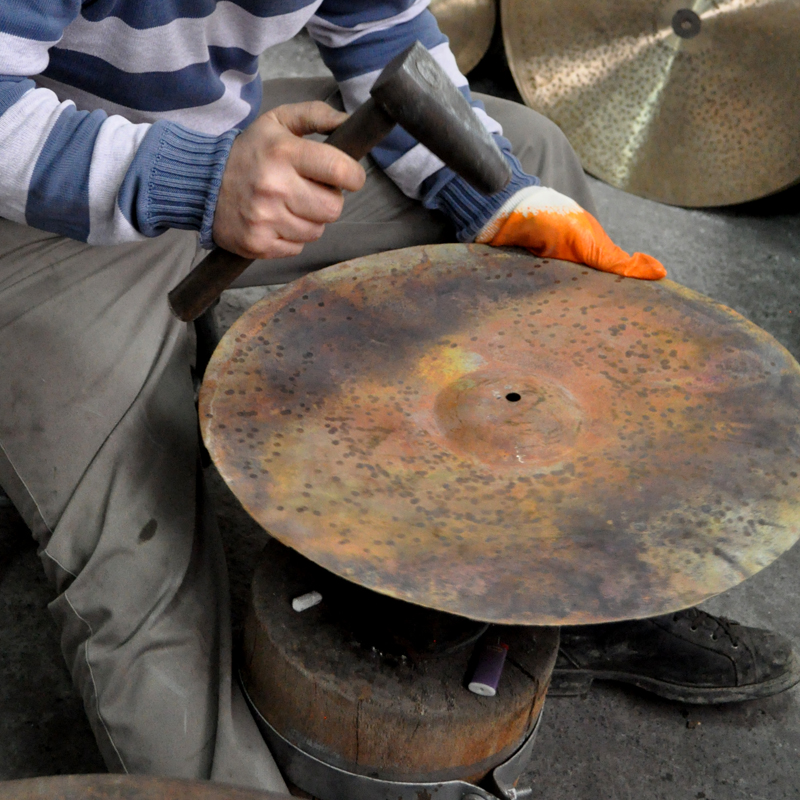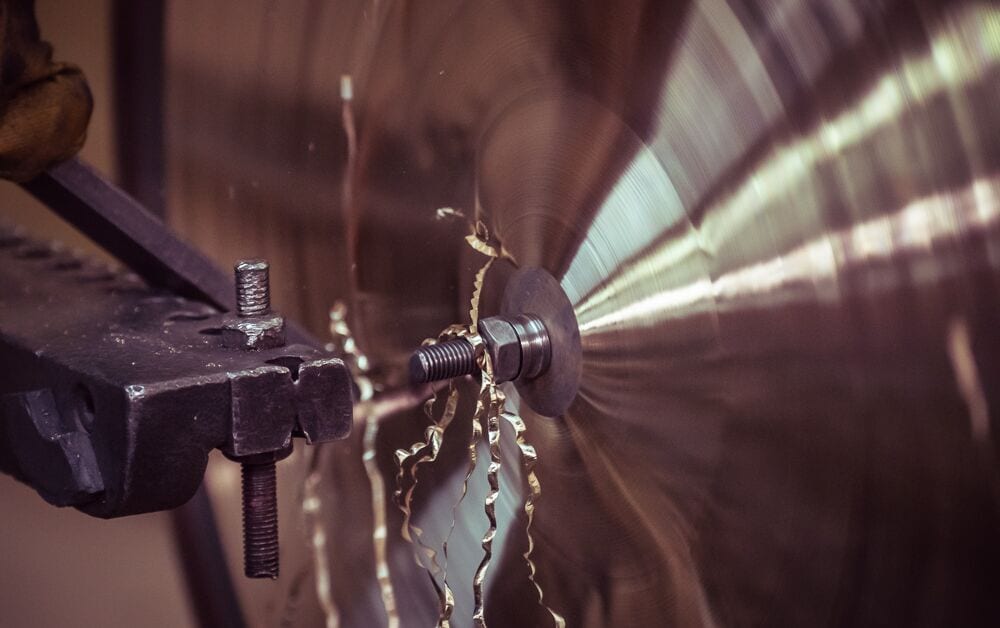 What to avoid when buying a budget cymbal pack?
Before we jump to the best budget cymbal pack you can afford, it's important to realize that most budget cymbal packs made by the most popular brands are awful.
Usually made from Brass or B8 bronze, they sound as good as a metal trash can and are far from the best options on the market.
If possible, avoid any of the following series:
Paiste: 101, PST3, PST5, PST7, PST8, 900;
Sabian: SBR, B8X;
Zildjian: Planet Z, I Family (former ZBT), S Series;
Meinl: HCS.
All the cymbals listed above are a complete waste of time and money, and if you invest in any of those, you'll regret it sooner than later.
With a tight budget, it's much better to buy from brands that are not as known but produce high-quality cymbals at a much lower price.
With that in mind, let's take a look at the best budget cymbal pack within your budget: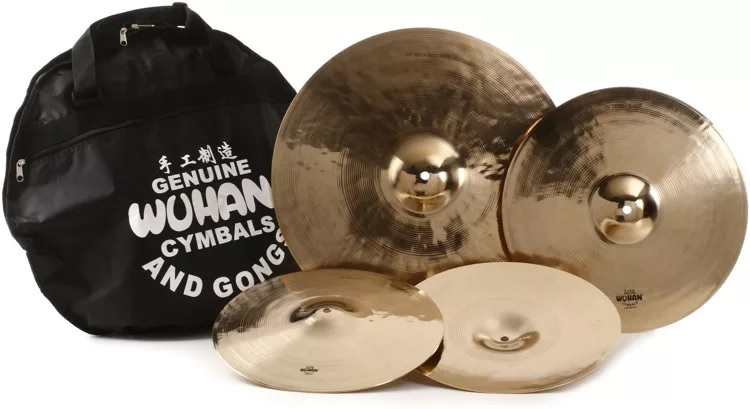 Wuhan Cymbals, as a manufacturer, is not as well-known as the likes of Zildjian or Sabian, but they are known for producing high-quality cymbals at an affordable price.
When it comes to cymbal packs on a budget, there's no better option than Wuhan.
This set, in particular, comes with three different cymbals: a 14" Hi-Hat, 16" Crash, and 20" Ride.
That's more than enough to start with. Plus, you can always add a couple of splashes, chinas, stacks as well as a few more crashes later.
Despite the extremely low price, they are built with the same B20 alloy used in high-end cymbals. Keep in mind that the cymbal's lines I told you to avoid are usually made from Brass or B8 bronze instead.
As far as sound goes, they are usually described as bright, yet washy with a decent amount of volume. If you're familiar with the most popular cymbal brands, they sound similar to Sabian AAX and Zildjian A Custom cymbal lines.
On top of that, if it wasn't already a great value for the money, Wuhan also includes a free cymbal bag so you can safely store or carry them from gig to gig.
It's honestly pretty difficult to find anything bad to say about the Wuhan Traditional Cymbal Pack considering its price, but if I had to pick something, that would be:
Wuhan cymbals are often really thin, making them less durable than desired;
The cymbal bag works, but its build quality is definitely subpar and it won't last long.
Overall, this is the best budget cymbal pack anyone can buy for less than the price of a single high-end cymbal.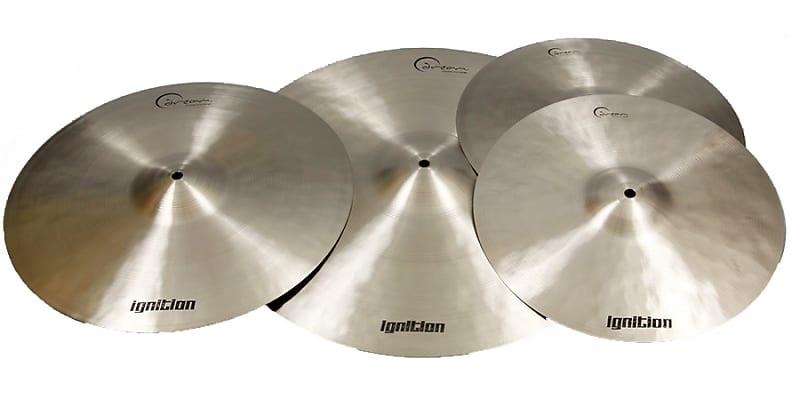 My next suggestion comes from a brand that's nowhere near as popular as the big boys, and yet, they have been on the rise for the past decade and a half.
Dream Cymbals is known for its dark, versatile, and full-of-character Bliss series. Today we are discussing the Ignition series instead.
They are available in three different packs, including two packs with three different cymbals and another one with four.
The first two include a 14" Hi-Hat and either a 16" Crash and a 20" Ride, or an 18" Crash and a 22" Ride.
On the other hand, the four-pieces cymbal pack features a 14" Hi-Hat, a 16" and an 18" Crash plus a 20" Ride.
Every single pack includes a cymbal bag to store and carry all of your brand-new cymbals.
Most people consider the Ignition Series a hybrid of their Bliss and Contact series, thanks to their thin and warm nature.
Just like every cymbal manufactured by Dream, the Ignition series cymbals are hand-made and hand-hammered. Unfortunately, that results in a lack of consistency.
If you plan to add a couple of Dream Ignition cymbals to your arsenal, test them all at your local music store beforehand because two models of the same cymbal sound completely different.
The only complaints I have against the Dream Ignition Series are:
Their lack of consistency, making it harder to buy them without trying in person;
Being thin or medium-thin makes them fragile enough to not survive heavy hitters.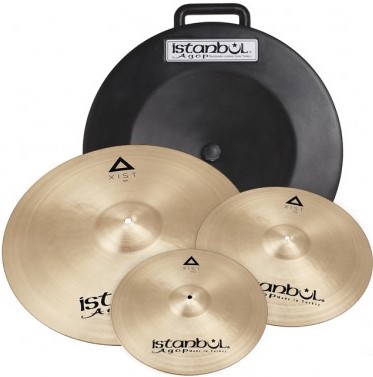 When it comes to cymbal brands, Istanbul is neither at the level of Sabian or Zildjian nor at the level of Wuhan or Dream.
They have been climbing the ranks in recent years by producing high-quality cymbals at an affordable price.
In other words, they are what Wuhan and Dream would be if they prioritized consistency and quality control.
Xist is one of the many series Istanbul sells, and the brilliant set, in particular, comes with a 14" Hi-Hat, 16" Crash, and a 20" Ride.
There's also a non-brilliant set and a power one that's brighter and louder than the other two packs.
They build every cymbal with B20 Bronze, and if the standard pack is not enough, you can later add bells, splashes, FX, china cymbals, as well as different sized crashes, rides, and hi-hats.
My favorite part about this cymbal pack is the free Hardcase it comes with. Yes, you read it right, a Hardcase.
Hardcases are much better than cymbal bags since they offer the most amount of protection guaranteeing the safety of your long-term investment.
As far as sound goes, they are bright and loud cymbals suitable for most musical applications from jazz to rock.
To conclude, the Istanbul Agop Xist is the best budget cymbal pack you can buy when it comes to build quality.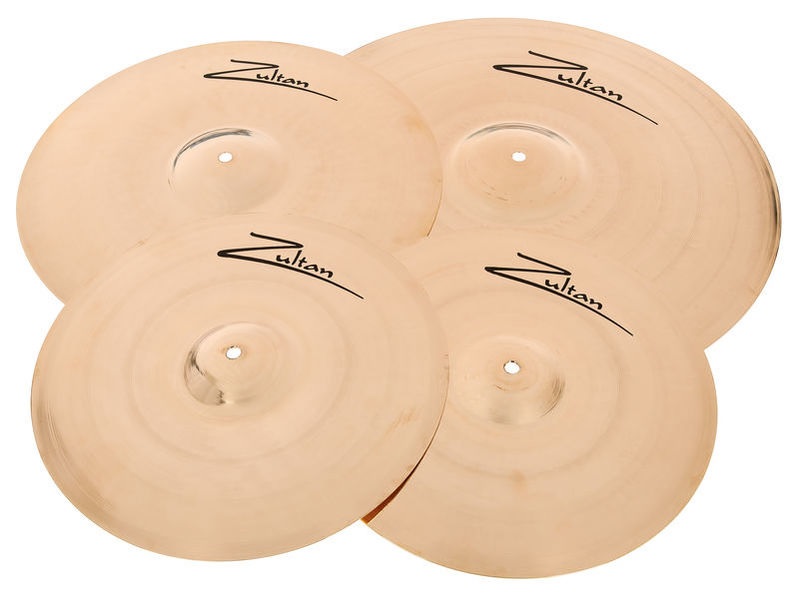 Zultan is probably the least known cymbal brand of the whole article, but don't let that fool you, they are worth every penny.
The brand launched in the year 2000 when the founder Martin Hofmann and his brother presented their first-ever cymbals without a brand or product name at the Musikmesse trade show in Frankfurt.
That series was indeed the Rock Beat series, and two decades later it's still one the best "bang for the buck" cymbal sets anyone can buy.
First, this set comes with a 14" Hi-Hat, a 16" and an 18" Crash, and a 20" Ride. Zultan also includes a travel bag so you can easily store or carry your brand-new cymbal set. There's even a cheaper version that doesn't include the 18″ crash.
As far as sound goes, the Rock Beat series produces a classic, loud, bright, and clear sound that most associate with Zildjian A Custom or Sabian AAX cymbals.
Just like those two popular cymbal series, the Zultan Rock Beat offers enough versatility to work well with any music genre.
On top of that, they build Rock Beat cymbals with B20 bronze, using the traditional Turkish cymbal-making techniques that we all know and appreciate.
Later, you can expand the basic cymbal set by adding splashes, stacks, china cymbals, FX, as well as different sizes of the cymbals it comes with.
After all of that, the most mind-blowing part is the fact that this amazing cymbal set is available for less than $350. That's the price of a professional crash from the renowned cymbal makers.
Are you like me and used gear doesn't bother you? In that case, used cymbals are the best option anyone with a low budget has.
You can buy professional cymbals for a small fraction of what they originally cost. They are often in great condition considering the more experienced the drummer is, the more they take care of their gear. Plus, their technique is also much better overall.
The first thing you need to do is to define your goals and budget. Are you looking for beginner or professional cymbals?
You can often find professional ones for $100 to $150. In that case, you can build a basic set for $300 to $600 without the need to ignore things like low durability and lack of consistency.
The problem with used cymbals, or used drum gear in general, is the lack of stock, which means you might have to wait a little while to find what you want. If you got time and patience, then that's not too much of a problem.
Where to buy used cymbals?
The best place to find used gear, in general, is the internet. Shop around places like:
eBay;
Craigslist;
Facebook marketplace;
Local Facebook groups;
Reverb.
If online shopping isn't your thing, check your local music stores, pawnshops, and thrift stores. They usually have cymbals and other used drum gear, at an affordable price. Drummers often find the deal of their life at thrift stores that don't know what they have until it's too late.
What to look for when buying used cymbals?
Before buying any used gear, you have to pay attention to the details. That's especially important with cymbals since they are hard, or even impossible to repair, so you're better safe than sorry.
Here are a few things to avoid when buying used cymbals:
Cracks: they are a plague that slowly spreads over time. Often caused by bad technique, hitting way too hard, overtight wingnuts, and metal-on-metal contact. The edge is their most commonplace, but some cymbals crack at the bow, bell, or center hole. Run your fingernail around the cymbal's edge and center hole to spot any cracks that might go unnoticed.
Keyholes: when drummers don't use sleeves on their cymbal stand, the center hole grows bigger in a certain direction, which makes it look like a keyhole. They aren't a deal-breaker, since it doesn't affect the sound or how the cymbal sits on the cymbal sleeve (depends on the severity), but you should still avoid any cymbal with one if you can.
Faded logos: this isn't a big deal for most people, but if you plan on reselling the cymbals in the future, avoid the ones without logos. Some drummers prefer shiny cymbals over logos, which ends up removing the logos over time. I and many other folks prefer to have the logos intact. That, and letting the cymbal age naturally. It's all a matter of personal preference, so you're the only that can say how much a missing or faded logo affects you.
Tape marks/fingerprints/stick marks: compared to everything else, this is nothing since it doesn't affect (too much) the integrity of the sound of the cymbal. Don't let it stop you from buying the desired cymbal if that's all you can find wrong with it.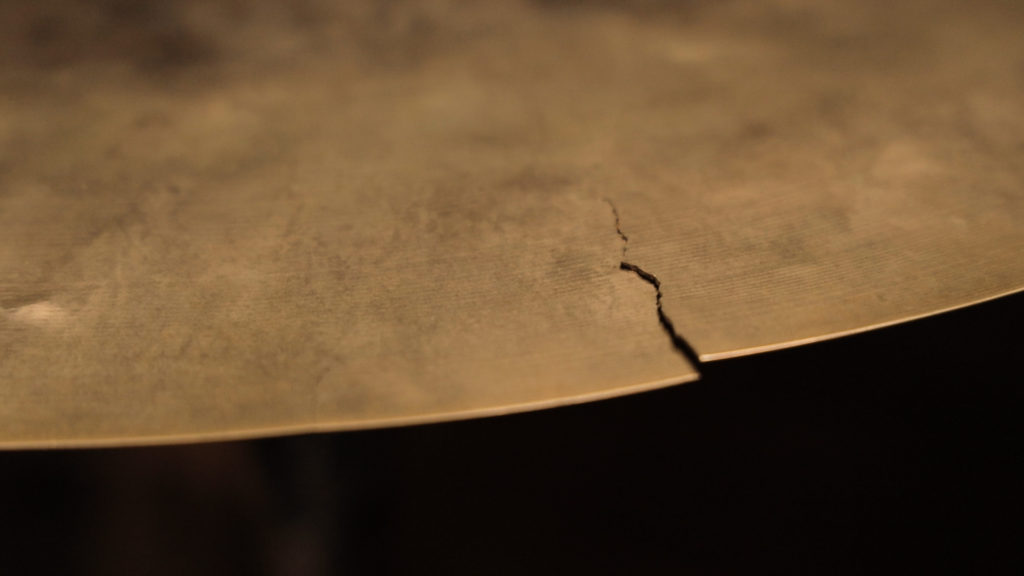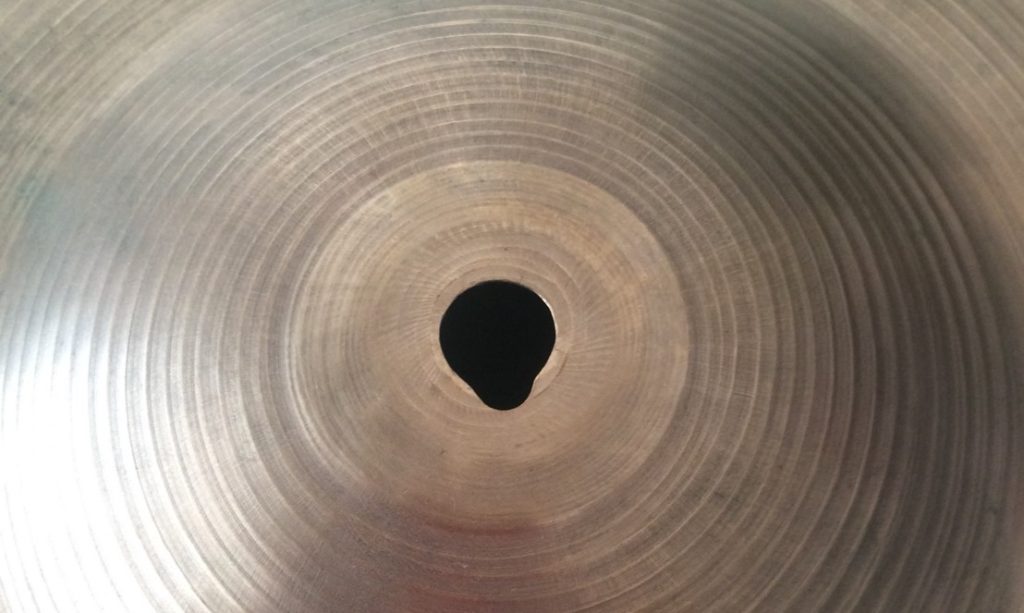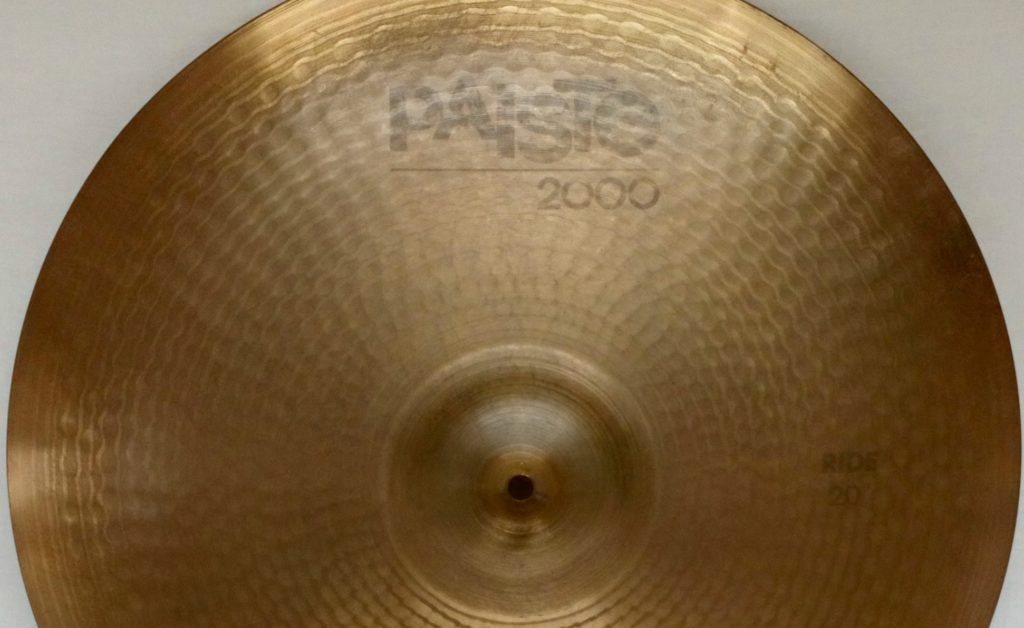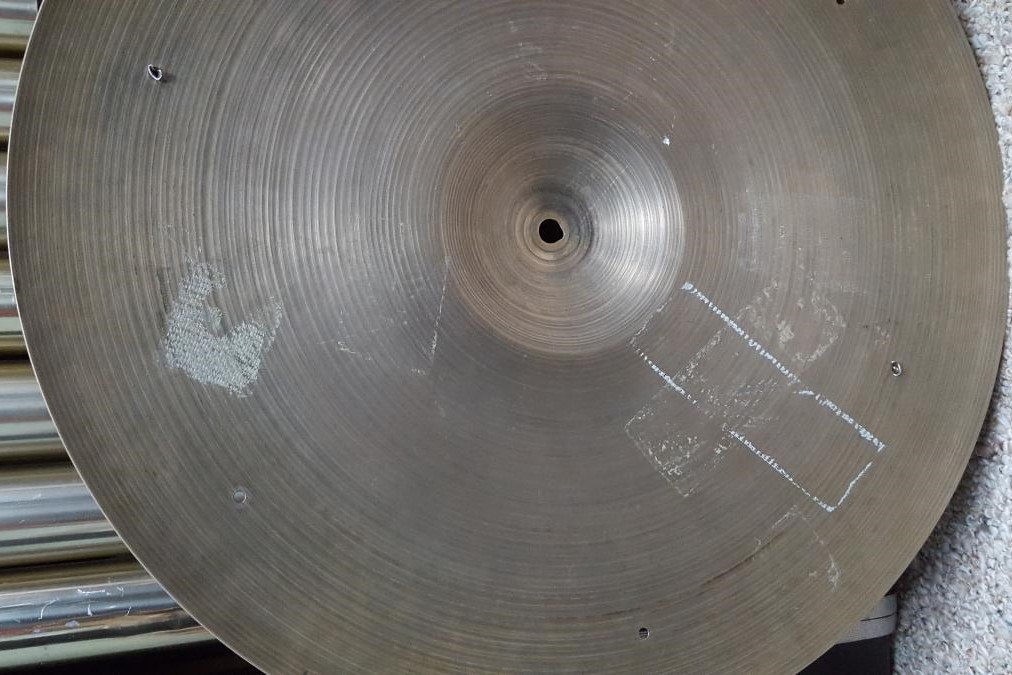 Best used cymbals to buy
Buying used cymbals allows you to buy professional ones instead of beginner or intermediate.
These are the main cymbal series you should aim for if you're looking for good quality at an affordable price:
Sabian: AA, AAX, Vault, HH (if you're lucky);
Zildjian: A, A Custom;
Paiste: 2002, RUDE, Signature (if you're lucky);
Bosphorus: Traditional;
Istanbul Agop: Traditional;
There are probably a few more series that I'm forgetting, but these are the most common ones that you can usually find at half price.
Conclusion
As you probably know by now, cymbals can be expensive, but building your first cymbal set doesn't need to be as hard as it usually is.
When the budget is lower than the average cymbal set, everyone should consider buying used gear.
I'm a firm believer that we should buy everything used, except for drum heads and drum sticks, but especially cymbals.
As long as they are not cracked, dented, or keyholed, they are good enough to last you a lifetime. In fact, in 2000 years, when some random archeologist digs your studio, the only thing he'll find is your cymbal set.
My favorite used cymbals are the AA and AAX from Sabian, or the A and A Custom from Zildjian. Thanks to their popularity, they're easy to find and the number of cymbals on sale lowers their average asking price.
If for some reason you don't want to invest in used gear, any of the four cymbal sets I suggested will serve you well.
What you end up choosing depends on how low your budget is and what you plan to use them for.
Want to spend the lowest amount of money possible? Then Wuhan Traditional Cymbal Set is the way to go. Just make sure you test them before buying and avoid being a heavy hitter if you want them to last as long as possible.
On the other hand, if you want a cymbal set that's the closest to a professional one without breaking the bank, you won't find anything better than the Istanbul Agop Xist Cymbal Set.
All in all, I hope this article achieved the main purpose of educating you on the importance of buying second-hand gear when possible and what is the best budget cymbal pack you can buy within your budget.