Playing with a double bass drum pedal is an important step in every drummer's career, and there's no better way to do it than with the best double bass pedal.
Many music genres like metal, rock, or punk require, more often than not, a double bass drum pedal.
To the surprise of everyone, the history of the double bass drum pedals started in jazz, all the way back in the late '30s, early '40s.
Alternatively, using two bass drums is also an option. Sadly, nowadays, it has fewer pros than cons.
Some of the cons include how hard it is to tune both bass drums to the same tone and carrying an additional bass drum around.
The biggest benefit, on the other hand, is how badass any drum set looks with a pair of bass drums on stage.
Either way, reaching the high speeds necessary to play most metal subgenres is quite hard, or even impossible, on a single bass drum pedal.
Even if you're not planning to play heavy metal or hard rock, we firmly believe every drummer benefits tremendously from learning how to play with a double bass drum pedal.
Let's be honest, everyone becomes a better drummer after half an hour of trying to master fast and intricate patterns, like that famous bleed bass drum pattern.
What's the definition of a good double bass pedal?
With all the options on the market, deciding on the right model for you can be a bit challenging, especially if it's your first one.
The best double bass pedal is the one that meets all your needs, improves your performance, doesn't blow your budget while simplifying the process of playing drums.
In this article, our main focus will be the best double bass pedal that's compatible with both acoustic and electric drum sets.
We are going to compare everything from chain to direct or belt drive, footboard lengths, and cam types, and how everything influences how you play.
Without further ado, here's our pick for the best double bass pedal currently on the market: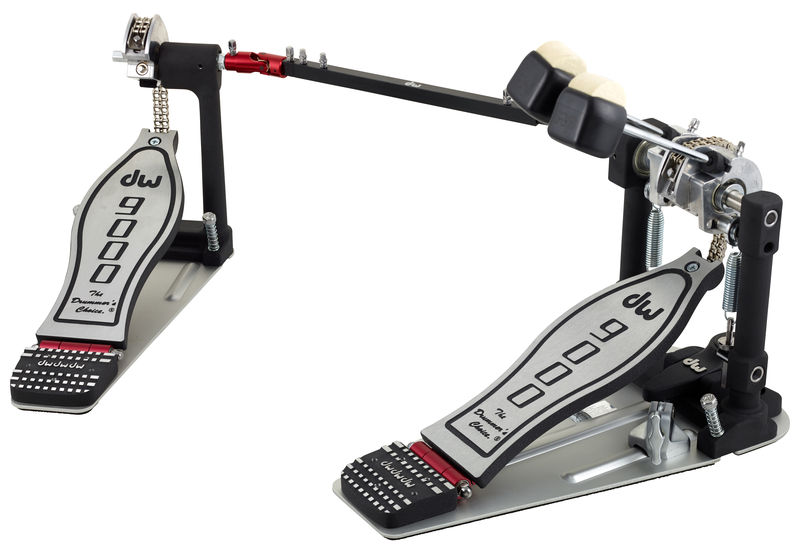 Drum Workshop, or DW as most people know it, is known for its high-quality products, including drums and drum gear.
The DW 9000 is a good example of what DW does well, as it has been a fan favorite when it comes to double bass pedals for a while.
First things first, let's talk about why it's so highly regarded. It features an infinite adjustable cam so you can switch between turbo and accelerator drive with the turn of a screw.
On top of that, the floating swivel spring reduces the resistance and increases the smoothness of the pedal while playing.
Anyway, if it still doesn't feel right, you can use the (included) nylon strap to convert it from chain-drive to nylon strap.
To guarantee the double bass pedal stays connected to the bass drum hoop, DW included the new Tri-Pivot Toe Clamp to make it even more secure.
Everything from the premium grade aluminum to the drum key clipped to the bottom of the pedal or the memory locks is what takes the 9002 to the next level.
Despite all these pros, my favorite part is the single-post casting design. Unlike standard pedals, it allows you to easily place it near the hi-hat pedal and gives you the option to play the Hi-hat and bass pedal simultaneously.
If that wasn't enough already, any 9002 comes with a sturdy and high-quality nylon carry case that you can use to carry or store your brand-new double bass pedal.
To conclude, it's also important to mention the two additional versions of the DW 9002: the one with an extended footboard, and the left-handed version.
Whichever version you end up buying, rest assured you'll have more than enough power, customization, and responsiveness.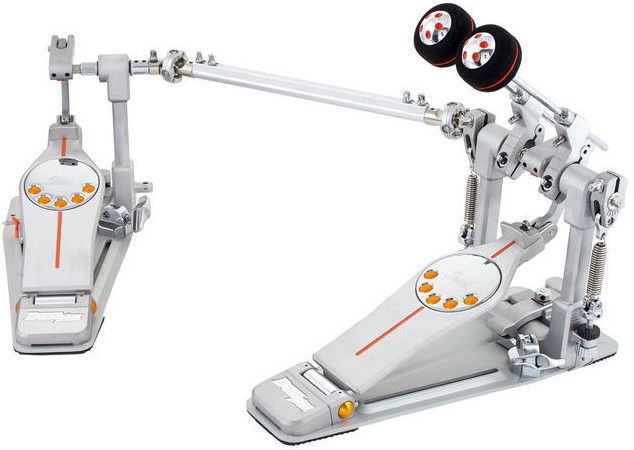 Besides DW, another brand that knows what they're doing when it comes to hardware is Pearl.
Firstly, the Pearl P3002D features a click-lock function to prevent the tension knob from loosening. Plus, a Z-Link Drive Shaft guarantees smoothness between the primary and secondary pedal.
On top of that, the pedal includes control core beaters that control or fully eliminate unwanted vibrations with the same shock-absorbing tech found in golf clubs.
Unlike the DW 9000, the Pearl P3002D comes with a direct link drive for a deeper connection between the drummer and the bass pedal.
The Japanese NiNjA bearings designed in collaboration with skateboarding engineers improve smoothness and remain silent even while playing fast patterns.
In addition, the most important feature is the convertible footboard that allows you to easily switch between the traditional and the longboard.
That unique feature allows you to choose between power and finesse within the same double bass pedal.
 With its modular design, you can alternate between playing with the primary pedal on the right, or on the left.
Another couple of things that are also infinitely adjustable are the pedal height and the beater angle, so there's no excuse to not fully configure this double bass pedal to match your playing style.
To help you transport and store the pedal, any P3002 comes with a matching black and orange case. It's sturdy enough to last you a lifetime of gigs and most importantly, protect your expensive gear.
Overall, this is a solid and incredibly well-made double bass pedal, and thus, somewhat heavy. It features enough customization for the average drummer's needs and despite being far from a budget option, it's worth every penny.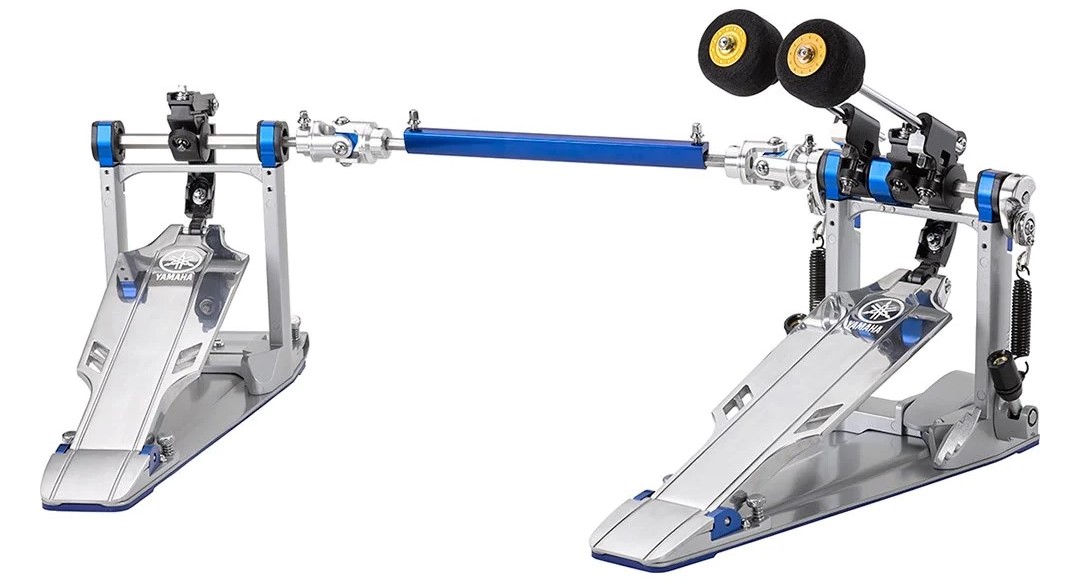 When someone thinks of a bass drum pedal, Yamaha isn't usually the first thing that comes to mind.
Thankfully for us, that's about to change with their last line of single and double bass drum pedals.
The first thing you need to know about this series is the difference between the three double bass pedals models.
Starting with the DFP-9D model, it has a direct drive, while the DFP-9C features a double chain drive. For the lefties, a model named DFP-9CL with a double chain drive is also available.
Speaking of the drive, both the chain and direct drive models include a quick-adjusting cam with three different positions. You can switch between the three positions to increase or reduce the initial tension of each stroke.
Either way, if you're still not satisfied with how it feels, Yamaha included a belt with chain drive models that you can use to make the pedal belt drive.
Similar to the Pearl P3002D, the Yamaha FP9 pedals have an easy-access auto-lock spring adjustment. It works with a knob that locks at a 90-degree angle and prevents it from loosening with time.
Besides those amazing features, the one that does it for me is the weight-adjustable beater.
Yes, you can adjust the weight of the beater by placing one of the included weights (3g and 9g) under the beater, or even both at once.
On top of that, the pedals are equipped with ball bearings in the drive connection, as well as in all axes. That drastically improves the smoothness of the double bass pedal as a whole.
Both the front and the back of the pedal come with spikes that prevent slipping and increase stability while playing.
Just like the previous pedals, Yamaha includes a neutral semi-hard case carrying case with the purchase of any FP9 pedal.
In the end, Yamaha FP9 Double Pedals bring a couple of unique features to the table, so make sure to consider them when shopping around.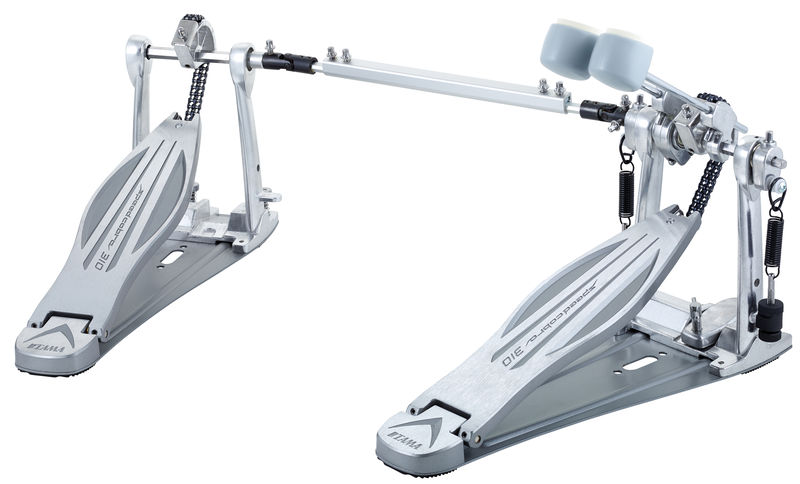 I couldn't write a whole article about the best pedals, without mentioning Tama. They manufacture some of the best single and double bass pedals on the market.
The Speed Cobra was designed to achieve an unprecedented amount of velocity, mixed with some serious power while doing the least amount of work.
Tama managed that with a few impressive features, so let's briefly talk about each one to understand what makes the Speed Cobra special.
Firstly, they designed a longer and smoother footboard to effortlessly achieve the power and speed necessary.
On top of that, Tama used a theorem to calculate the optimal footboard placement to achieve the "best balance between natural action and lighter motion".
As far as the Speed Cobra's cam goes, the pedal features a Rolling Glide "LiteSprocket" which is 40% lighter than the Iron Cobra cam and runs smoothly. Sadly, unlike some of the alternatives, it's a non-adjustable cam.
Additionally, the pedal comes with a newly developed "Super Spring" that aims to reduce the exertion at the beginning of the stroke.
Also new is the Accu-Strike Cobra Beater made with Butadiene Rubber. That type of rubber is extra resistant while being lighter than similar materials.
But wait, it gets better!
My favorite thing about the Speed Cobra is Tama's Cobra Coil. If you've never heard of the Cobra Coil, it's a steel string under the footboard which assists in the return to its original position.
Simple, but effective. You can even move the Cobra Coil forward or backward on the base plate to match your taste.
Beater and footboard angle adjustments are completely independent, which adds another layer to an already highly customizable pedal.
The Speed Cobra also includes floor anchor bolts to prevent it from moving, and the wider frame increases the stability during "aggressive performances".
To protect such an impressive piece of gear, the Speed Cobra comes with a specially designed hard case for maximum protection.
And the best part of the Speed Cobra 910 Twin Pedal? It's way cheaper than similar products, making it the best double bass pedal under $500.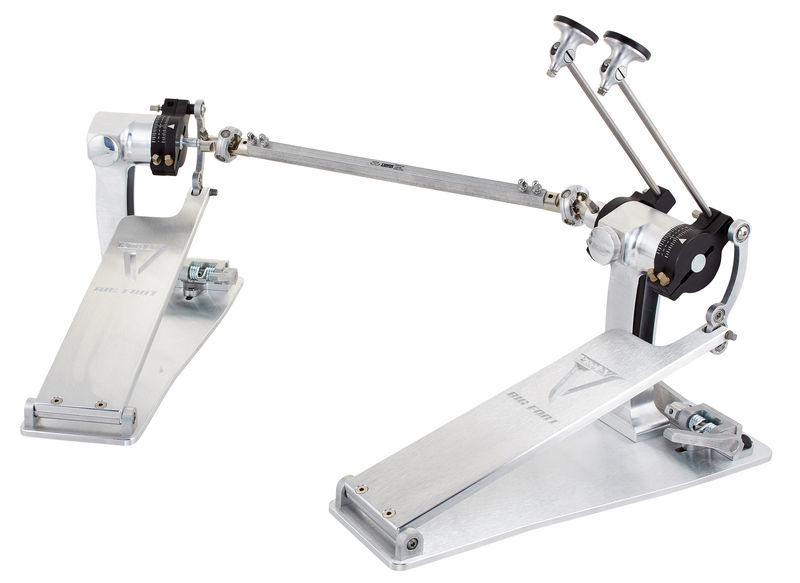 Up next we have what I consider a beautiful piece of art, and at the same time, an impressive feat of engineering.
Trick pretty much "reinvented the wheel" with their Pro 1-V Bigfoot line, in a market where, with a few exceptions, bass pedals are more or less the same.
One of those innovations is the internal compression spring mechanism, which is smoother, faster, and thankfully, quieter than the traditional system.
The Pro 1-V Bigfoot pedal uses aerospace-grade bearings that guarantee zero latency and the smoothness we wish we found in every bass pedal.
Despite the futuristic look, this Trick pedal is fairly easy to use. Adjusting the pedal tension is as easy as twisting a knob.
On top of that, you can adjust the distance from the bass drum with the Slide-Trac hoop clamp. Tightening the hoop clamp doesn't require any wingnut or drum key, since it's done with an easy-to-use lever.
Additionally, you can adjust the beater and the pedal angle independently, thanks to the Split-Cam design. A universal beater mount means any beater you can think of fits perfectly in the Pro 1-V Bigfoot Bass Pedal.
Anyway, if the direct drive isn't your thing, you can buy a similar model but with a chain drive instead for the same price. Choosing between a longboard and a regular one is also an option.
Each pedal is fully hand-assembled and not a single part required die-casting. That combination guarantees a high-quality bass pedal with extreme durability.
In the end, if you value buttery-smooth, high-quality drum gear above anything else, the Trick Pro 1-V Bigfoot is exactly what you need.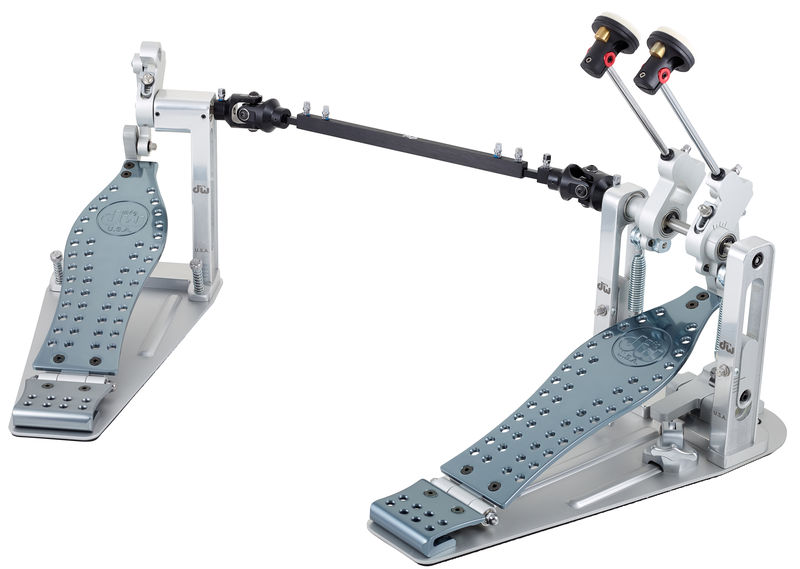 My last suggestion is the closest thing we'll get to a technically perfect double bass pedal for a while.
DW decided to switch things up with this one and built their first double bass pedal with a direct drive cam.
The direct drive eliminates the lag time that usually occurs with chain or strap drive models, making it incredibly fast and smooth.
Another thing that contributes to the smoothness of the whole pedal is the smooth surface of the perforated aluminum footboard. It's ideal for anyone that uses some sort of sliding technique for fast double and triple strokes.
On top of that, the pedal includes things like a vertical spring tension adjustment which is fairly easy to use, and an adjustable footboard angle.
Additionally, the tri-pivot swivel toe clamp is a secure clamping system that doesn't damage any bass drum hoops.
As for the beater, DW Machined Direct Drive Double Bass Pedal comes with Control Beater which features three surfaces and four removable weights.
Those weights allow you to easily switch between speed and power since you can't have both at the same time.
A combination of all-bearing universal joints on the linkage with a floating rotor drive system and an infinite throw adjustment is what makes this double pedal special.
The Machined Pedals line includes chain drive and direct drive models, as well as standard and longboard ones. Choosing the footboard color is also an option, but the only ones available are blue, black, grey, and polished.
To conclude, the MDD comes with a sturdy backpack with enough space for the double bass pedal, and additional pockets for your accessories.
Unfortunately, such quality doesn't come without an extravagant price tag and therefore, the price is the only negative aspect of this masterpiece.
Either way, if you can afford it, go for it. Thomas Lang wasn't disappointed, and you most likely won't be either.
Bottom Line
Choosing the best bass pedal isn't easy, and a double bass pedal makes the decision even harder, considering the many different options available.
Either way, the first thing you should think about, is the type of drive you want in your pedal: chain, belt, or direct drive?
All of them have their pros and cons. Some are more durable while others feel much better. If you've yet to play with all three, test them at your local music store, if possible, before making up your mind.
Another important thing to think about is the price. Are you willing to pay as much as needed, or are you looking for a "budget" premium double pedal?
If you're on a tight budget but still want one of the best double bass pedals, the Tama HP910LWN Speed Cobra 910 is everything you need.
Durability is also an important factor to consider when buying a pedal. As a piece of gear that will undergo a lot of punishment, especially if you plan on touring with them, you need a pedal as durable as possible.
To be honest, any of the pedals mentioned above are extremely high-quality and shouldn't have any problem in that regard. If you still can't decide on what pedal to choose, you can't go wrong with the good "old" DW 9000, or the Pearl Demon Drive.
They excel in every area, are versatile enough to be used with any music style, and definitely won't let you down. They are two of the most popular double bass pedals on the market for a reason.
In the end, I hope this article achieves its main purpose of educating you on what a double bass pedal is, its unique features, and what is the best double bass pedal for your needs.