Searching for the best metronome app? I feel you, I can't recall the last time I even saw a real metronome.
In an industry that's continuously evolving, the drummers' job didn't change much in the past century. 
We're expected to provide the beat that ties everything together in a musical performance, and most importantly, keep time!
But keeping time isn't as easy as it sounds, and even the best musicians in general play along click tracks that often include a few clues and a digital metronome.
In terms of practice, playing with a metronome has plenty of benefits like:
Improving your natural sense of timing, by preventing you from rushing or dragging the tempo. If you've watched whiplash, you know how important it is to do neither;

Helping you build up speed by allowing you to slow down, practice, and then increasing it until you reach the speed it's meant to be played;

Settling the right movements into your muscle memory by practicing slowly at first. Remember, to play fast, you need to play slow;

Measuring your process. It's easy to acknowledge where you stand in your practice, how far you have come, and how far you have yet to go;

Enabling you to play to a click track in a professional environment, like a studio session or a live performance;

Gaining power over the beat. To add character to your performance, it's important to have an accurate tempo to follow while you play around the beat and unleash your creativity.
Metronome Apps vs Mechanical Metronome
Luckily for us, gone are the times where you had to buy a classic metronome to practice with.
Nowadays, smartphones (and tablets) carry around everything a musician needs, like sheet music, audio, and video recorder, and of course, a metronome.
There are free and paid apps, for both Android and iOS, that offer as little as a basic metronome, or as much as the option to change the time signature, subdivision, speed, and sound.
Now that we are aware of the importance of playing and practicing with a metronome, here are the best metronome apps for Android and iOS: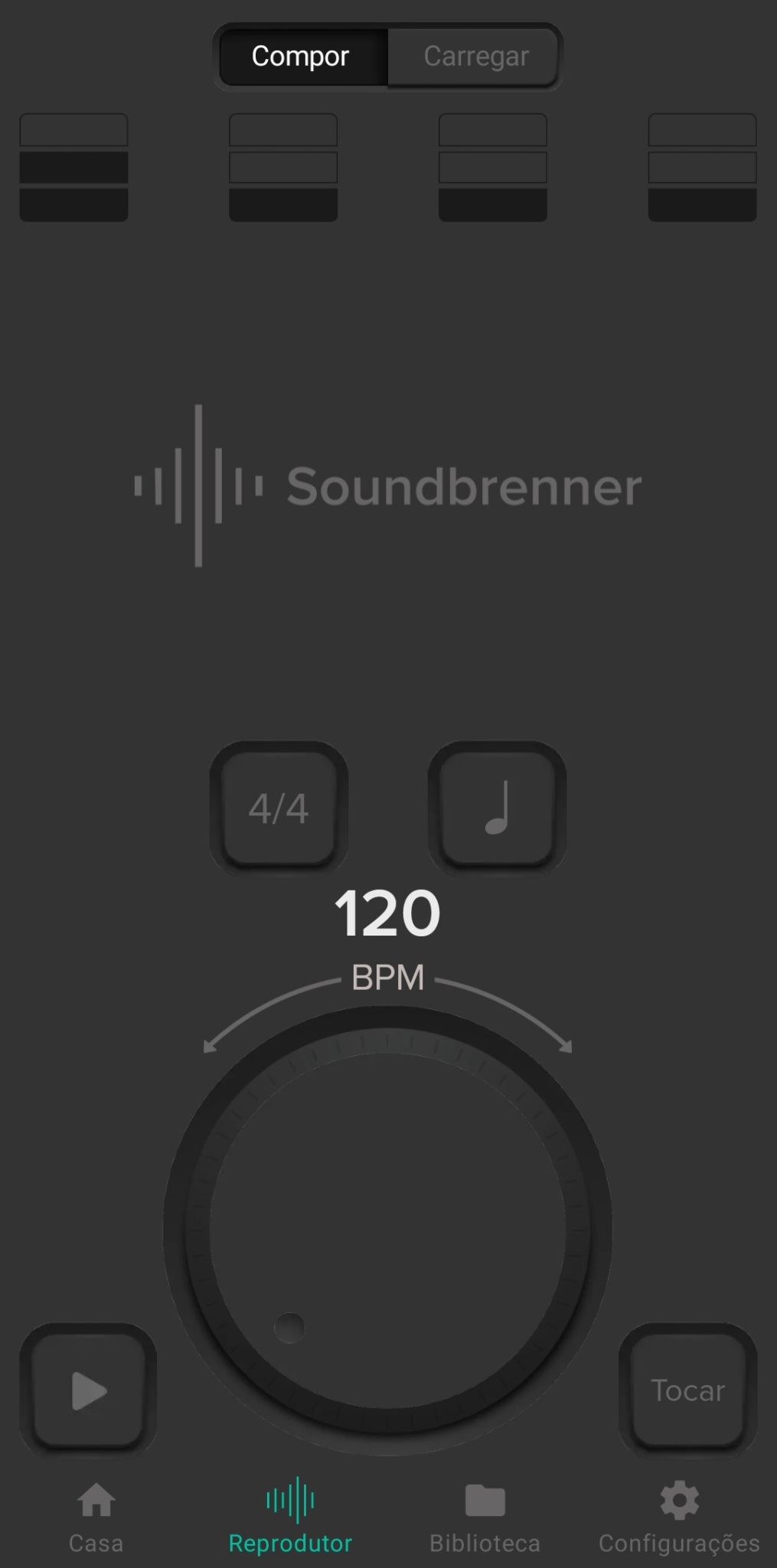 My first suggestion is Soundbrenner, the most popular metronome app in the world. It's also the one that I've been using for the last few years.
The app is available for both Android and iOS, and it's the highest-rated and most used metronome app in the world.
It's free, with in-app purchases, and features an intuitive and minimalist design that that most people like.
Many features like adjusting the BPM, time signature, subdivisions, and accents are all available.
It's also fully customizable since you can change metronome sounds between the 20 available, switch between a dark and light theme, or add a simple, but effective, count-in.
Another great thing I like about this app is the fact that you can add visual clues, like display and camera flash.
Soundbrenner has top-of-the-line setlist management, which means you can save the rhythms of all of your songs, their duration, and even organize them in a setlist. They are ready to load at any time.
If that wasn't enough, the app includes advanced features such as Ableton Link, to keep Link-enabled applications in time over a local network, USB and Bluetooth MIDI, and Bluetooth foot pedal support.
The app was created with Soundbrenner's wearables in mind. If you've never heard of them, there's a smartwatch called Soundbrenner Core with features such as a vibrating metronome, tuner, and dB meter.
If you want something cheap, there's also Soundbrenner's Pulse which is nothing but a vibrating metronome.
None of the wearables is essential and you don't need either to take advantage of the amazing digital metronome Soundbrenner developed.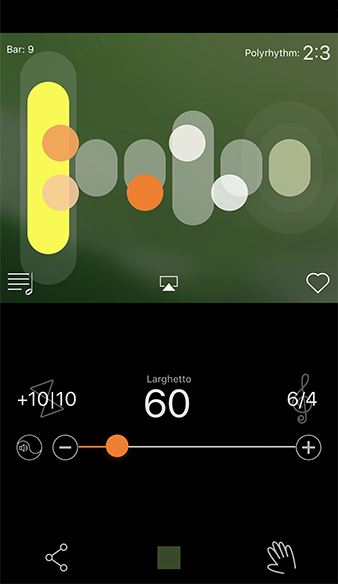 If simplicity is something that you tend to value a lot, Metronome plus interface is as simple as it gets.
The app is free, with the option to upgrade to a full version, and it's available for iOS only. Sorry, Android users!
The full version is worth it, as it's free of ads and enables background play capabilities.
It comes with different modes, like training, practice, and recording, and each one of those serves a different purpose.
For example, you can set the practice mode to increase 10 BPM every 10 bars with a start tempo of 60 and a target tempo of 120. That sounds like a good way to improve your rudiments.
In rhythm training, you can set what musicians usually call a "Gap Click". In a Gap Click, the metronome plays for 5 bars and mutes for 1 bar, for example. That's a great way to improve your timing, and you can make it as easy or as hard as you want.
You can also do everything you do in similar apps, like changing the tempo, time signature, subdivision, accents, and in this case, polyrhythms.
Just like Soundbrenner's, you can create and manage your setlist, and choose between one of the 16 different sounds available.
As a fan of simplicity, if you still value customizability, the Metronome Plus lets you build your interface by choosing between multiple themes and backgrounds.
It doesn't have any wearables, and it's only available in iOS, sadly, but Metronome Plus does what it is supposed to do, and it does it well.
It provides a perfect way for musicians to improve their daily practices and even studio sessions or live performances.
There are three different apps in the Tempo family: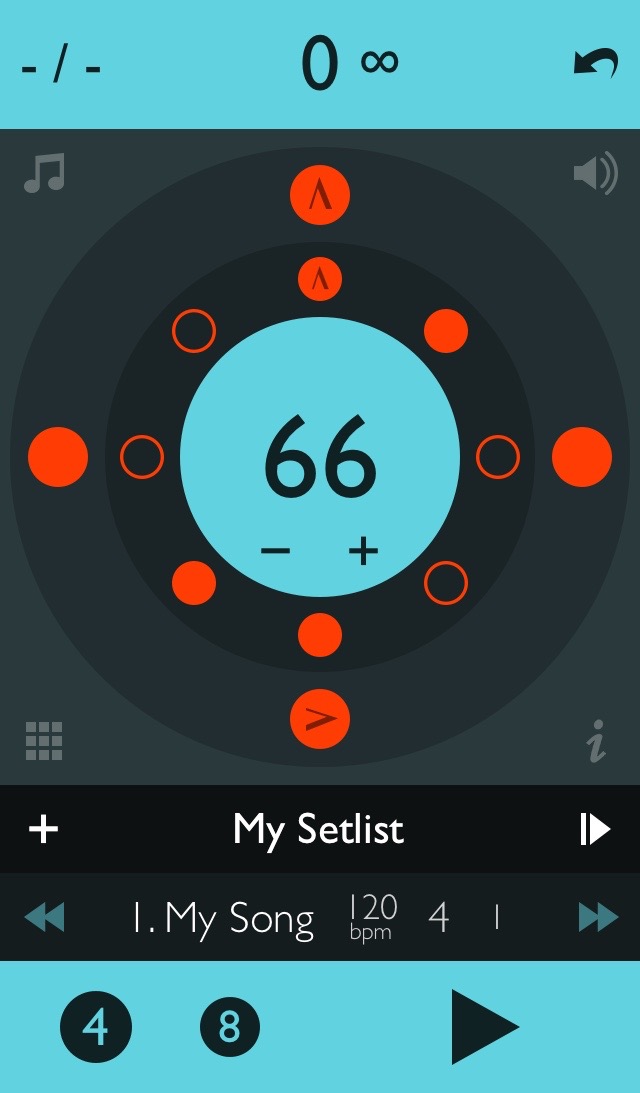 Advance, which is 3.99$ and only available for iOS at the moment;

Tempo is available on both Android and iOS and costs 1.99$ on Android, and 2.99$ on iOS;

Lite, which is free, with In-App purchases, and it's available on both operating systems.
Today we focus on Tempo Advance, which is the most expensive option and only available in iOS, but by far the best one.
Mike Mangini, the drummer for Dream Theater, has been using Tempo Advance since its inception. He also contributed to the design of the second version, improved what was already a good app.
When it comes to time signatures, in the Subdivide Mode, the app offers up to 20 beats per measure and 20 subdivisions per beat. In Polyrhythm Mode, you get up to 20 beats per measure on either channel.
The tempo ranges from 10 – 800 BPM and you can change it with gestures, by tapping, using the adjustment buttons, or direct input. There's an option to flash the display on first, or every beat.
Advance in the name makes perfect sense since you can configure every beat to one of the four states available (two accents, regular and silent). You can also choose between 15 different sounds, assign any of the sounds to each of the tick states, and even set individual volumes for each of the tick states. Crazy, right?
That tells you how great the app is to program complex songs with changing tempos, time signatures, or rhythms.
The Tempo Advance includes options to track the number of measures/time played, automatically adjust the tempo by X BPM every X bars or X amount of time.
There are a bunch of other options like:
Store the tempo, meter, rhythm pattern, sound, and much more in songs organized into setlists, that you can share and import via e-mail, or back up via iTunes File Sharing;

Playback in the background over audio from other apps and pan anywhere from left to right;

Change the aspect of the app with default themes or by changing styles, textures, and colors that you can later import via e-mail;

Control the app with a Bluetooth foot pedal or the phone's proximity sensor.
If you have an iOS device and don't mind paying for a premium app that offers everything an advanced drummer needs, investing in Tempo Advance is the smartest decision you can make.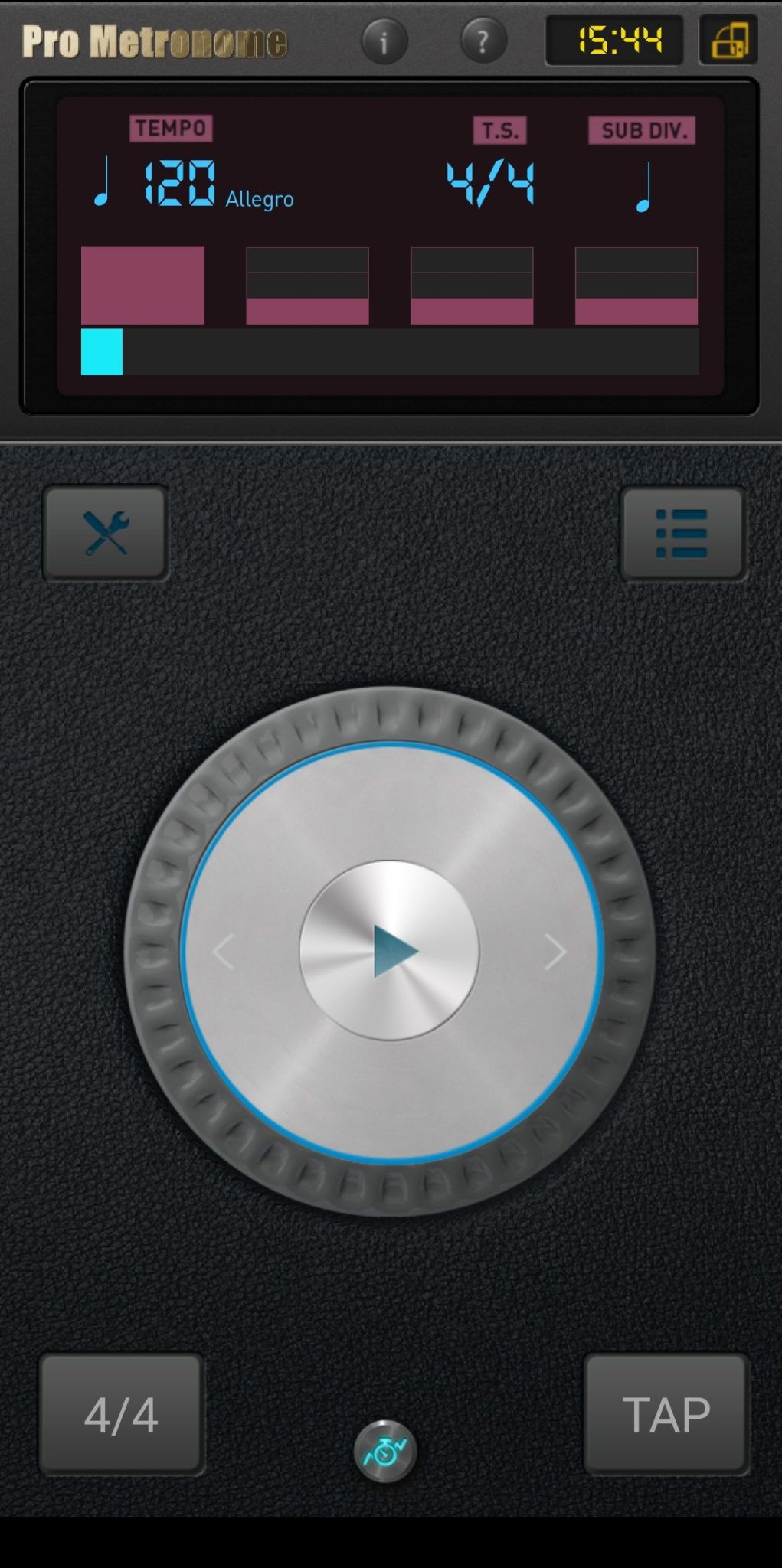 When it comes to a balanced metronome that's available for both Android and iOS, Pro Metronome is on the top.
The app is free, with In-App purchases, and besides iPhones and iPads, it also works on Apple TV and Apple Watch.
The free version is ad-free, and allows you to:
Change the time signature, the sound (13 different sounds, including voice), and dynamic accents (including f, mf, p, and mute indicators);

Tap to change the BPM;

Pick between color (beats graphically displayed on-screen) or pendulum mode for more of a visual metronome;

Use it while on the lock screen, home, or in another app;

Adjust the volume, keep track of your sessions with a timer, or switch to landscape mode.
If you need more features than what the free version has to offer, the pro adds:
Sensory aids, like LED and screen flashing or vibration (only available for iPhones) and dual-screen mode using AirPlay;

Programmable playlists so you can save or load your favorite settings, and later share them wirelessly;

Rhythm Trainer, which is nothing more than a Gap Click that improves your sense of time by muting for X number of measures, similar to the one on Metronome Plus.

Stage Mode works great in live performances since you can enable the "Auto Stop" feature to stop the metronome after playing a certain number of measures. That means you can program each song individually and then save them in one of the playlists;

The practice mode is also similar to the one on Metronome Plus, where you can set a target tempo and a starting tempo that increases by X BPM every Y number of measures.
If Metronome Plus being only available for iOS was a disappointment, grab Pro Metronome, especially the paid version, and you won't look back.
For me, the only downside is how the app looks. I don't like the design and I think it can be much better, but when the app works that well, who cares about the design?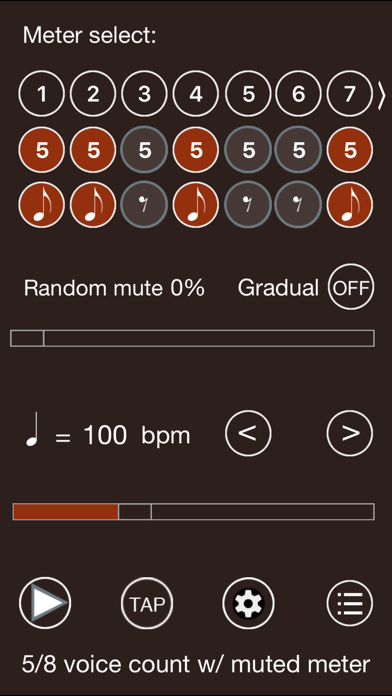 Time Guru was developed by the renowned Guitarist, Avi Bortnick, best known for his work with influential jazz guitarist John Scofield.
It's available for 1.99$ on both Android and iOS and has the most basic interface of all the apps listed.
The app includes 35 different sounds. Between claps, cowbells, and even human/robot voice counting, there's an option for everyone.
Voice counting is available in multiple languages like French, German, Russian, Chinese and of course, English.
You can set different tempos, between 5 and 300BPM, and time signatures, including complex meters, without much trouble.
Just like some of the previous apps, you can mute one or more measures to develop a stronger internal sense of time.
To make things more challenging, the unique part about this app is the ability to move a slider to select a random mute percentage (e.g. 25% means 25% of the notes will be muted).
By randomly muting, it makes everything more interesting and challenging than knowing that it mutes every X number of measures.
You can even turn the "gradual mode" on, which mutes more and more notes as time goes by and forces you to rely even more on yourself, and less on the metronome.
With Time Guru, you can save some presets for tempo, sound, and muting, but you can't share them.
It lacks some of the features you can find in the previous metronomes listed, but the counting in different languages and the randomized muting make Tempo Guru a great tool for any drummer looking to push their playing to the next level.
Final Thoughts
Whether you plan to develop your sense of time or speed, every drummer, or musician in general, needs a metronome.
Nowadays, no one carries a physical metronome around since most metronome apps do what old school metronomes do, and much more, making practice time even more fun.
In this article, I listed what I believe are the best and most useful metronome apps on the market, in terms of features and user experience.
Right now, I mostly switch between the Soundbrenner's metronome app and the Pro metronome. 
That doesn't make them the best, just my personal preference. Watch all the 5 videos listed above before deciding on which metronome to buy or download.
Thank me by taking your practice sessions to the next level with one of the metronome apps listed. I hope this article was helpful enough and served its purpose of helping you pick the best metronome app for you.