As a beginner, you'll quickly realize the importance of investing in the best cymbal bag you can afford.
Cymbals are not only delicate, but they are also extremely expensive to replace, putting a dent in anyone's budget.
Unless you're a cymbal brand endorser or were born with a golden spoon in your mouth, you should probably look after your cymbals.
Even so, if you enjoy drumming as much as I do, I believe you should treat your cymbals as if they were sacred.
Yes, you can still damage your cymbals while playing, but that's to be expected and part of the job.
Cracking them due to poor technique or producing a keyhole because you don't use a plastic sleeve on the cymbal stand are both common, despite the fact that they are easily avoidable.
What should not be considered normal is damaging your cymbals while traveling or storing them, which, in my opinion, is far worse than damaging them while in use.
On that note, cymbal bags or cymbal cases are the two best options for protecting your cymbals while traveling or in storage.
The former is less expensive but provides less security, whereas the latter is the polar opposite. In this article, we'll only be focusing on reliable cymbal bags.
If you're the one handling your gear, cymbal bags are more than enough, otherwise, consider investing in a good cymbal case instead.
Plus, carrying your cymbals can become quite a challenge, so a cymbal bag is also useful when it comes to traveling with your cymbals from gig to gig.
Before we dive into the best cymbal bag for your needs, let's talk about what to look for when buying a cymbal bag:
Cymbal Bag's Buyer's Guide
Materials
The materials are the most important things to look for when purchasing something that is supposed to protect valuable equipment.
You want something that will protect your cymbals well enough that you won't arrive at your destination with any cracked or bent cymbals.
Furthermore, because you'll most likely be on the road a lot, you'll want something that can withstand the wear and tear of frequent travel.
Getting a waterproof cymbal bag is also a good idea because you can't control the environment around your gear unless you're the only one handling it.
The majority of cymbal bags are made of leather, nylon, or vinyl, and they provide excellent protection and durability.
You should also pay attention to the bag's straps, as you want them to be thick and with extra padding to be as comfortable as possible when carrying it around.
Pockets and Dividers
The most important aspect of a cymbal bag is having enough space to fit all of your cymbals.
Depending on their sizes and thicknesses, the average bag can hold anywhere from 6 to 8 cymbals.
The number of cymbals a bag can hold is also determined by its dividers, which not only provide extra padding but also indicate how many you can fit.
Furthermore, some bags, such as the Meinl bag I'm currently using, include an external smaller pocket for your Hi-Hats, allowing you to fit larger cymbals inside.
Besides that, it's also common to find external pockets on your cymbal bag to fit accessories like drumsticks, drum keys, rods, lugs, wingnuts or cymbal felts.
With that in mind, look for a cymbal bag large enough for all your cymbals, and make sure the dividers are padded enough to protect them.
Plus, despite not being essential, think about how many and what type of external pockets you want your bag to have.
Price
As always, when shopping for something, the price you're willing to pay is one of the most important things to reflect on.
Given the high cost of cymbals, you should not buy the cheapest option available if you value them as you should.
Budget options, as usual, are made of inferior materials, do not last long enough, and are yet another case of "buy cheap, acquire twice."
On top of that, some cymbal bags are affordable because they don't come with dividers or if they do, they're as thin as paper.
And don't even think about external pockets for your accessories, because budget cymbal bags don't usually come with any.
With that in mind, your best bet is to look for the best cymbal bag within your price range. If you can only afford an entry-level bag, save more money; it will be worthwhile in the long run.
Straps and Handles
Even the largest cymbal models, such as a 24″ ride or china cymbal, aren't particularly heavy.
A completely different story is when you group a few of them, the weight adds up.
On that note, you should look for a cymbal bag that gives you the most carrying options for your needs.
Some of them can be worn as a backpack, allowing you to carry something else with your free hands.
Others have shoulder straps or handles that provide you with additional carrying options.
Whatever option you choose, make sure each strap or handle is both comfortable and strong enough to not fail you in the middle of your journey.
With that out of the way, let's take a look at the best cymbal bag for your needs: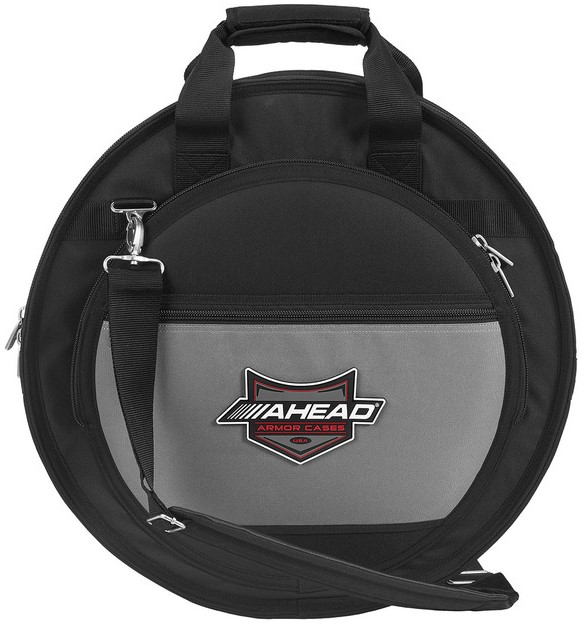 My first suggestion comes from Ahead Armor Cases, a company that specialized in manufacturing soft cases for cymbals, drums, and percussion instruments.
This soft case in particular is made with a heavy-duty 600 denier polyester exterior, which is a popular and affordable fabric used in top-quality bags.
Its popularity stems from the fact that it is a thick, weatherproof, and extremely durable material that ensures the safety of our cymbals in any environment.
Additionally, inside you can easily fit up to 7 cymbals, as big as 24", which is more than enough for the average drummer.
Inside, you'll find removable fleece dividers and DX-core Hi-Impact foam to protect all of your cymbals from impact damage.
Ahead also reinforced the bottom with PVC to prevent damaging your cymbals in case you randomly drop them.
On top of that, there's an external pocket with two different zippers. One allows you to store a pair of Hi-Hats up to 15", while the other one is where you want to store accessories or the occasional snack.
Because it has heavy-duty padded handles and a padded shoulder strap, this soft cymbal case can be carried in two different ways.
Overall, this is a sturdy, high-quality soft bag that will give you the peace of mind you need when transporting expensive cymbals. My only concern is the price, but the excellent quality makes it worthwhile.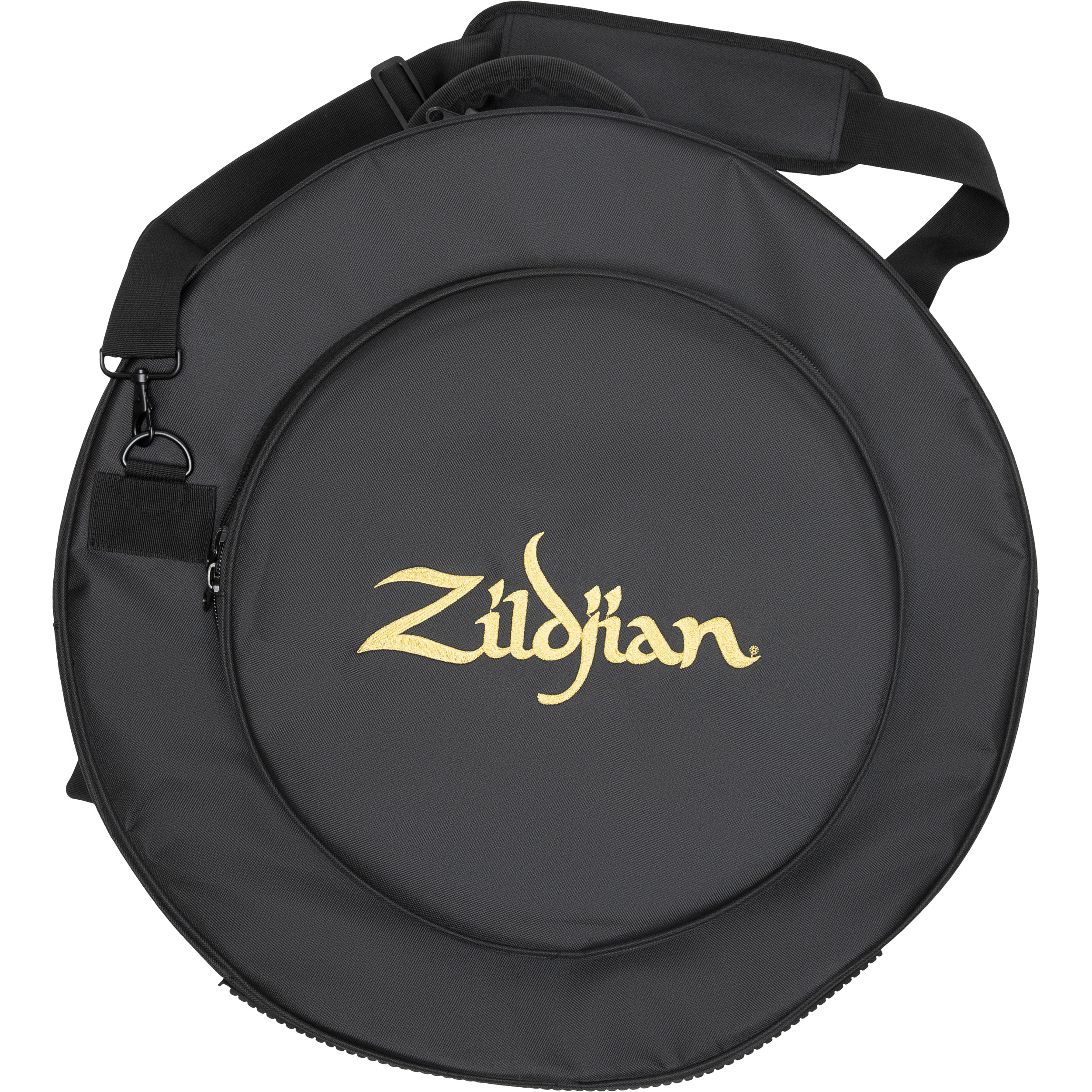 Zildjian is the world's oldest cymbal manufacturer, as well as one of the world's oldest continuously operating businesses.
Knowing that, it's safe to assume they know a thing or two about cymbals, including how to transport and store them safely.
Unlike the Ahead bag, the Zildjian bag is made of polyester with nylon lining, one of the most popular textiles on the planet.
Four graduated cymbal dividers are included, which protect your cymbals from metal-on-metal damage while also improving organization.
In addition, Zildjian added a tough rubber lining to the bottom of the bag, both inside and out, to keep your cymbals safe.
The bag is large enough to hold cymbals up to 24″ in diameter and, like the previous option, has an external cymbal pocket.
This one, on the other hand, is larger, and with a 16″ diameter, you can store anything from hi-hats to stacks and crash cymbals.
On top of everything else, there are also two extra pockets, one on the back and another one inside the cymbal bag.
Both can be used to transport drumsticks, snacks, drumming accessories, or even spare parts that may come in handy in the future.
The padded military-grade backpack straps on top of the usual shoulder straps are my favorite feature of this Zildjian bag.
They make it easy to move around with this bag while freeing up your hands to carry something else.
To conclude, this Zildjian Premium Backpack Cymbal Bag is as road-ready as they come and is built to last, making it one of the best on the market.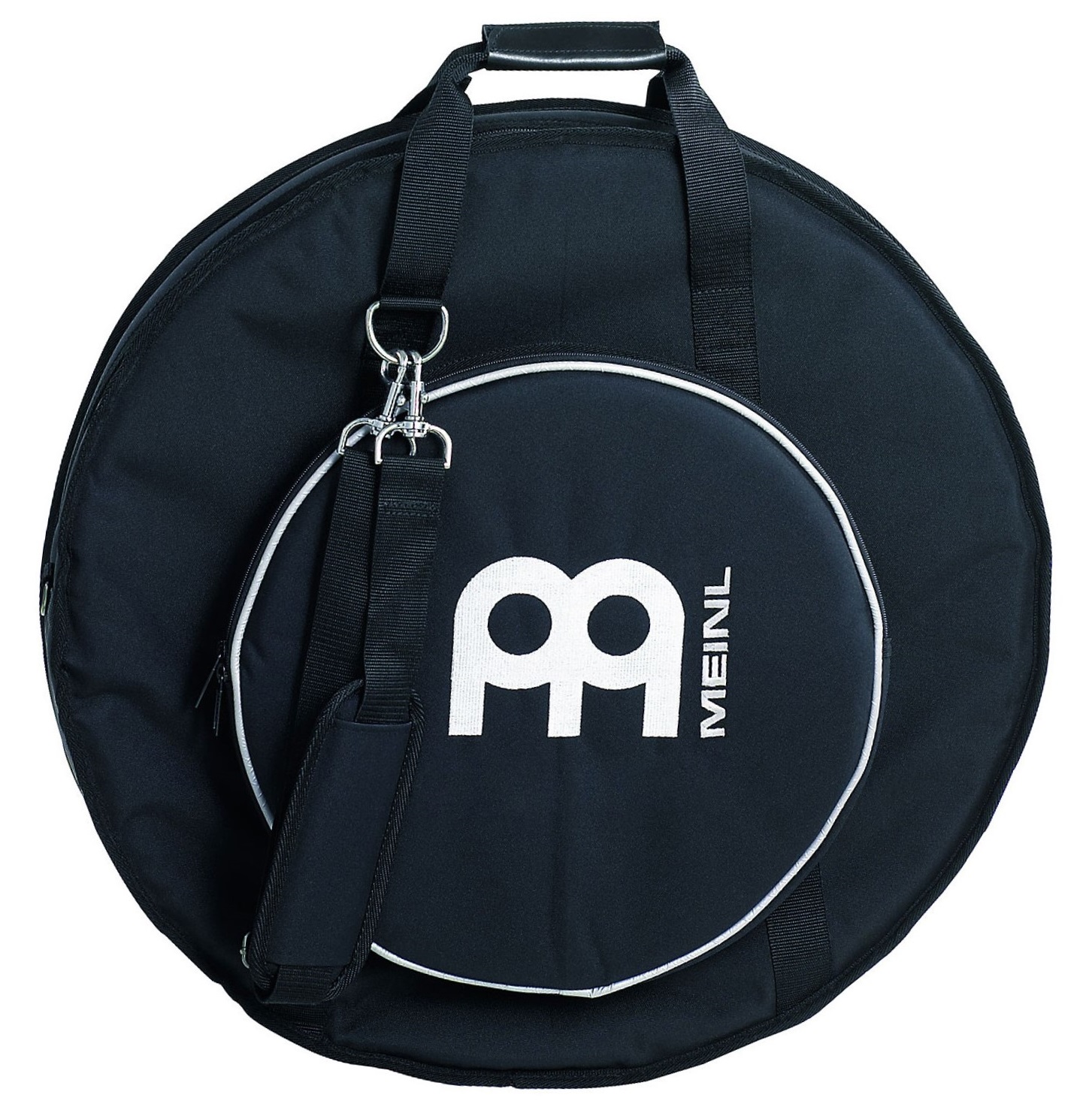 My third suggestion comes from Meinl, which is another company that knows a thing or two about cymbals.
Aside from cymbals, they also make high-quality percussion instruments and drum accessories, such as the 24″ Pro Cymbal Bag.
The bag itself is manufactured with 600 deniers heavy-duty nylon and reinforced with PVC, which results in a durable and road-ready product with water, stain, and abrasion resistance.
As the name implies, this is another cymbal bag that can hold up to 24″ cymbals, which should suffice for most drummers.
The bag has two external pockets as well. One can fit a pair of Hi-Hats, a stack, or a couple of splash cymbals up to 15″.
There's also a large external pocket on the back that measures 14.5″ x 13″ and is large enough to store accessories or small percussion instruments.
On top of that, it comes with 3 padded cymbal dividers – two 24" pieces on the main compartment, and a 15" one on the external Hi-Hat pocket.
I feel like the main compartment should have more than two cymbal dividers, otherwise, you only prevent metal-on-metal contact if you carry no more than 3 cymbals.
The bag has a carrying handle and a removable, adjustable padded shoulder strap for easy transport.
For added protection, Meinl included a soft padded Nylex synthetic interior fabric and a thick rubber-lined bottom.
In the end, despite the lack of backpack straps and sufficient cymbal dividers in the main compartment, this is an excellent cymbal bag.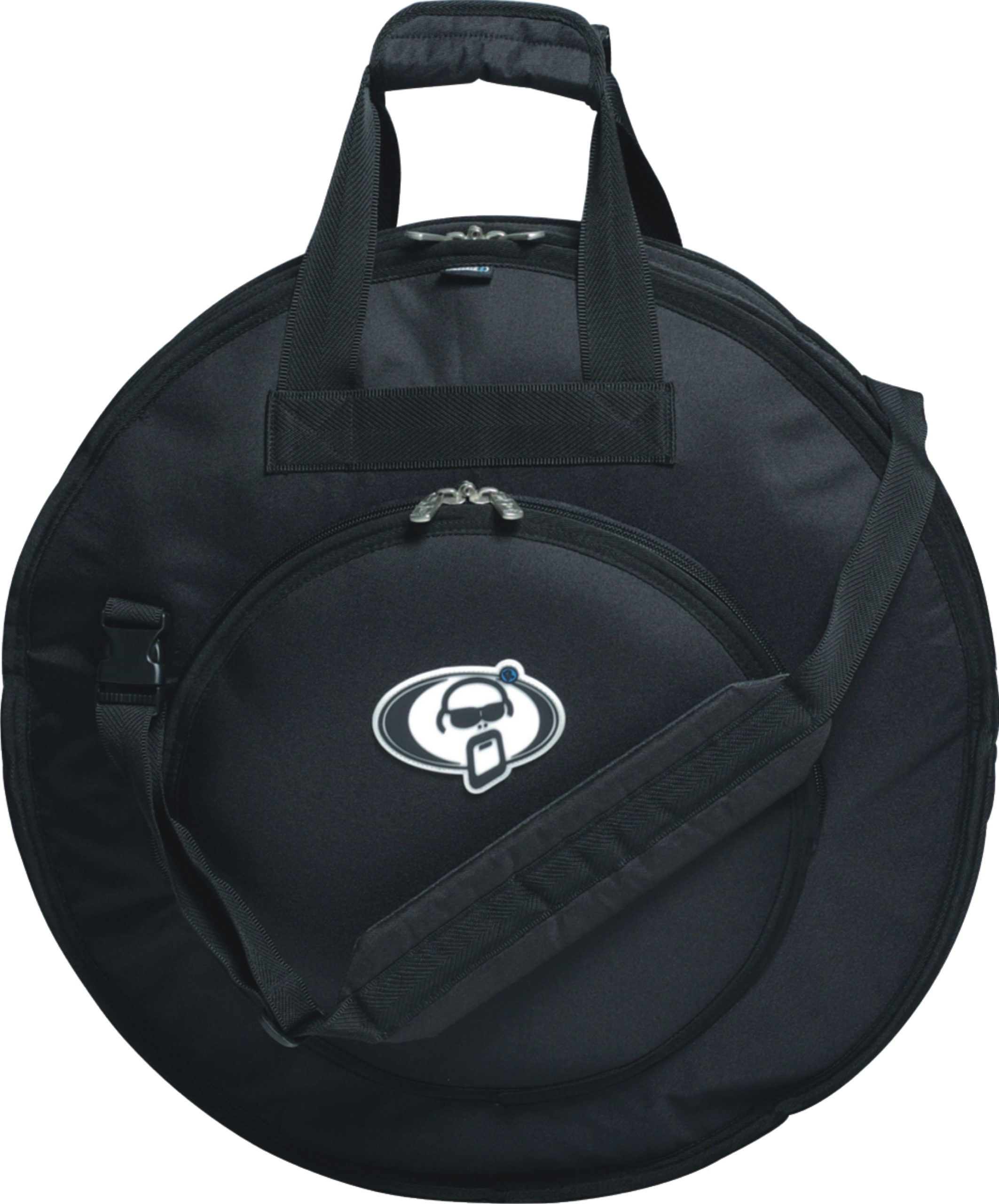 If you're unfamiliar with Protection Racket, the company's mission is to provide musicians with the best bags and cases possible, with a focus on convenience, functionality, and maximum protection.
The main pocket in their deluxe cymbal bag is 24″ in diameter, while the outer pocket is 15″.
To prevent metal-on-metal contact, both pockets have removable Propile synthetic fleece dividers.
On that note, each divider has four compartments, so if you put another cymbal on either side, each pocket can hold a total of six cymbals, for a total of twelve per bag.
At least, that's what Protection Racket claims, but I'd rather be safe than sorry and carry no more than 8 cymbals (2 dividers with 4 compartments each).
It features a padded carrying handle and a shoulder strap on the standard model, but if you prefer to carry them as a backpack, there's also a rucksack model.
Racketex 600-denier polyester is used to make the deluxe cymbal bag, which is abrasion-resistant, waterproof, fade, crack, and shrink resistant. If that doesn't bring you some peace of mind, I'm not sure what will.
On top of that, Protection Racket also included Propadd dual-density foam in a few key areas to protect your cymbals in the event of a fall.
They were also kind enough to include a luggage tag for easy identification, so there's not much to complain about, other than the price.
It's pricey, but for what it offers, it's one of, if not the best, cymbal bags available today.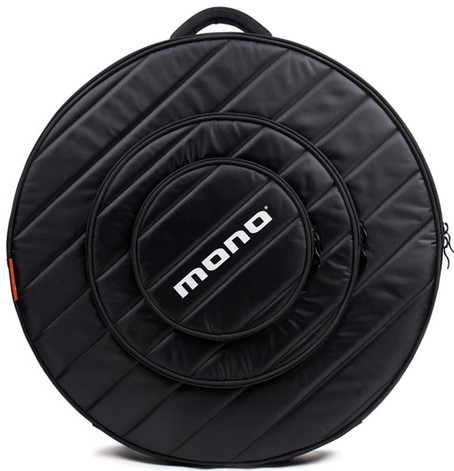 Mono, despite being the least well-known of the companies mentioned in this article, specialized in bags, cases, and accessories that make the life of a musician a little easier.
Hypalon, the same industrial rubber used to make inflatable military rafts, is used to make Mono cymbal cases. That way, you know it's not a standard cymbal bag, and it won't wear around the edges.
This is yet another 24″ cymbal bag, so unless you're in the minority who uses cymbals larger than that, this should be more than enough.
There are 5 individually padded slots inside to prevent metal-on-metal contact and keep your cymbals safe while traveling.
That's only the main compartment because the Mono Cymbal Case also comes with two external pockets.
The first is a standard Hi-Hat pocket that can hold up to 15″ cymbals. My favorite feature of that pocket is the dedicated clutch sleeve and drum key clip, which ensures you never lose track of your key and clutch.
On the other hand, the second external pocket has 10" of diameter, which makes it the best option to carry splash cymbals or any small effects cymbal.
The bag features straps that quickly turn it into a backpack, otherwise, you can use its padded carrying handle.
Mono included a feature called the "Boot" to protect the bag from damage if it slips from your hand or if you set it down too hard.
That's a contoured ABS panel that keeps all of your cymbals centered and resting above a thick padded base, absorbing any shock and ensuring that none of your cymbals are dented or bent.
Overall, this is one of the best cymbal bags available, and the best part is that it is surprisingly affordable.
Conclusion
Many cymbal bags will keep your cymbals safe, as we've seen before, but some are far better than others.
Because they check all of the boxes mentioned above, the five mentioned in the article are currently the best cymbal bags anyone can buy.
They're made of high-quality materials that ensure your cymbals' safety, come with dividers to prevent metal-on-metal contact, have external pockets for accessories and drum parts, and come with a variety of carrying options.
Sure, they're pricier than you'd expect for a bag, but they provide the best protection and, if properly cared for, will last a lifetime.
Purchasing a low-cost, poorly designed product is a waste of time and money because it does not provide adequate protection, is uncomfortable, and will break sooner rather than later.
In any case, consider all of the factors above before making a decision and buy the best cymbal bag for your needs.