We all have our fair share of drums and cymbals, but what about some percussion instruments like the best tambourines? Or is the cowbell as far as you go?
If your answer to my last question was a firm "yes", then you should consider trying out a few different percussion instruments first.
You don't need to be a professional percussionist or a music producer tired of samples to enjoy percussion instruments, trust me.
From my experience, I always get a sudden rush of creativity when I set up different percussion instruments in my drum set, and you'll probably feel the same way too.
Plus, tambourines are fairly accessible to nearly every age, playing level, as well as budget. That makes them a great introduction to percussion instruments.
Despite being fairly cheap, I firmly believe you should invest in the best tambourine your budget allows, so they last as long as possible and sound good in most musical applications.
Before diving into the best tambourines, let's keep talking about this beautiful percussion instrument.
What is a tambourine?
Tambourines are percussion instruments that you play with your hands or a drumstick. That means you can either mount it to a stand and hit it with a stick, or hold it in your hands and shake, tap or hit it.
On top of that, they usually consist of a frame, often plastic or wood, with several pairs of small metal jingles, called "zills".
Sometimes, there's also a drum head, but not every tambourine includes one. The ones that do, are way more versatile.
They are used in many different cultures and can be found in many different shapes, with circular being the most popular one.
History of tambourine
The word "tambourine" comes from the French word "tambourin", which is derived from the word "tambour," which means "drum."
Despite its age, the structure of the instrument has remained essentially the same. Tambourines were used in religious situations in ancient Mesopotamia, Greece, and Rome, and they have long been popular in Middle Eastern folk and religious music.
On top of that, in the 13th century, Crusaders brought them to Europe. It was adopted by the ancient Romans, and it was used by touring entertainers in the Middle Ages. The tambourine became a military band instrument in the nineteenth century, and it only appeared in the orchestra later and on rare occasions.
What are the different types of tambourines?
There are many different types of tambourines, but the main ones are the following:
Single Row Tambourine – a tambourine with only a single row of zills. They are quieter, lighter, and easier to control.
Double Row Tambourine – a tambourine with a row of zills on top of another. Thanks to the higher number of zills, they are louder, heavier, and harder to control.
Hi-Hat Tambourine – a tambourine that you can easily mount to any standard Hi-Hat stand. Provides jingle accents whenever you open and close your Hi-Hat with your foot, or when you hit it with a drum stick.
Foot Tambourine – a tambourine that's small enough to fit your foot in. It's light, easy to use, and blends well with acoustic sets, especially the ones with a Cajon.
On top of that, there are also a few regional tambourines with a few small, but important differences, like for example:
Pandeiro
The pandeiro was first introduced to Brazil from Portugal. It's comparable to a standard tambourine, but with more adjustable head tension and crisper jingles.
Riq
The riq is a classic musical instrument in Arab culture that has a long and illustrious history. Occasionally referred to as a "shaker" because it has ten pairs of jingles.
Buben
Tambourines made by Buben can be found in a variety of cultures, including Russian and Polish. The jingles are rings, little bells, or cymbals, while the frames are made of wood or metal.
Daf
The daf tambourine comes from a variety of civilizations, including Turkish, Iranian, and Indian. They are usually quite huge instruments with around five jingles and heavy heads.
Dayereh
Dayereh tambourines are popular in Macedonian, Asian, and Balkan musical cultures. They're usually mid-sized instruments with goatskin heads and metal rings running along the frame's inner border.
Is it hard to play the tambourine?
No, it's not hard to play the tambourine, assuming you have any experience as a drummer or a percussionist. They are easy to learn and also very affordable, which means that you don't need to break the bank to get one to at least try them out.
The best way to start playing the tambourine is by just sitting down with it and start experimenting. You can try out some basic rhythmic patterns, like the ones you would play in your standard drum or percussion set, as a good way to start learning how to play the tambourine.
With that out of the way, let's dive into the best tambourines for your needs on the market: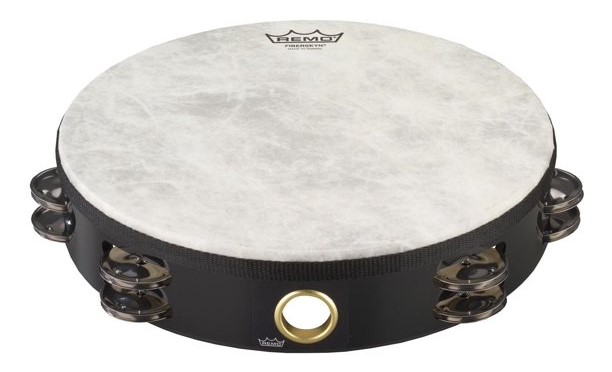 My first suggestion comes from Remo, one of the biggest names in the drumming industry.
They are mostly known for their drumheads, even though they also manufacture percussion instruments like Cajons, Djembes, and of course, Tambourines.
Their Fiberskyn model is available in 6", 8", and 10", as well as three different finishes – red, black, and white.
On top of that, their 6" model features a single-row jingle set, while with the other two you have the option to choose between a single and double-row jingle set – 8 and 16 pairs of jingles.
Due to their small size, the 6" model is only able to fit 6 jingle sets, compared to the 8 (or 16) sets found on both the 8" and 10" models.
Construction-wise, Remo builds the Fiberskyn Tambourine with an Acousticon shell, paired with a pre-tuned Fiberskyn drumhead, but what does that even mean?
Well, 100% recycled wood fiber was used in the production of the Acousticon shell, which is nothing but a mix of multiple plies of recycled wood fiber and resin.
On the other hand, according to Remo, Fiberskyn is a lamination technique that uses poly-spun material to minimize overtones.
In other words, Fiberskyn is a special synthetic drumhead that looks and feels like an animal skin drumhead.
That results in authentic and ethnic drum sounds and a long-lasting drumhead that's heat and water-resistant.
Finally, the Tambourine comes with a finger hole that you can use to hold it safely, but I understand if some folks prefer a traditional hand grip.
To conclude, in my opinion, the 10" Fiberskyn with the single-row jingle set is the most balanced model and one of the best tambourines with a drumhead.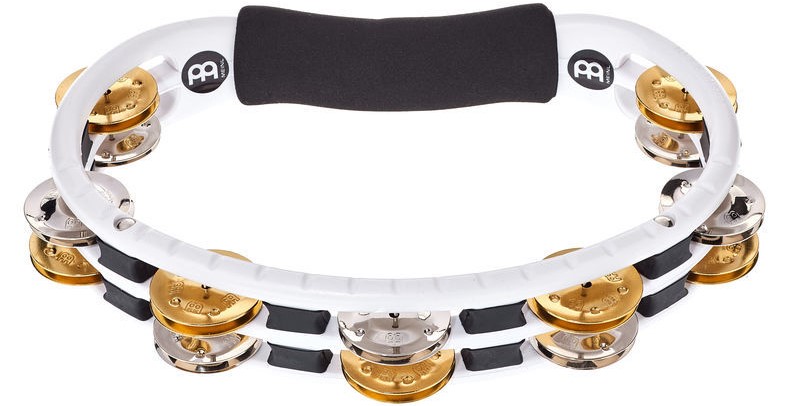 Just like Remo, Meinl is also one of the biggest names in the drumming industry, mostly thanks to their premium cymbal series, the Meinl Bizance.
What most people don't know, is that they are also one of the most respected manufacturers of percussion instruments.
One of their most popular products is the Meinl Recording-Combo ABS Tambourine, a model that unlike the previous one, doesn't include a drumhead.
Plus, it features an ergonomic design that is vastly different from the traditional one. That and the fact that it's a headless tambourine result in a lightweight tambourine, ideal to play during extended periods.
On top of that, it comes with an actual padded grip which results in an even more comfortable long-term experience and prevents it from slipping.
Design-wise, if you're someone that values having multiple options to choose from, this isn't the tambourine for you.
Additionally, TMT1M-WH is only available in white, with a double-row jingle set with a total of 14 jingle pairs, made from a mix of Nickel-Plated Steel and Solid Brass jingles.
The brass jingles provide a dark and warm sound while the steel ones are sharper and brighter, resulting in a rather unique tone.
Its 10" wide frame is made from ABS plastic, which is highly resistant to corrosive chemicals and most importantly, physical impacts.
Overall, this is a high-quality modern tambourine, especially design with lengthy sessions in mind but it's probably more expensive than you expect.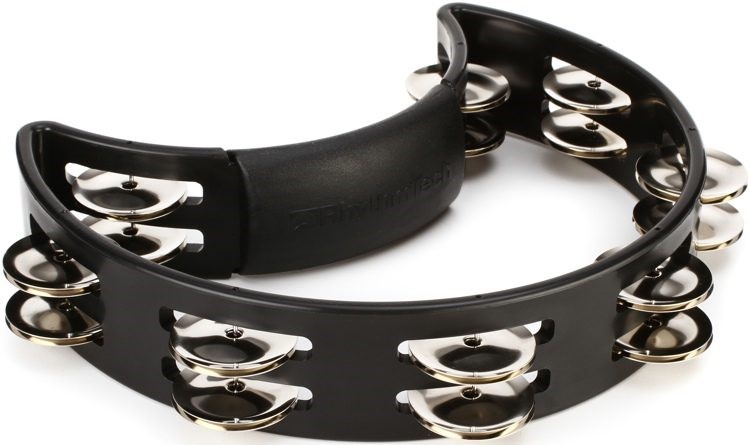 I think it's safe to assume that the RT1010 is the industry standard when it comes to headless tambourines. According to Rhythm Tech, this is the world's most-played tambourine.
This particular model is available in 8 different colors, ranging from black to yellow, including a special glow in the dark model.
Just like the previous one, it features a cushioned grip that makes it instantly more comfortable and reduces hand fatigue.
On top of that, it has a double-row set of jingles, with a total of 16 nickel jingle pairs. There's also a different model that's pretty much a copy of this one, but with brass jingles and 3 fewer colors.
Speaking of nickel jingles, they deliver a bright sound that might not work with the loudest environments. If you need volume, there are better alternatives, including the brass jingles' version.
Besides that, there's honestly not much else to add, since if we ignore all the different colors, this is just your basic high-quality headless tambourine.
To conclude, if you prefer a straight-to-the-point tambourine without any flashy details, this is your best bet.
My main complaint is the price, considering it usually costs as much as other alternatives that bring much more to the table. Besides that, it's as solid and high-quality as it gets.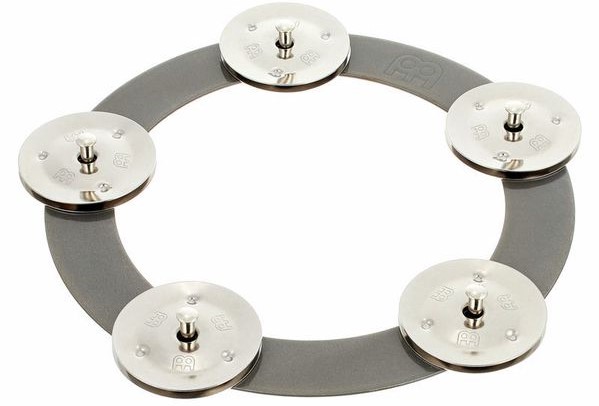 This is nothing like any of my previous (or next) suggestions, but it's by far my favorite and the one I currently use.
Its concept is pretty simple since it's nothing more than a 6" steel ring and a total of 5 pairs of stainless-steel jingles.
Unlike all my other suggestions, it wasn't designed for you to actually strike it using your hands or sticks.
Instead, its main purpose is to add color to your drum set by placing it on top of one of your cymbals.
Your imagination is the only thing limiting how you use it. Most people place it on top of their Hi-Hat to add texture and accents every time you play it with your foot.
A Ride is also a common option, to slightly decrease its decay and complement it with a nice sizzle.
I love placing it on top of a stack, especially one that includes cymbals with some type of holes as it increases its trashiness and overall aggressiveness.
Despite being lightweight and Meinl claiming it won't damage your cymbals' finish, from my experience, it does indeed damage your logos.
Always place it on cymbals where you don't mind losing the logos or big enough to not get affected by it.
Compared to the alternatives, it costs half as much and there's also a dry and soft version.
The dry one replaced the original jingles with zinc ones to achieve a drier sound, and the soft one replaced the original ring with a foam one for a soft "ching".
Overall, the Meinl Ching Ring is the easiest and cheapest non-permanent way to add a new dimension to your current sound, but in no way does it replace a traditional tambourine.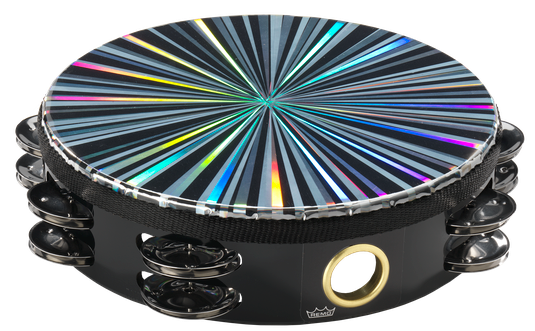 This one is for all the drummers that like their music gear as flashy as their chops, so let me introduce you to the Remo Radiant Tambourine.
As of today, it's available in two different sizes – 6" and 8". The shell is similar to the one found on the Remo Fiberskyn Tambourine, the Acousticon.
This is what Remo has to say about Acousticon: It is made from multiple thin plies of 100% recycled wood-fiber materials, laminated under pressure into a solitary tubular structure. Each drum-shell is impregnated with special resins to aid in leaving moisture out and then given a special 'acousticon' coating inside for optimal tone/acoustic qualities.
On top of that, the 6" model features a single row of 6 jingles, while the 8" one gives you the option to choose between a single row of 8 jingles or the double-row version with 16.
Overall, it has a bright sound and cuts through nicely. Just like the Remo Fiberskyn Tambourine, the Radiant comes with a finger hole to make it easier to hold during extended periods.
So far, the Radiant Tambourine is pretty similar to the Fiberskyn version. The exception is the unique reflective look that makes it stand out from any standard tambourine, thanks to the Reflective Radiant drumhead.
To conclude, if you're someone that wants a traditional tambourine that looks as good as it sounds, this is the right Tambourine for you.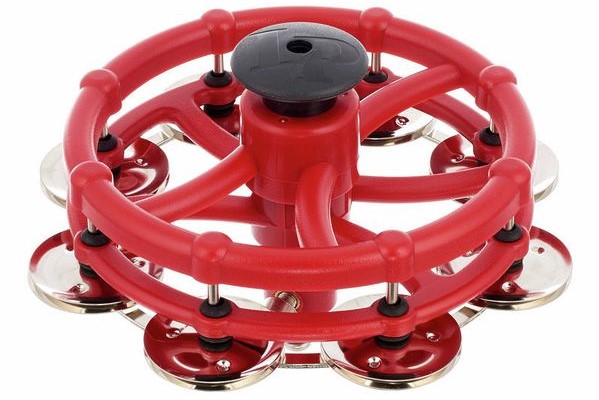 Want to add a tambourine to your Hi-Hat without risking losing your logos? Well, this might be what you're looking for.
The LP193 is a special tambourine made by Latin Percussion that you can easily mount to any Hi-Hat's pull rod.
It's available in red, and the frame is manufactured with ABS plastic, which is known for being very resistant to physical impacts and chemical corrosion.
In other words, it withstands heavy use and adverse environmental conditions, so don't be afraid to travel with it from gig to gig.
On top of that, the LP Click Hi-Hat features 8 pairs of steel jingles that produce a bright and crisp sound when you use the Hi-Hat pedal or strike it directly.
Plus, just like most of your drum gear, it comes with a wingnut so you can easily adjust its height and safely secure it to the rod.
Besides that, my favorite part of the LP193 is the LP-exclusive muting feature that you activate by pressing the black button on top of the tambourine.
You can instantly mute the jingles without the need to remove the whole thing from the stand, and that's why I believe this is the best Hi-Hat tambourine.
The LP Click Hi-Hat is pretty lightweight, so there is no influence on your ability to open and close the Hi-Hat.
My main concern is the price, since $50 is far from cheap, but if we want a high-quality product, we have to pay for it.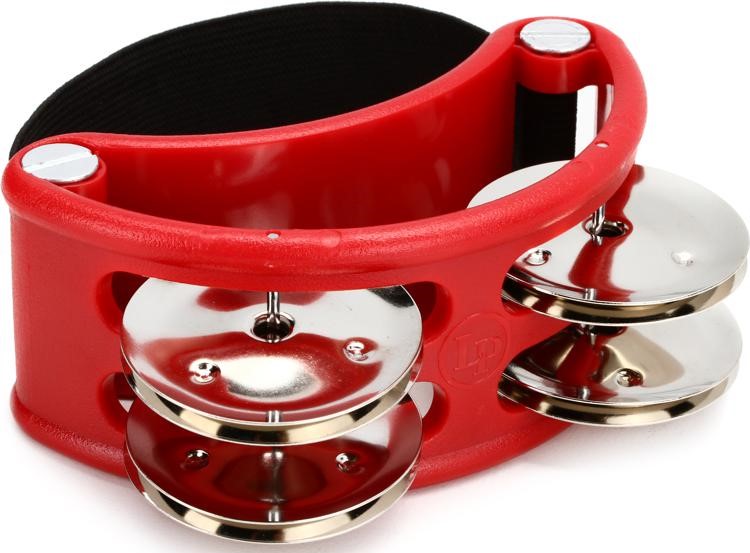 My final suggestion is another unique tambourine, ideal for specific scenarios like Cajon players and guitarists.
Plus, it's also from LP who, for the past half-century, crafted some of the best percussion instruments approved by most professional musicians.
The LP188 features a durable, impact-resistant ABS plastic frame, which is the same material found on the Meinl TMT1M-WH.
On top of that, it's only available in red and the elastic band at the bottom stretches enough to fit comfortably in most shoe sizes.
Despite being rather small, it projects more sound than anyone expects, but it's still far from a traditional tambourine when it comes to volume.
Additionally, it comes with 4 pairs of Nickel-plated steel jingles that produce a bright and cutting sound.
Its weakest point is, in my opinion, the elastic. I feel like it will snap, sooner or later, but as of right now, mine is as good as new.
In the end, this is the best option for any multi-instrumentalist that needs a hands-free tambourine or someone working with a tight budget.
Wrapping Up
As we've seen so far, the best tambourine is the one that answers your current needs, and thankfully, in today's market, we can't complain about diversity.
If you want a traditional-looking high-quality tambourine with a drumhead, the Remo Fiberskyn is as good as it gets.
On the other hand, if you don't care about having a drumhead and want a straight-to-the-point tambourine, the Rhythm Tech – RT1010 is an industry-standard for a reason.
Additionally, to add some color to your current drum set, there's nothing better than one of the Meinl Ching Rings.
The original is still my favorite and the one I currently use. It's cheap, lightweight and you can pretty much place it in any cymbal or even drum. Just make sure it isn't touching any of your logos, if you do care about them.
In the end, I hope this article achieved its main purpose of educating you on the history of the tambourine, the different types of tambourines, and what are the best tambourines on the market for your current needs.