For someone that practices regularly, buying the best metronome for drummers is a must.
If you somehow ended up here without knowing what a metronome is, here's what you need to know:
A metronome is a device, or an app that produce an audible click or sound (human counting, for example) at a regular interval, set in beats per minute (BPM).
As humans, it's definitely hard to be accurate and consistent, which is two necessary things to keep time.
A metronome helps you keep a consistent tempo so that you don't speed up or slow down when you're not supposed to.
Besides that, it also allows you to practice slowly at first, helps you keep track of your progress, and prepares you to play to a "click track" on a professional environment.
Sure, nowadays, in "The Digital Age", everyone has most tools they might need in their pocket on what we call a smartphone.
A metronome is no exception, as there are multiple great metronome apps on the market that you can use instead of a mechanical metronome.
If that's more your thing, HERE's my article on the best metronome apps on the market with links to download directly to your iOS or Android device.
Whatever you end up going with, just take advantage of it, because I guarantee you, the drummer with no chops but knows how to keep a steady time will get every job over someone who's the exact opposite.
With that in mind, here's the best metronome for drummers currently on the market: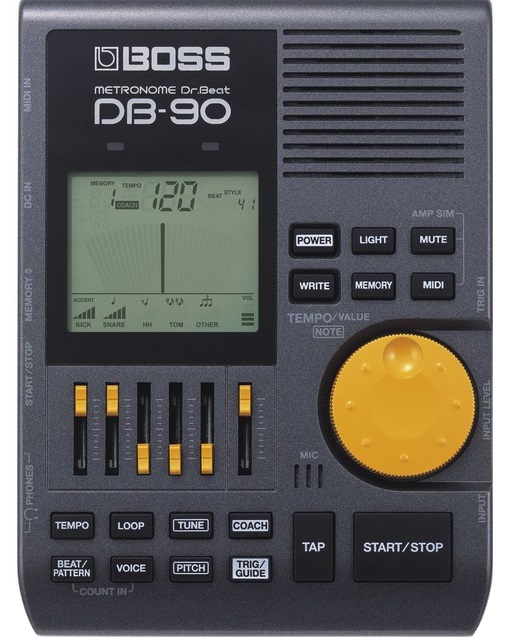 My first recommendation is what most musicians consider to be the world's best metronome due to its useful features.
The Rhythm Coach is one of those features, which you can use to increase your vocabulary and improve your speed, stamina, and accuracy. It functions with a Roland V-Pad connected or by using the built-in microphone to record acoustic drums.
If you're anything like me and don't appreciate the conventional metronome sound, it comes with four metronome sounds, including a human voice counting.
On top of that, it also comes with a generous backlit LCD that you can use to check the tempo, voice, style, subdivisions, and a visual metronome in the form of a needle.
There's also a button to tap in the tempo, a few dedicated sliders, buttons, and a rotary dial that facilitate navigation and enough memory to save up to 50 different metronome settings.
Besides that, there's an input jack, a headphone jack and one mini jack, a MIDI In connector to sync with sequencers, and a footswitch control for hands-free play/stop
A dry battery, a soft case, a user guide, and a threaded adapter are all included in the BOSS DB-90 package.
Overall, this is the best metronome on the market with its only problems being its inflated price and being bulkier than the average metronome.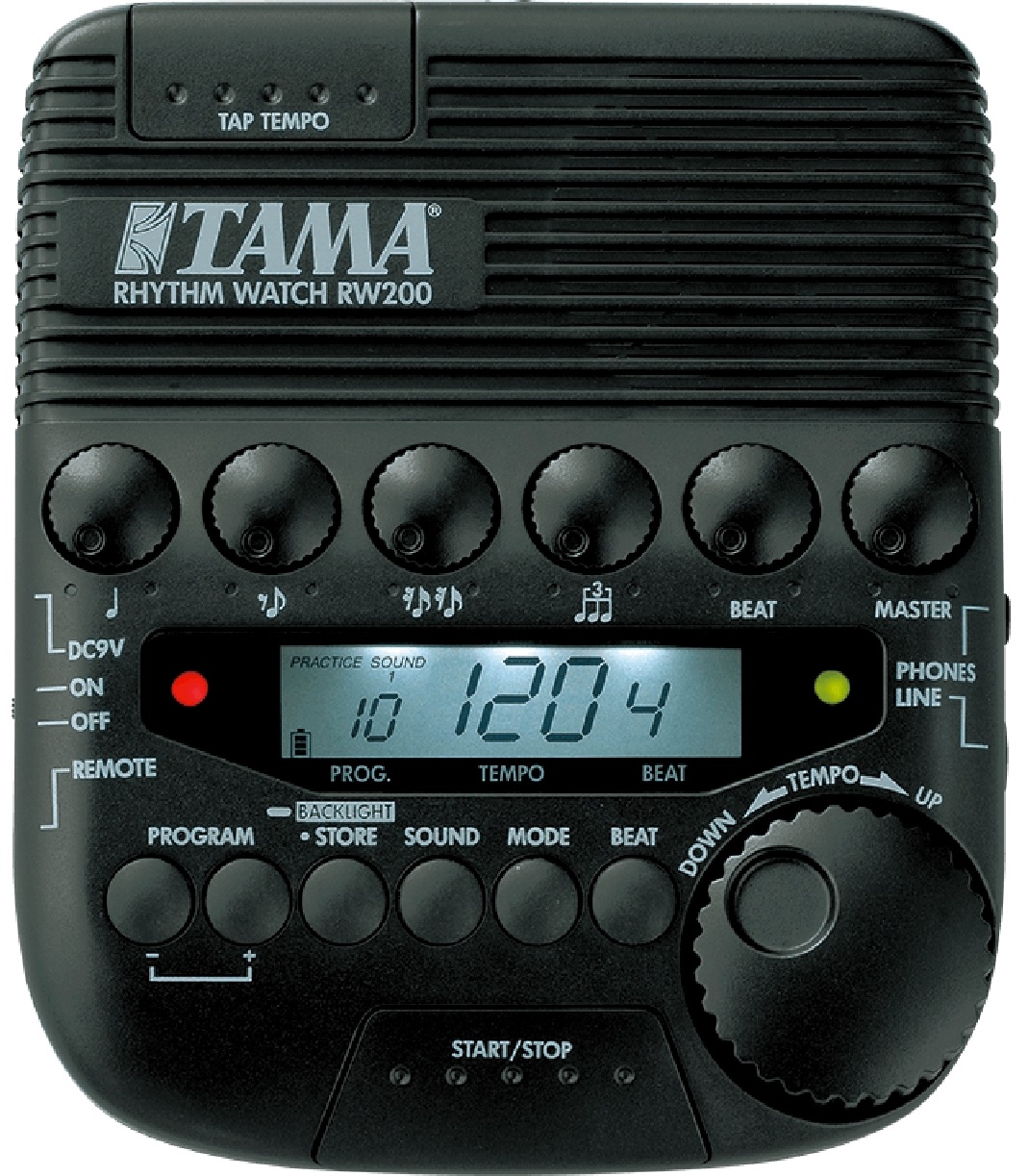 Up next is my first recommendation coming from a company that specializes in drums, as well as drum hardware and accessories.
As a result, it's safe to assume that TAMA designed the RW 200 specifically with drummers and percussionists in mind.
Using the Tap Tempo button or the rotary dial on the bottom right, you can choose a tempo between 35 and 250 BPM.
On top of that, you can save up to 30 metronome settings on custom set lists which makes it a great option for rehearsals and gigs.
Similar to the previous suggestion, you can connect a footswitch to either start/stop or conveniently advance programs.
The TAMA RW200 has a backlit LCD and a few rotary dials on top that you can use to individually adjust subdivisions.
It also has an M8 thread, a jack and mini-jack audio output for headphones, and it can be mounted to a cymbal stand or a percussion rod with ease.
The package itself comes with a 9V battery and a TAMA case so you can safely store and carry it around. Buying a power supply is also an option if you don't want to rely on batteries.
Its most unique feature is the Stage Mode, where the click will disappear after 8 bars. I prefer to play with a click track and the way through, but I know some drummers who would enjoy this function.
Ultimately, it doesn't offer as much as the DB-90, but since it's almost half as expensive, I think it's still worth it.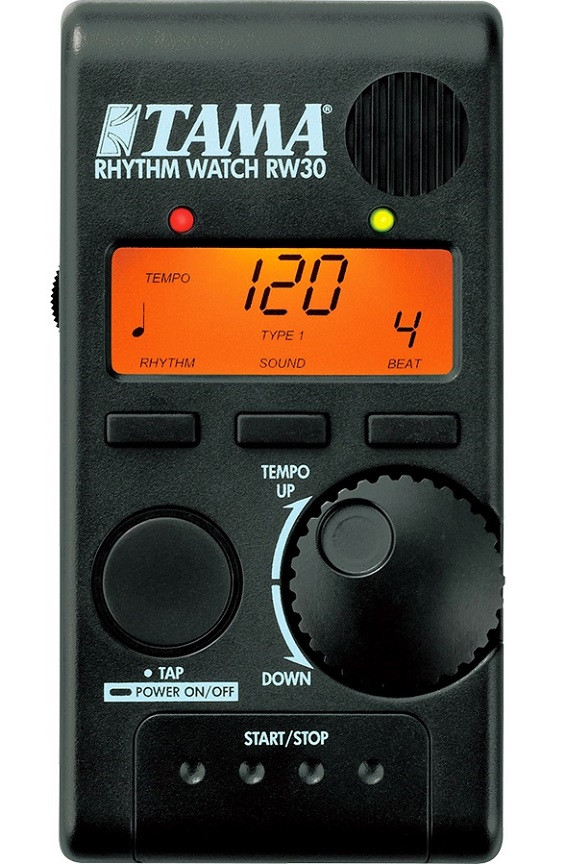 The Rhythm Watch Mini is a smaller, lighter, and, of course, less expensive version of the well-known Rhythm Watch.
It has a clip on the back so you can quickly attach it to various surfaces, like pockets or cymbal stands.
Additionally, you can use the Tap Tempo button or the conventional rotary dial to set a tempo between 35 and 250 BPM, which is similar to my earlier recommendations.
TAMA RW30 comes with a small, backlit LCD and two lights on top that you can use as a visual clue.
Three buttons are located under the LCD and can be used to set anything from 0 to 9 beats per measure, change the subdivisions, and switch between high and low pitch click sounds.
This small metronome is powered by 2 AAA batteries which are included in the package, alongside the metronome itself and a user guide.
On top of that, a mini-jack output for headphones is located on one side, and a volume wheel for adjusting the volume is located on the other.
The TAMA RW30 Rhythm Watch Mini doesn't have all the extra features some of the larger models do, but it does have all the necessary ones at such an affordable price.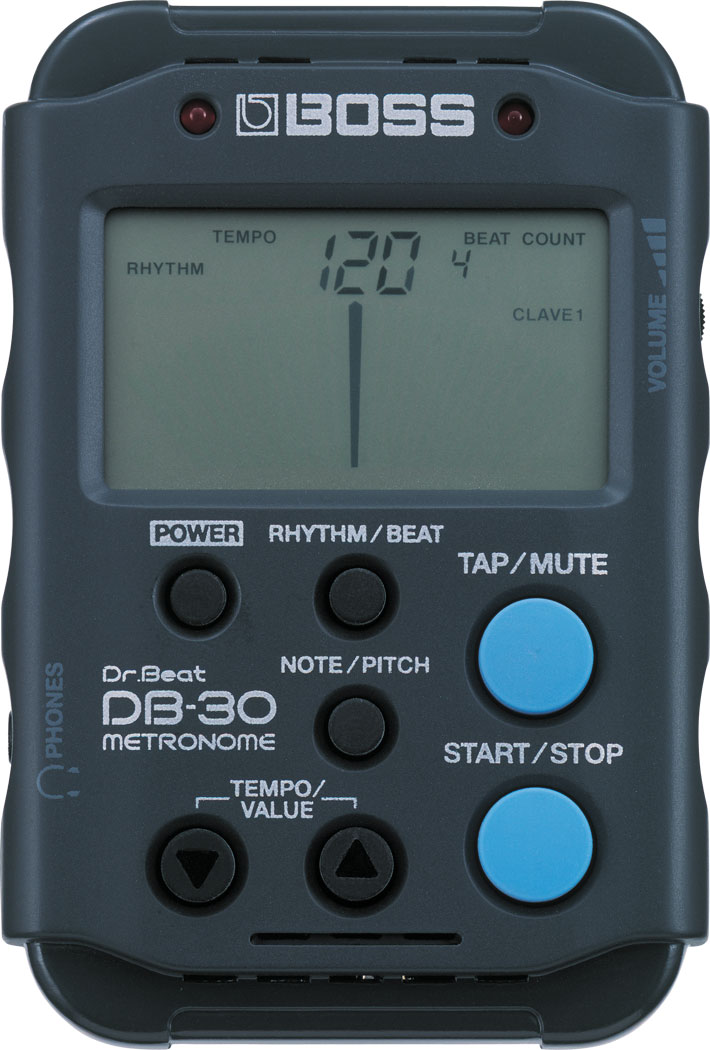 The Boss DB-30, which directly competes with the TAMA RW30 for the title of best budget metronome on the market, is the DB-90's smaller, more affordable sibling.
To set a tempo between 30 and 250 BPM, you either use the Tap Tempo button, or one of the Up/Down buttons which, for me at least, are not as practical as the typical rotary dial.
Additionally, it features an LCD with information about the tempo, subdivisions, time signatures, and a needle for visual clues. On top of the LCD, there are also two bright LED lights to also visually assist you.
To navigate those settings, simply press the Rhythm/Beat button and once something is flashing, use the Up/Down buttons to scroll through the settings.
It has a volume wheel on one side and a mini-jack headphone output on the other, just like the TAMA RW30. Plus, it uses a CR2032 battery, enabling an even more compact design than the TAMA alternative.
On top of that, the BOSS DB-30 also has an automatic power-off feature to prolong battery life and a clip on the back for mounting it to a stand. To make it stand on a flat surface, there is also a slot for a coin or a guitar pick.
Overall, the BOSS DB-30 is a portable and reliable metronome equiped all the essential features. I prefer the TAMA RW30's design, but that's just a matter of personal preference.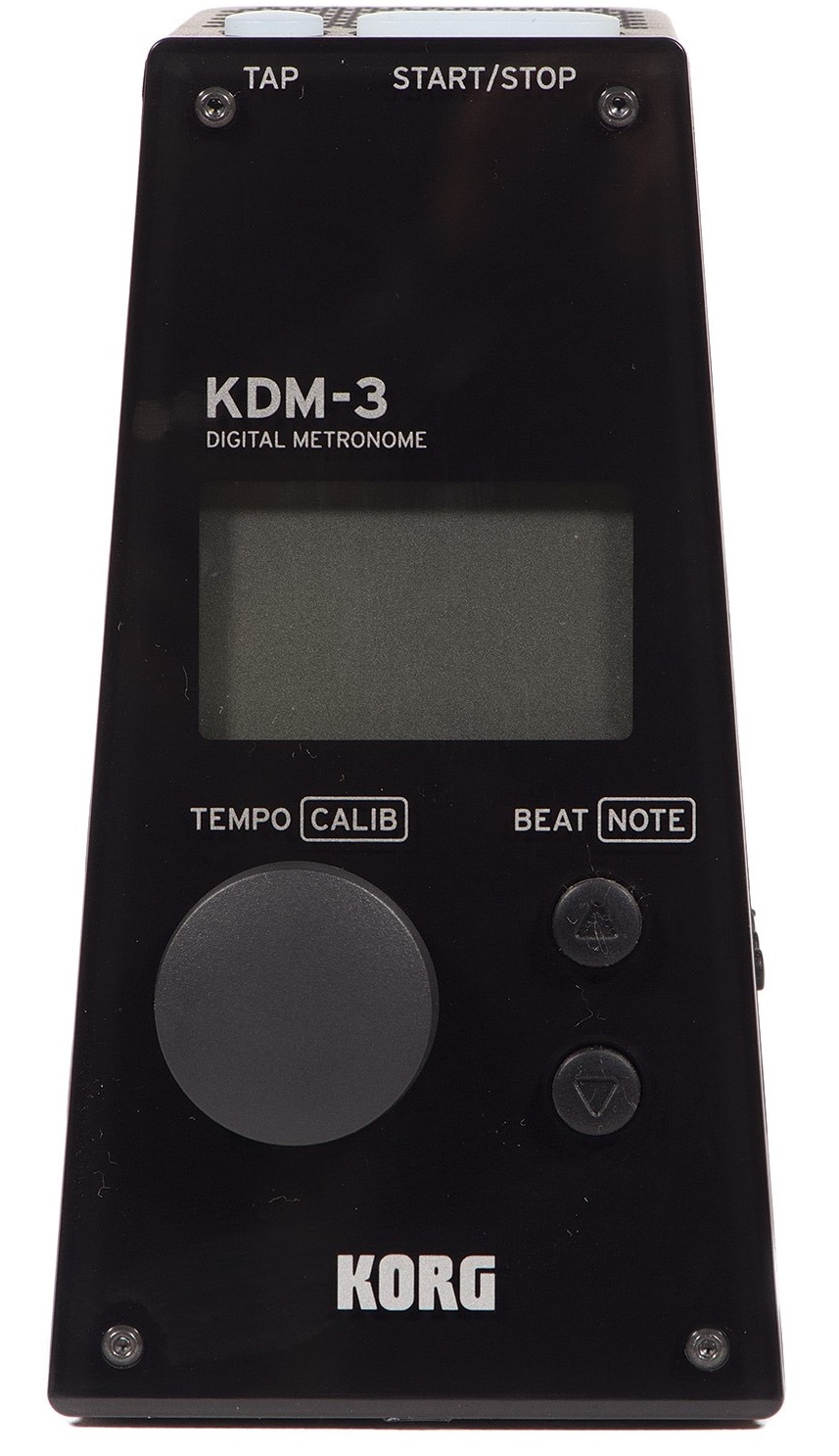 The design of the KDM-3 metronome, in contrast to all the others, was influenced by the classic mechanical metronomes, and it even has Tempo Markings on the side.
You can turn it on with a button on the right side that says "standby/on", and start the metronome with the big button on top, or check for visual clues as it includes a pair of LED lights that blink inside.
A speaker and another button, which you can tap to set the tempo between 30 and 252 BPM, are also on top. In addition to that, you can also adjust the tempo using the standard rotary dial at the front.
It has a "sound" button on the right side that, when pressed, emits a reference tone that you can adjust with the dial and use as a tuner.
Two up and down buttons located next to the rotary dial can be used to choose the desired time signature, up to 9 beats per measure, as well as subdivisions.
You can check all that on a generous high-contrast display and the KDM-3 includes memory backup and an auto power-off function.
Additionally, there is a voice select button on the side that allows you to choose from 8 different metronome sounds, including a human voice counting.
The right-side panel also includes a volume wheel, a mini-jack headphone output, and a timer button that lets you choose how long the metronome should play.
The package includes the metronome itself, a user manual, as well as the required four AAA batteries.
In the end, it's far from the best tool to travel with. Other than that, it's one of the best metronomes for drummers on the market with all the important features.
Conclusion
Metronomes are becoming less and less common in modern times, at least those that can't be accessed via a smartphone.
Even though that's true, a traditional metronome is still necessary for someone who wants to practice and develop as a musician because there aren't any distractions like those present on a smartphone.
In light of this, the good news is that there is essentially a metronome for every need and every budget.
The TAMA RW30 Rhythm Watch Mini is my preferred metronome if you have a limited budget or are just starting out and won't take advantage of any complex features.
It is affordable, reliable, and equipped with all the features that musicians in general, but drummers in particular, deem crucial.
A Boss DB-90 Dr. Beat, on the other hand, is the only choice if you're searching for the best of the best. Although expensive, it is totally worth the price.
In the end, I hope this article was successful in educating you about the value of investing in a metronome, and which is the best metronome for drummers.